G.I. Jive: The Music and Entertainers of World War Two
May 31, 2021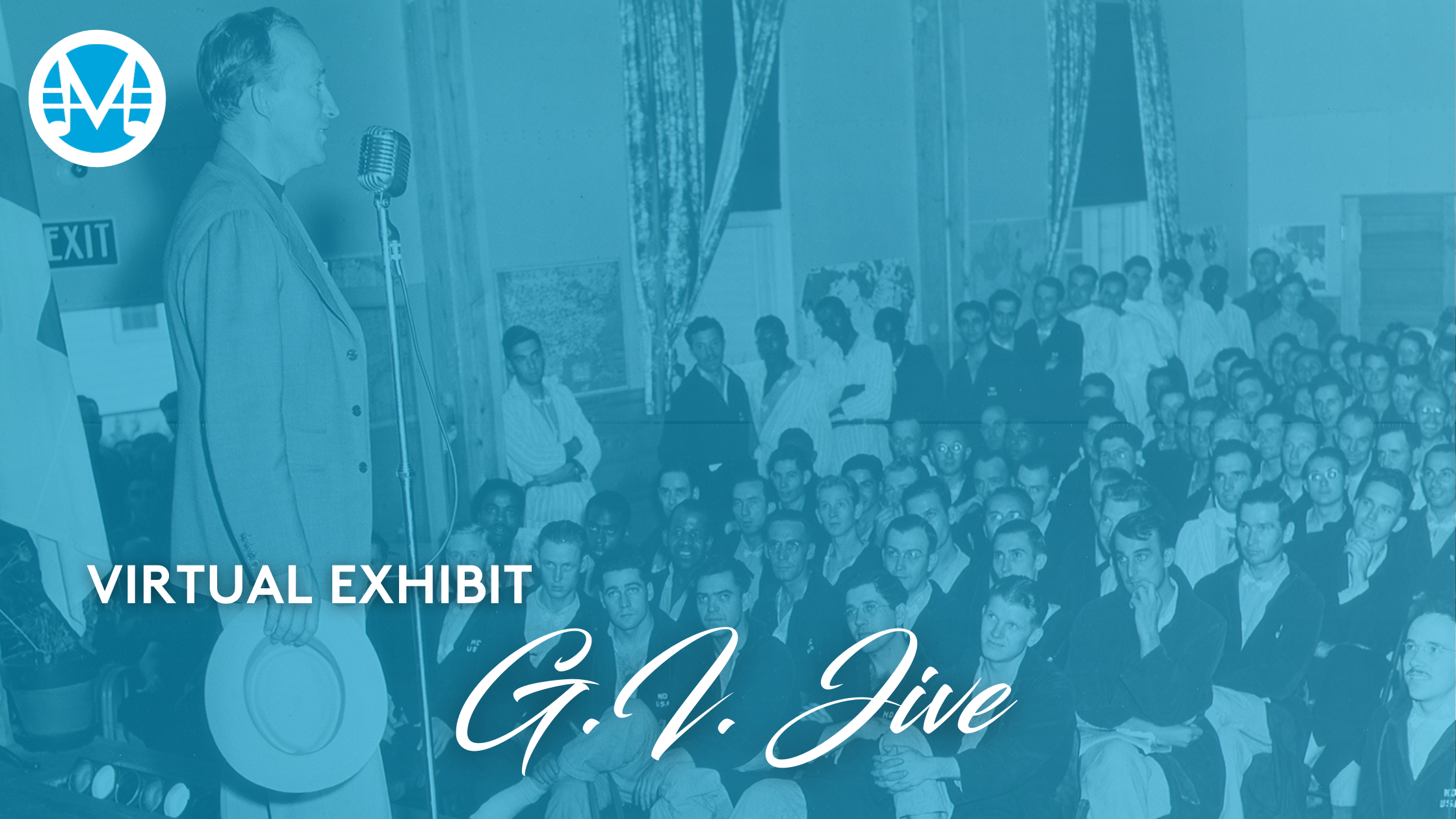 "Now it's going to be up to us to send the men here and abroad real, living entertainment, the songs, the dances, and the laughs they had back home."
Actor George Raft
Over Here, Over There: The Power of Music During Troubled Times
Music has always been a crucial ingredient of American culture. During wartime, music takes on a heightened role as both soldiers and their loved ones at home struggle to remain positive, feel safe, and either acknowledge or forget the events going on around them.
On the eve of America joining the global conflict in late 1941, swing music was enjoying vast popularity here in the states. The music of Cab Calloway, Glenn Miller, and Artie Shaw provided the soundtrack as Americans danced the nights away, unaware that their world was about to dramatically change. After the attack on Pearl Harbor on December 7, 1941, music changed to reflect the new sentiments of patriotism, longing, and fear, while simultaneously providing a means of escape.
Songs that focused on a patriotic call to duty quickly hit the market. Songs such as "Allegiance to the Flag" and "For the Flag, for the Home, for the Family," joined tunes that insulted the enemy, such as "You're a Sap, Mr. Jap" and "Der Feuhrer's Face," to unite Americans in their new role as citizens of a country at war. Very few of these songs, however, found significant success. Americans seemed to prefer romantic ballads and up-tempo swing numbers.
A number of factors contributed to music's rise in popularity during the war. Radio ― found in more and more American homes ― made recorded music more available than ever. The nature of performed and recorded music changed during this time as well, as the enlistment of large numbers of men into the armed forces forced bands to become smaller. Vocalists, once relegated to the sidelines, stepped into the spotlight. Singers such as Frank Sinatra, Bing Crosby, and Dinah Shore became household names, and their songs provided a soundtrack to the home front.
Success on the radio often resulted in a jump to the stage or screen, or vice versa. The popularity of music by Richard Rodgers and Oscar Hammerstein on Broadway or composer Irving Berlin on the silver screen created a whole new catalogue of music devoured by Americans.
What was happening leading up to and during World War II? Explore a timeline of the second world war on PBS.
Explore music and performers that unified our nation during WWII by selecting from the options below:
Songbook Archives Spotlight: Hit Kits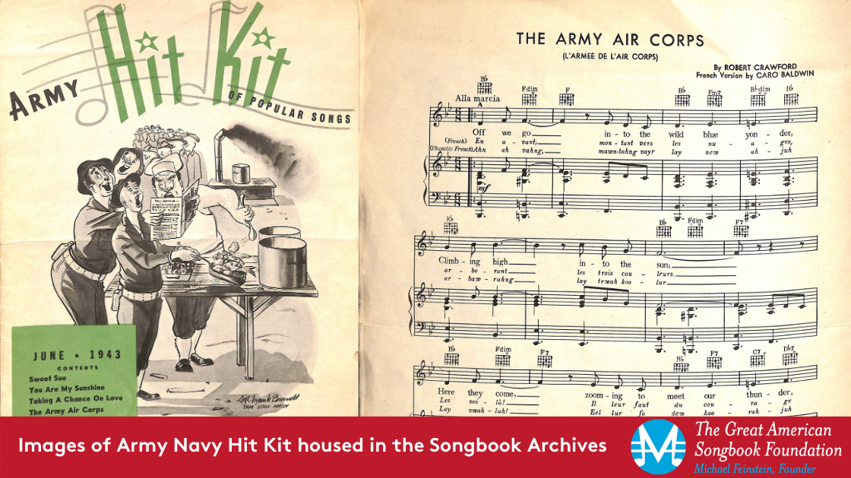 "When the going gets tough, we like to pick up a song sheet and sing again some of the songs we used to sing with our friends, families and loved ones at home."
Staff Sergeant, WWII
Starting in 1943, the Army Special Services Division published the first Army Navy Hit Kit, a folio of popular songs intended for use by U.S. service members. Music publishers waived copyright costs so these themed pamphlets of piano and vocal arrangements could be printed and distributed during mail call to military members on the front lines. Music provided a safe space to air out the complex emotions experienced by soldiers in combat. It also provided a means to stay in touch with the musical culture of home.

Fun fact: The Steinway company supported U.S. troops by designing special upright pianos that were then air-dropped to the front lines!

Leaf through an Army Navy Hit Kit from the Michael Feinstein Collection housed in the Songbook Archives to continue exploring!
Tweet #share