our Current Exhibit
a Traveling Exhibit
Visit The Great American Songbook Foundation
1 Carter Green
Carmel, IN 46032
317.844.2251
Info@TheSongbook.org

Songbook Exhibit Gallery Location & Hours
Enter west entrance of the Palladium on 3rd Ave
Monday-Friday 10am-4pm; also open one hour before Songbook and Jazz Series events in the Palladium

The Great American Songbook Foundation is a 501(c)3 nonprofit organization with a mission to inspire and educate by celebrating the Great American Songbook.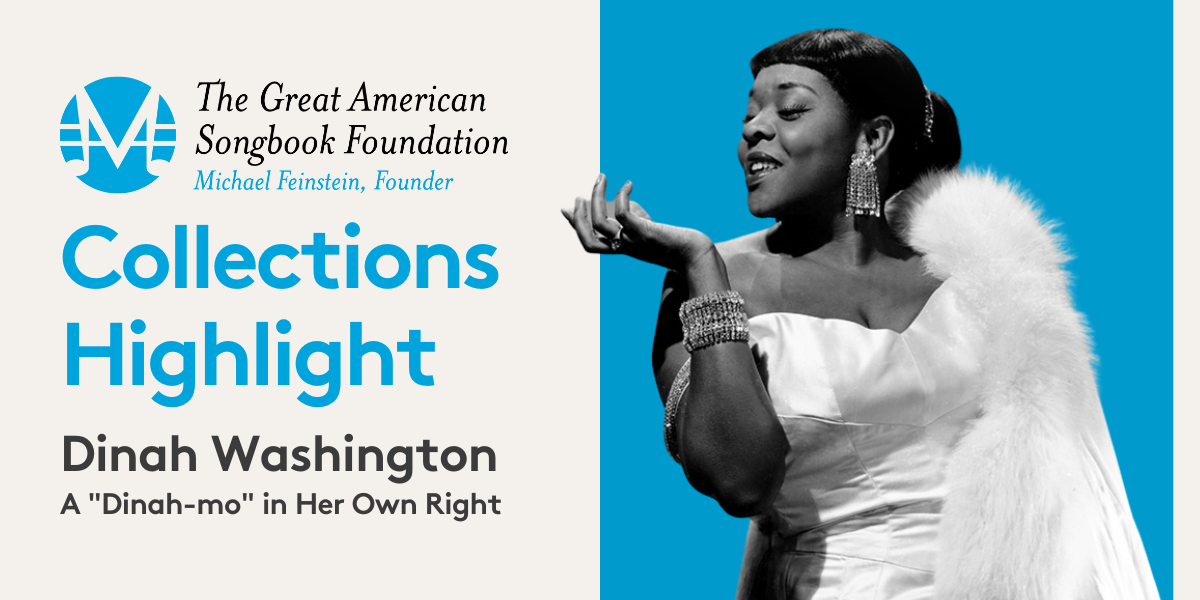 Collections Highlight: 

Dinah Washington, A "Dinah-mo" in Her Own Right
Self-appointed as the "Queen of the Blues," Dinah Washington is known for her incredible musical ability that spanned a variety of genres. From gospel to R&B to pop, Dinah was a female powerhouse to be reckoned with in the 1950s. The Songbook Library & Archives is thrilled to serve as the repository for more than 40 of Dinah's arrangements. Everything from "Fly Me to the Moon" to "What a Diff'rence a Day Makes" (which won her the 1959 Grammy Award for Best Rhythm & Blues Performance) are housed with their original instrumental parts. But there's something extra special about Dinah's arrangements and you might just be surprised to hear who also used them!
Executive Director, Chris Lewis, introducing the Songbook Foundation Collections Highlight series.
"There is only one heaven, one earth and one queen, me."
― Dinah Washington
From singing in a Baptist church choir as a young girl to becoming one of the most popular Black recording artists of the 1950s, Dinah Washington had quite an eventful life. Nicknamed the "Queen of the Blues" for her bluesy tonality, Washington was also known for her tantalizing performances, her highly suggestive dirty blues songs, and her intrepid lifestyle. Washington performed and recorded in a variety of styles, including R&B, blues, gospel, and mainstream pop music. Though her career was not as long as others, she remains one of the most popular Black female recording artists in the Great American Songbook.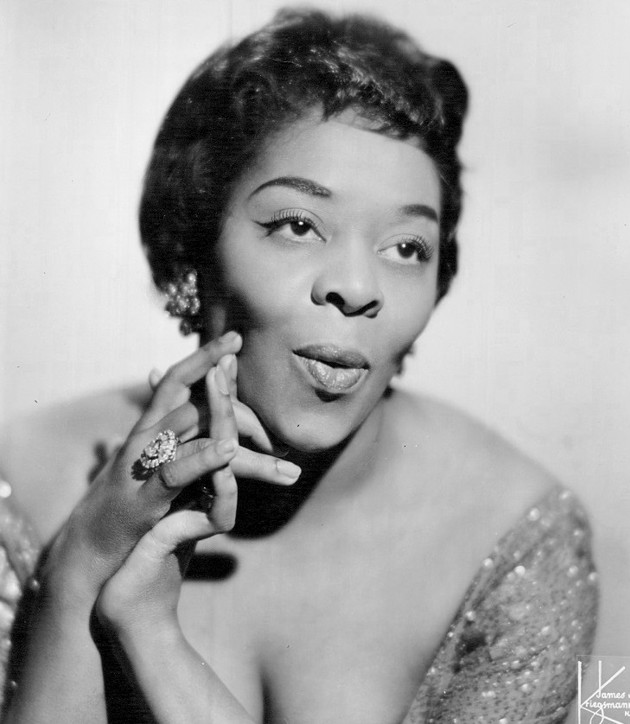 Image of Dinah Washington (1962), public domain
Though known later as "Dinah Washington," she was born Ruth Lee Jones on August 29, 1924, in Tuscaloosa, Alabama. As a child, she moved to Chicago and joined the gospel choir at St. Luke's Baptist Church, playing piano for them while still in elementary school. By the time she was in high school, Ruth was directing her church choir and was a member of the Sallie Martin Gospel Singers. Because of her strong abilities, she dropped out of high school to pursue performing.
After winning an amateur contest at the Regal Theater at age 15 with her performance of "I Can't Face the Music," Ruth started touring as well as performing in clubs around Chicago. She frequently was found on stage at Dave's Café and the Downbeat Room of the Sherman Hotel with the legendary stride pianist Fats Waller. Talent agent Joe Glaser told renowned bandleader Lionel Hampton about Ruth and her incredible voice. Hampton was so impressed that he hired the young vocalist to perform with his orchestra. With this new contract, Ruth Lee Jones received her new stage name: Dinah Washington. She toured with the Lionel Hampton Orchestra for three years and she had her first big hit, "Evil Gal Blues." From there, she went on to sign record contracts and perform in a variety of venues throughout her lifetime.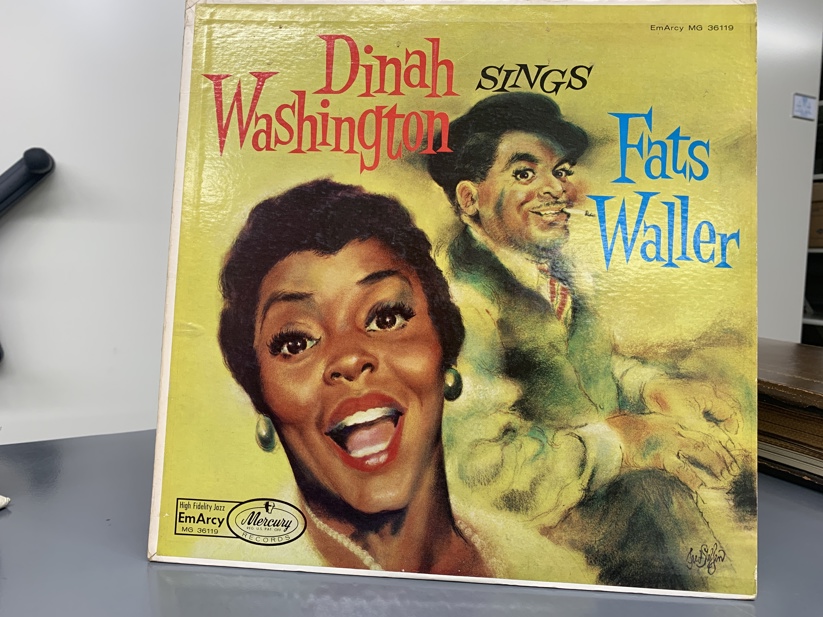 Dinah Washington Sings Fats Waller, LP. Great American Songbook Foundation Library & Archives.
In 1946, Washington left the Lionel Hampton Orchestra and started her solo career with Mercury Records. She recorded "Slick Chick on the Mellow Side" and began being billed on tours as "The Queen of the Blues." By 1953, Washington would have Billboard chart hits like "Baby Get Lost" and blues classics like "Trouble in Mind."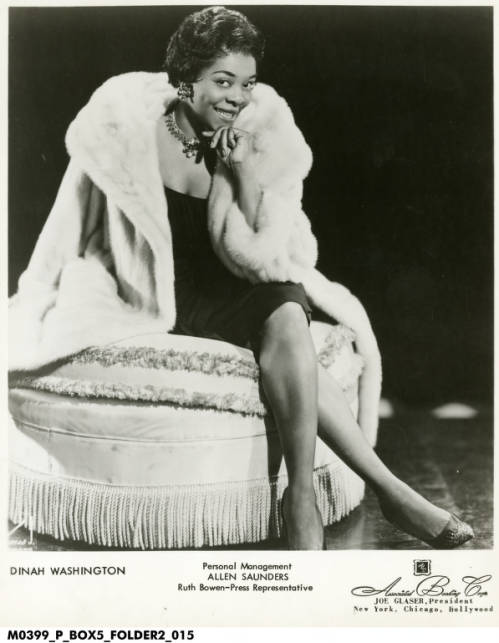 During the mid-to-late 1950s, Washington's career would explode. She would record with acclaimed jazz musicians including drummer Jimmy Cobb, saxophonist Julian "Cannonball" Adderley and trumpeters Clark Terry and Maynard Ferguson. Washington's album For Those in Love was arranged by Quincy Jones and contained a mix of jazz and standards. She was a powerhouse and continued to put out record after record of hits.
The start of 1959 led to a pivot in Washington's career, as she crossed over into the pop music market with her single "What a Difference a Day Makes." This single was a Top 10 hit, appeared on Billboard's honor roll of hits, and won a Grammy Award for Best R&B Performance. She was listed in the 1960 Encyclopedia of Jazz (Leonard Feather) as one of the "Giants of Jazz."
With Washington's unexpected death in 1963, her career ended at 39. She was posthumously inducted into the Alabama Jazz Hall of Fame in 1986 and into the Rock and Roll Hall of Fame in 1993. Three of her recordings have been inducted into the Grammy Hall of Fame: "What a Difference A Day Makes," "Teach Me Tonight," and "Unforgettable." In 2013, her hometown of Tuscaloosa dedicated a new center in honor of her career and impact on jazz and culture: The Dinah Washington Cultural Arts Center.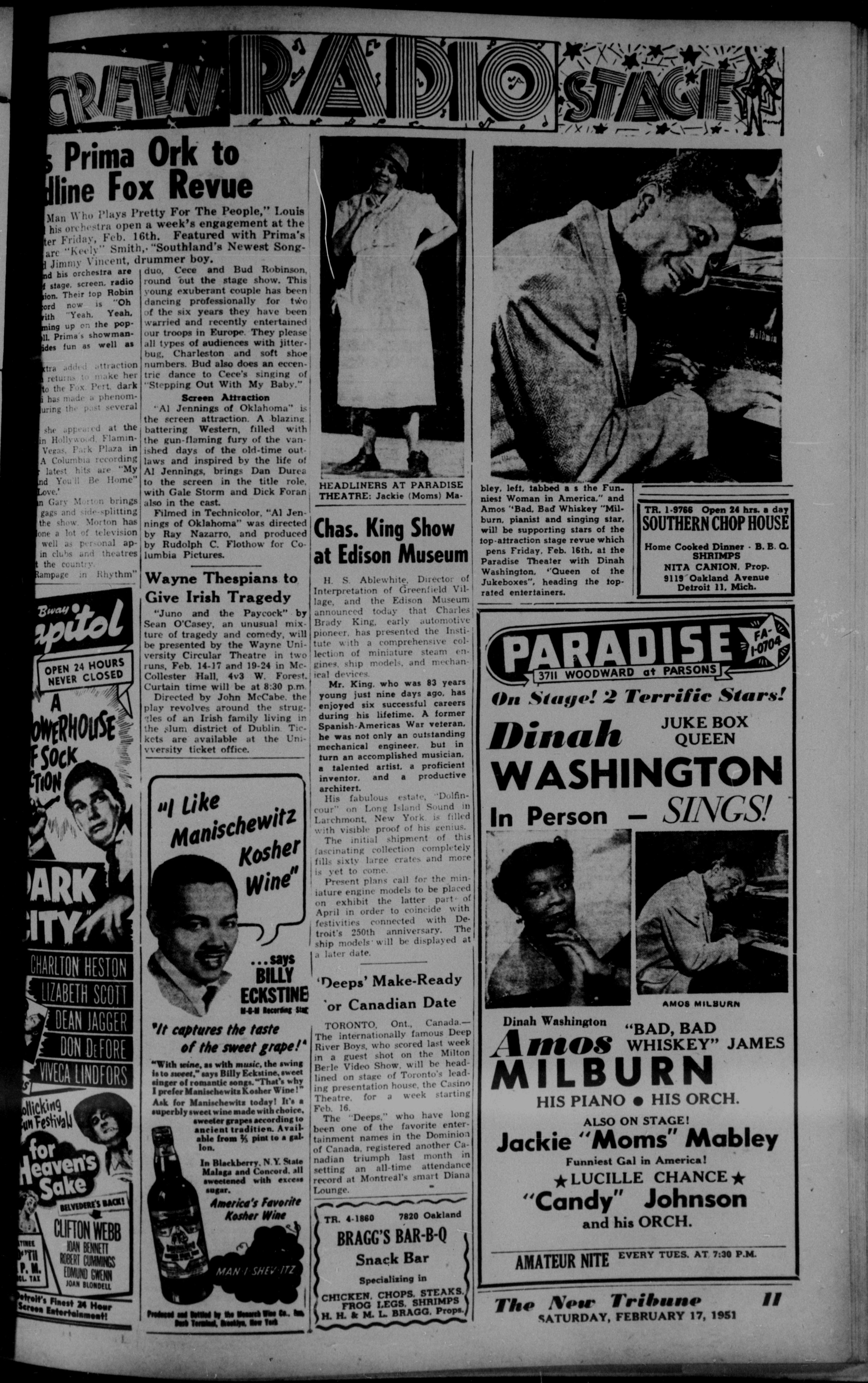 The Detroit Tribune. (Detroit, Mich.), 17 Feb. 1951. Chronicling America: Historic American Newspapers. Library of Congress.
Discography and Arrangements in the Collection
Dinah released a variety of singles including "Evil Gal Blues," "Salty Papa Blues" and a series of 12 recordings for Apollo Records, 10 of which were issued featuring the Lucky Thompson All Stars. Her first solo album was recorded in 1946 for Mercury Records. Her rendition of Fats Waller's "Ain't Misbehavin'" was another huge hit, and her popularity skyrocketed. Between 1948 and 1955, Dinah had 27 R&B Top 10 hits, and some, like "I Wanna Be Loved," made the U.S. Pop chart. By 1961, Dinah had recorded 45 R&B chart hits, including 16 Top 15 songs.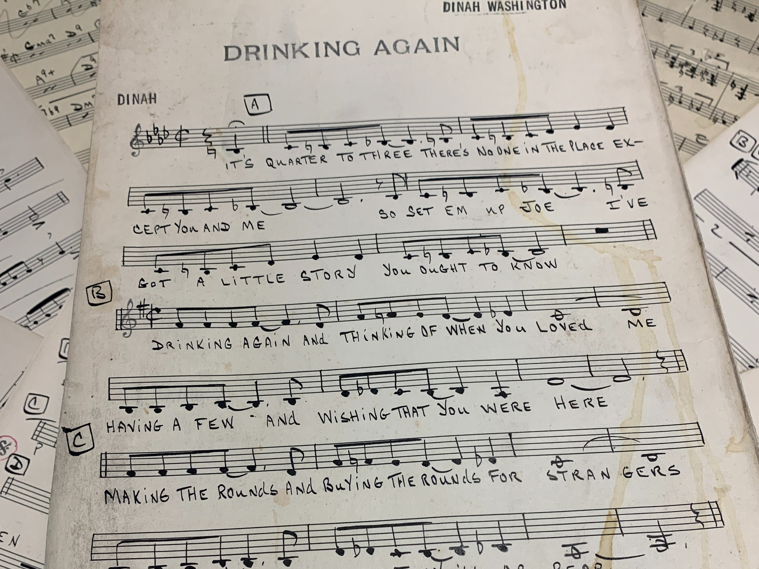 Arrangements of "Drinking Again". The Great American Songbook Foundation Library & Archives.
The Great American Songbook Library & Archives houses 43 of Dinah's orchestral arrangements for performances and recordings of songs, including "The Man That Got Away," "Drinking Again" and "Fly Me to the Moon."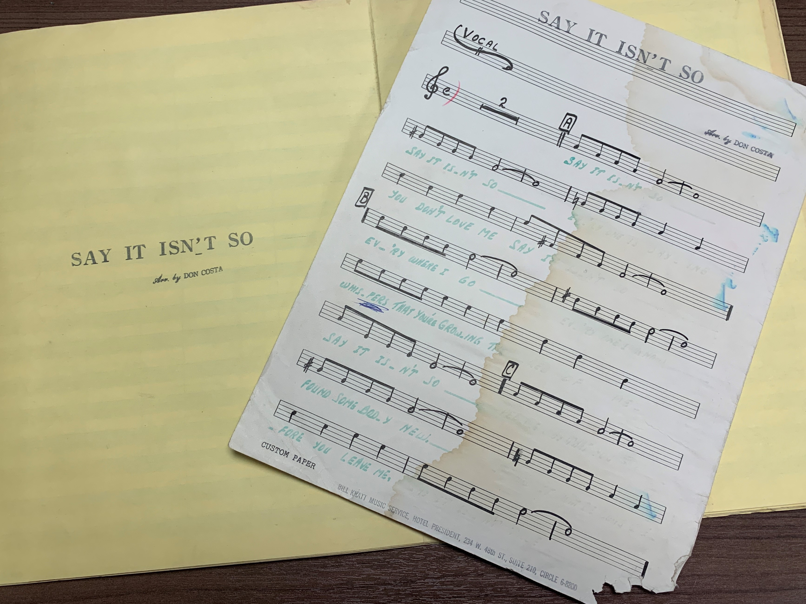 Vocal arrangement of "Say It Isn't So". The Great American Songbook Foundation Library & Archives.
Aretha Franklin Connection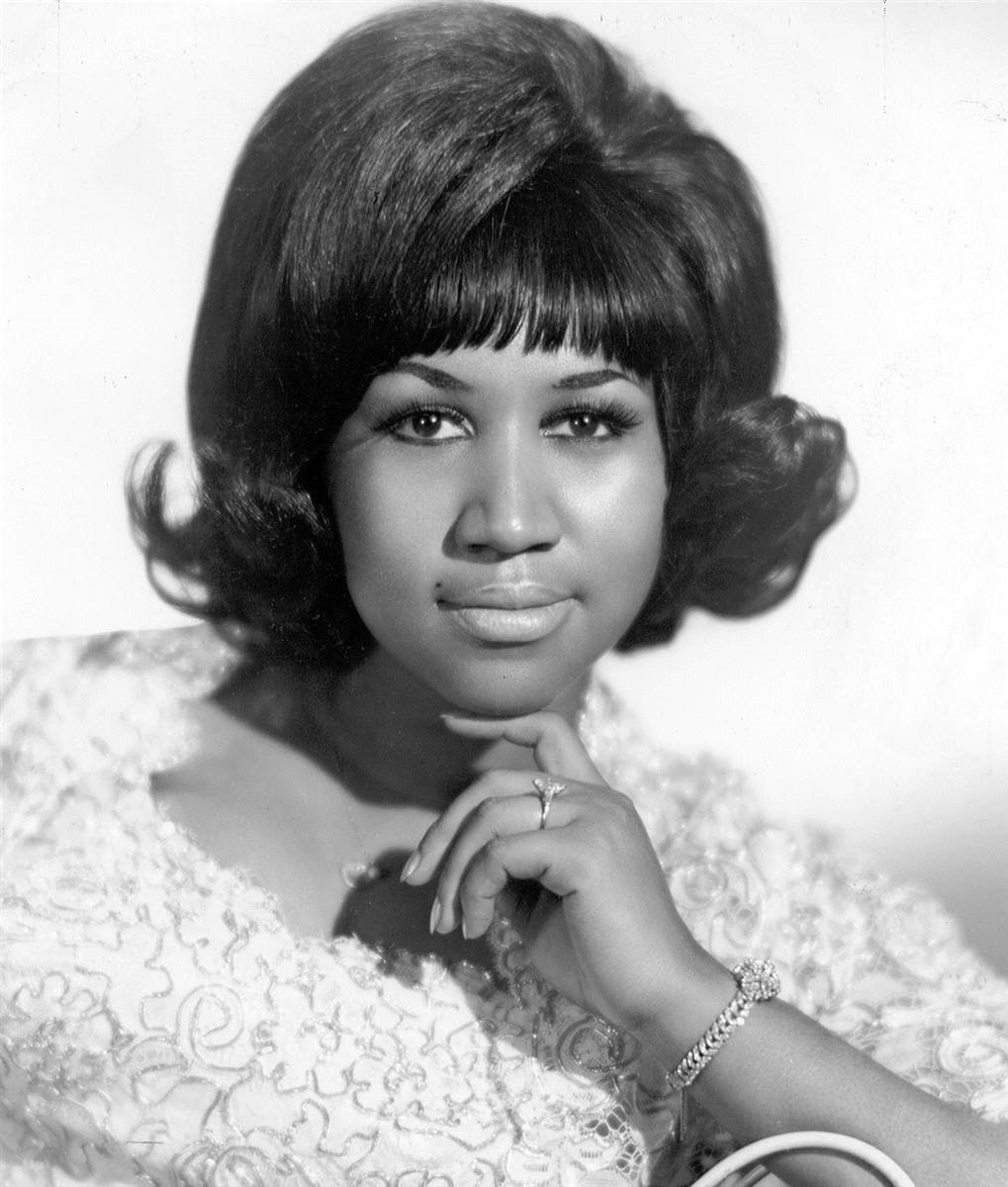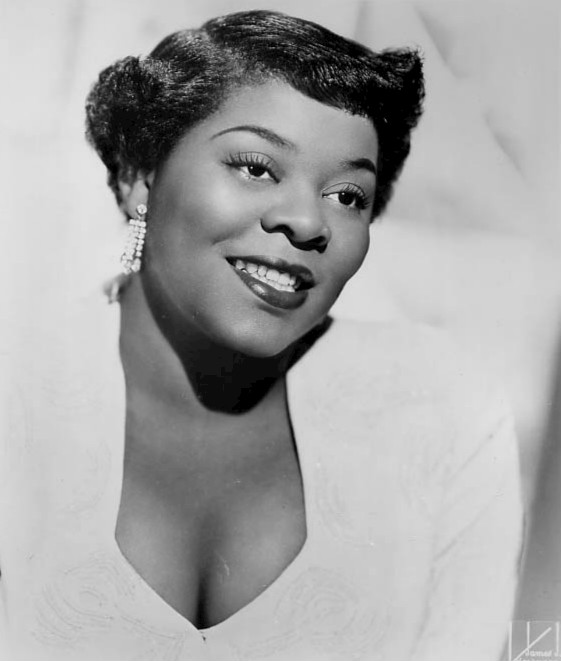 In 1961, Dinah released her album Unforgettable, shifting from her blues and R&B background into more of a pop style. In 1964, a new record was released with the same name, but this time it was a tribute album by Aretha Franklin – Dinah had passed away just months before. Songs included in the tribute album were "Drinking Again," "Evil Gal Blues, "What a Difference a Day Made" and the title track "Unforgettable." Franklin said of the album, "The idea of recording a tribute to her grew out of the way I've always felt about her. I didn't try to do the songs the same way she did them, necessarily – just the way they felt best, whether they happened to be similar or different."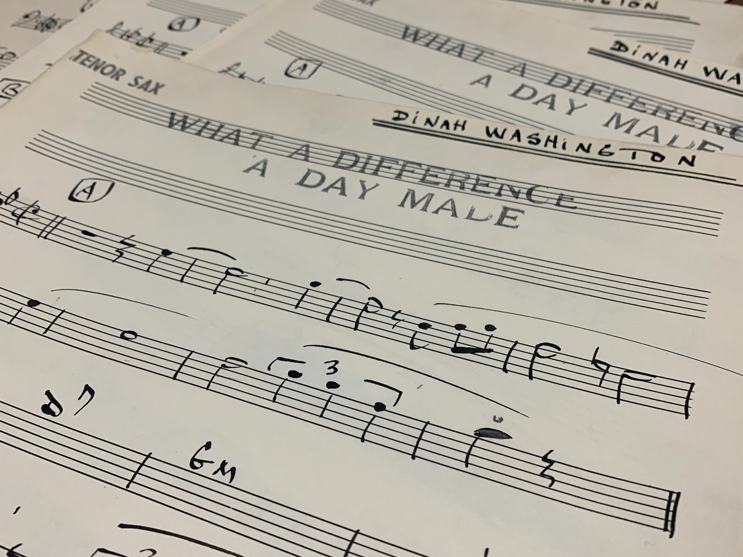 Arrangement of "What a Difference a Day Made". The Great American Songbook Foundation Library & Archives.
For the album, Franklin used the very same Washington arrangements that are found in the Songbook Foundation's Library & Archives. They were donated by memorabilia collector James Valenti, who obtained them from Franklin. Franklin received these arrangements from her booking agent, Ruth Bowen, who had also represented Washington during her career. Bowen was one of the first Black female talent agents and president of Queen Booking Corporation, the largest Black-owned entertainment and talent agency in the world. These arrangements are incredible not only for their significance in Washington's recordings but also for the provenance that Franklin obtained and utilized them as well.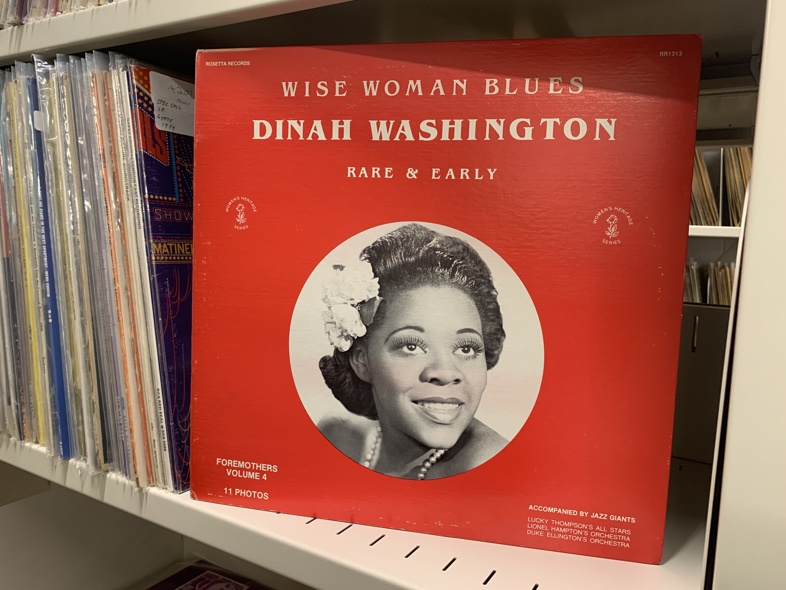 Wise Woman Blues, LP. Great American Songbook Foundation Library & Archives.
Sources:
"Dinah Washington." Encyclopædia Britannica, Encyclopædia Britannica, Inc., 10 Jan. 2023, https://www.britannica.com/biography/Dinah-Washington.
Haskins, James. Queen of the Blues: A Biography of Dinah Washington. New York: William Morrow, 1987.
Larkin, Collin. The Virgin Encyclopedia of Jazz. London: Virgin Books, 2004.
McDowell, Ian. "Dinah Washington." Encyclopedia of Alabama, 23 Feb. 2017, http://encyclopediaofalabama.org/Article/h-3881.