Great Moments in USO History
May 31, 2021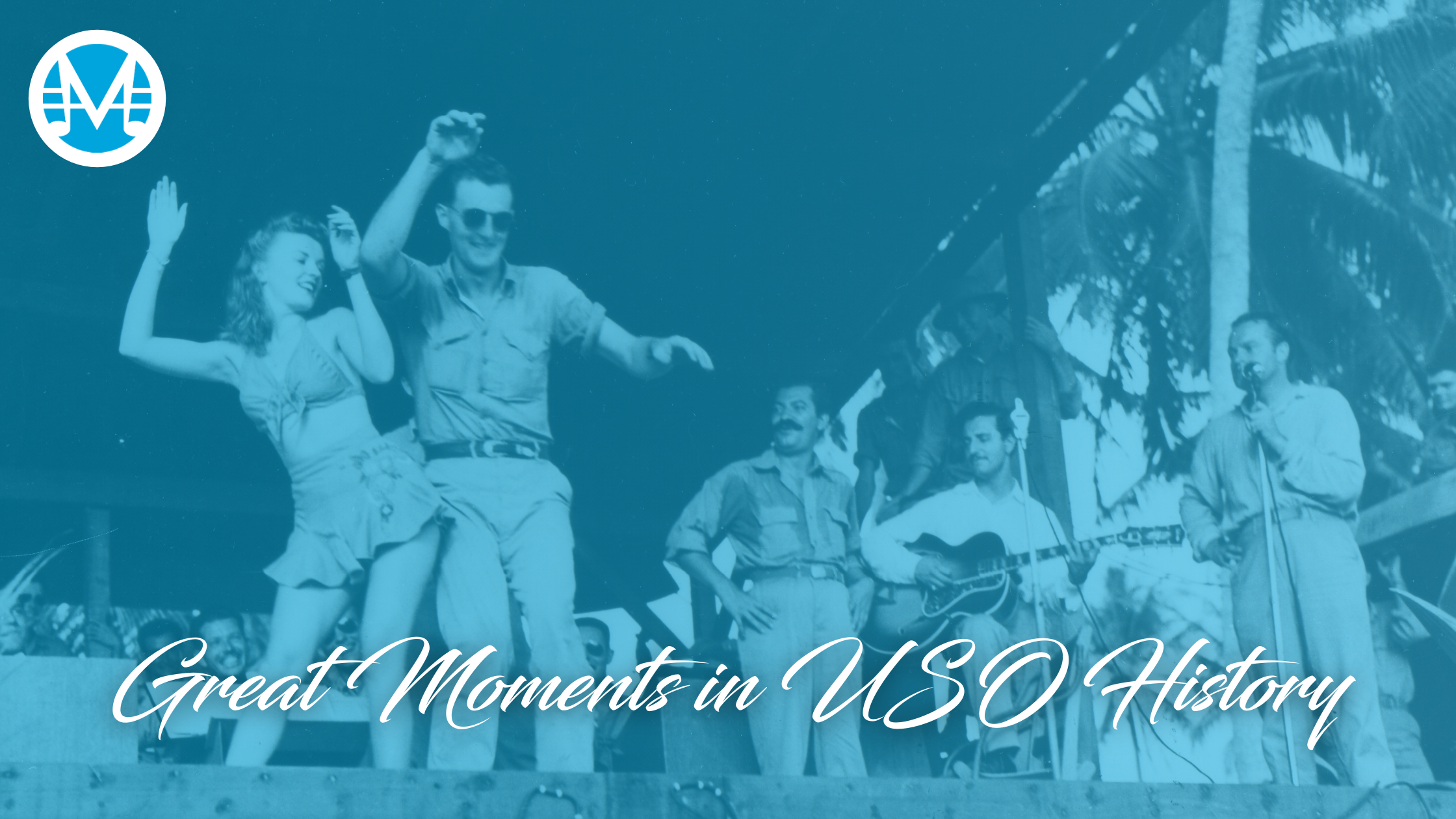 "The story of USO camp shows belongs to the American people, for it was their contribution that made it possible. It is an important part in the life of your sons, your brothers, your husbands, and your sweethearts."
USO promotional literature, 1942
Shortly before the United States entered World War II, President Franklin Roosevelt asked six civilian agencies to work together to form a new group charged with reaching out to those in uniform. On February 4, 1941, the USO (United Service Organization) was chartered as a private, nonprofit agency.
As the number of servicemen and women increased dramatically between 1941 and 1944, the USO worked to open facilities and provide services. These centers provided a welcome place where service personnel could dance, chat, write letters, watch movies, or simply enjoy a cup of hot coffee.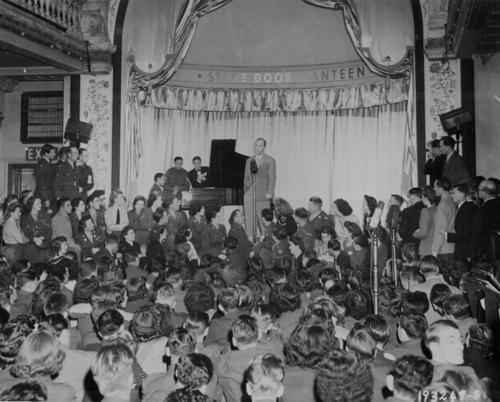 In New York City, Broadway's biggest celebrities staffed the Stage Door Canteen, serving coffee and mingling with GIs in addition to their performances. Hollywood offered a similar environment at the Hollywood Canteen, pictured here during one of Bing Crosby's legendary performances.
The USO quickly recognized a need for more than just a place to gather. In May 1941 the organization sent seven traveling show buses to entertain enlisted men near the Rocky Mountains. Demand for this type of service grew and led to the formation of a separate group, USO Camp Shows, Inc., that launched a four-part troop entertainment program. The Victory Circuit took full-sized concerts to the larger military installations, the Blue Circuit sent smaller tours to perform at army and navy sites, the Hospital Circuit provided entertainment at hospitals, and the Foxhole or Overseas Circuit went as close to the front lines as possible.
When it disbanded in 1947, USO Camp Shows had presented more than 428,000 performances in the United States. In 1944 the organization averaged 700 performances a day. By the end of World War II, the USO had sent more than 7,000 performers, brave soldiers in greasepaint, overseas.
Legendary Performers of the USO
No discussion of the USO would be complete without Bob Hope, an entertainer who headlined approximately sixty tours over a fifty-year career performing for the troops. His first wartime performance occurred at sea, aboard the RMS Queen Mary in September 1939, and his first official USO appearance took place at March Field, California, on May 6, 1941. He continued to travel and entertain troops throughout World War II, often dressed in army fatigues and carrying his signature golf club. A 1997 act of Congress signed by President Bill Clinton named Hope an "Honorary Veteran."
"I've been given many awards in my lifetime, but to be numbered among the men and women I admire most is the greatest honor I have ever received."
Bob Hope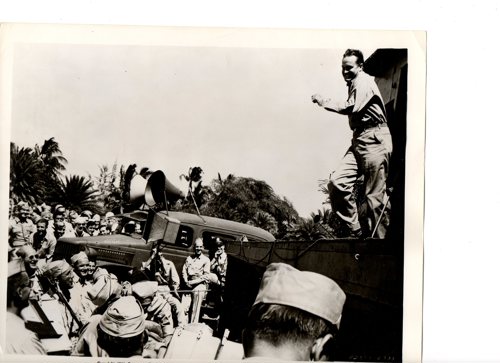 Bob Hope entertains troops overseas. (Photo: Bob Hope Trust)
The Sweethearts of the Armed Forces Radio Service
The Andrews Sisters have become the most recognizable faces when it comes to any discussion of music during the 1940s. The hugely successful harmony singing group provided the soundtrack for the swing and boogie era with hits such as "Boogie Woogie Bugle Boy." The group was second only to Bob Hope in the sheer number of performances done for the troops. The sisters (actual sisters LaVerne, Maxene, and Patty) helped to found the Hollywood Canteen, recorded a series of Victory Disks for distribution to allied fighting forces only, and supported the war-bond program with their rendition of Irving Berlin's song "Any Bonds Today?"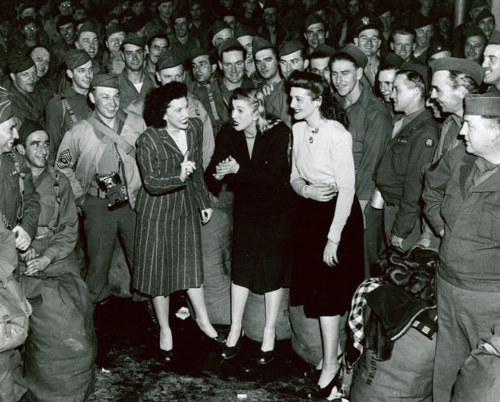 The Andrews Sisters singing for soldiers. (Photo: Robert Boyer Collection, Great American Songbook Foundation)
Learn more about the Queens of the Jukebox in the Songbook Foundation's Andrews Sisters Online Exhibit.
"I'm Dreaming of a White Christmas"
According to Yank magazine, the man who did more for the American GI during World War II was none other than legendary crooner and film star Bing Crosby. At the height of his fame, polls declared Crosby as the most "admired man alive." The biggest hit of Crosby's career was the Irving Berlin classic, "White Christmas," recorded by Crosby for the 1942 film Holiday Inn. Hardly a war song, the lyrics describe a wistful wishing for a Christmas that will likely be missed, a sentiment that resonated with soldiers far from home. Crosby was a hugely popular performer on USO tours alongside such friends as Fred Astaire and Bob Hope.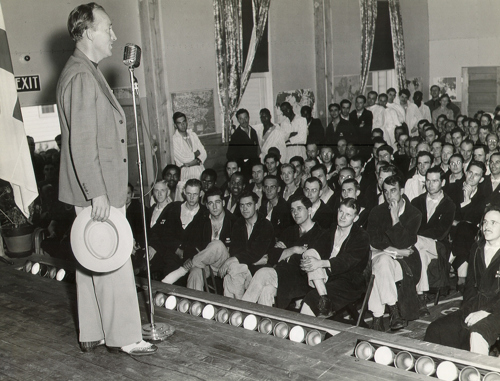 Bing Crosby performs at a USO event. (Photo: Burns Media Productions)
I Would Give a Show
Even before the USO began its formal overseas program, Al Jolson, the most popular stage and screen performer of the early twentieth century, requested permission to perform for troops. Early in 1942, Jolson became the first star to perform at a GI base, and went on to perform as many as four shows a day. Hits such as "Sonny Boy" and "Mammy" entertained troops in foxholes, dugouts, or on base, and Jolson went on to create several patriotic albums and films. During the war, Jolson caught malaria and lost a lung. Complications from the disease ultimately led to his death in 1950.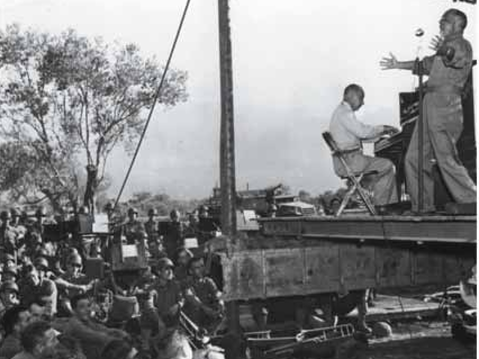 Al Jolson entertains troops. (Photo: unknown)
Every Woman Back Home Wears a Halo
For female entertainers, traveling as part of a USO tour provided the opportunity to tour the world and be patriotic at the same time. Women performers were especially popular during World War II, and the family friendly entertainment they provided brought cheer to the troops who delighted in seeing some of the most famous, and beautiful, women in the world. Stars such as the Andrews Sisters, Lena Horne, Martha Raye, Judy Garland, Marlene Dietrich, and Rita Hayworth logged millions of miles performing for troops all over the world.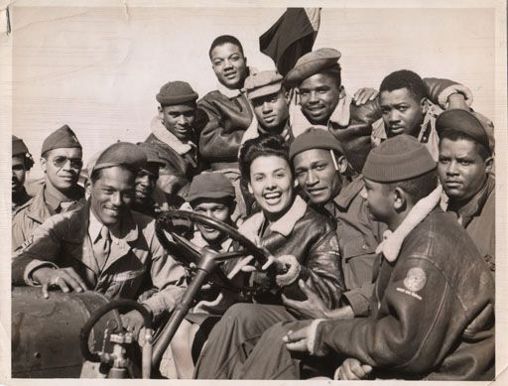 Lena Horne visits Tuskegee Airmen. (Photo: unknown)
Tweet #share