our Current Exhibit
a Traveling Exhibit
Visit The Great American Songbook Foundation
1 Carter Green
Carmel, IN 46032
317.844.2251
Info@TheSongbook.org

Songbook Exhibit Gallery Location & Hours
Enter west entrance of the Palladium on 3rd Ave
Monday-Friday 10am-4pm; also open one hour before Songbook and Jazz Series events in the Palladium

The Great American Songbook Foundation is a 501(c)3 nonprofit organization with a mission to inspire and educate by celebrating the Great American Songbook.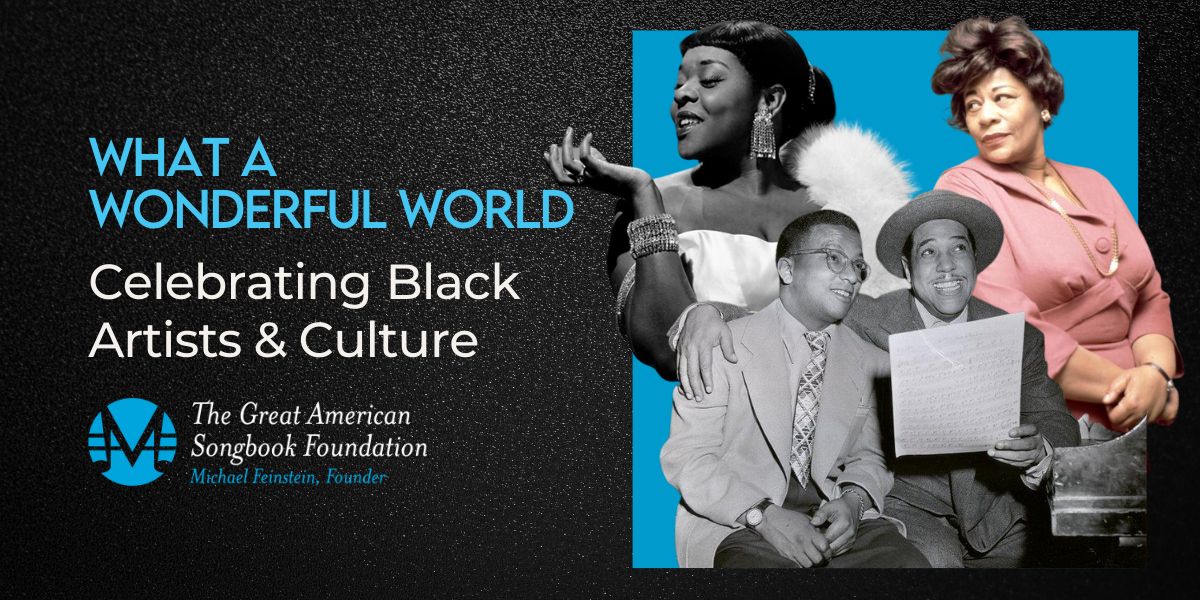 What a Wonderful World: Celebrating Black Artists & Culture
This collection introduces some of the legendary African-American singers, songwriters and performing artists who revolutionized the American Songbook and beyond, and ultimately, defined America's unique soundscape and cultural history.

Spotify Playlist: Songbook, Gifted and Black
If we built a playlist that captured all of the voices, melodies, and contributions of Black artists to the history of American music, Spotify would certainly play on an endless cycle. That said, if you are looking to dive into the rich sounds and styles that Black artists made possible over the past century of American music history, we have the perfect introductory playlist for your listening needs. Listen to Songbook, Gifted and Black on Spotify. Ranging from composers like Duke Ellington and Scott Joplin to singers like Billie Holiday, Nina Simone and Marvin Gaye, this playlist has a little bit of everything you need to celebrate the Black artists of the Songbook!

Music's Voice in the American Civil Rights Movement
In retrospect, the civil rights movement may seem like an inevitable force of history, but at the time, the people involved were not only exhilarated, but also terrified, as they often faced violent reactions to their peaceful demand for equal treatment. The training many had undergone in the principles of nonviolence helped steel their nerves, but they also found strength in the power of music Music had long played an important part in the lives of African-Americans, from whose traditions sprang gospel, jazz, and rock music. The civil rights protesters sang songs to calm their nerves and raise their spirits as they faced arrest and beating, attack dogs and fire hoses. They sang on marches and they sang in jail, for courage, for solace and for a sense of unity. Dr. King said that "songs were the soul" of the movement. Continue reading . . .

Ella Fitzgerald's Songbooks
Ella Sings the Songbook focuses on a celebrated series of eight albums recorded for Verve Records in the 1950s and '60s, when the respected jazz singer took a new and highly successful direction interpreting works by the most beloved composers of Tin Pan Alley, Broadway, and Hollywood: Cole Porter, Rodgers & Hart, Duke Ellington, Irving Berlin, George and Ira Gershwin, Harold Arlen, Jerome Kern, and Johnny Mercer.
Preserving Ella's costumes
Grammy Award-winning jazz vocalist Catherine Russell and guest textile conservator Kris Cnossen (Indianapolis Museum of Art at Newfields) weigh in on celebrating and preserving the musical legacy of the First Lady of Song, Ella Fitzgerald! Learn about how we care for two of Ella's iconic costumes.

Collections Highlight: Dinah Washington, A "Dinah-mo" in Her Own Right
Self-appointed as the "Queen of the Blues," Dinah Washington is known for her incredible musical ability that spanned a variety of genres. From gospel to R&B to pop, Dinah was a female powerhouse to be reckoned with in the 1950s. The Songbook Library & Archives is thrilled to serve as the repository for more than 40 of Dinah's arrangements. Everything from "Fly Me to the Moon" to "What a Diff'rence a Day Makes" (which won her the 1959 Grammy Award for Best Rhythm & Blues Performance) are housed with their original instrumental parts. But there's something extra special about Dinah's arrangements and you might just be surprised to hear who also used them! Explore an all-new Collections Highlight.

Duke Ellington & Billy Strayhorn
If you are familiar with the jazz composition, "Take the A Train," then you know something about not only Duke Ellington, but also Billy "Sweet Pea" Strayhorn, its composer. Strayhorn joined Ellington's band in 1939, at the age of twenty-four. Ellington liked what he saw in Billy and took this shy, talented pianist under his wings. Neither one was sure what Strayhorn's function in the band would be, but their musical talents had attracted each other. By the end of the year Strayhorn had become essential to the Duke Ellington Band; arranging, composing, sitting-in at the piano. Billy made a rapid and almost complete assimilation of Ellington's style and technique. It was difficult to discern where one's style ended and the other's began. The results of the Ellington-Strayhorn collaboration brought much joy to the jazz world.

Bessie Smith: The Empress of the Blues
Bessie Smith's recording career spanned only 10 years, but her outsized impact on American blues music is still felt to this day. From her very first hit, "Downhearted Blues," Smith's songs celebrated and lamented the daily trials of Black women in America. She sang about the needs, desires, and struggles of strong working-class women; those women, in turn, helped drive record sales and made her the first African-American superstar. An innovator and influencer, Bessie Smith is rightly called "The Empress of the Blues."
Learn more about pioneering Blues artists in From Jazz Age to Streaming: The Soundtrack of the 20s-20s.

Louis Armstrong: Jazz Innovator
Instantly recognizable as one of the most famous figures in jazz, Louis Armstrong was an innovator, changing the game for decades of musicians who followed him. Breaking with the formal stylings of vocalists in prior decades, Armstrong created improv scat singing with a swing rhythm; his trumpet technique led to a trend of soloists becoming the focus of jazz band performances. Louis Armstrong is arguably one of the most influential people in the history of American music. Learn more about pioneering artists in From Jazz Age to Streaming: The Soundtrack of the 20s-20s.

Diahann Carroll in the Songbook Archives
2016 Songbook Hall of Fame honoree, Diahann Carroll was described by The New York Times as a sitcom pioneer who also, "sang on television, in nightclubs, on recordings and on Broadway, where she won a Tony Award." Diahann broke racial barriers in the entertainment world on stage and screen and remained an icon in the industry for over 50 years. Inducted into the Television Hall of Fame in 2011 and nominated for multiple Daytime Emmy Awards, Primetime Emmy Awards, Golden Globe Awards, and an Academy Award, her legacy will undoubtedly live on for years to come.
Unboxing Diahann Carroll's mementos from her career
The Great American Songbook Foundation is proud to house and preserve artifacts that help tell the story of Diahann Carroll's illustrious career. Take a look inside one of Diahann's boxes in the Songbook Foundation's Unboxing Series.

The art of Johnny Mathis' "Heavenly"
With his 66-year performing career, Johnny Mathis is the world's bestselling living recording artist and is one of only five recording artists to have Top 40 Hits spanning each of the four decades since 1955. Mathis's resilient career began in 1956. His singles "Wonderful! Wonderful!" in 1957 was one of his biggest hits, as was "Chances Are." In 1958, Columbia released the first of many "Greatest Hits" collections which became one of the bestselling records of all time, and started a music industry tradition. To date, 73 of Mathis's albums have reached the Billboard Top Album charts, with 13 Gold Records and eight Platinum Records. Of his 200 singles, 71 have charted worldwide. Mathis has been inducted into the Grammy Hall of Fame three times for his songs, "Chances Are," "It's Not For Me To Say," and "Misty." Mathis continues to record songs and still performs live. Learn more about Songbook Hall of Fame honoree, Johnny Mathis at TheSongbook.org/johnny-mathis.
Discover the history of album art and enjoy seeing exclusive photos and album covers from Johnny Mathis' personal archive in "The art of Johnny Mathis' Heavenly" highlight.

Wes Montgomery at 100
Jazz guitar master and Hoosier native, Wes Montgomery, celebrates his centennial in 2023. 
Universally acknowledged as one of the greatest guitarists in the history of jazz, Wes Montgomery virtually defined modern jazz guitar during the 1950s and '60s. His unique idiomatic conception to the instrument and the power of his soloing influenced generations of players who followed him; guitar icons such as George Benson, Pat Martino, Larry Coryell, John Scofield, Pat Metheny, Lee Ritenour and Russell Malone. (The Official Wes Montgomery Website)
Explore more jazz artists of Indiana Avenue in the online exhibit: The Great Indiana Songbook.