to The Songbook Academy
Perfect Harmony Music Resources
Contact us for more information:
The Great American Songbook Foundation
317.844.2251
Info@TheSongbook.org

The Great American Songbook Foundation is a 501(c)3 nonprofit organization with a mission to inspire and educate by celebrating the Great American Songbook.


Faculty & Mentors
The Songbook Academy features a top-notch lineup of industry professionals and experienced educators who mentor our singers each summer. They create a safe space for students to learn, grow, take risks and tell their unique stories through song.

"The value of working with the mentors was immeasurable."
– Lily Schloss ('23), Cedar Rapids, Iowa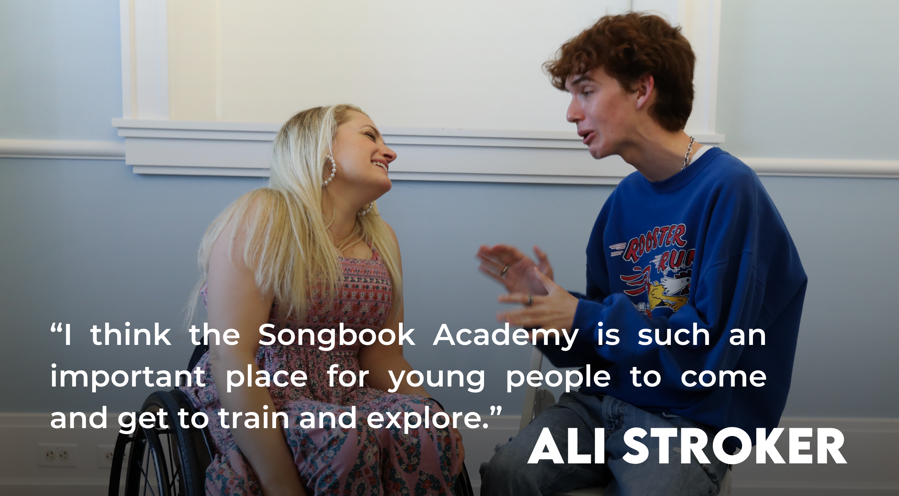 Guest Mentors
In addition to our founder and 5-time GRAMMY nominee Michael Feinstein, our Songbook Academy Guest Mentors come to us from all corners of the music industry, whether from the Broadway stage or the recording studio. Featuring Tony, Emmy and GRAMMY winners, viral sensations and living legends, browse a few of our notable past mentors who have joined us over the years to host a masterclass during Songbook Academy week!

"Michael Feinstein is the GOAT."
– Alex Kim ('23), Laguna Niguel, California
"I've done a lot of these masterclasses over the years, and I am very, very impressed with this program. The students have such a good understanding of the lyric and I cannot wait to see all of them in shows one day."
– Ashley Park, Netflix's Emily in Paris, Broadway's Mean Girls
"The standards were something that I studied for so many years and actually led directly to the creation of Postmodern Jukebox. I think it's important for the next generation to really learn those same skills so that they can apply them in their own careers in whatever way they choose."
– Scott Bradlee, Founder of Postmodern Jukebox
Examples of other past Guest Mentors:
Andréa Burns — In the Heights, Songs for a New World, Hulu's Up Here
Liz Callaway — Tony nominee, Emmy winner, singing voice of Anastasia
Nicole Henry — Critically acclaimed jazz singer; four Billboard Top 10 albums
James T. Lane — Chicago, Kiss Me Kate, The Scottsboro Boys, A Chorus Line
Telly Leung — Aladdin, Allegiance, Godspell, Rent, Fox's Glee
Melissa Manchester — actress and GRAMMY-winning singer-songwriter
The Manhattan Transfer's Cheryl Bentyne, Janis Siegel and Trist Curless
Michael McElroy — Tony-nominated actor, University of Michigan's MT Dept. Chair
Jane Monheit — GRAMMY-nominated jazz and adult contemporary vocalist
Laura Osnes — Cinderella, Bandstand, Bonnie and Clyde, Grease
Solea Pfeiffer — Hadestown, Almost Famous, Netflix's A Jazzman's Blues
Catherine Russell — GRAMMY-winning blues and jazz vocalist
Nasia Thomas — Six, Caroline or Change, Ain't Too Proud, Beautiful

*All show titles refer to Broadway productions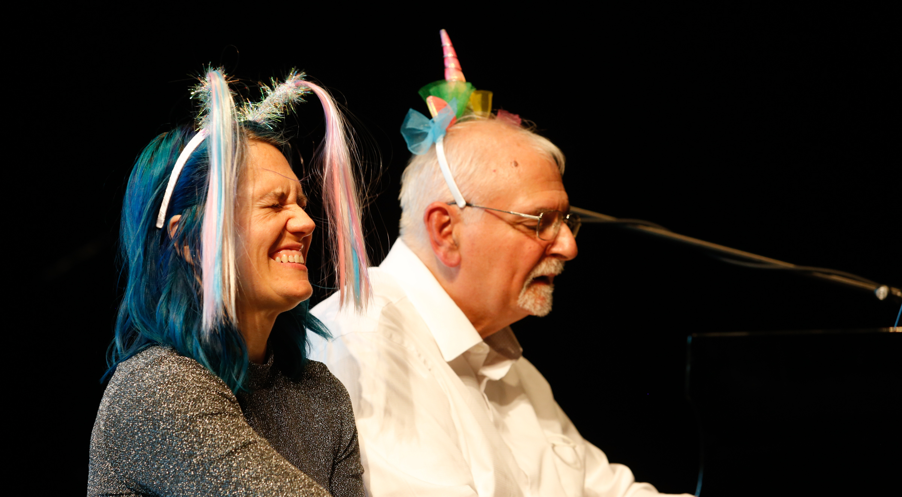 Program Faculty
Each summer's core team of faculty consists of five vocal coaches and five music directors who work with each of our students to guide them through Songbook Academy Week in a personalized coaching capacity. They work together as a team to prepare a unique arrangement of each student's selected song, guide daily vocal and performance technique work, create their "team medley" for Saturday's concert, and provide a home base for each students' growth throughout the week.
"The mentors gave me space to grow and let me improve my artistic capabilities. I felt like they all met us where we were as artists."
– Jackson Manning ('23), Doylestown, Pennsylvania
"As mentors, we have to really create that sort of playground space where students can really feel free to be themselves in the song and then be brave enough to share it with their audiences."
– vocal coach Devin Ilaw, Adjunct Faculty, NYU Tisch School of the Arts
Our vocal coaches have come from top universities, including the University of Michigan's Musical Theatre program, NYU Tisch School of the Arts, Boston Conservatory at Berklee, Oberlin College and Conservatory, as well as opera, concert, and musical stages around the world from New York's Lincoln Center to Broadway.
"Catherine Walker is a magician. I am a much more confident performer on all fronts and gained lasting vocal techniques that I have applied to many scenarios this year. It was the best week of my life no hyperbole."
– Trevor Schonman ('23), River Forest, Illinois
Our music directors have worked with artists including Frank Sinatra, Rita Moreno, Liza Minnelli, Lea Salonga, Bernadette Peters, Sammy Davis Jr., and Kristin Chenoweth, to name a few. They have served as conductors and Musical Directors for Broadway and National Tours, have written orchestrations for various concert and television series with some of the country's leading symphony orchestras, and regularly appear on stages from Carnegie Hall to Birdland.
"Team sessions were my favorite part and I loved my mentors. I gained so much knowledge not only from the mentors but just from watching everyone else. It was an experience like no other."
– Ava Lee ('23), Avon, Indiana