our Current Exhibit
a Traveling Exhibit
Visit The Great American Songbook Foundation
1 Carter Green
Carmel, IN 46032
317.844.2251
Info@TheSongbook.org

Songbook Exhibit Gallery Location & Hours
Enter west entrance of the Palladium on 3rd Ave
Monday-Friday 10am-4pm; also open one hour before Songbook and Jazz Series events in the Palladium

The Great American Songbook Foundation is a 501(c)3 nonprofit organization with a mission to inspire and educate by celebrating the Great American Songbook.


Traveling Exhibits
"I connected with the life story of Ella Fitzgerald.  She overcame so much in her life and continued to persevere." ― Elizabeth, 8th grader (Oaks Academy Middle School)
Bring a portable music exhibit into your classroom, library, office or community center with the Great American Songbook Foundation's traveling exhibits.
What exhibits are offered?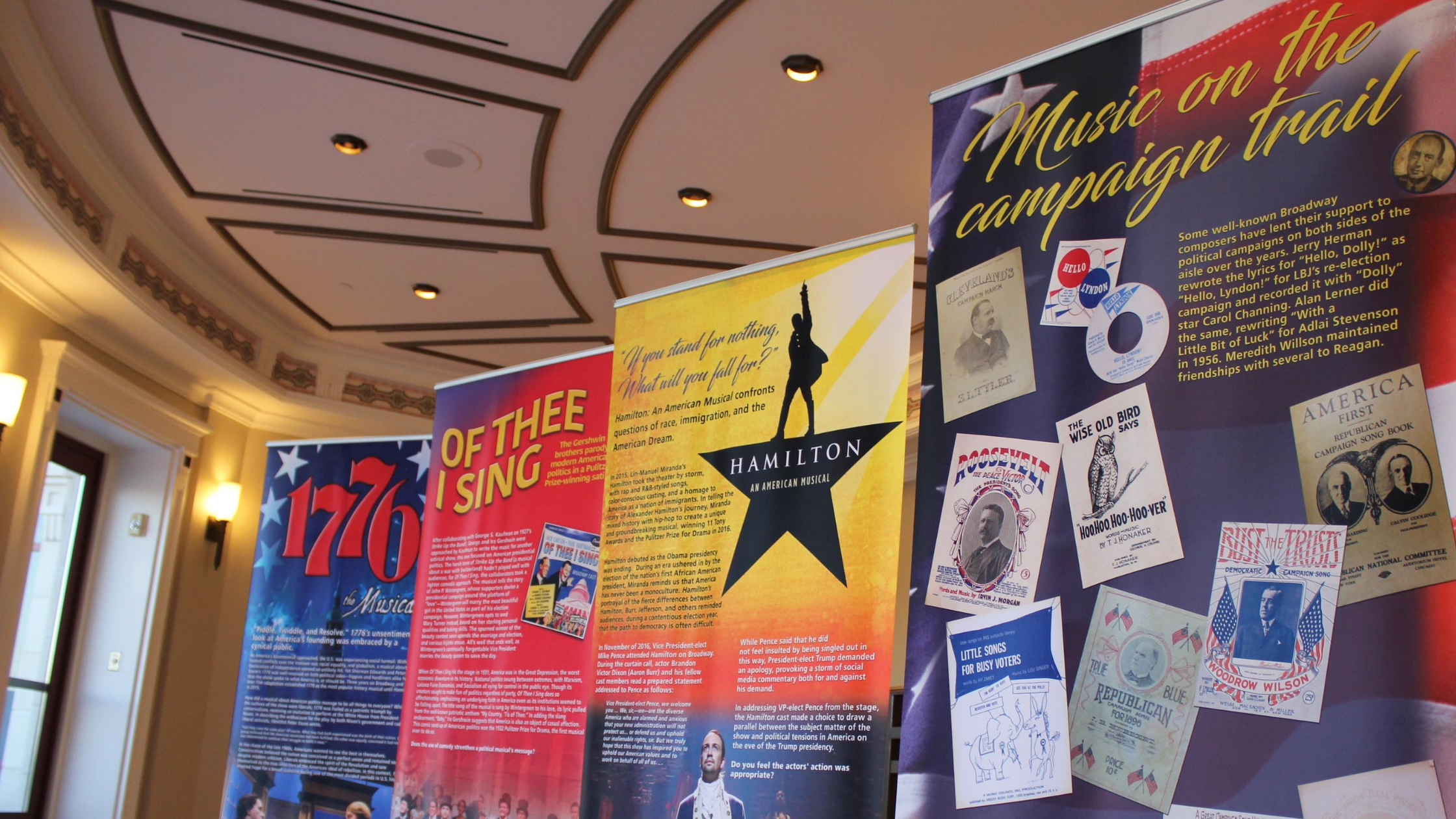 Of Thee I Sing: Politics on Stage
An exhibit exploring the intersection of entertainment, politics and patriotism from George and Ira Gershwin's Of Thee I Sing to Lin-Manuel Miranda's Hamilton: An American Musical!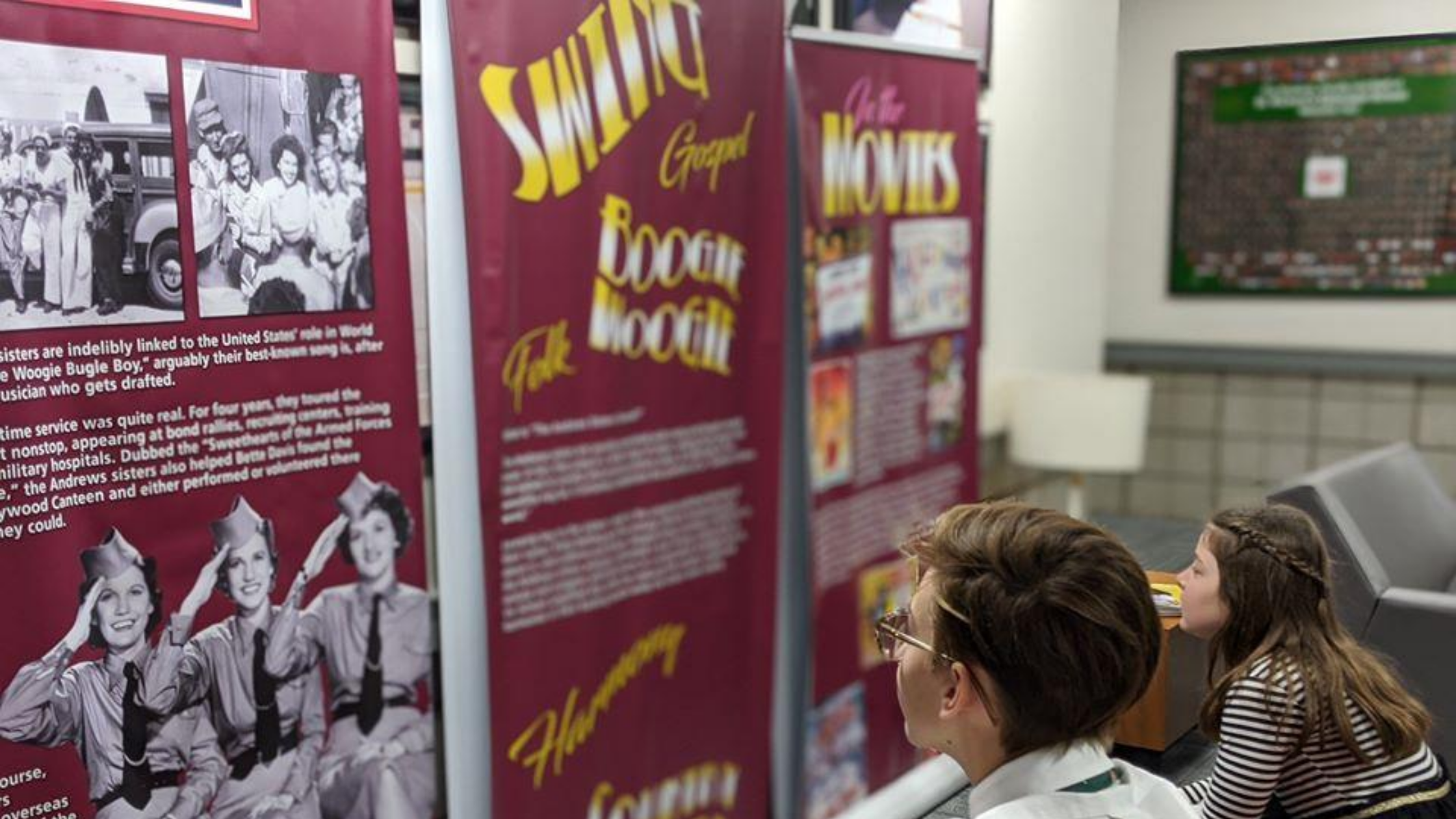 The Andrews Sisters: Queens of the Jukebox
The Andrews Sisters. The name conjures indelible images: soldiers listening to a jukebox in the canteen; packed theaters with rabid fans jitterbugging in the aisles; and a brass-voiced trio of lanky women in chiffon dresses and bouffant hairdos.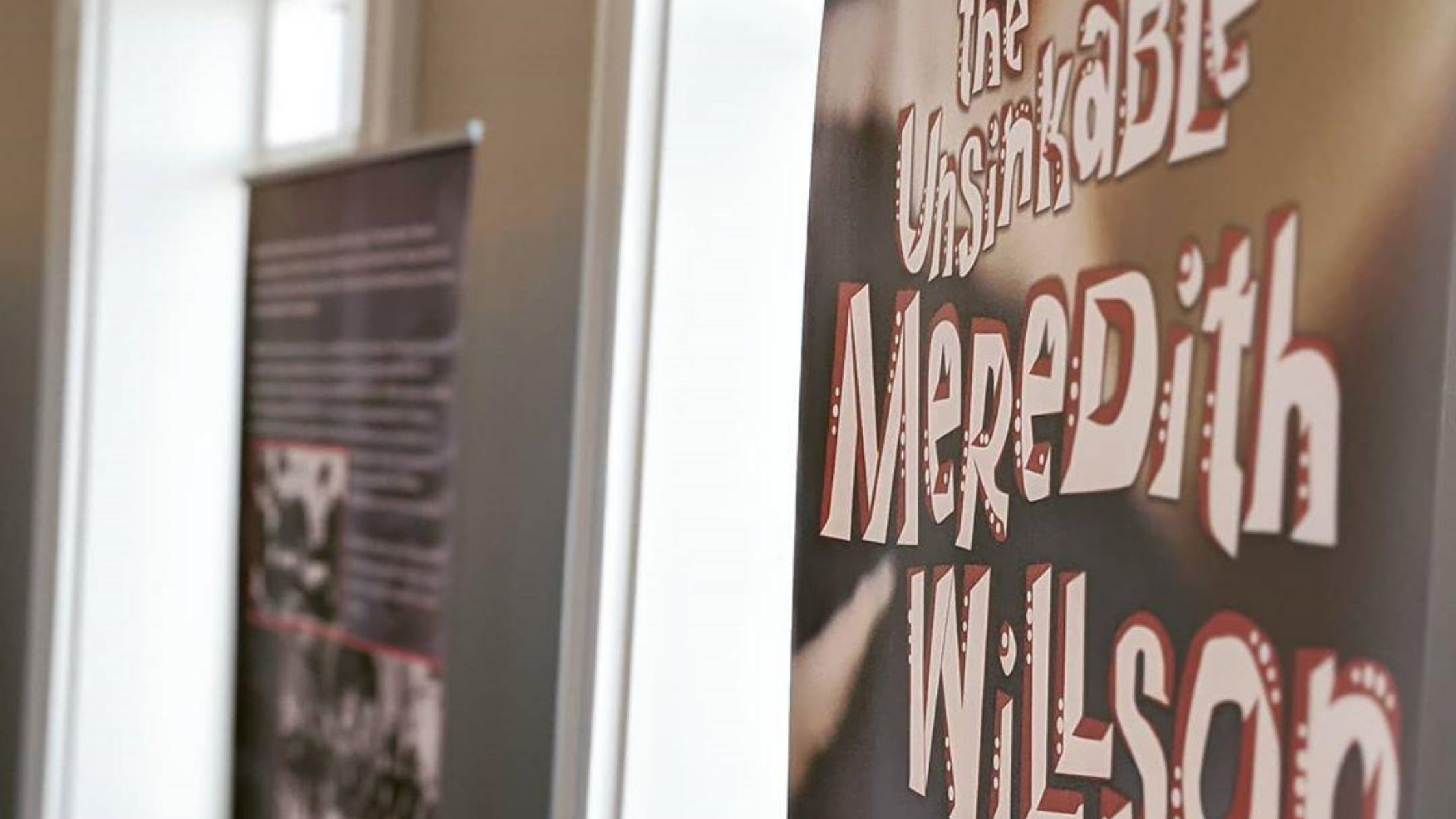 The Unsinkable Meredith Willson 
An exhibit devoted to the entertainment career of Meredith Willson (creator of The Music Man) from his humble beginnings in Mason City, Iowa to the lights of Broadway. This exhibit features materials from the Meredith Willson collection housed in the Songbook Foundation's Library & Archives.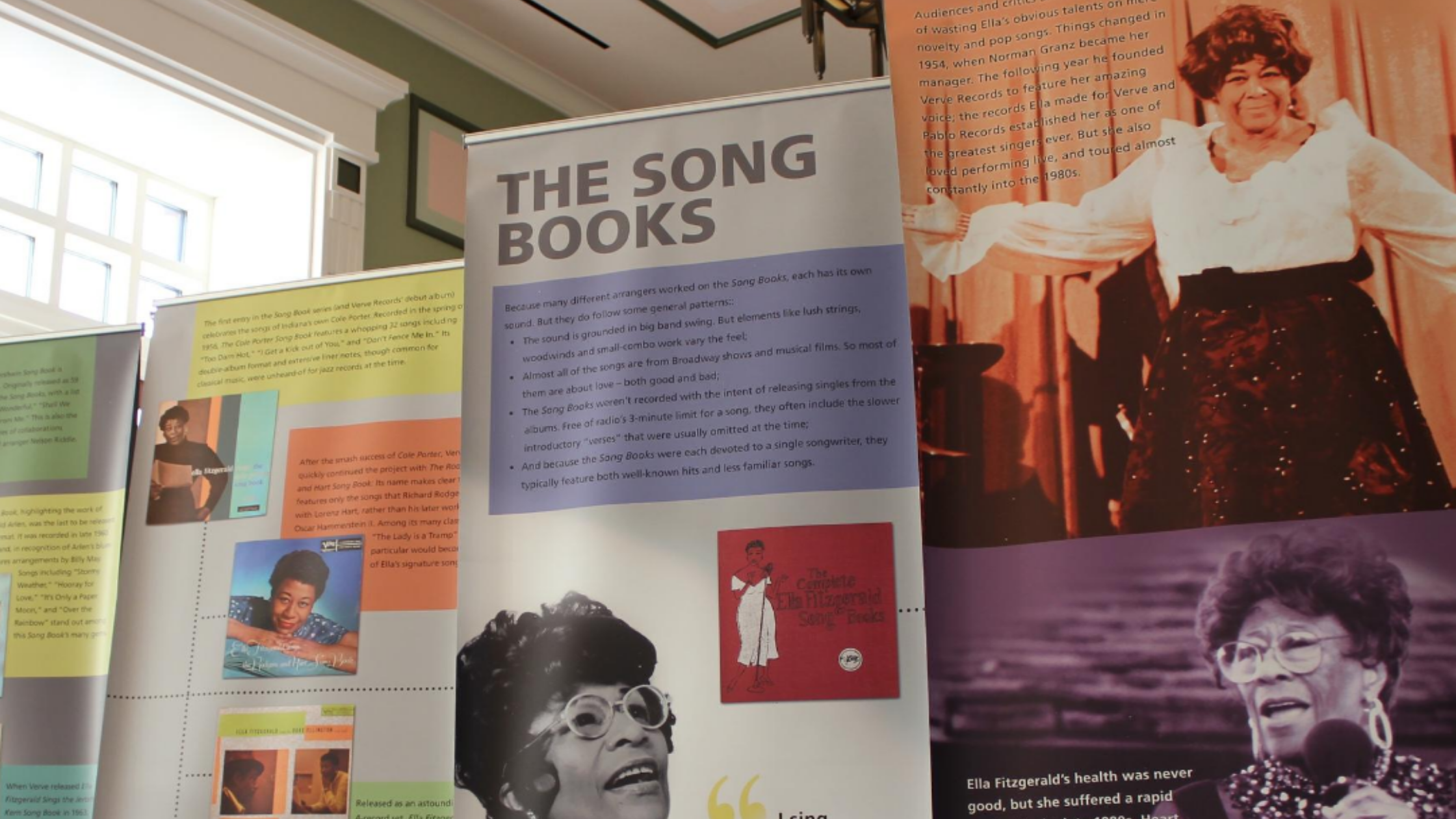 Discover how Ella's eight Verve Record series rejuvenated the music of beloved composers from Tin Pan Alley, Broadway, and Hollywood: Cole Porter, Rodgers & Hart, Duke Ellington, Irving Berlin, George and Ira Gershwin, Harold Arlen, Jerome Kern, and Johnny Mercer.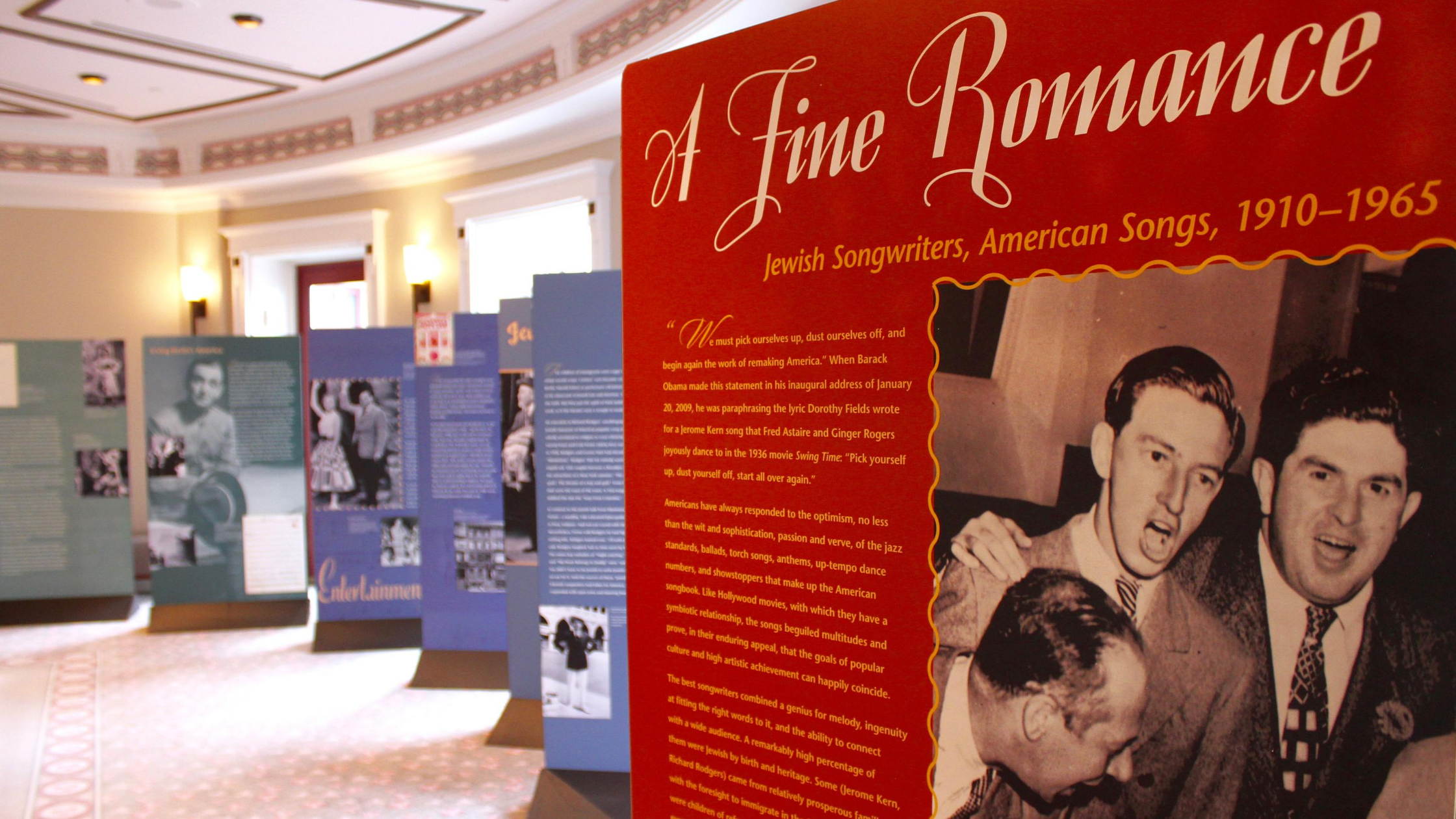 Using images from Broadway musicals, classic films, and personal collections, A Fine Romance tells the story of Jewish artists who created songs of wit, sophistication and optimism through America's ups and downs during the 20th century.
How much does it cost to borrow an exhibit?
There is no cost to reserve a traveling exhibit. *Excludes shipping fees
How big are the exhibits?
Includes:
4 exhibit bases with double-sided vinyl banners (8 educational panels in total)

Vinyl Print: 36"W x 69" to 92"H

4 telescope poles

4 carrying cases
It is quick, simple to use and holds two 36"x 69" to 92" banners per display
How long can I borrow an exhibit?
We will work with you to create a personalized duration of time per request. Contact Chelsea Reynowsky at the address or phone number below for more information.
Where have these exhibits been?
Most recently, our traveling exhibits have taken trips to St. Richard's School, the Carmel Clay Public Library and the Long Center for the Performing Arts.