our Current Exhibit
a Traveling Exhibit
Visit The Great American Songbook Foundation
1 Carter Green
Carmel, IN 46032
317.844.2251
Info@TheSongbook.org

Songbook Exhibit Gallery Location & Hours
Enter west entrance of the Palladium on 3rd Ave
Monday-Friday 10am-4pm; also open one hour before Songbook and Jazz Series events in the Palladium

The Great American Songbook Foundation is a 501(c)3 nonprofit organization with a mission to inspire and educate by celebrating the Great American Songbook.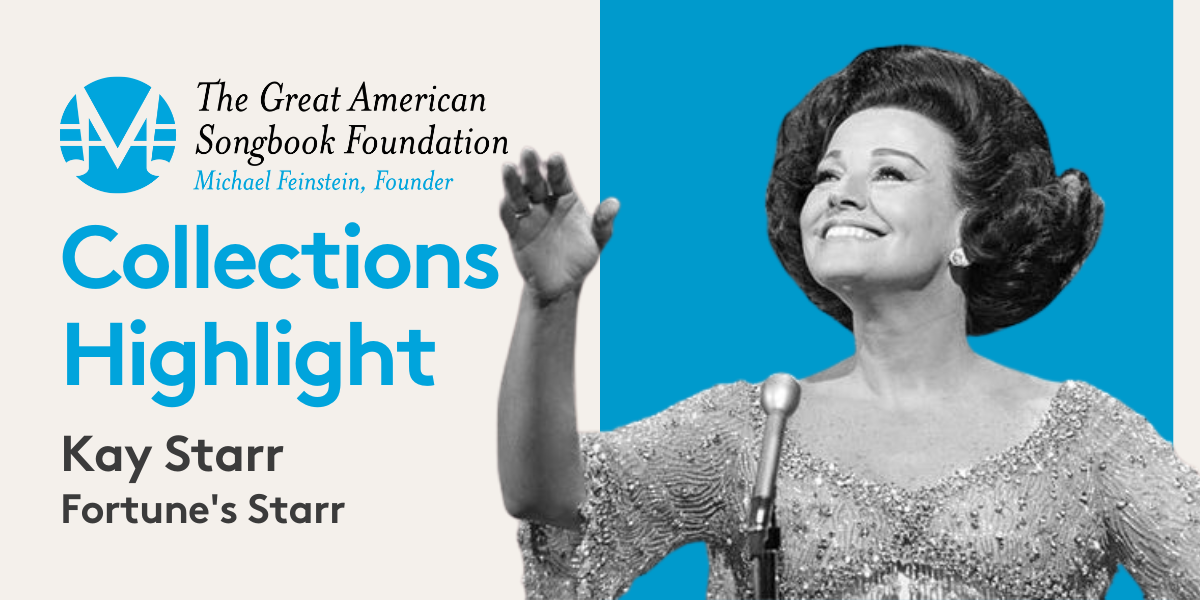 Collections Highlight: 

Kay Starr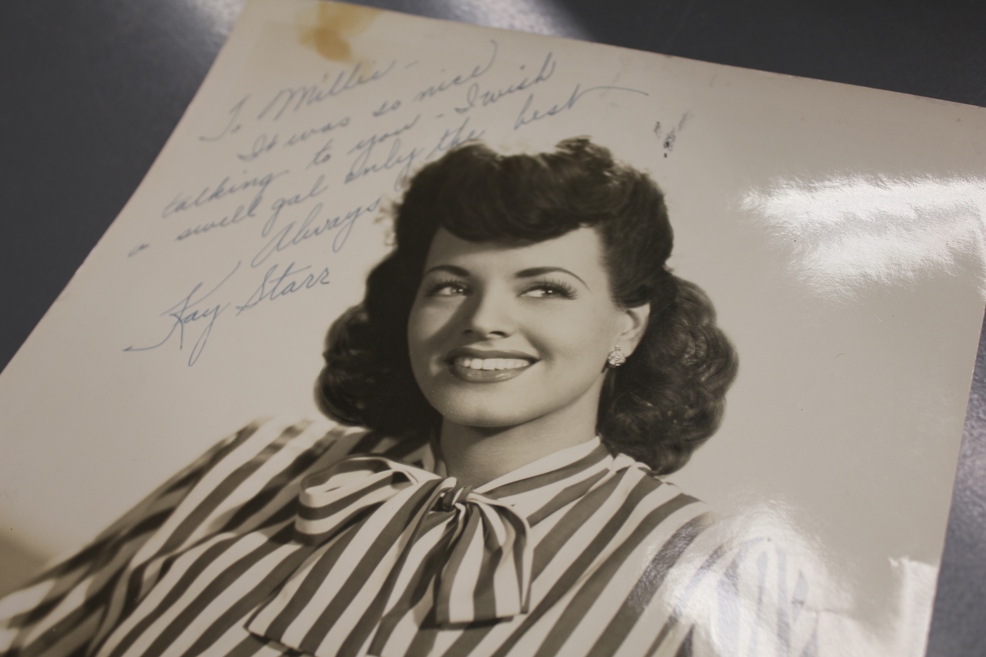 Kay Starr signed photograph. The Great American Songbook Foundation Library & Archives.
Born Katherine La Verne Starks on a reservation in Oklahoma, Kay Starr would become one of the most prolific voices of the 1940s and '50s. She was known for incorporating the music of the American South and Southwest into her musical style. She grew up during the Great Depression and thrived during the start of the rock and roll era.
"I am a firm believer that a singer is no more than an actor or an actress set to music. They learn the story, they tell the story, and if they don't tell the story right, people are not going to like it no matter what the melody is."
― Kay Starr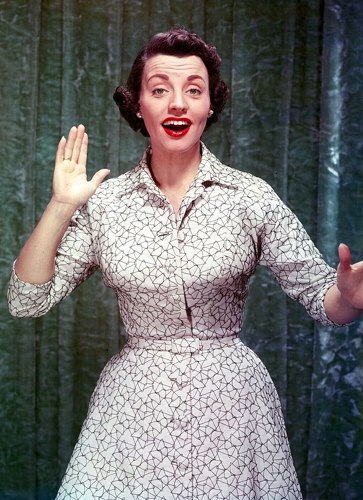 Kay Starr Headshot. Public Domain.
Starr was born to her father, Henry, an Iroquois Native American, and Annie, who was of mixed Irish and Native American heritage. Her father worked for the Automatic Sprinkler Company while her mother raised chickens. As a young girl, Starr liked to serenade the coop. Her singing abilities won her a 15-minute radio show on Dallas station WRR. On her show, Starr would sing pop and country songs with piano accompaniment. By age 10, she was making $3 per night, a generous paycheck for the Great Depression.
When Starr's father moved the family to Memphis, young Kay continued her radio performances, singing mostly the Western swing genre. At 15, she was selected to sing with Joe Venuti (though she did have a midnight curfew), and in 1939, she worked with bandleaders Bob Crosby and Glenn Miller and recorded two songs that didn't gain great success.
With her graduation from high school, Starr moved to Los Angeles, signed with Wingy Mahone's band and performed with Charlie Barnet's ensemble. In 1946, she became a solo artist and signed with Capitol Records. Because the record label had a number of female singers (including Peggy Lee, Ella Mae Morse, Jo Stafford and Margaret Whiting), it was difficult for Starr to find her niche. With preference being given to these senior female performers, she returned home, hoping to find new inspiration.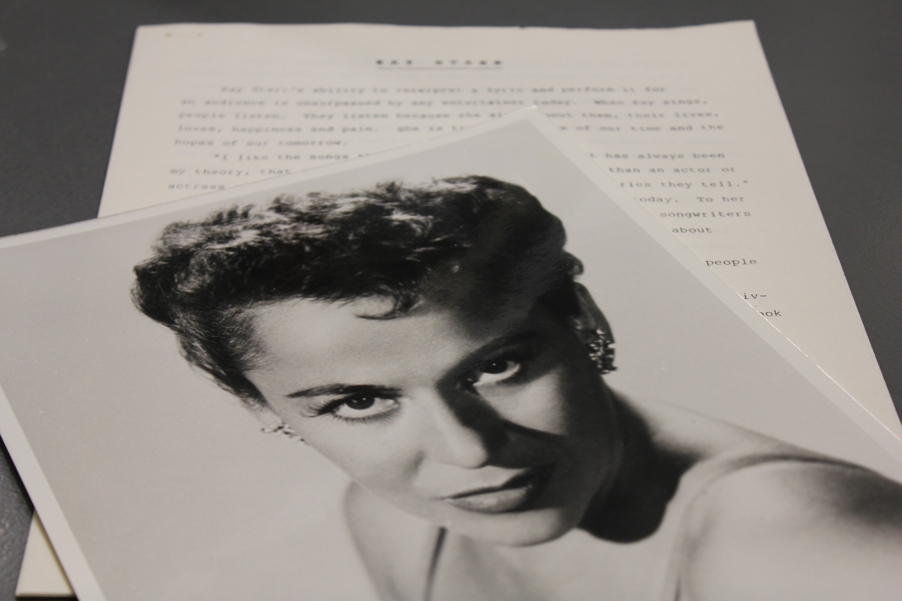 Kay Starr headshot. The Great American Songbook Foundation Library & Archives.
Inspiration struck when Starr was at home and heard a fiddle recording of "Bonaparte's Retreat" by Pee Wee King. Once some lyrics were written, her version sold close to a million copies. This led to her signing with RCA Victor Records in 1959, getting a Top 10 hit with "My Heart Reminds Me," and then returning back to Capitol Records. Starr would go on to perform with Les Paul and Ernie Ford throughout the 1950s. She then started being marketed as a "blues" singer, as her voice timbre had begun to change.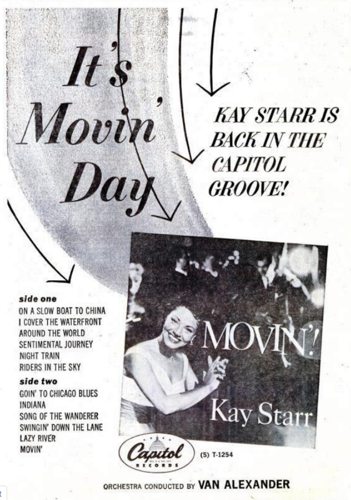 It's Movin' Day ad for Kay Starr's Capitol record. Public Domain.
Starr climbed the charts with songs like "Wheel of Fortune," "Side By Side," "The Man Upstairs" and "Rock and Roll Waltz." She solidified her place in holiday history with her 1950s Christmas hit "(Everybody's Waitin' For) The Man with the Bag." The start of rock and roll led to numerous new albums for Starr and a spot on the TV series Club Oasis, associated with bandleader Spike Jones. By 1966, Starr had left Capitol Records for a second time and toured in the U.S. and the U.K.
Kay Starr with Andy Mansfield on AFRTS' America's Popular Music, 1968. Public Domain.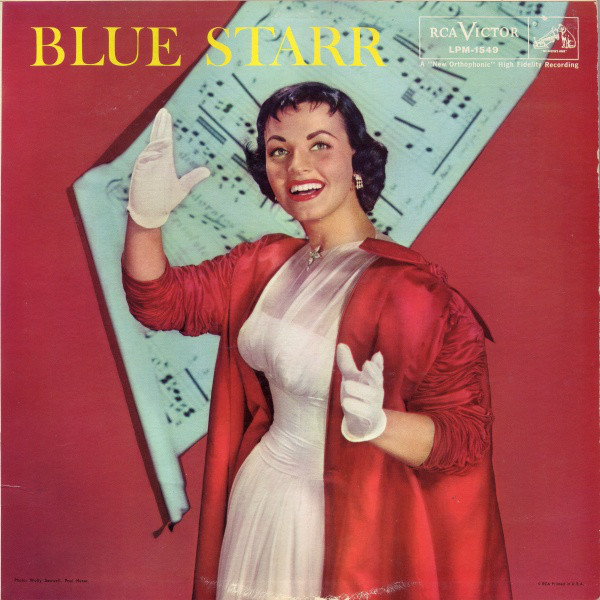 Though she had an incredibly prolific career, the headlines were covered in overtly racist commentary regarding her Native American lineage. "Shouting Indian Singer Hits Jackpot in Jukeboxes" read an article in 1952. "Buxom Indian Lass who can't read a note of music" was the headline for an AP wire story. Starr was often referred to as the "white Bessie Smith," and her success in blues was often blamed on her non-white roots. Despite the commentary and speculation about Starr's success, she maintained her place in music history with the ability to perform well in both the jazz and country genres.
Near the end of her career, Starr recorded with Count Basie and Tony Bennett, performed with Frank Sinatra and Bob Wills, was a regular on The Danny Thomas Show, and toured with the stage production of Annie Get Your Gun. She remained active through the 1990s and passed away on November 3, 2016, at her home in Beverly Hills, California.
Kay Starr's Arrangements in the Collection
The Songbook Library & Archives is thrilled to be home to more than 400 musical arrangements from Starr's career. The collection also contains images – one autographed by the performer herself! This collection spans more than 20 linear feet in our archive and includes some of Starr's greatest hits as well as her performances on television and awards shows.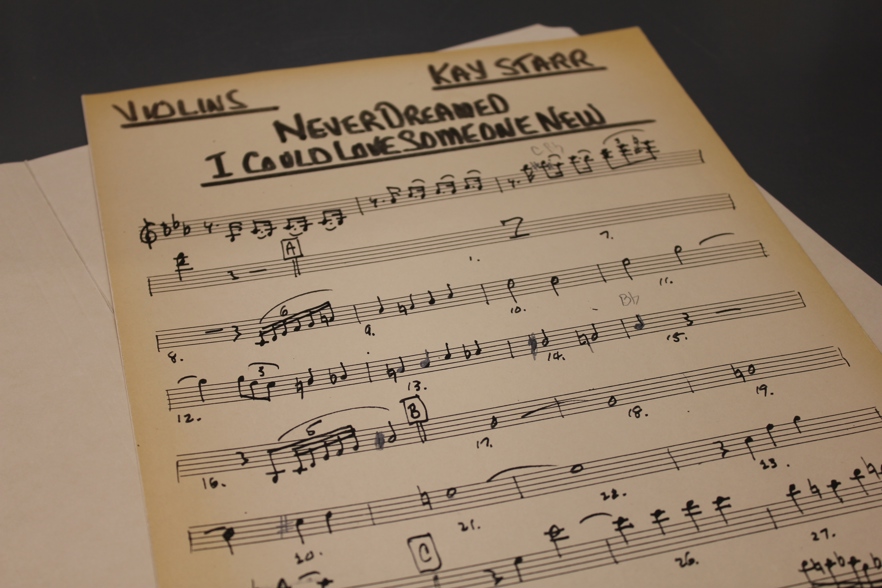 Kay Starr Arrangement of "Never Dreamed I Could Love Someone New". The Great American Songbook Foundation Library & Archives.
Citations
Belcher, David. "Kay Starr, Hillbilly Singer with Crossover Appeal, Dies at 94." The New York Times, The New York Times, 4 Nov. 2016, https://www.nytimes.com/2016/11/04/arts/music/kay-starr-hillbilly-singer-with-crossover-appeal-dies-at-94.html.
"Kay Starr Biography, Songs, & Albums." AllMusic, https://www.allmusic.com/artist/kay-starr-mn0000857203/biography.
"Kay Starr Music, Videos, Stats, and Photos." Last.fm, https://www.last.fm/music/Kay+Starr.
"Starr, Kay." Women in Rock & Roll's First Wave, 12 Jan. 2019, https://www.womeninrockproject.org/reference/starr-kay-2/.