our Current Exhibit
a Traveling Exhibit
Visit The Great American Songbook Foundation
1 Carter Green
Carmel, IN 46032
317.844.2251
Info@TheSongbook.org

Songbook Exhibit Gallery Location & Hours
Enter west entrance of the Palladium on 3rd Ave
Monday-Friday 10am-4pm; also open one hour before Songbook and Jazz Series events in the Palladium

The Great American Songbook Foundation is a 501(c)3 nonprofit organization with a mission to inspire and educate by celebrating the Great American Songbook.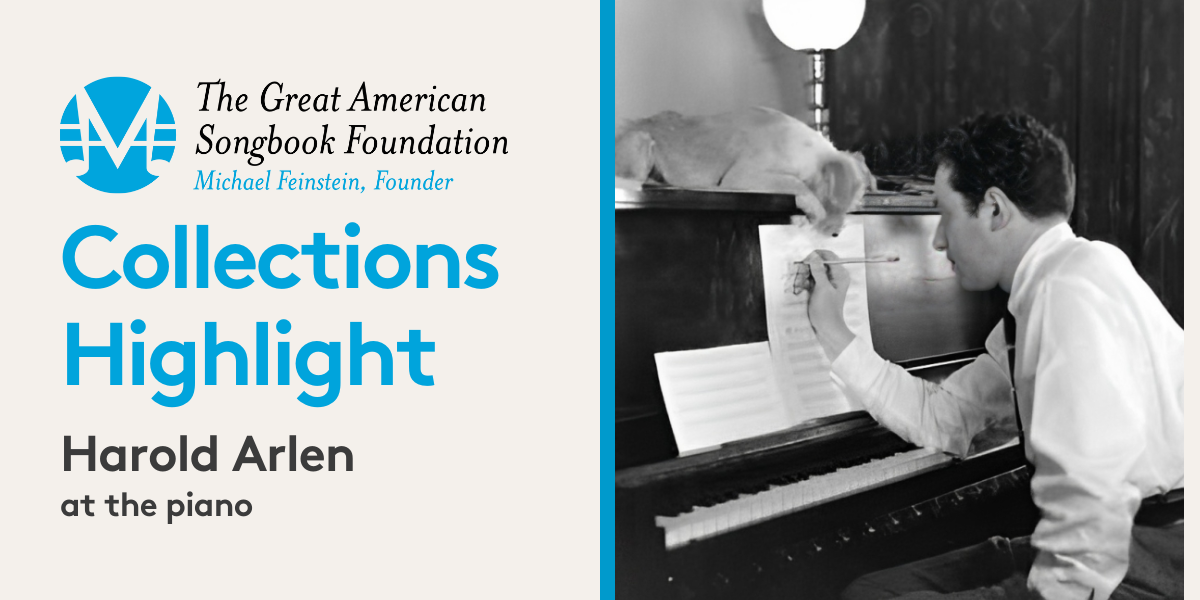 Collections Highlight: Harold Arlen
"He's the most original of all of us."
― George Gershwin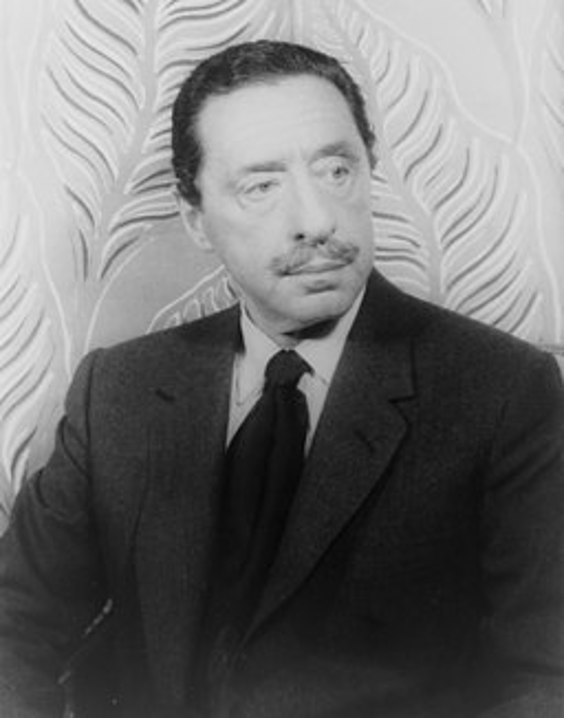 Portrait of Harold Arlen by Carl Van Vechten, Library of Congress, 2004662523
Born in Buffalo, New York, Harold Arlen (born Hyman Arluck) would go on to be one of the most prolific composers of American popular music. He started out in the music scene as a vaudeville accompanist and then would appear occasionally as a band vocalist on recordings by local Buffalo performers. It was at this point he changed his name to be more "Americanized."
In 1929, Arlen composed his first well-known song, "Get Happy," with lyricist Ted Koehler. This duo would continue to write songs and shows for the Cotton Club in Harlem as well as for Broadway musicals and Hollywood productions. The two would write songs such as "Let's Fall in Love" and "Stormy Weather," cementing their place in the Great American Songbook.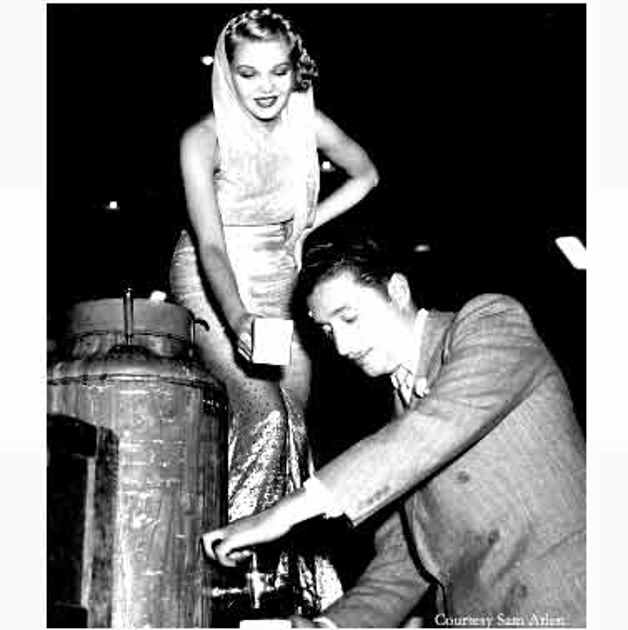 Arlen and Tanya Taranda, photo: Sam Arlen, haroldarlen.com
After moving to California in the 1930s, Arlen married Anya Taranda and began writing for movie musicals. He formed a new partnership with E.Y. "Yip" Harburg, and the two were hired by Metro-Goldwyn-Mayer to compose songs for The Wizard of Oz. They went on to win the Academy Award for Best Music, Original Song with "Over the Rainbow." The two then wrote songs for a variety of other movies and performers including Groucho Marx and Ethel Waters.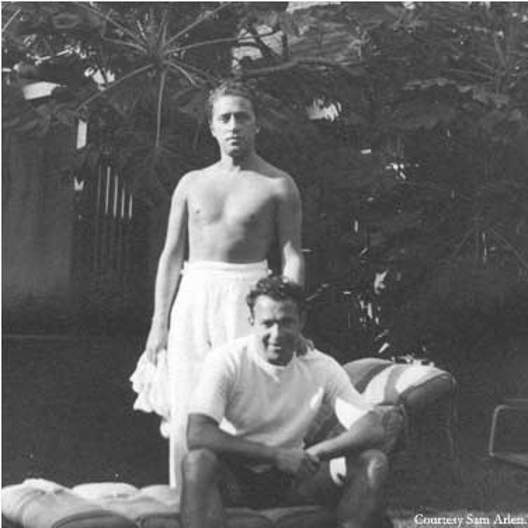 Composer Harold Arlen standing behind Yip Harburg, photo: Sam Arlen, haroldarlen.com
In the 1940s, Arlen teamed up with lyricist Johnny Mercer and wrote more hit songs, including "Blues in the Night," "Out of this World," "Come Rain or Come Shine" and "One for My Baby (and One More for the Road)."
Arlen was responsible for two of Judy Garland's most career-defining songs, "Over the Rainbow" and "The Man That Got Away." The latter of the two was written for the 1954 film version of A Star is Born. At Garland's famous 1961 Carnegie Hall concert, after performing a medley of Arlen's songs, she acknowledged and thanked him, inviting him to receive an ovation from the crowd.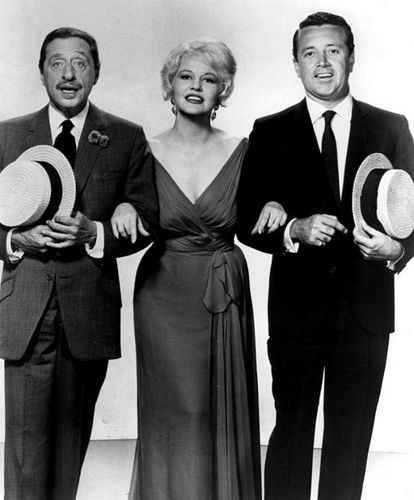 Harold Arlen, Peggy Lee and Vic Damone from the television show The DuPont Show of the Week, 1961, public domain
Arlen worked with some of the brightest stars of the day: Judy Garland, Peggy Lee, Vic Damone, Tony Bennett, Harry Belafonte and Lena Horne. He also worked with the biggest writers and composers, including Ira Gershwin, Leo Robin, Dorothy Field, Truman Capote and, of course, Harburg and Mercer.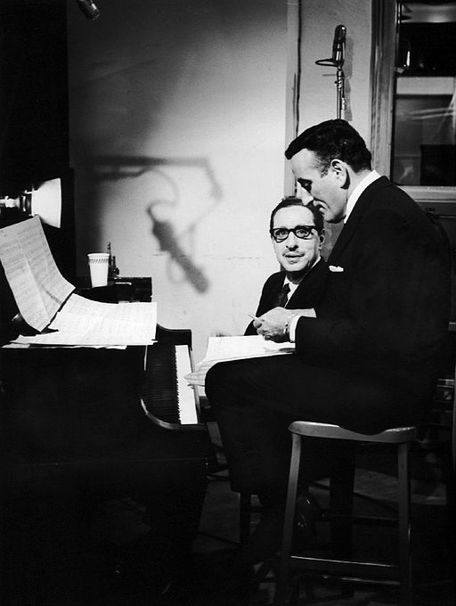 Harold Arlen and Tony Bennett rehearsing for TV show The Twentieth Century, public domain
On April 23, 1986, Harold Arlen passed away in his Manhattan apartment at age 81. He is buried next to his wife, Anya, at Ferncliff Cemetery. Before his death, Arlen adopted the 22-year-old son of his brother Julius "Jerry" Arluck to assure that the Arlen estate would extend his copyright. Samuel Arlen continues to own the rights to the entire Arlen catalog today.
"He wasn't as well known as some of us, but he was a better songwriter than most of us and he will be missed by all of us."
– Irving Berlin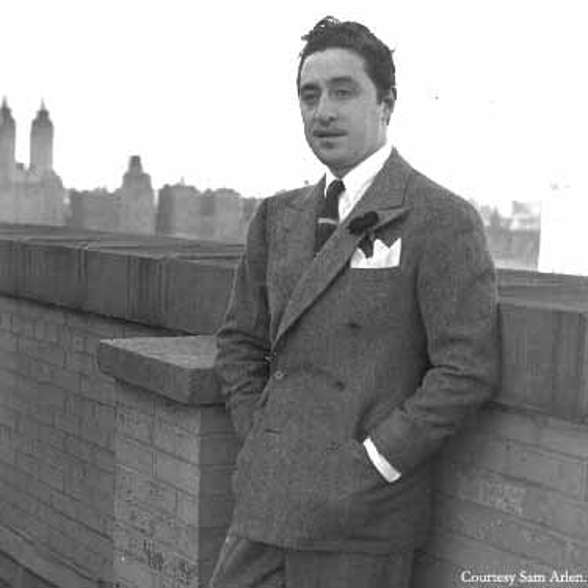 Harold Arlen, photo: Sam Arlen, haroldarlen.com
Arlen's Piano
In 1931, Harold Arlen was living in New York City's Croydon Hotel. His brother, Jerry, had decided to move in and immediately started making changes. One of the biggest changes was swapping out the Steinway grand piano for a Martha Washington Harpinette spinet piano. Once this piano entered Harold's study, the two were inseparable.
Arlen would go on to move to other apartments in the Croydon, and in 1935, he would leave New York City for Californina, his trusty work piano by his side. When his studio in Los Angeles caught fire, the spinet piano was rescued as one of the most valuable possessions.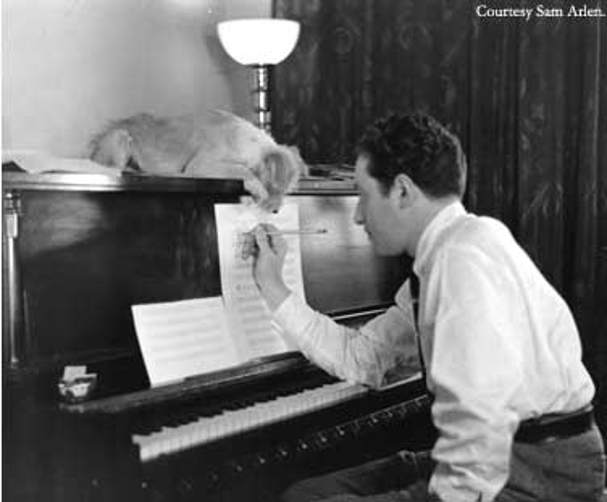 Arlen at the piano jotting down notes as his dog, Shmutts, looks on, haroldarlen.com
As Arlen would work out themes and melodies in his head, he would take notes and bring them home to plunk them out on his beloved piano. He often would have unpublished works surrounding the instrument in his study and would bring writers and performers in to collaborate.
Every song from 1931 until Arlen's death in 1986 was composed or arranged on this piano. Hits included "Stormy Weather," "Over the Rainbow," "That Old Black Magic," "Let's Fall In Love," "Ac-Cent-Tchu-Ate the Positive," "Come Rain or Come Shine" and "Any Place I Hang My Hat Is Home."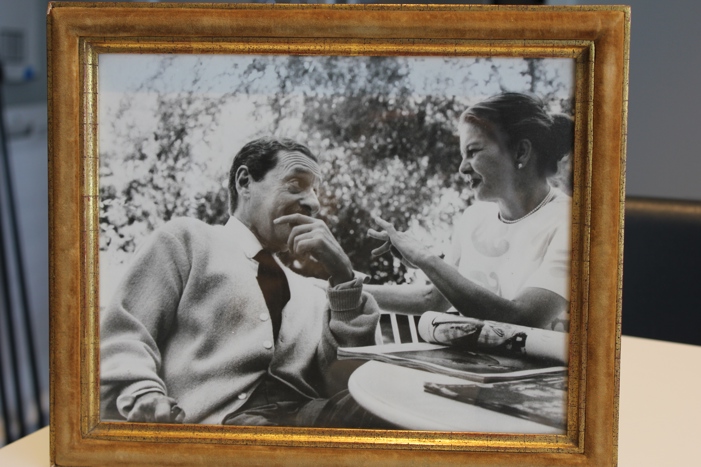 "Over the Rainbow" is certainly one of the most timeless songs composed on this piano, as even Judy Garland attested:
"When I first met Harold I was just 14 years old and the first song of the score for The Wizard of Oz they played for me was 'Over the Rainbow.' I was terribly impressed by Mr. Arlen's great genius and very much in awe of him. As I recall, it seems that Harold always treated me as an equal and not as a child. We have been great friends through the years. [As for] my feeling toward 'Over the Rainbow' now, it has become a part of my life. It is so symbolic of everybody's dream and wish that I am sure that's why people sometimes get tears in their eyes when they hear it. I have sung it dozens of times and it's still the song that is closest to my heart. It is very gratifying to have a song that is more or less known as my song, or my theme song, and to have had it written by the fantastic Harold Arlen." (Letter from Judy Garland to Harold Arlen, haroldarlen.com)
At his concert in 2022, Michael Feinstein performed a tribute to Judy Garland and ended his performance with a duet of "Over the Rainbow," with the first part of the song performed on the Arlen piano. You can view this incredible performance here:
The Martha Washington spinet piano was originally purchased for $375 and came with a 10-year warranty. It is 44 inches high, 55 inches long and 23 inches deep. Considering its age, the piano is holding up well, as the hammers and pedal mechanisms are still in fine working condition. A small bench has stayed by the side of the piano throughout all its moves with Arlen, and the maple hardwood is in better-than-expected condition.
In 2021, this piano was donated to the Great American Songbook Foundation by Harold's sister-in-law, Rita Arlen. The instrument has been evaluated and assessed by piano and collections experts and is on display in the Foundation's Exhibit Gallery. Along with it, Rita also donated a variety of awards, photos, music folios, and even a special posthumous GRAMMY Award, many of which are on display next to the piano.
Citations
Colin Larkin, ed. (1997). The Virgin Encyclopedia of Popular Music (Concise ed.). Virgin Books.
Harold Arlen. (n.d.). http://haroldarlen.com/
Jablonski, Edward (1996). Harold Arlen: Rhythm, Rainbows, and Blues. University Press of New England.
New York Times. (1969, July 22). Judy Garland, 47 Found Dead. The New York Times. https://archive.nytimes.com/www.nytimes.com/books/00/04/09/specials/garland-obit.html?scp=18&sq=Judy%2520Garland%2520obituary&st=cse#:~:text=%22As%20for%20my%20feelings%20toward,eyes%20when%20they%20hear%20it.%22
Pace, Eric (April 24, 1986). "Harold Arlen, Composer of Song Standards". The New York Times.