to The Songbook Academy
Perfect Harmony Music Resources
Contact us for more information:
The Great American Songbook Foundation
317.844.2251
Info@TheSongbook.org

The Great American Songbook Foundation is a 501(c)3 nonprofit organization with a mission to inspire and educate by celebrating the Great American Songbook.

Repertoire Resources
What is the Great American Songbook?
The Great American Songbook consists of enduring standards, the songs that are played and sung over and over by multiple generations. These songs have a timeless meaning and resonance, whether they are days or decades old. It is not an actual book, but refers to an ever-growing catalog of American music.
The foundational period of the "Great American Songbook," which is what students focus on at the Songbook Academy, would include the uniquely American collection of popular music from Broadway and Hollywood musicals, and the Tin Pan Alley era, prevalent from the 1920s to 1960s. These songs are sometimes referred as "American Standards" and were written by songwriters including (but certainly not limited to):
 
Harold Arlen, Irving Berlin, Johnny Burke, Sammy Cahn, Hoagy Carmichael, Vernon Duke, Duke Ellington, Gus Kahn, George and Ira Gershwin, Jerome Kern, Burton Lane, Frank Loesser, Lerner and Loewe, Hugh Martin, Johnny Mercer, Cole Porter, Rodgers and Hart, Rodgers and Hammerstein, Arthur Schwartz, Jule Styne, Jimmy Van Heusen, Fats Waller, Harry Warren, Vincent Youmans, and many more.
 
A definition of the Great American Songbook from our founder, Michael Feinstein:
Please note: there are many composers and songwriters from which to choose.
Great American Songbook Selections
You'll find over 500 selections of songs from the Great American Songbook categorized by songwriters from Cole Porter to Duke Ellington and themes from optimism to the magic of love. These resources are perfect for music students, teachers and people looking for music inspiration!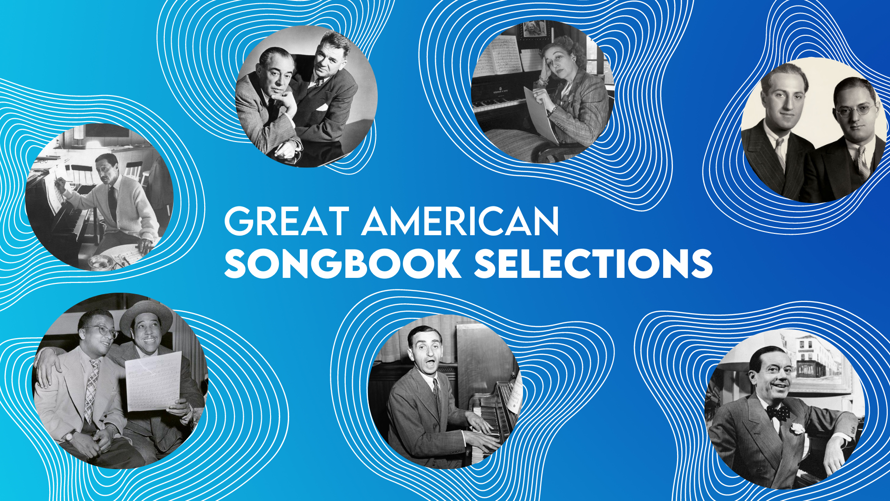 The above resource for reference. These lists are not comprehensive. You are not required to sing a song from this list. You may sing any American popular song written between the 1920s to the 1960s including songs from Broadway shows, Hollywood movie musicals, Tin Pan Alley, and jazz/pop standards.
Visit the database of popular music to look up songs by year, songwriter, and/or title.
 
*Please note: the Songbook Foundation has an extensive collection of sheet music. If you have difficulty locating a piece of music, feel free to email us at SongbookAcademy@theSongbook.org. 
 
Who should I listen to in order to have a better understanding of this music?
A few examples of performers who sing the music of the Songbook:

Michael Feinstein, Frank Sinatra, Tony Bennett, Ella Fitzgerald, Betty Hutton, Lena Horne, Doris Day, Barbra Streisand, Judy Garland, Bing Crosby, Fred Astaire, Louis Armstrong, Rosemary Clooney, Nat King Cole, Peggy Lee, Bobby Darin, Sarah Vaughn, Dinah Washington, Patti Page. Michael Buble, Harry Connick, Jr. 

Click here for a playlist of songs we've heard many times over the years. If you like one of these tunes, consider others that are performed by the same singer, or were written by the same composer. The possibilities are truly endless!
If I sing a song from a show, should I perform in character?
While there are many wonderful character songs from this era, they do not always translate well in this setting. The songs you choose need to show your ability to interpret the lyrics and relate to them in a personal way.