Music's Voice in the American Civil Rights Movement
January 19, 2023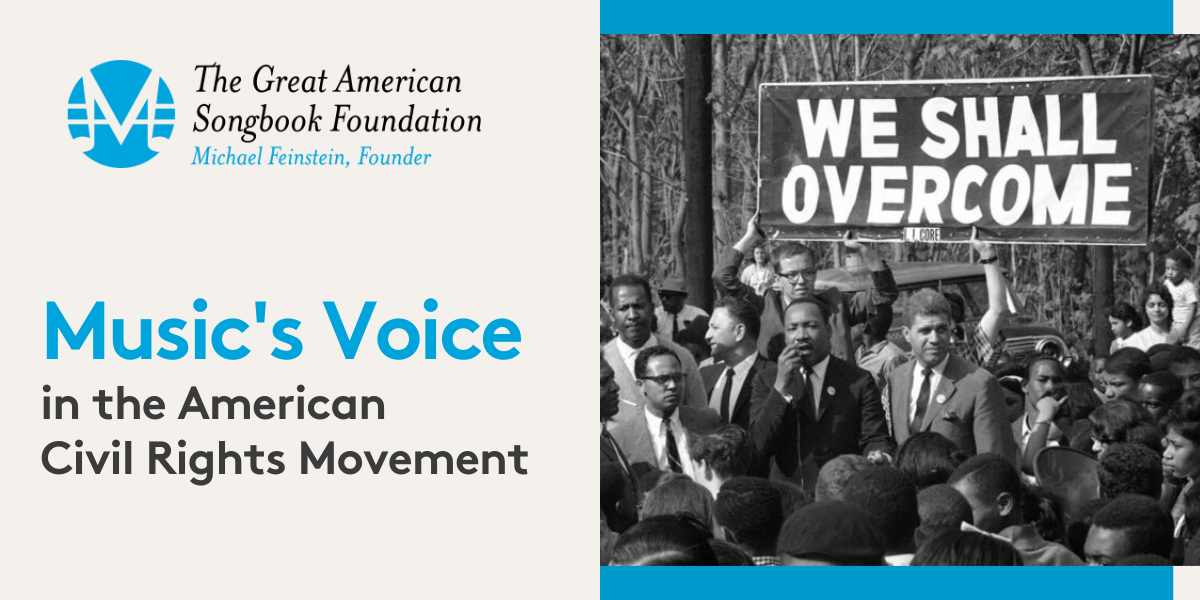 "Change does not roll in on the wheels of inevitability, but comes through continuous struggle"
― Martin Luther King, Jr.
There have been many important voices that have led the struggle for social justice in the decades-long Civil Rights Movement. Voices like Martin Luther King, Jr., Rosa Parks, Malcolm X, to name a few, crafted the core messages of the movement and amplified our collective passion for a better world without prejudice, without violence and without racism ― an ideal that our country is still fighting for today.
Yet, there has always been another voice behind the movement. A collective voice, if you will, that underscores the fight and the raw emotion felt by the waves of people who have taken a stand for Civil Rights. It's a voice that was woven through the stories that were told and the dreams that were shared; a voice that comforted those who were lost, and that rallied those who were finally found; a voice that brought people together.
Curious about who or what that voice was? You've likely figured it out already.
It was the universal voice that pierced through the melodies and lyrics of American popular music and represented the power that music has to make a change.
Not being the experts on this topic, we turned to our friends at the Library of Congress, The National Museum of African American History and Culture, The Smithsonian and more to help us learn more about music's role in the Civil Rights movement and survey a few songs that took center stage in the fight for freedom.
Library of Congress
― 

Civil Rights History Project
Essay: "Music in the Civil Rights Movement"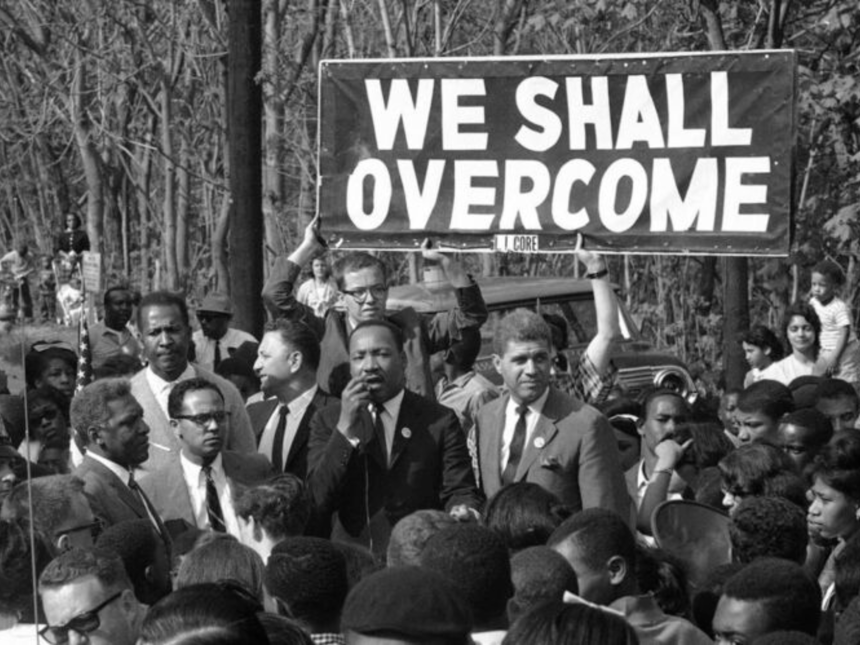 The Rev. Martin Luther King Jr. addresses a crowd on a street in Lakeview, New York. May 12, 1965. Credit: The Associated Press
The use of music in the Civil Rights Movement was not just happenstance ― it was purposeful and served as a vital form of communication and building community.
"African American spirituals, gospel, and folk music all played an important role in the Civil Rights Movement. Singers and musicians collaborated with ethnomusicologists and song collectors to disseminate songs to activists, both at large meetings and through publications. They sang these songs for multiple purposes: to motivate them through long marches, for psychological strength against harassment and brutality, and sometimes to simply pass the time when waiting for something to happen."
In their interview with the Civil Rights History Project, folksingers Guy and Candie Carawan sing the songs "Tree of Life," "Eyes on the Prize," and "We Shall Overcome." The Carawans worked at the Highlander Folk School in Tennessee, where activists from around the country came to be trained in nonviolent philosophy and learned the songs of the movement. She explains, "There were songs for every mood.  You know, there were the very jubilant songs.  There were the very sad songs when someone was killed. You know, there were the songs you used at parties. There was all the humor where you picked fun at people, the satire."
Jazz and The Sounds of Freedom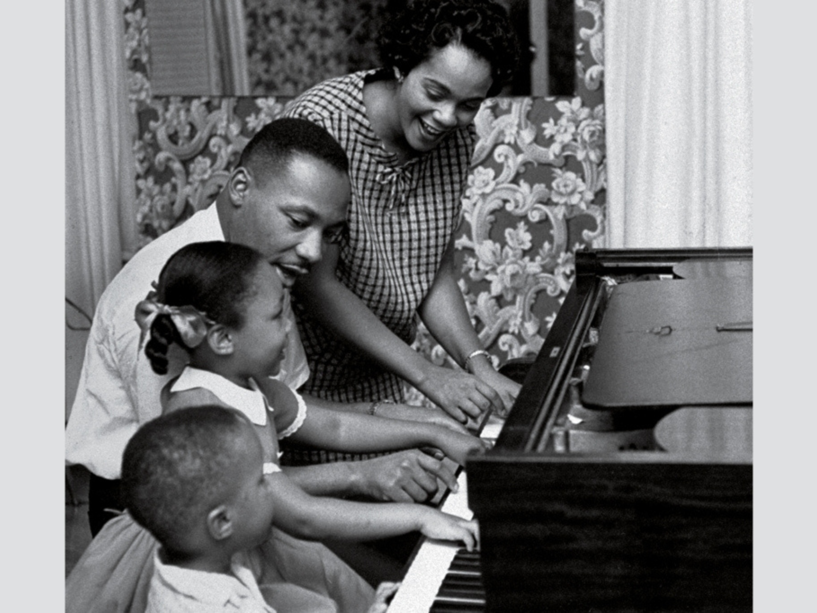 King, his wife and children play the piano together in their living room in Atlanta in 1960. Credit: Donald Uhrbrock/Time Life Pictures/Getty Images
In 1964, Dr. Martin Luther Jr. delivered the opening address to the Berlin Jazz Festival.
"Jazz speaks for life," King said. "The blues tell the story of life's difficulties — and, if you think for a moment, you realize that they take the hardest realities of life and put them into music, only to come out with some new hope or sense of triumph. This is triumphant music."
Though music from many genres underscored the Civil Rights Movement ― Jazz had a unique ability to characterize the struggle, while celebrating the successes that provided hope for a better future.  Rooted in a diverse mix of African American musical traditions and cultural influences ranging from African to American Indian, Jazz is tailor-made for artists who have a passion to express human emotion and connect with a larger community.
The Smithsonian ― "The Growth of Jazz"
"Jazz can express many different emotions, from pain to sheer joy. In jazz, you may hear the sounds of freedom-for the music has been a powerful voice for people suffering unfair treatment because of the color of the skin . . . Jazz is about making something familiar―a familiar song―into something fresh. And about making something shared―a tune that everyone knows―into something personal. Read full article here.
5 Songs of the Civil Rights Movement
TeachRock ― The Music of the Civil Rights Movement
So what were the melodies that motivated this movement, its leaders and the American people? There were many ― yet, there were a few that defined the era and still to this day carry with them the sense of belonging to something larger than oneself and standing together for a better world.
"We Shall Overcome" ― Louis Armstrong
Perhaps no song was more closely associated with the Civil Rights movement than "We Shall Overcome." Based on a 19th-century African-American Gospel song, "We Shall Overcome" was picked up by the labor movement in the 1940s, during which time the folksinger/activist Pete Seeger first came across it.
Seeger then helped popularize the song in the early phase of the Civil Rights movement, when it quickly became a ubiquitous sing-along anthem that crowds of activists embraced, often swaying side to side, arm in arm. Joan Baez performed it at the 1963 March on Washington; President Lyndon Johnson quoted it in his speech to Congress proposing the Voting Rights Act of 1965. 
Listen to Pete Seeger talk about the history of "We Shall Overcome":
"Mississippi Goddam" ― Nina Simone
"Mississippi Goddam" is a song written and performed by American singer and pianist Nina Simone, who later announced the anthem to be her "first civil rights song". The song captures Simone's response to the murder of Medgar Evers in Mississippi; and the 16th Street Baptist Church bombing in Birmingham, Alabama, killing four black children. 
Together with "Four Women" and "To Be Young, Gifted and Black", it is one of her most famous protest songs and self-written compositions. In March 1964, Simone performed the song at Carnegie Hall, in front of a mostly white audience. The Carnegie Hall recording was subsequently released as a single and became an anthem during the Civil Rights Movement. Later, Simone performed the song in front of 10,000 people at the end of the Selma to Montgomery marches when she and other black activists, including Sammy Davis Jr., James Baldwin and Harry Belafonte crossed police lines. In 2019, "Mississippi Goddam" was selected by the Library of Congress for preservation in the National Recording Registry for being "culturally, historically, or aesthetically significant".
Learn more about the song here.
"Alabama" ― John Coltrane
It was 15 September 1963, a Sunday morning. A powerful explosion had ripped through the 16th Street Baptist Church in Birmingham, Alabama. Four African American girls – Denise McNair, 11, and Addie Mae Collins, Cynthia Wesley and Carole Robertson, all 14 – were killed while attending Sunday school classes.
"Coltrane was inspired by Martin Luther King's speech, delivered in the church sanctuary three days after the bombing, and patterned his saxophone playing on it. Like the speech, "Alabama" shifts its tone from one of mourning to one of renewed determination for the struggle against racially motivated crimes." - Matt Micucci (Article found here)
Coltrane didn't tell the members of his quartet what the tune was about as he handed them untitled music sheets...Deeply moving, it was clearly a lament, an elegy, a eulogy. It needed no lyrics. The achingly beautiful, solemn, spare song was a meditation for the four little girls of Alabama, but also for black America and its fight for civil rights.
Learn more about the song here.
"A Change is Gonna Come" ― Sam Cooke
On October 8, 1963, en route to Shreveport, Louisiana, Cooke called ahead to the Holiday Inn North to make reservations for his wife, Barbara, and himself, but when he and his group arrived, the desk clerk glanced nervously and explained there were no vacancies. While his brother Charles protested, Sam was furious, yelling to see the manager and refusing to leave until he received an answer. His wife nudged him, attempting to calm him down, telling him, "They'll kill you," to which he responded, "They ain't gonna kill me, because I'm Sam Cooke." When they eventually persuaded Cooke to leave, the group drove away calling out insults and blaring their horns. When they arrived at the Castle Motel on Sprague Street downtown, the police were waiting for them, arresting them for disturbing the peace.
After this incident, Cooke felt compelled to write a song that spoke to his struggle and of those around him, and that pertained to the Civil Rights Movement and African Americans. The song contains the refrain, "It's been a long time coming, but I know a change is gonna come."
Though only a modest hit for Cooke in comparison with his previous singles, "A Change Is Gonna Come" is widely considered Cooke's best composition and has been voted among the best songs ever released by various publications.
Learn more about the song here.
"Oh, Freedom" ― Odetta
"Oh, Freedom" is a post-Civil War African-American freedom song. It is often associated with the African American Civil Rights Movement, with Odetta, who recorded it as part of the "Spiritual Trilogy", on her Odetta Sings Ballads and Blues album, and with Joan Baez, who performed the song at the 1963 March on Washington. 
Learn about other songs performed at The March on Washington.
The Soul of the Movement ― Dr. Martin Luther King
In retrospect, the civil rights movement may seem like an inevitable force of history, but at the time, the people involved were not only exhilarated, but also terrified, as they often faced violent reactions to their peaceful demand for equal treatment. The training many had undergone in the principles of nonviolence helped steel their nerves, but they also found strength in the power of music Music had long played an important part in the lives of African-Americans, from whose traditions sprang gospel, jazz, and rock music. The civil rights protesters sang songs to calm their nerves and raise their spirits as they faced arrest and beating, attack dogs and fire hoses. They sang on marches and they sang in jail, for courage, for solace and for a sense of unity. Dr. King said that "songs were the soul" of the movement.
Educational Resources
Smithsonian Institute and National Museum of African American History & Culture
Smithsonian Institute Educational Resources
Songbook Foundation Hall of Fame Honorees
Pandora Music
Teach Rock
 Louis Armstrong House Museum Virtual Exhibit: That's My Home