The art of Johnny Mathis' "Heavenly"
October 5, 2022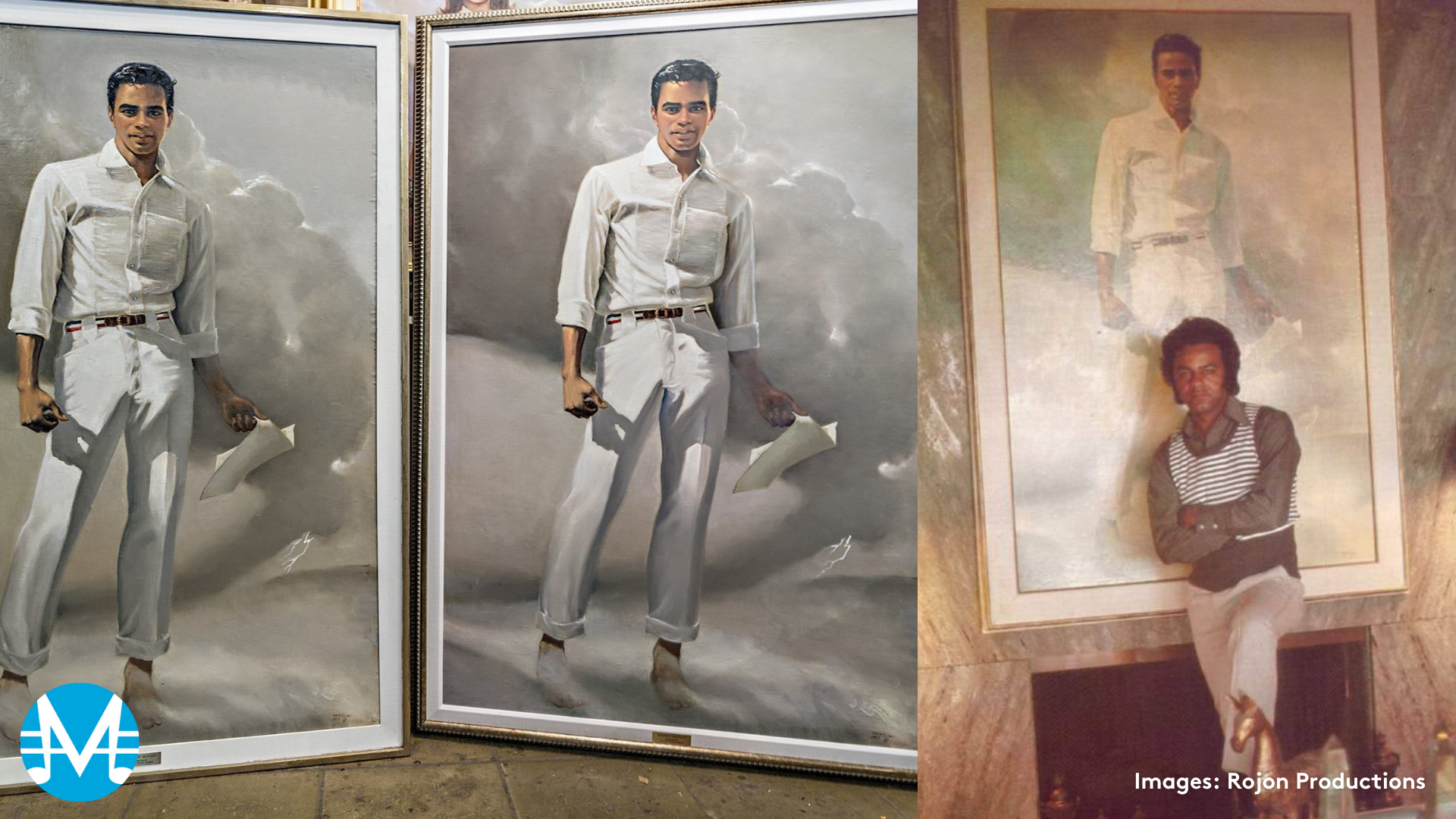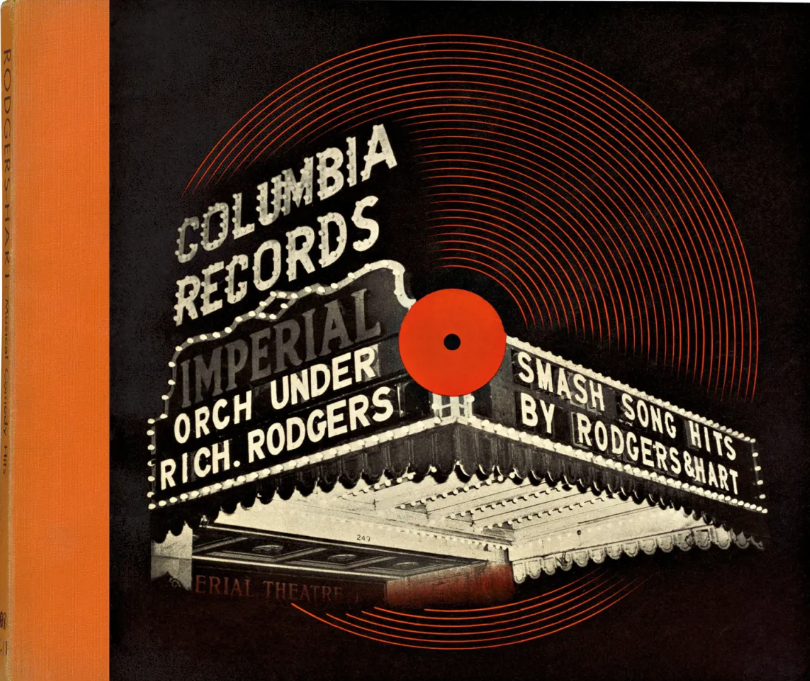 For decades artisan craftsmanship of album covers has visually depicted the recording artist's vision and attracted the attention of music hunters flipping through vinyl records in a shop. Songbook Hall of Fame member, singer and painter Tony Bennett said of the marvelous album covers of the 50s that, when you bought a record, "you felt like you were taking home your very own work of art." The concept of album art traces back to the late 1930s with pioneering visual artists like Alex Steinweiss, who illustrated covers for Columbia Records including the world's first album cover for Smash Song Hits by Rodgers & Hart (1939).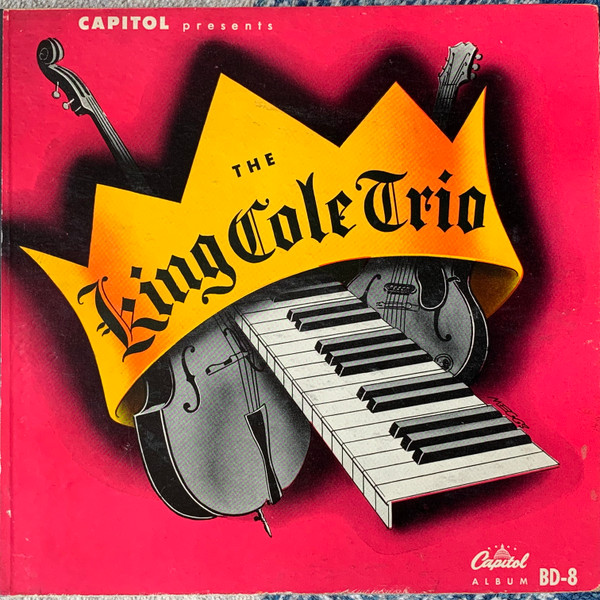 Album artwork became a standard addition to marketing musicians' albums when Capitol Records released the abstract graphic design for Nat King Cole's 1944 album The King Cole Trio. The innovation of combining the auditory and visual arts had massive cultural influence and reached millions of people during the age of radio. 
Since 1956, Johnny Mathis, "The Voice of Romance," has carried on the tradition of capturing the essence of his albums using captivating photographs and commissioned artwork from painters like Ralph Wolfe Cowan. Cowan painted many of Johnny Mathis' album covers from his early Columbia and Mercury Records years including Heavenly (1959), Olé (1964), and This is Love (1964).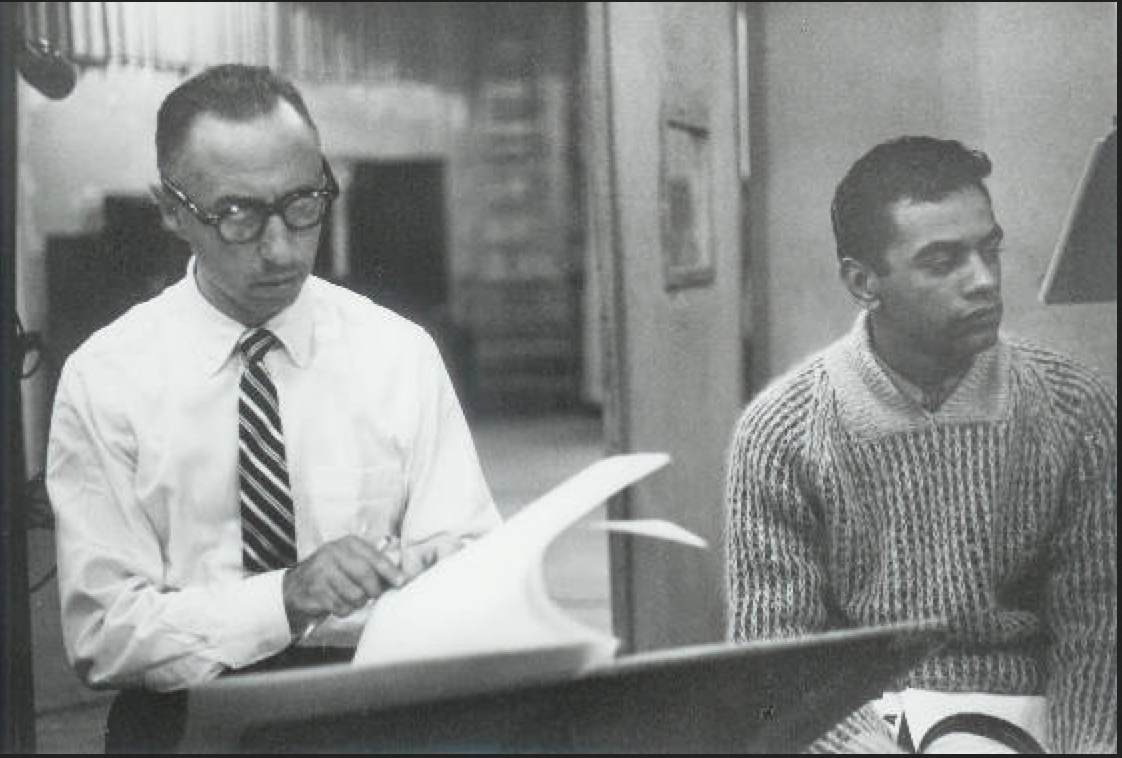 Mathis' 1959 record Heavenly is his most successful non-compilation or holiday album. It features Glenn Osser's lush orchestral arrangements of standards from the Great American Songbook like "More Than You Know," "Strangers in Paradise," and "Misty," which received a Grammy nomination in 1960 for Best Male Vocal Performance. William Rulhmann – a renowned critic of American popular music – called Heavenly "the epitome of Mathis' approach to music."

Johnny Mathis in the recording studio at Columbia records in the late 1950s. Source: Rojon Productions
Heavenly's album art is an exquisite depiction of Johnny Mathis clad in an angelic white linen outfit, standing barefoot on a cloud and holding sheet music. His pose is reminiscent of a stoic Grecian god and his facial expression is relaxed yet confident.
In a 2018 article with The Virginian-Pilot, Cowan recalled a memory of walking down a Manhattan street with Mathis to a record shop. They were taken aback when they saw their collaborative creation in the front window of the shop. Cowan remembers, "It was amazing to see that picture all over the walls of the window."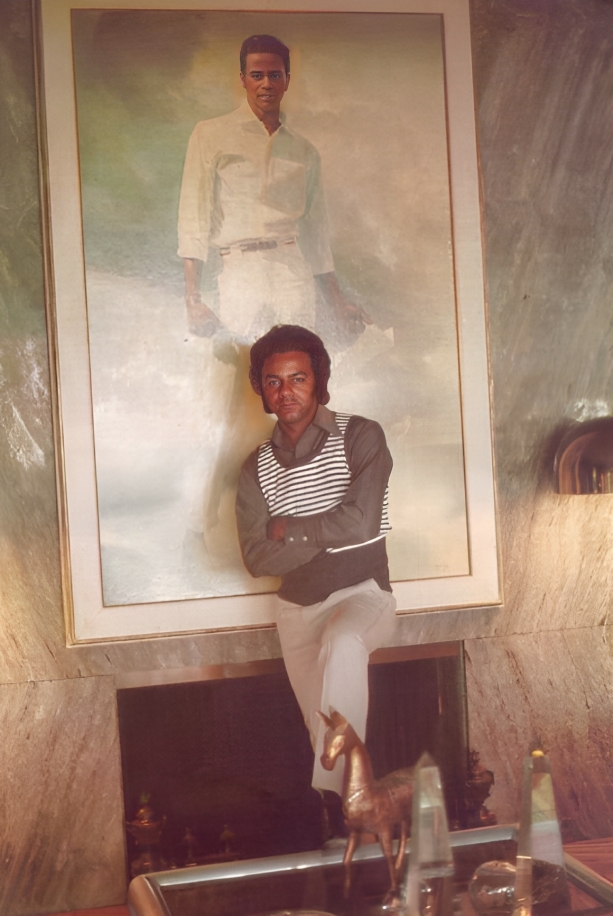 At one point in time, the portrait sustained damage, and Cowan was called upon to restore the original portrait to its former glory. Not only did he painstakingly revive the painting, but he surprised his friend with a full-size replica and mini version of the masterpiece. Today, the original portrait, a visual memory of Johnny Mathis' celebrated career, hangs proudly in his home. Johnny's team sent a message of gratitude to Ralph Cowan and his manager Steve Mohler for "saving this unique piece of Mathis history!"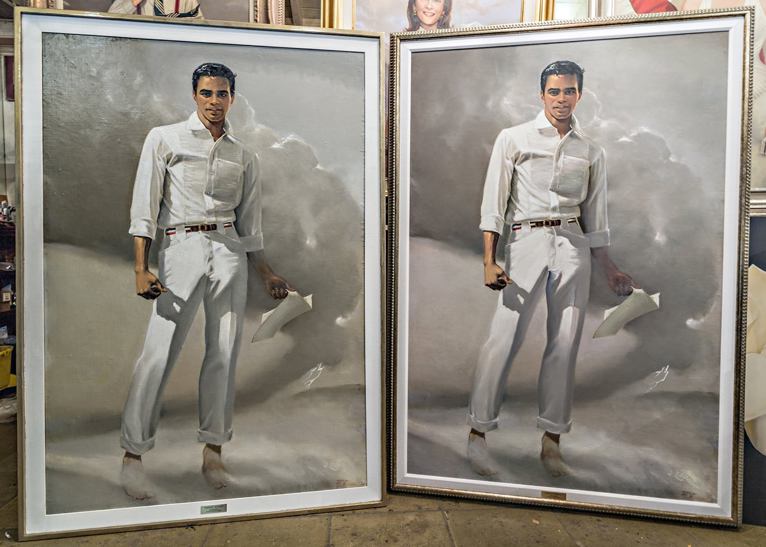 Heavenly repaired and duplicated by R. Cowan. Source: rojon productions
Thank you to Johnny Mathis' creative team for providing exclusive access to photos and insight into the story of rescuing the Heavenly portrait.
See some of Johnny's most popular album covers below and learn more about each at johnnymathis.com.
Extra: One amusing aside to this story is allegedly when Elvis approached Ralph Cowan for a portrait he said he wanted it to look like Mr. Mathis' Heavenly portrait.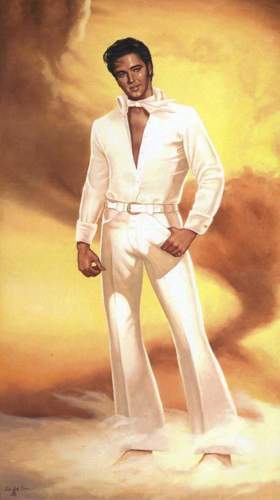 Elvis in White, Ralph Wolfe Cowan (1968), Source: ralphcowan.net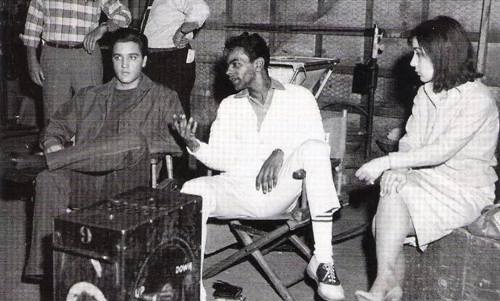 Johnny with elvis on set. source: rojon productions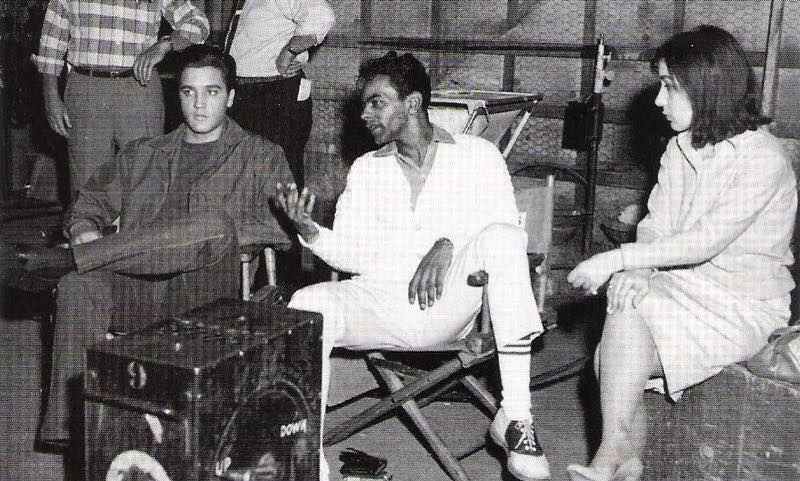 Sources
Chilton, M. (2022, February 23). Cover story: A history of album artwork. uDiscover Music. Retrieved September 30, 2022, from https://www.udiscovermusic.com/in-depth-features/history-album-artwork/
Jmathis. (2016, September 22). A silver lining for a "heavenly" portrait. Tumblr. Retrieved September 30, 2022, from https://jmathis.tumblr.com/post/150748902754/a-silver-lining-for-a-heavenly-portrait-thanks
Jordan, I. K. (2019, August 1). Famous portrait painter Ralph Wolfe Cowan had Portsmouth roots. Pilot. Retrieved September 30, 2022, from https://www.pilotonline.com/news/columns/article_eab91fe2-c658-11e8-b7cf-8b3b0d493891.html
Ruhlmann, W. (1969, December 31). Johnny Mathis - Heavenly Album Reviews, songs & more. AllMusic. Retrieved September 30, 2022, from https://www.allmusic.com/album/heavenly-mw0000198520