to The Songbook Academy
Perfect Harmony Music Resources
Contact us for more information:
The Great American Songbook Foundation
317.844.2251
Info@TheSongbook.org

The Great American Songbook Foundation is a 501(c)3 nonprofit organization with a mission to inspire and educate by celebrating the Great American Songbook.


The Songbook
Academy
®
Stand out with a summer music program as unique as YOU!
2024 PROGRAM DATES: July 13-20, 2024
*Application details coming soon!
About the Program
The Songbook Academy® is a national summer music intensive in Carmel, Indiana that provides pre-professional training for high school students who love to sing! Whether you prefer classic Broadway hits or jazz standards, there is music here for everyone.
Forty students have the opportunity to work with music industry pros, award-winning singers and performers, educators from top university music and theater programs, and talented peers from across the country for a life-changing week of professional training and performance opportunities.
Listen to our Students
Additional videos available at our YouTube channel.
Singers submit video recordings of themselves performing two contrasting selections from the Great American Songbook (learn more about repertoire criteria.)
ALL Songbook Academy applicants receive written feedback from the screeners who assess their performances, regardless of acceptance status.

Feedback will be sent to applicants closely following acceptance notifications! 
Quick Links
Access FAQs about the application process, attending Songbook Academy week and browse our list of past Guest Mentors!
Join our Songbook Community
Alumni of the Songbook Academy join a nationwide network and family of peers and professionals that will last far beyond their Songbook Academy experience.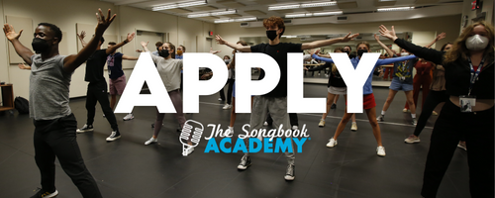 Program Guidelines: The 2024 Songbook Academy® Summer Intensive (the "Academy") is sponsored by the Great American Songbook Foundation, Inc. ("Sponsor") headquartered at One Carter Green, Carmel, Indiana 46032.
Read full 2023 Program Guidelines (2024 Guidelines coming soon!)