our Current Exhibit
a Traveling Exhibit
Visit The Great American Songbook Foundation
1 Carter Green
Carmel, IN 46032
317.844.2251
Info@TheSongbook.org

Songbook Exhibit Gallery Location & Hours
Enter west entrance of the Palladium on 3rd Ave
Monday-Friday 10am-4pm; also open one hour before Songbook and Jazz Series events in the Palladium

The Great American Songbook Foundation is a 501(c)3 nonprofit organization with a mission to inspire and educate by celebrating the Great American Songbook.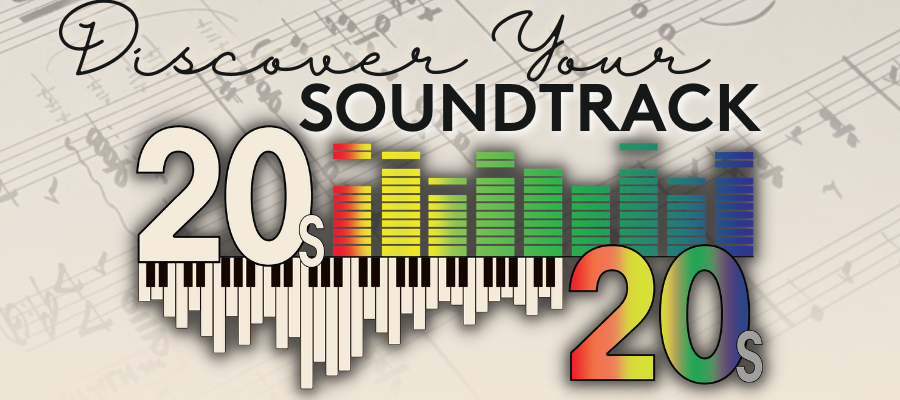 Thanks for visiting the Great American Songbook Foundation's "The Soundtrack of the 20s/20s" exhibit! If you made it to this page, you've unlocked a digital collection of music curated based on your answers to our music quiz. If you haven't taken the quiz, answer the questions or visit our exhibit to get your results. Enjoy the music!
What Color Are You?
Select your color result below to discover more about your 20s-20s artists.

Harry Warren and Lin-Manuel Miranda (Rainbow)
The lights of Hollywood and the lullaby of Broadway are calling your name! Songwriters Harry Warren (1893-1981) and Lin-Manuel Miranda (b. 1980) both found success on 42nd Street and film. Warren's career as a composer started in the 1920s with hits like "I Love My Baby (My Baby Loves Me)" and continued through the 1950s with many timeless Songbook standards, including "We're in the Money," "Jeepers Creepers," "That's Amore," and "Chattanooga Choo Choo," which won the first Gold Record in history. In the 2020s, a new name has taken the musical theatre world by storm: Lin-Manuel Miranda. He is a Pulitzer Prize, Grammy, Emmy, Tony Award-winning composer, lyricist and creator of Broadway's Hamilton and In the Heights, which had its film debut in June 2021. Miranda is a prolific artist who strives to celebrate diversity and various cultures in his works, including his upcoming projects with Netflix and Disney: Vivo, We the People, and Encanto.
Explore more: 
 
Josephine Baker and H.E.R. (Blue)
You are inspired by the music of activists! Josephine Baker was an American-born French dancer and singer who took Paris by storm in the 1920s with her beauty and representation of Black American culture. Baker was more than a megastar on stage – she was a civil rights activist who joined the French Resistance during WWII, collected classified information from German officials at parties, and smuggled the messages to England. She also returned to the States in 1963 to march alongside the Rev. Martin Luther King Jr. In 2021, singer and guitarist H.E.R. took home the Grammy for Song of the Year for her song "I Can't Breathe," inspired by the Black Lives Matter protests of 2020. Five decades after the March on Washington, H.E.R.'s song was used as the soundtrack to a new civil rights movement. Of the response to her music's impact, she said: "At first I didn't realize activism was part of that purpose, but I guess my voice matters."
Explore more: 
Duke Ellington and Charlie Puth (Green)
You've got jazz music in your soul! Duke Ellington was one of the most important creative forces in the music of the 20th century. Ellington embraced the phrase "beyond category" as a liberating principle and referred to his music as part of the more general category of American music, rather than to a particular genre such as jazz. His influence on classical music, popular music and, of course, jazz, simply cannot be overstated. Pop artists like Charlie Puth have used jazz influences in their music, continuing the "beyond category" of today's music. Puth, known for his hit song "One Call Away," started his career playing in jazz combos in college. His background in jazz and his influences, including saxophonist John Coltrane and pianist Bill Evans, helped him create a more complex pop sound that stands out.
Explore more: 
The Boswell Sisters and BTS (Red)
You love close harmonies and powerhouse music groups! Before the Andrews Sisters and Spice Girls, there were the Boswell Sisters, a vocal jazz trio from New Orleans. The group's lead singer, Connee, arranged popular songs of the '20s and '30s, like "Shout, Sister, Shout," "Heebie Jeebies," and "Crazy People," using such innovations as scat singing, unconventional instrumental-like rhythms, and tight harmonies. Even the great Ella Fitzgerald drew inspiration from Connee's sound, citing her as her main influence. Today, K-Pop superstars BTS (Beyond the Scene) from South Korea have dominated the U.S. pop charts and were named TIME's Entertainer of the Year in 2020. How did a K-Pop boy band become so popular in the States? Along with their electric performances, BTS's songs cover current topics like bullying, elitism, and mental health, which has resonated with their fans.

Explore more: 
Ma Rainey and Olivia Rodrigo (Yellow)
You've just CRASHED onto the music scene in big ways! You may know Ma Rainey's name from the 2020 film Ma Rainey's Black Bottom, adapted from the August Wilson play and starring Viola Davis. Known as the "Mother of the Blues," Ma Rainey signed with Paramount Records in 1923 and in the span of five years recorded nearly 100 songs. Her records, including "Prove It On Me Blues," "New Bo-Weavil Blues," and "Dead Drunk Blues," were so popular that she is credited with saving the label from bankruptcy. In 2021, Gen-Z superstar Olivia Rodrigo took the music world by storm with her breakout song "Driver's License." Her song smashed Spotify's record for the first song in history to hit 80 million streams in seven days. Slate's Chris Molanphy said the first three singles of Rodrigo's debut album Sour established her "early status as Gen Z's most versatile new artist," while Variety dubbed her "the Voice of Her Generation." 
Explore more: