International Women's Day: Strong Women of the Songbook
March 1, 2023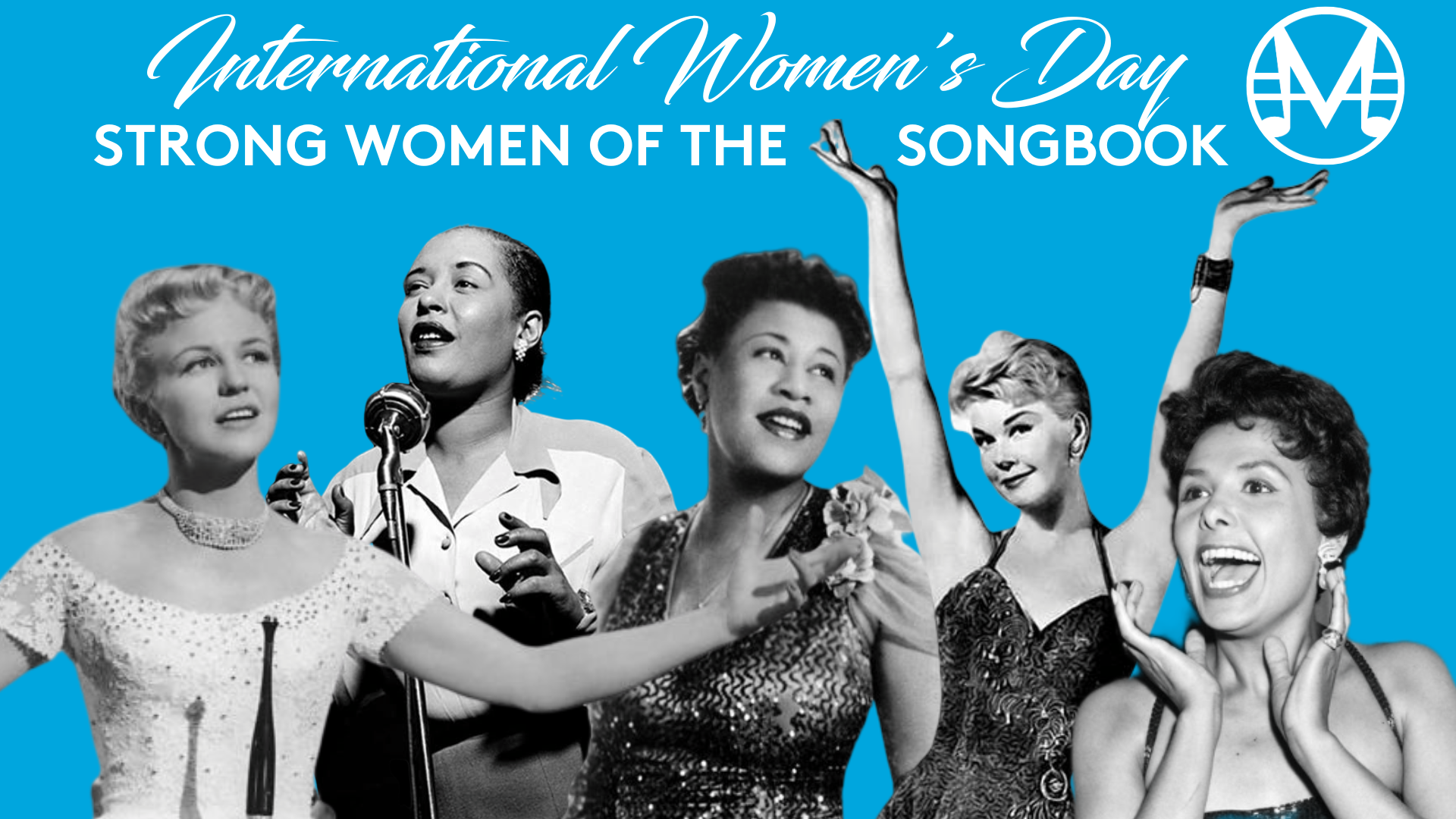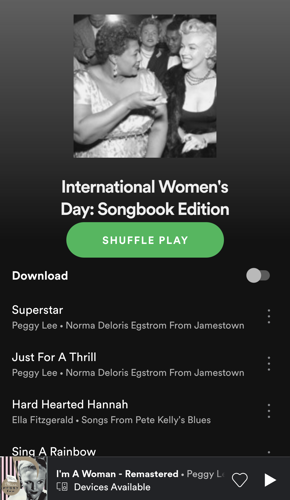 Follow along to our International Women's Day Spotify playlist by clicking the picture above!
In the age of social media, we have designated days to symbolize movements, sell objects, connect with like-minded people, and conveniently market our businesses. We all get excited when we hear it's "National Pizza Day" (February 9), "National Wine Day" (May 25), "National Donut Day" (June 5), and on and on, because we finally have a reason to indulge in that delicacies we deprive ourselves of in front of co-workers. Some of these days are down-right silly—seriously, there is a "National Sneak Some Zucchini Onto Your Neighbor's Porch Day" (August 8)—but for every frivolous holiday that is created, there is one that genuinely adds value to the fabric of humanity. Today, March 8th is one of those "National" days that holds meaning. Today is International Women's Day, and The Great American Songbook would like to delve into the lives of women of the Golden Age of music, who have left their personal mark on the history of American music.
What is International Women's Day?
"International Women's Day is a global day celebrating the social, economic, cultural and political achievements of women. The day also marks a call to action for accelerating gender partiy….[it] is all about unity, celebration, reflection, advocacy and action. I.W.D. has been observed since the early 1900s - a time of great expansion and turbulence in the industrialized world that saw booming population growth and the rise of radical ideologies." [read more on the International Women's Day site]
Since the beginnings of its socialist and political roots, I.W.D. has become a rallying cry for women in American culture and abroad. It has taken on a stronger platform with the introduction of social media and digital marketing campaigns. It has given fuel to organizers who created the Women's March of 2016, the International Women's Strike, the #MeToo movement, the #TimesUp movement, and gives women who may not identify as activists an impartial way to show their support.
There are many fabulous women of the Songbook who were revolutionary in their own rights, and we've selected 5 of our favorites to showcase for International Women's Day. Each woman was an activist or philanthropist in her own right. Each used the platforms of their fame to better the world.

Why She's a Strong Woman: Peggy Lee—who is a 2020 Songbook Hall of Fame Inductee—was a strong woman because she had convictions, was a world-class musician and innovator, and stood tall in a male-dominated world. She inspired women who are standing tall on Peggy's shoulders today. I'm going to give you a sneak peek of some of the women I'll be profiling with the following quotes (which subsequently relate to Peggy Lee):
"I usually don't get sad about the death of people who led full lives. But I'm sad about Peggy Lee. She represents an era that is leaving us, one where vocals were king, and I honestly can't think of a better vocalist in that jazz-pop crooning style. What made her so good was that she interpreted and delivered songs with such a complex and dense range of emotions. She would mix in a sardonic sense of humor and back-phrase it, and with a smile or a cock of the head, completely turn the lyric on its head… I view her as my finest teacher of vocals." (

k.d. lang

,

Time

, 1/27/02)
Diana Krall

, one of the leading singers in jazz today, offered similar praise. "I love everything about her: her elegance, her wit. And she is one of the greatest influences in what I do as an artist," Krall said in a statement released Tuesday. (

Los Angeles Times

, 1/23/02)

Fun History Fact: In 1987, Peggy Lee was awarded the Living Legacy Award from the Women's International Center. Lee said that she was "humbled by being in the presence of such greatness," and provoked cheers and whistles when she offered to respond to the honor by giving a concert for the benefit of the women's center.

Why She's a Strong Woman: Holiday's rendition of "Strange Fruit" was a radical act of rebellion when she performed it for the first time at the Café Society — "The Wrong Place for the Right People". Holiday had specific instructions to set the mood for the unsettling piece: it was always the last song in the set, there would be absolute silence, no bar service and the lights would be dimmed save for a single spotlight on Holiday's face as she sang the hauntingly chilling opening line:
Southern trees bearing strange fruit
Blood on the leaves and blood at the roots
Black bodies swinging in the southern breeze
Strange fruit hanging from the poplar trees
"Strange Fruit" was met with animosity from racist hecklers at shows, radio programs that blacklisted her music, and her own record label, Columbia Records, refused to record it. Ahmet Ertegun, who later co-founded Atlantic Records, called it "a declaration of war … the beginning of the civil rights movement."
Today "Strange Fruit" has been honored with two major recognitions which have immortalized it as a song of great significance to the musical heritage of the U.S. In 1999, "Strange Fruit", was named the "Song of the Century" by Time Magazine, and in 2002 it was added to the National Registry of the Library of Congress.
Fun History Fact: There are a few rumors surrounding her iconic look of wearing a white gardenia flower in her hair. Our favorite rumor is that Carmen McRae — a popular jazz singer of the Great American Songbook and friend of Holiday's — recalls that Billie burned her hair once with curling tongs before she had to go onstage. Carmen sprang into action, bought a gardenia from the flower girl at the entry of the club, and put the flower in Holiday's hair to cover the scorched spot. From that moment — it is said — that Billie Holiday wore gardenias in her hair.

Why She's a Strong Woman: Doris Day was a lover of animals and an adamant advocate for animal rights. In 1978, The Doris Day Animal Foundation (D.D.A.F.) was founded. Day was affectionately known as the "Dog Catcher of Beverly Hills" and would always carry photos of cats and dogs in need of a home. Throughout her personal life, she rescued hundreds of animals and eventually expanded her grassroots efforts to form what is now her dedicated foundation. To this day, the D.D.A.F. lives its simple mission: to help animals and the people who love them.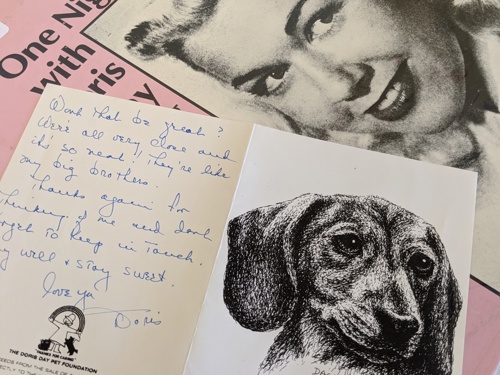 This card on Doris Day Pet Foundation stationary was written by Doris Day to saxophonist, Steve Madrick. (Steve Madrick Collection, Songbook Libary & Archives)
Fun History Fact: Doris Day was offered the role of Maria in the 1965 movie "The Sound of Music", but turned it down stating, "I'm too American to play a nun from Austria". Additionally, Richard Rogers though a fan of Doris Day — stating that her recording of "I Have Dreamed" from The King and I was the single best recording of his song that he had ever heard — did not want Day to be his Maria. The iconic role ultimately went to the incomparable Julie Andrews. Could you imagine any other Maria?


Why She's a Strong Woman: Lena Horne was a champion for civil rights and devoted her life to the advancement of people of color. In 1942, at the ripe age of sixteen Lena became the first African American performer to sign a long-term contract with a major Hollywood studio (Metro Goldwyn Mayer). She never achieved the level of success with M.G.M. because of the inherent racism she faced at that time. There is a giant laundry list of moments when Horne's passion for civil rights shone like a star in a dark sky. I'm just going to leave a few of them here...
While entertaining troops at Fort Reilly, Kansas during World War II, Horne filed a complaint with the NAACP because African American soldiers in the audience had to sit in back seats behind German POWs. Horne financed her own travel to entertain black troops when MGM Studios pulled her off its tour.

In the late 1940s, Horne sued a number of restaurants and theaters for race discrimination and also became politically allied with Paul Robeson in the liberal organization Progressive Citizens of America.

She joined Eleanor Roosevelt's unsuccessful campaign for anti-lynching legislation and worked on behalf of Japanese Americans who faced discrimination.

During the anti-communist hearings in the U.S. Congress in the 1950s, Horne was among hundreds of entertainers blacklisted because of political views and social activism. 

In the 1960s, she performed in the South at rallies for civil rights, participated in the 1963 March On Washington, and supported the work of the National Council for Negro Women. 
Fun History Fact: Halle Berry — the first black woman to win the Oscar for Best Actress in a Leading Role — presented a tribute honoring the trailblazing Lena Horne. This special tribute was acknowledged in the first Academy Awards ceremony following her death. After the "In Memoriam" segment of the 2011 Academy Awards, Berry came onto the stage, blew a kiss to the screen, which featured a clip of Horne singing in the 1943 musical Stormy Weather and said, "Lena Horne blazed a trail for all of us who followed. Thank you, Lena Horne. We love you and we will never ever forget you."

Why She's a Strong Woman: The Ella Fitzgerald Charitable Foundation was created and funded in 1993 by Ella Fitzgerald, the First Lady of Song, in order to fulfill her desires to use the fruits of her success to help people of all races, cultures and beliefs. Ella hoped to make their lives more rewarding, and she wanted to foster a love of reading, as well as a love of music. In addition, she hoped to provide assistance to the at-risk and disadvantaged members of our communities - assistance that would enable them to achieve a better quality of life. The Board of Directors of the Ella Fitzgerald Charitable Foundation seeks to continue Ella Fitzgerald's goals by making charitable grants serving four major areas of interest:
creating educational and other opportunities for children

fostering a love and knowledge of music, including assistance to students of music

the provision of health care, food, shelter and counseling to those in need

specific areas of medical care and research with an emphasis on Diabetes, vision problems and heart disease
To learn more about the work of our friends at the Ella Fitzgerald Charitable Foundation, go to ellafitzerald.com/foundation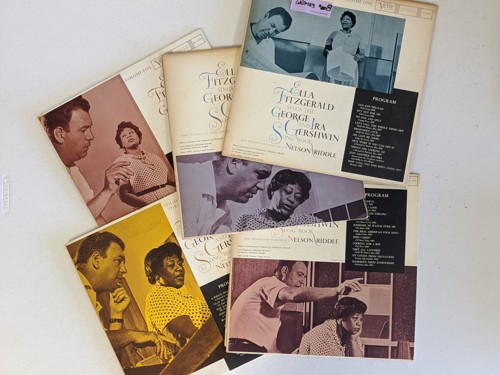 These albums are from the Great American Songbook Foundation's Archives & Collections.
They are the complete recordings of the George and Ira Gershwin Songbook. Sung by Ella Fitzgerald and arranged and conducted by Nelson Riddle.
Fun History Fact: Marilyn Monroe was an admirer of Ella's work and supported her in times of racial animosity. "I owe Marilyn Monroe a real debt," Fitzgerald said in a 1972 interview in Ms. Magazine. "It was because of her that I played the Mocambo, a very popular nightclub in the '50s. She personally called the owner of the Mocambo and told him she wanted me booked immediately, and if he would do it, she would take a front table every night. She told him—and it was true, due to Marilyn's superstar status—that the press would go wild. The owner said yes, and Marilyn was there, front table, every night. The press went overboard … After that, I never had to play in a small jazz club again. She was an unusual woman—a little ahead of her time. And she didn't know it."
The Great American Songbook Foundation is a 501(c)(3) Grammy-affiliated non-profit organization dedicated to the preservation and promotion of the music of the Great American Songbook.