Finalists announced for national Songbook Academy
5/31/2022 12AM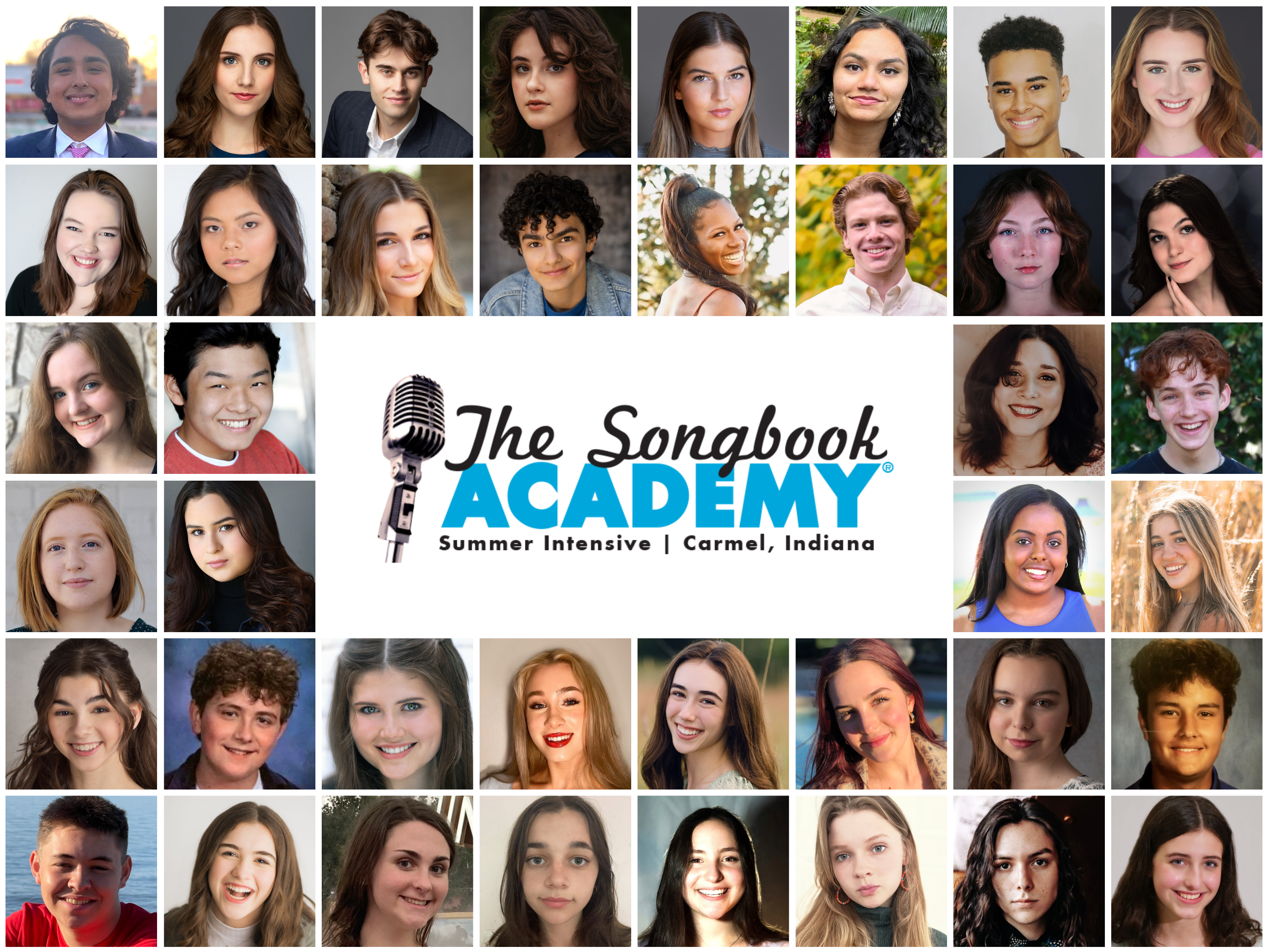 Tickets for public performances and livestreams available starting June 3
CARMEL, IN – From hundreds of applications nationwide, 40 finalists from 19 states have been selected to participate in this year's Songbook Academy® summer intensive, the leading youth music program focused on the timeless standards of jazz, pop, Broadway and Hollywood.
Now in its 13th year, the Songbook Academy is the flagship education initiative of the Great American Songbook Foundation, providing an opportunity for talented high school performers to experience a life-changing week of classes, workshops and performances under the guidance of arts and entertainment professionals and leading university educators. This year's entertainment industry mentors will include Songbook Foundation Founder Michael Feinstein, Broadway/TV actor Shereen Ahmed, jazz and blues singer Nicole Henry, Broadway performer James T. Lane, jazz singer-musician Aubrey Logan and crossover singer Anthony Nunziata.
After being conducted online the past two years, the Academy is returning to an on-site format July 16-23 at the Foundation's headquarters, the Center for the Performing Arts in Carmel. Starting June 3, tickets will be available for three public performance events at the Center's Palladium concert hall. Each will take place before a live audience and also will be livestreamed for viewers worldwide.
Public Masterclass – 2-5 p.m. ET Wednesday, July 20
Ten randomly selected participants will perform and receive real-time critiques from Michael Feinstein and Nicole Henry.
Songbook Showcase – 2-5 p.m. ET Thursday, July 21
Each of the 40 national finalists will have a turn in the spotlight to perform a selected song.
Songbook Academy in Concert – 7 p.m. ET Saturday, July 23
Michael Feinstein will emcee as all 40 singers deliver solo and ensemble performances to demonstrate and celebrate their growth over the course of the week.
For the July 20-21 events, on-site tickets and livestream registration are pay-what-you-can with no minimum price. For the final concert, on-site tickets start at just $25, and the livestream option is pay-what-you-can with a $10 minimum. Tickets will be available starting at 10 a.m. June 3 at TheCenterPresents.org or (317) 843-3800.
The Ella Fitzgerald Charitable Foundation Mentor Champions support the involvement of the national faculty teams who guide and support the students throughout the week. This year's faculty includes music directors Jeff Harris, Russ Kassoff, Daryl Kojak, Beckie Menzie and Melanie Shore, along with vocal coaches Kathleen Hacker, Elaine Moebius, Lynne Rothrock and Catherine Walker. Additional guest clinicians will include contemporary vocal artist, arranger and educator Ly Wilder.
The Songbook Academy is sponsored nationally by the Efroymson Family Fund and also supported by the City of Carmel and Salon 01. The Songbook Academy in Concert performance is part of the 2022-2023 Center Presents Season sponsored by Allied Solutions and the Hoosier Village & The Barrington of Carmel Songbook Series.
The 2022 Songbook Academy finalists are:
Ayaan Abbasi, Carmel, Indiana; Carmel High School
Audrey Bailey, North Logan, Utah; Green Canyon High School
Alexandra Bauman, Holmdel, New Jersey; Holmdel High School
Ian Brooks, Avon, Indiana; Avon High School
Madeleine Burnett-Caballero, Taylor, Alabama; Laurel Springs School
Izzy Casciani, Zionsville, Indiana; Zionville Community High School
Emmaline Colvin, Carmel, Indiana; Carmel High School
Cece Cummins, Darien, Connecticut; Darien High School
Stella Cushing, Mill Valley, California; Tamalpais High School
Grace Linnea DeCroix, Middleton, Wisconsin; Middleton High School
Jane Delahoussaye, Sugar Land, Texas; Logos Preparatory Academy
Mayme Gerstel, Los Angeles, California; Westridge School for Girls
Jonathan Grimes, Avon, Indiana; Avon High School
Lydia Herrera, Kennesaw, Georgia; homeschooled
Alannah Hjelm, Arlington, Virginia; Yorktown High School
Seth Jacobsen, Carmel, Indiana; Carmel High School
Ananya Kaushal, Newtown Square, Pennsylvania; Baldwin School
Edin Kebede, New Albany, Ohio; New Albany High School
Asiah Keenan, Sagle, Idaho; Sandpoint High School
Grace Kiamie, Pelham Manor, New York; Pelham Memorial High School
Alexander Kim, Laguna Niguel, California; St. Margaret's Episcopal School
Avery Kissam, Palm Bay, Florida; Bayside High School
Scarlett Licina, Oswego, Illinois; Oswego High School
Sydney MacGilvray, Worthington, Ohio; Thomas Worthington High School
Annie Matot, Jupiter, Florida; Kings Academy
Hawkins Meek, Los Angeles, California; Village Christian High School
Tucker James Mensen, Urbana, Iowa; Center Point Urbana High School
Ava Nicole Frances, San Francisco, California; Ruth Asawa School of the Arts
Gemma Rollison, Indianapolis, Indiana; homeschooled
Maxwell Rutherford, Mooresville, Indiana; Mooresville High School
Anna Shea Safran, Doylestown, Pennsylvania; Central Bucks High School
Lauren Sciaudone, Westfield, Indiana; St. Theodore Guerin High School
Mikayla Smith, Royal Palm Beach, Florida; Kings Academy
Ethan Steiner, Ann Arbor, Michigan; Pioneer High School
Nahari Suchanek, York, South Carolina; South Carolina Governor's School for the Arts and Humanities
Cooper Trigg, Monrovia, Indiana; Avon High School
Sarah Warf, Carmel, Indiana; Carmel High School
Meghan Warmuth, Indianapolis, Indiana; Avon High School
Sadie Wilson, Dallas, Texas; The Keystone School
Sophia Yen, Burr Ridge, Illinois; Hinsdale South High School
About the Great American Songbook Foundation
The mission of the Great American Songbook Foundation, founded in 2007 by five-time Grammy® Award nominee Michael Feinstein, is to inspire and educate by celebrating the timeless standards of pop, jazz, Broadway and Hollywood. Headquartered at the Center for the Performing Arts in Carmel, Indiana, the Foundation advances this rich legacy by curating physical artifacts of its creators, performers and publishers in the Songbook Library & Archives; operating a multimedia exhibit gallery; overseeing the Songbook Hall of Fame; offering programs for the public and research opportunities for scholars and artists; and providing educational opportunities for student musicians, including the annual Songbook Academy® summer intensive. The Foundation is a Cultural Affiliate of the Los Angeles-based Grammy Museum®. More information is available at TheSongbook.org.