to The Songbook Academy
Perfect Harmony Music Resources
Contact us for more information:
The Great American Songbook Foundation
317.844.2251
Info@TheSongbook.org

The Great American Songbook Foundation is a 501(c)3 nonprofit organization with a mission to inspire and educate by celebrating the Great American Songbook.

Alumni Network
One of the core benefits of attending the Songbook Academy is joining a network of talented young artists and professional contacts that has been in existence for over a decade. The opportunities that our alumni receive extend from recognition during their time at the Songbook Academy to performance opportunities, further education and professional support that lasts a lifetime. 
Academy Week Recognition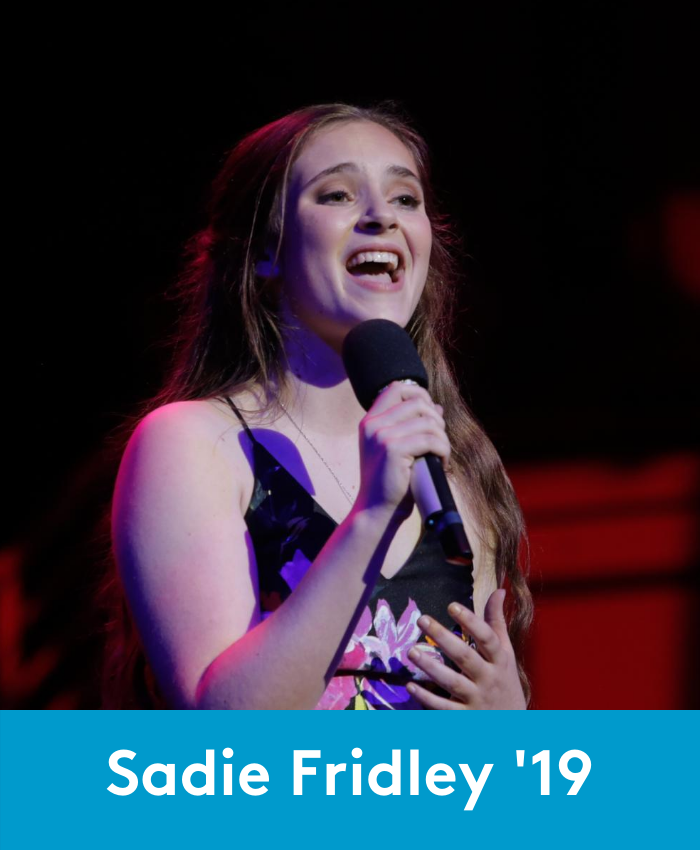 Songbook Youth Ambassador Award
Along with the opportunity to perform alongside our founder, Michael Feinstein, our most recent Youth Ambassador, Sadie Fridley (Fayetteville, NY). served in the role for one year to represent the Songbook Foundation in performances and events across the country including the 2019 Songbook Celebration Gala honoring Duke Ellington, Feinstein's/54 Below and Jazz at Lincoln Center (to be rescheduled due to COVID-19).
Watch Sadie's 2019 Songbook Academy performance here.
Songbook Inspiration and Songbook Celebration Award
The recipients of these awards for outstanding performances also receive a national performance opportunity with our founder, Michael Feinstein.

2019 Songbook Inspiration Award winner Natalie Leclair (left) and 2019 Songbook Celebration Award winner Chris Santiago (right).
Outstanding Achievement Awards and Ongoing Performing Opportunities
Various outstanding achievement awards will be presented for excellence in a variety of categories during Songbook Academy week. Additionally, ALL students will be eligible for invitation to perform across the country alongside Michael Feinstein and/or for Songbook Foundation special events. Students may also request letters of recommendation for future college applications and professional opportunities. 

Where are our alums now?
Auditioning or applying for college? We have alumni who are current students or graduates of over fifty university or conservatory arts program located both nationally and internationally. Find an alum to connect with here and email songbookacademy@thesongbook.org for contact information.
We are the Number 1 BIGGEST fans of all of our Songbook Academy alums and love to spotlight anything and everything you are doing on our social media pages. Help us stay up-to-date with new projects, performances and exciting news by filling out this Alum Update form.