our Current Exhibit
a Traveling Exhibit
Visit The Great American Songbook Foundation
1 Carter Green
Carmel, IN 46032
317.844.2251
Info@TheSongbook.org

Songbook Exhibit Gallery Location & Hours
Enter west entrance of the Palladium on 3rd Ave
Monday-Friday 10am-4pm; also open one hour before Songbook and Jazz Series events in the Palladium

The Great American Songbook Foundation is a 501(c)3 nonprofit organization with a mission to inspire and educate by celebrating the Great American Songbook.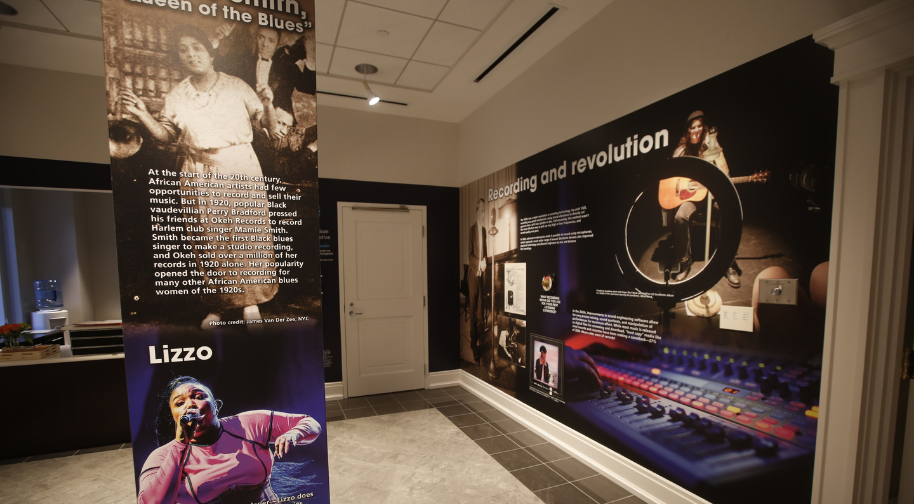 Mamie Smith and Lizzo
Mamie Smith
At the start of the 20th century, artists had few opportunities to record and sell their music. But in 1920, popular Black vaudevillian Perry Bradford pressed his friends at Okeh Records to record Harlem club singer Mamie Smith. Smith became the first Black blues singer to make a studio recording, and Okeh sold over a million of her records in 1920 alone. Her popularity opened the door to recording for many other African American blues women of the 1920s.
Lizzo
Rapper, singer, flute player—Lizzo does it all! Her in-your-face, no-apologies approach to her music and performances has taken her from local fame in Minneapolis to the Grammy for Best Pop Solo Performance in just five years. With a background in music theory, Lizzo is often the producer of her recording sessions—her sound is her own creation. She is also a powerful advocate for body positivity, serving as a strong example for women and girls of all sizes and shades to love themselves as they are.