our Current Exhibit
a Traveling Exhibit
Visit The Great American Songbook Foundation
1 Carter Green
Carmel, IN 46032
317.844.2251
Info@TheSongbook.org

Songbook Exhibit Gallery Location & Hours
Enter west entrance of the Palladium on 3rd Ave
Monday-Friday 10am-4pm; also open one hour before Songbook and Jazz Series events in the Palladium

The Great American Songbook Foundation is a 501(c)3 nonprofit organization with a mission to inspire and educate by celebrating the Great American Songbook.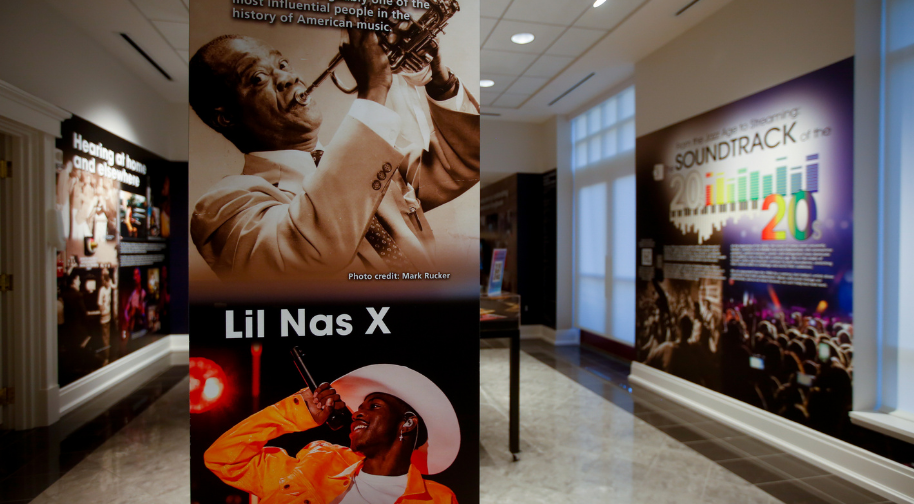 Louis Armstrong and Lil Nas X
Louis Armstrong
Instantly recognizable as one of the most famous figures in jazz, Louis Armstrong was an innovator, changing the game for decades of musicians who followed him. Breaking with the formal stylings of vocalists in prior decades, Armstrong created improv scat singing with a swing rhythm; his trumpet technique led to a trend of soloists becoming the focus of jazz band performances. Louis Armstrong is arguably one of the most influential people in the history of American music.
Lil Nas X
Lil Nas X has taken everything the music world expects from a Black male pop star and turned it on its head. As an openly gay Black performer, Lil Nas X breaks away from stereotypes of hyper-masculinity and misogynistic conquests. His "Old Town Road," a collaboration with Billy Ray Cyrus, fused country and hip-hop influences and broke the record for most weeks atop the Billboard Hot 100 chart in 2019. Lil Nas X confronts critics head on, saying "A lot of times, when you're afraid to do something, that's when you should really do it."