our Current Exhibit
a Traveling Exhibit
Visit The Great American Songbook Foundation
1 Carter Green
Carmel, IN 46032
317.844.2251
Info@TheSongbook.org

Songbook Exhibit Gallery Location & Hours
Enter west entrance of the Palladium on 3rd Ave
Monday-Friday 10am-4pm; also open one hour before Songbook and Jazz Series events in the Palladium

The Great American Songbook Foundation is a 501(c)3 nonprofit organization with a mission to inspire and educate by celebrating the Great American Songbook.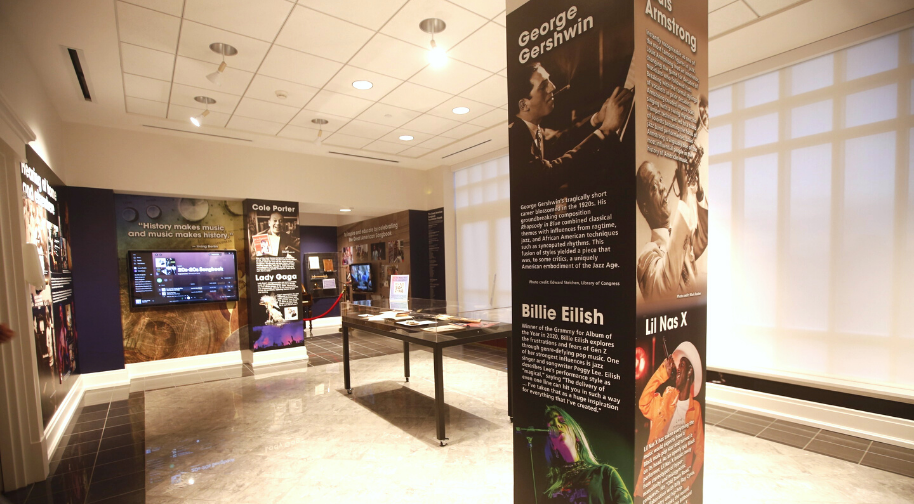 George Gershwin and Billie Eilish
George Gershwin
George Gershwin's tragically short career blossomed in the 1920s. His groundbreaking composition Rhapsody in Blue combined classical themes with influences from ragtime, jazz, and African American techniques such as syncopated rhythms. This fusion of styles yielded a piece that was, to some critics, a uniquely American embodiment of the Jazz Age.
Billie Eilish
Winner of the Grammy for Album of the Year in 2020, Billie Eilish explores the frustrations and fears of Gen Z through genre-defying pop music. One of her strongest influences is jazz singer and songwriter Peggy Lee. Eilish describes Lee's performance style as "magical," saying "The delivery of even one line can hit you in such a way … I've taken that as a huge inspiration for everything that I've created."