Great American Songbook Foundation
Guest Lecturer - Dana Gorzelany-Mostak
Online
//
Thursday, Oct 22, 7pm ET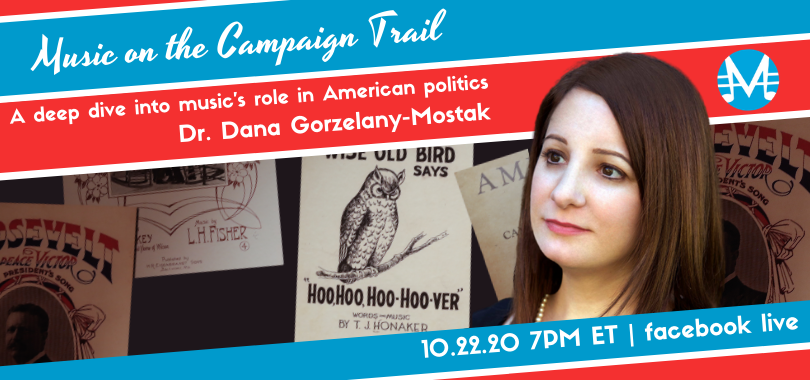 Event Details
This lecture will stream for free on Facebook.
A DEEP DIVE INTO MUSIC'S ROLE IN AMERICAN POLITICS:
Music on the Campaign Trail - Guest Lecture
Access Image Description File for live lecture here.
"The purpose of a song would be to help create and sustain a battle psychology and a patriotic spirit of fighting a common foe. It would serve as a common bond to rally and identify the nation..." - Russell Freeburg (coordinator for President Gerald Ford's Citizens Action Committee).
Presidential campaigns are noisy affairs. We hear the thunderous roar of clapping, cheering crowds, the flashes of a thousand cameras, and slogans ringing in the air:
I Like Ike
Peace, Experience, Prosperity
Make America Great Again
Not Just Peanuts
I'm with Her
The Buck Stops Here
Yes, We Can
Whether it be the brass bands, drums, fifes, and fiddles of yore, the sounds of Springsteen and U2 over the loudspeaker, or the strains of a crowd erupting in their own rousing cadence, music is there as well.
Listen to a playlist of songs featured in the lecture:

About the Lecturer:
Dana Gorzelany-Mostak is an Associate Professor of Music at Georgia College and founder of Trax on the Trail, a website and research project that tracks and catalogues music on the U.S. presidential campaign trail. Founded in 2015, Trax on the Trail was created to promote a more critical evaluation of how music and sound shape our perceptions of presidential candidates. 
"In this lecture, I will be discussing campaign songs from U.S. presidential campaigns. Rather than providing a comprehensive history, I would like to offer a highlight reel that demonstrates the many ways candidates have harnessed the power of song in their respective quests for the presidency."
Tune in for this lecture on Thursday, Oct. 22 at 7pm ET followed by a livestreamed Q&A with invited guests. Both streams will be available @songbookfoundation on Facebook. 
---