Volunteer Profile: Dick Schwartz
March 21, 2019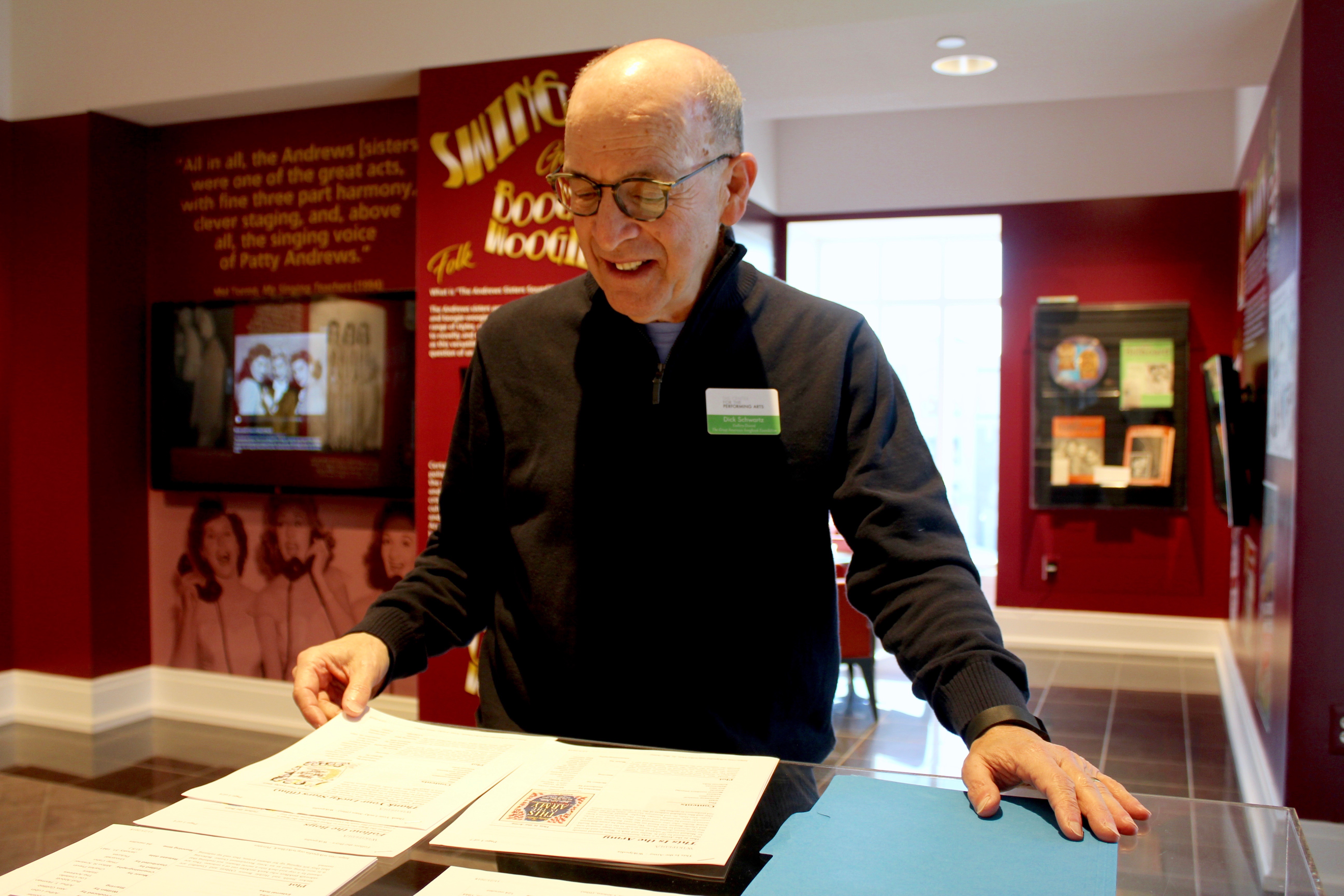 Introducing the Author of our new Blog Series
We have some exciting news, Songbook fans! Starting tomorrow we are releasing a new Blog Series written by our resident Songbook guru and docent, Dick Schwartz!  In preparation for tomorrow's blog, learn about the author and a familiar face you might have seen in the Songbook Exhibit Gallery. Enjoy!
Who are you?  Tell us a little bit about yourself (what you do or did, where you're from, where you live now, a fun fact about YOU).
I'm a big fan of music, and I enjoy broad, diverse musical styles. I really enjoy and appreciate the songs of the Great American Songbook in all its variations. I spent the decade of the '60's in high school and college, so that's a sweet spot for my music. Show tunes from the stage and movies delight me, too. My wife Carol (also a Songbook Foundation volunteer) and I have lived in Indiana for over 40 years, but we're fairly new to the Indy area, so we're still like tourists discovering new adventures.
Fun facts:
Carol and I met performing in high school musicals in Buffalo, NY.
For a time, I sang in college with a trio performing at hootenannies during the folk music revival.
My college years were in Detroit, during the Golden Age of Motown.
We get to a lot of live music and theater performances.
Tell us your "Songbook story". How did you find out about volunteering at the Foundation? What made you decide to get more involved?
Several years ago, we went to the Saturday evening concert/competition at the Songbook Academy summer music intensive because it sounded like an exciting concept. We were so impressed with the content and caliber of the performances. We were dazzled! Carol happened to be sitting next to Anne, a Great American Songbook volunteer. Anne shared her enthusiasm with us and suggested we make a visit to the Songbook Gallery at the Palladium. A few months later, we did as she suggested, and we met Bruce Reynolds, an all-time-great Songbook docent. Bruce helped close the deal with his knowledge and enthusiasm. I signed up as a docent in the Gallery. Carol and I also helped design a new brochure for Perfect Harmony. After a year or so, Carol volunteered to put her talents to work in the Songbook archives covering and repairing books in the collection.
The Songbook Foundation recently did a video spotlight on Carol's work in the Archives.  Interested in learning more about covering and repairing books?  Watch Carol's #SongbookFamilySpotlight:
What is Songbook Academy?  Click here to learn more.
Is there a particular part of our work that interests you the most?
Being in touch and involved with other music fans is always fun. And seeing first-hand Michael Feinstein's personal commitment to the Songbook Foundation's mission is inspiring. The Foundation's emphasis on "Perfect Harmony" and the application of music therapy principles to helping people with dementia or memory-related issues is such a positive program.
Want to learn more about Perfect Harmony?  Click here.
What's the most interesting thing you do as a Foundation volunteer?
As a docent, a blogger, or a representative at community events, I enjoy finding ways that music provides connections with people. I find a shared interest in music can bridge many cultural gaps. There's a lot of joy for me in making those connections.
What's something you wish more people knew about the Songbook Foundation?
Music can build bridges and make connections among people. It's not only the Songbook, but the connecting force of all music.
Make sure to stay tuned for Dick's blog, "My All-Time Favorite Songs" going live tomorrow!  Wondering what tomorrow's song might be?  A Cole Porter classic is all we're telling you...
Tweet #share