Today's Song: "It's All in the Game"
June 23, 2021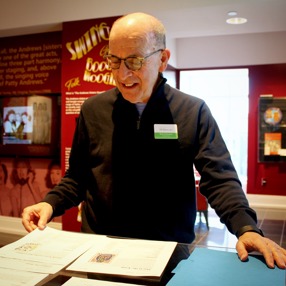 My All-Time Greatest Songs
By Songbook Volunteer: Dick Schwartz
Author's Note: This blog has its origin in my interest – maybe, obsession – with songs. It seems there is usually some song in my head at nearly any time.  When I hear certain songs, I'll sometimes think or say "Ooh! That's one of my all-time favorites!" The range of my favorites is broad and diverse. These songs might be popular or obscure, from Broadway or the back roads, simple or complex, ballads or rockers. 
I hope that you will enjoy my blogging exploration of contenders for my all-time-favorite songs and that you'll be moved to consider and share your own favorites that have held a timeless presence in the soundtrack of your life, or rather, your own personal Songbook. 
--- Enjoy! ---
It's All in the Game
By Charles Dawes and Carl Sigman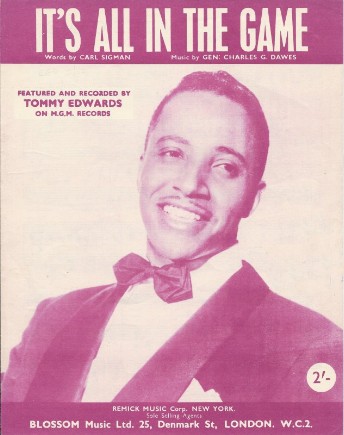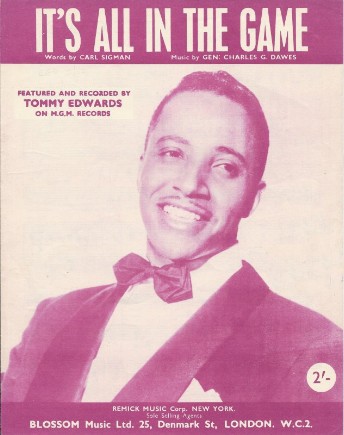 The latest selection for My All-time Greatest Songs has an amazing story. It's no exaggeration to say that the journey of "It's All in the Game" may reveal the strangest path ever for a number-one hit song.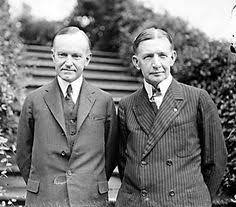 The music for this song was adapted from "Melody in A Major" composed by Charles Dawes in 1911. Dawes was a banker active in politics who was inaugurated Vice-President of the U.S. with President Calvin Coolidge in 1924. His composition was recorded by renowned violinist Fritz Kreisler and others, and it sold briskly. Dawes passed away in April, 1951, just missing his song's rise to popular fame. In that summer, Brill Building songwriter Carl Sigman put lyrics to Dawes' melody to create "It's All in the Game." Sigman had a way with romantic lyrics, as expressed in many other hits, including "Ebb Tide," "What Now My Love?," "A Day in the Life of a Fool," and "Where Do I Begin?" (theme from the 1970 film "Love Story").
Several ballad versions were recorded in 1951. Dinah Shore, Sammy Kaye, Carmen Cavallaro, and Tommy Edwards were some of the recording artists. A jazz arrangement was recorded by Louis Armstrong with arranger Gordon Jenkins. Jenkins produced another jazz version with vocalist Nat King Cole in 1956. It was Edwards' 1951 version that reached number 18 on the Billboard Best Sellers in Stores.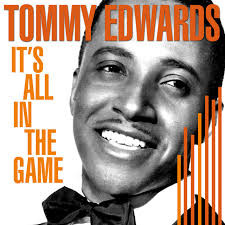 In 1958, Tommy Edwards had only a single recording session remaining on his MGM contract. It was decided to record an updated rendition of "It's All in the Game," using the new stereophonic sound in a "Rock 'n' Roll" arrangement with back-up singers. This version rose to number 3 on the Billboard charts. Edwards performed it on the Ed Sullivan TV show on September 14, 1958. The show's rendition was even more up-tempo, as Sullivan appears to rush the performance on and off stage. (The TV kinescope shows the song performance at less than two minutes.) The TV exposure helped push the new Tommy Edwards version to number 1 for six weeks, beginning September 29, 1958. This would be the last song to hit number 1 on the discontinued R&B Best Seller list. Edwards was the first African American to have a number 1 song on the Billboard Hot 100. His number 1 was "It's All in the Game."
There is something special in the mix of a seductive melody, plaintive lyrics, an upbeat tempo, a memorable arrangement, and an outstanding vocal performance that created not only a best-selling record but a song that has become emblematic of the rocking 1950s. Can you recall hearing "It's All in the Game" in a movie or TV show?
Check back soon for the next installment of "My All-Time Greatest Songs". In the meantime, listen to a few renditions of today's feature, "It's All in the Game"!
Fritz Kreisler
Tommy Edwards on "Ed Sullivan Show" (1958)
Louis Armstrong (1951)
Ricky Nelson on "Ozzie & Harriet"
Van Morrison – live at Capitol Theatre
Tweet #share