Songbook Foundation Spotlight: Chelsea Reynowsky
February 17, 2020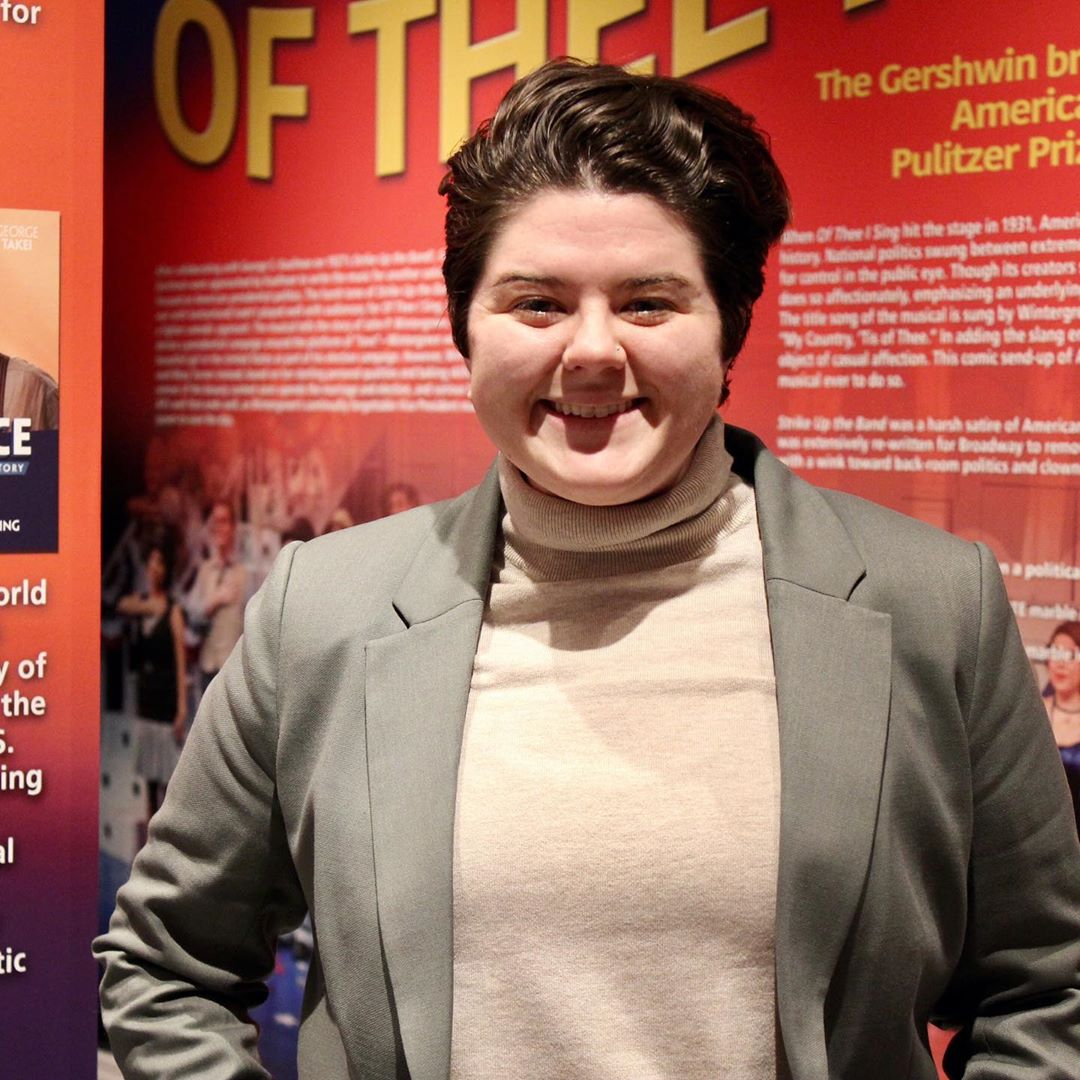 Meet Our New Program Coordinator: Chelsea!
We are very pleased to announce that Chelsea Reynowsky has joined the Songbook Foundation as our new Program Coordinator!  Chelsea will work alongside our Director of Programs, Renée La Schiazza, to support the various programs and outreach initiatives here at the Foundation. She has a master's degree in music performance and is active in the Indianapolis music community. Chelsea has previously worked in the human services nonprofit field and has experience working with music programs for people living with Alzheimer's disease. 
Today was Chelsea's first day on the job, and we took the opportunity to learn a few fun facts about her that we've shared with you as a Q&A below... a true "Getting to Know You" moment here at the Songbook Foundation!
Q: What is your favorite artist, group or genre of music to listen to right now?
A: I am a lover of all music! Right now, I primarily listen to women of folk. My playlist includes: Brandi Carlile (& The Highwomen), Margo Price, Dolly Parton, Yola, Rhiannon Giddens, and Patsy Cline, to name a few. When I'm not in a honky tonk mood, I'll listen to any opera, Tracy Chapman, 90s alternative rock, Audra McDonald, k.d. lang and the classics of the American Songbook. (Note: It's very hard for a music lover to list only a few of her favorite things)
Q: When did you first fall in love with the American Songbook?  
A: My love for the music of the American Songbook started with Ella Fitzgerald. I was perusing the library in high school and found a recording of her singing live from Budapest, which I still wear out to this day. Favorite track on that album is "I Concentrate On You/You Go to My Head". Her connection to music and lyrics has always been a point of inspiration for me. I have never quite heard another performer connect to her material like Ella. All of her works are a true masterclass, and young singers should take note.
Q: As a performer yourself, do you have any upcoming gigs or recent performances you'd like to share?
A: I don't have any recent gigs other than what I do at my home church, Trinity Episcopal, where I serve as a section leader in the choir. I have an idea in the works to do a recital with all donations benefiting Trinity Haven, the first home in Indiana for displaced LGBTQ youth.
Q: What do you like to do in your free time? Anything else you'd like to add?
A: In my free time, I love traveling all over with my wife, Molly, and seeing live music events. Most recently we saw Brandi Carlile at the Ryman in Nashville, which was a roarin' good time! I am also a huge supporter of women's soccer and took a month in 2015 to travel around Canada during the World Cup; and recently spent time in France following the USWNT's victories. When I'm not traveling, I enjoy taking my dog for hikes at Holliday Park or Fort Ben, and completing long-overdue projects in my house. Fun fact: In a week or two I will be an aunt for the first time! 
Q: Why are you excited to join the Songbook Foundation team?
A: When I first heard the news that I'd be joining the Songbook, I felt I had found a missing piece in my life. I immediately thought of the Ella Fitzgerald quote: "Just don't give up trying to do what you really want to do. Where there is love and inspiration, I don't think you can go wrong."
I am beyond honored to lend my knowledge and passion for educating students and the community about the Great American Songbook!
Help us welcome Chelsea to the Songbook Family!
Tweet #share