In the Archives: The (Other) Ray Charles
March 12, 2020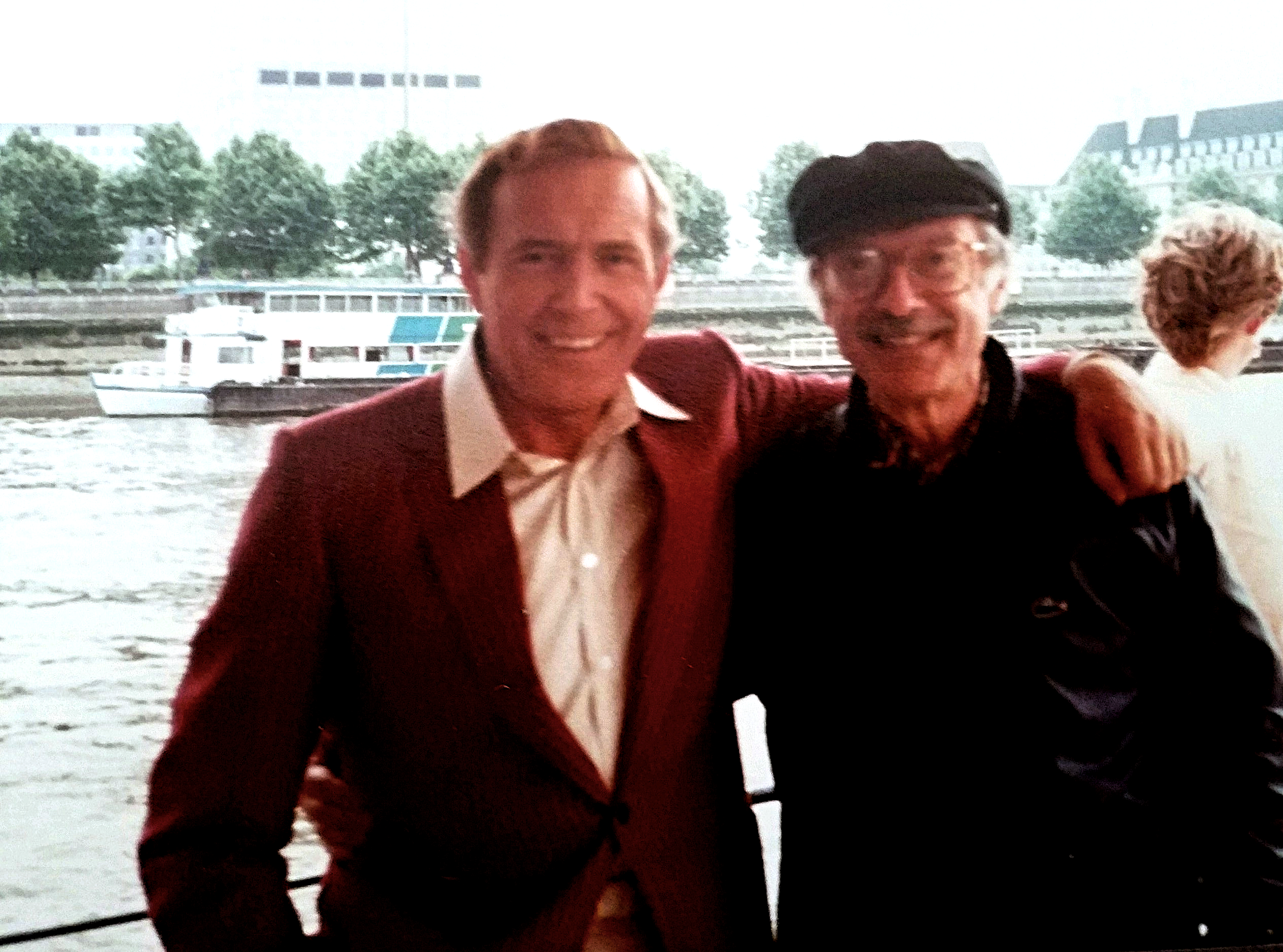 By: Lisa Lobdell, GASF Archivist
Ray Charles was a busy man. Not that Ray Charles, the singer, but the other Ray Charles. The Ray who worked as arranger and choral director for the Perry Como Show for 30 years. For many people, that job alone would have been considered a successful career. But not Ray. Ray's career in music lasted 80 years beginning with a music competition that won him a spot on a Chicago radio station at 13. He had his own radio show at 16 and won a vocal scholarship to the Chicago Music College, now the Chicago College of Performing Arts at Roosevelt University. Upon completion, Ray embarked on a career that placed him in living rooms on a weekly basis for decades, though most viewers had no idea who he was.
Ray first contacted me in 2013 when he was 94. I was familiar with some of his career and began to ask him about the materials he wanted to donate. Did he have any materials from his Navy years directing large choirs of WAVES? "No" was the answer. Well what about the arrangements from the Perry Como Show? "No" again. I asked a few more questions with Ray providing additional "no's". Finally, I asked Ray to tell me what he wanted to donate. He responded, "Well, I've got 17,000 LPs." Ugh☹ And so began our two-year dance of negotiating which materials would find a home at the Songbook Foundation.
In 2015, I received a call from Michael Charles, Ray's son. He asked if we would take everything except the 17,000 LPs. "We get it. Nobody wants the LPs," he said. I accepted immediately. Ray signed the deed of gift, the document that gives us physical ownership of his collection, two days before he passed away. Within two weeks boxes began two arrive; 91 boxes to be exact, plus 6 full filing cabinets. Ray's son, Jon, provided an inventory for every box, making life easier for those of us who would be processing the collection, but there were still surprises.
Archivists, at least the ones I know, tend to be a reserved group, except when it comes to our collections. We get upset, even angry, when we see that important documents have been neglected or damaged. And we'll do the happy dance when we find something interesting in a collection. I gasped when I opened the boxes from Ray.
Yes, Ray had a busy career working with Perry Como and the Ray Charles Singers, through 30 years on television, 31 albums and traveling with Como on his concert tours. Anyone alive during the 1960s and '70s remembers Perry Como's television specials. Ray was there. He worked with Bob Hope, Bing Crosby, John Denver, Glen Campbell, Julie Andrews, and everyone's favorite, The Muppets, on their television specials, too. He served as the musical consultant to the Kennedy Center Honors for 31 years; retiring at the youthful age of 95. Ray never mentioned that he had kept all the production binders for these shows. It's funny what a person thinks is important about his life. 17,000 LPs, not so much; production binders, gasp.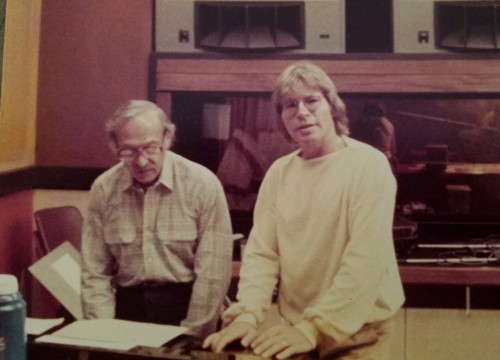 From our Archives: Ray Charles (left) with John Denver (right)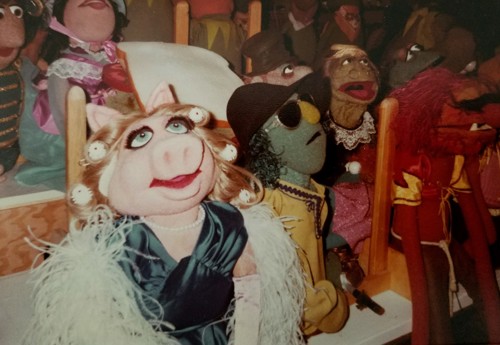 From our Archives: The Muppets in their "dressing room"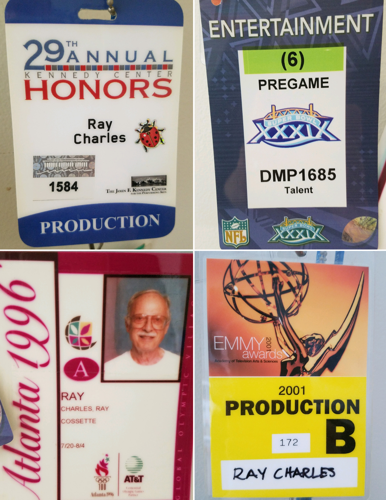 From our Archives: Passes from special events that Ray Charles attended. Top left: 29th Annual Kennedy Center Honors; Top Right: Superbowl 29; Bottom Left: 1996 Olympics held in Atlanta, GA; Bottom Right: 2001 Emmy Awards
Here in those binders was Ray's life: the parodies of popular songs that he arranged; the people he worked with, including his wife Bernice and both sons; the creative genius and innate curiosity that kept him interested and interesting throughout his lifetime. Among the many CDs he donated, we found recordings by Cold Play, the Dixie Chicks, and Destiny's Child among Gershwin and Porter as well as English 19th century drinking songs and international folk tunes. Ray was prepared for the next phone call, the next show, the next parody.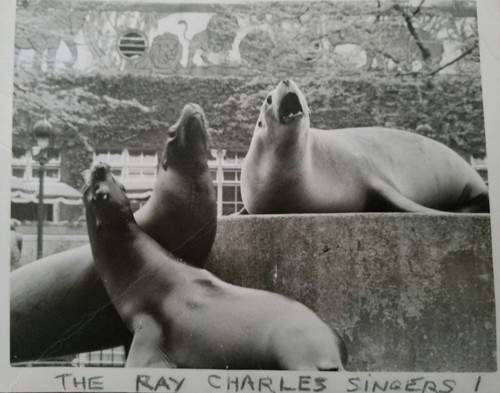 From our Archives: The "famous" Ray Charles Singers! (Obviously he had a sense of humor)
To learn more about Ray Charles, visit:
Perry Como Salutes the Other Ray Charles
Tweet #share