Archives Artifacts: Willson Leads the Disney Parade
October 25, 2021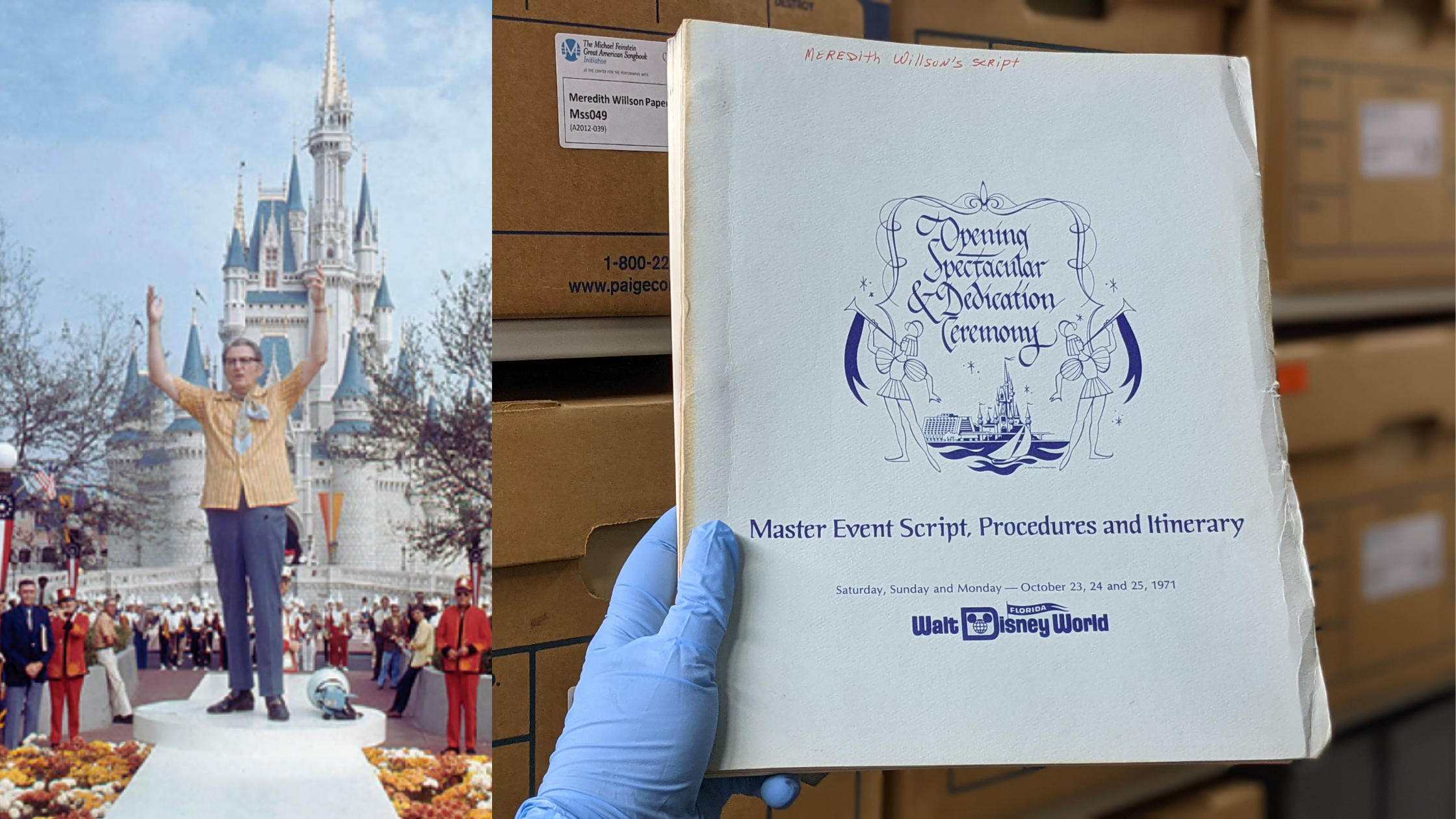 Fifty years ago this month, Walt Disney World welcomed its first guests with the magic of music and a little fairy dust. Can you guess who led the big parade down Main Street for the Opening Spectacular? Our favorite "music man" Meredith Willson who conducted the 1,076-piece marching band to Cinderella's castle!
Did you know that the Songbook Library & Archives houses the personal papers of Meredith Willson, creator of the Broadway and Hollywood musical classic The Music Man? Willson took great care to preserve every moment of his life, including a golden ticket to the grand opening of Disney World on October 25, 1971, and a Master Event Script for the Opening Spectacular and Dedication Ceremony. To celebrate fifty years of magic, we're sharing a look at some of Meredith's personal Disney history.
But first, let's take a look at Meredith and Mickey leading the big parade!
Meredith and his wife, Rini, received golden tickets to the Grand Opening Dedication Ceremony and "passports" to enjoy exclusive access to events in the Magic Kingdom and the Polynesian Village Resort during the festivities (he even kept their dinner menu!)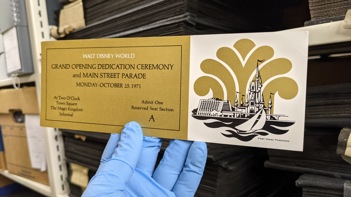 It wasn't all fun and games, Meredith Willson had an important job to do. Ahead of the three-day celebration, Meredith received this Master Event Script with a full itinerary of the behind-the-scenes work to be done before the big day.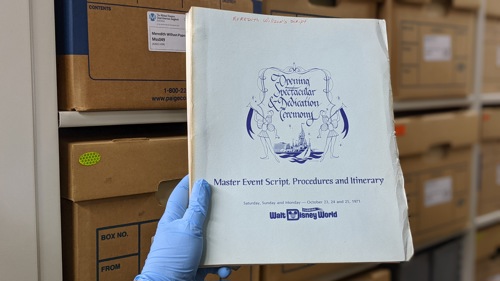 Each script is full of sketches drawn by animators to give a visual idea of what the parade would look like. Below is a drawing of the Herald Trumpeters of the United States Army Band who lined the top of the buildings on Main Street, U.S.A. Their trumpet blasts signaled the arrival of Mickey Mouse playing the "world's biggest drum" and Meredith Willson leading the band headed by the trombone section.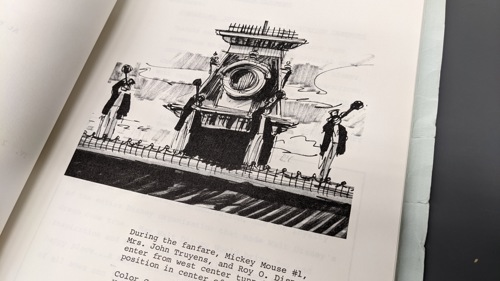 The creators of the Opening Spectacular envisioned the arrival of the 1,076-piece marching band as the climax of the entire parade.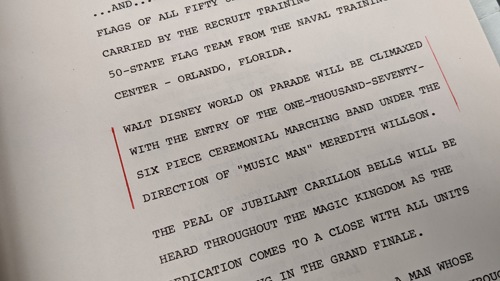 This decision to include a song from The Music Man, which premiered on Broadway over a decade earlier, as the centerpiece showcases the nostalgia of simple American traditions. The collaboration of Disney and Willson is a nod to each man's inspirations to recreate the magic of their hometowns ― Marceline, Missouri and Mason City, Iowa respectively ― by immortalizing them as places audiences can visit whenever they wish.
Enjoy this clip of Meredith Willson singing an early version of "Seventy Six Trombones" featured in the Songbook Foundation's Online Exhibit The Unsinkable Meredith Willson.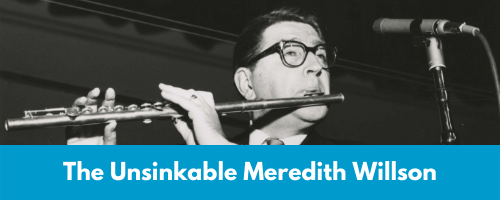 Tweet #share