Archives Artifacts: Happy Find in the Songbook Library & Archives
October 6, 2021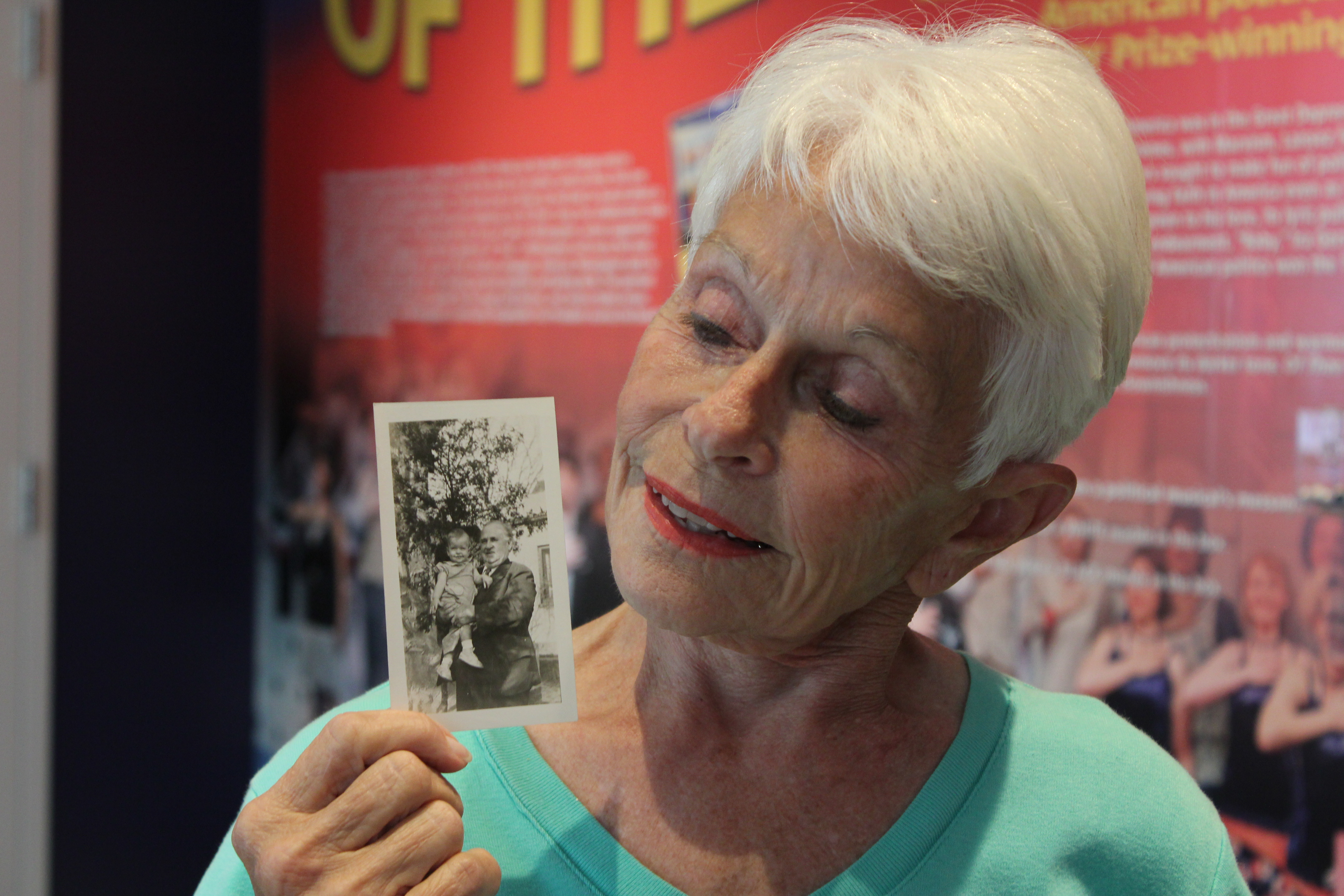 Every week Anna ― the Songbook Foundation's very own Marian the Librarian ― comes across something entertaining in the Songbook Library & Archives and shares a picture with the Songbook team. Recently, she shared a foxtrot arrangement of "Heigh-Ho" from Disney's Snow White and the Seven Dwarfs. Can you hear the seven dwarfs coming out of the mines right now?
"Heigh-Ho" from Walt Disney's Snow White and the Seven Dwarfs (1937)
Foxtrot arrangement of "Heigh-Ho" from Walt Disney's Snow White and the Seven Dwarfs (Songbook Foundation Library & Archives)
Though we were unable to find a recording of the "Heigh-Ho" foxtrot, our Executive Director Chris Lewis recalled a little-known connection between one of the Songbook Foundation's volunteers and the happiest character of the film.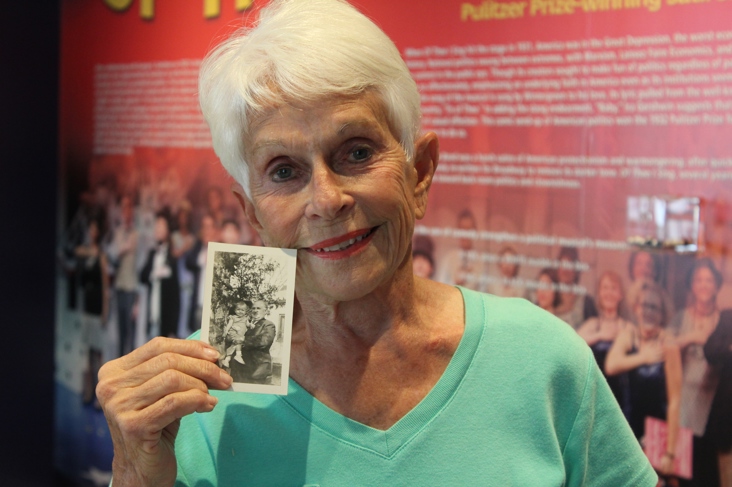 Songbook Foundation volunteer Marilyn Melangton holds a picture of her and her grandfather Otis Harlan.
"I get so excited to be able to see my grandfather in action portraying the character of Happy which depicts his true character." ― Marilyn Melangton, granddaughter of Otis Harlan
Otis Harlan is perhaps best known for voicing Happy, one of the lovable dwarfs in the first full-length animated feature, Snow White and the Seven Dwarfs (1937). For Marilyn Melangton, hearing her grandpa Otie's hearty laugh reminds her of the Harlan family's "most precious sense of humor." Marilyn jokes, "Every time I notice it, I let them know 'there's the Harlan sense of humor for sure.'"
According to Zanesville, Ohio historian, Norris F. Schneider, even in grade school Otis had a knack for the "Harlan sense of humor":
He started making his fellow students giggle at the songs he sang while standing on the teacher's desk at recess in the old high school on Pioneer Hill … In school he was noted for making answers to questions that set his classmates into uproarious laughter.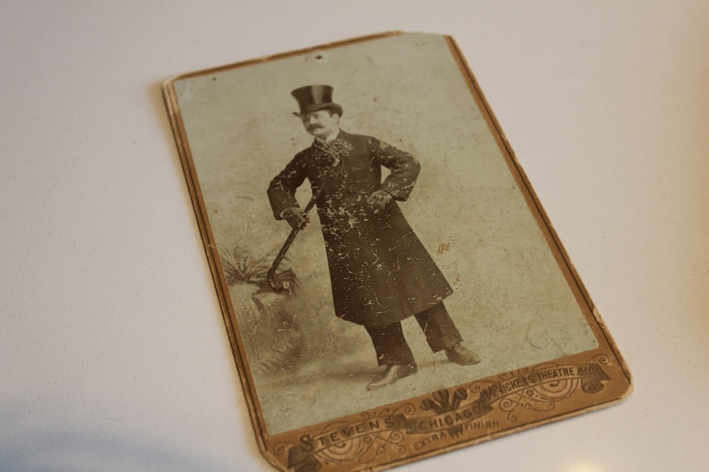 An early cabinet card photo of Otis Harlan at McVicker's Theatre Building in Chicago. (Marilyn Melangton's personal collection)
Harlan's good-hearted nature followed him throughout his career. In the book Famous Stars of Light Opera, Otis was described as "the personification of jest and merriment. Think of him trying to do anything seriously! He radiates fun and jollity; they shine from a joy-smitten countenance, are reflected from eyes that suggest practical jokes and antics of all sorts, and especially are they found in a bubbling, infectious laugh, full of ripples and good nature, that flows from Mr. Harlan's mouth on every possible and impossible occasion, like champagne from an uncorked bottle."
Creating Happy
"The character sketch of his body and feet, mannerisms, little chunky size is perfect and the way he walked."  ― Marilyn Melangton
The animators at the Walt Disney Studios were innovative in the way they studied actors' body movements and mannerisms to create a more human rendering of the characters they brought to life with ink and paint. Walt, himself, began drawing poses for each dwarf to capture their distinct personalities and subtly distinguish each as an individual.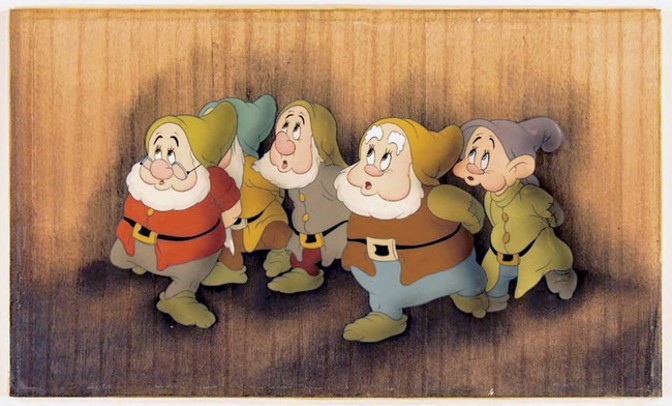 Doc, Sneezy, Happy, and Dopey, original drawing for Snow White and the Seven Dwarfs, 1938 (Princeton University Art Museum)
To create Happy, the animators observed that "Harlan has a characteristic of listening and eagerness and anticipation. His face seems to become suddenly very blank when spoken to ...This is contrasted by a lighting up in his face as soon as he registers what has been said."
A signed headshot of voice actor Otis Harlan. (Marilyn Melangton's personal collection)
Want to see how the animators brought Happy to life during the Silly Song scene? Watch this rare clip from The Making of Snow White and the Seven Dwarfs.
"He was loving, very talented and very funny." ― Marilyn Melangton
Grandpa Otie, as he was lovingly called by Marilyn, passed away on January 21, 1940 after complications from a stroke he suffered on the way to the premiere of Snow White and the Seven Dwarfs. At the time the film was released in 1937, he was considered the oldest American voice actor in recorded history. Marilyn's memories of her grandfather live in the stories passed down through her family, his jovial voice immortalized in the film and a picture of Harlan holding her when she was only 13 months old. Through her research, Marilyn supposes that she is one of the last living relatives of the original cast of Snow White and the Seven Dwarfs.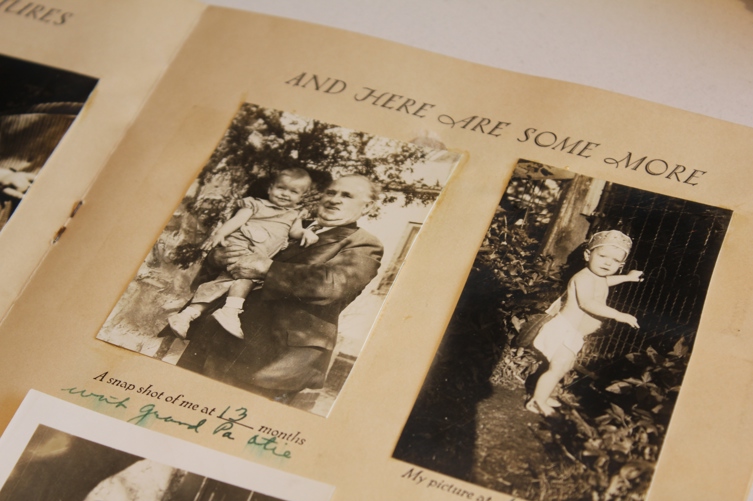 Marilyn's baby book with a picture of Otis Harlan holding her at 13 months. (Marilyn Melangton's personal collection)
Marilyn grew up with her mother Marion (Otis' daughter) in Martinsville, Indiana, where Otis Harlan and his wife Nellie lived in their retirement and are laid. Marilyn is now a beloved member of the Carmel, Indiana community, especially with her service to the Center for the Performing Arts and her volunteer work with the Great American Songbook Foundation's Perfect Harmony program.
You never know what connections or histories lie within a simple piece of sheet music found in the Songbook Library & Archives until you reach out and find the magic.
Learn more about Otis Harlan:
Voice of Happy the Dwarf was Zanesville native (Lewis LeMaster)
Otis Harlan (Disney Fandom)
Otis Harlan (Hometowns to Hollywood)
Tweet #share