Women of the Songbook: Next Generation
March 29, 2020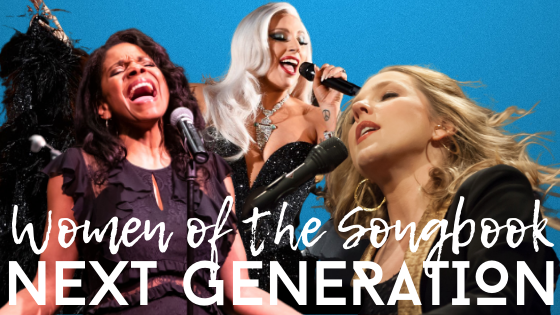 Follow our Spotify playlist. Featuring Diana Krall, Audra McDonald, Lady Gaga and other popular female artists singing Songbook Classics.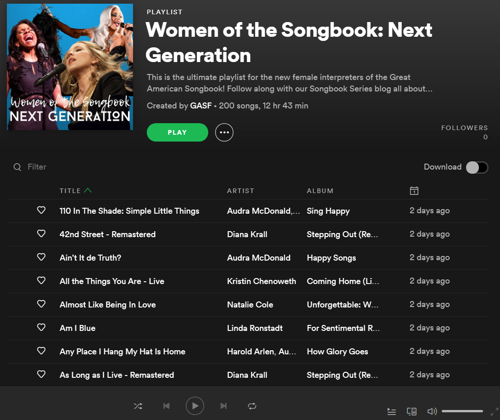 This blog is to serve as a sister (or I suppose, a daughter) set to my previous blog ― International Women's Day: Strong Women of the Songbook. Did you know that there isn't just one day designated to celebrating women? There's a whole month! March. Unlike International Women's Day, where women don't even get a whole 24 hours to celebrate (I'm looking at you, Daylight Saving Time), they do have an entire 31 glorious days in March to be recognized. 
In 1981, women celebrated the exciting introduction of an entire week devoted to them. Congress passed a fancy bill called Pub. L. 97-28, which requested and authorized the sitting President (then Ronald Reagan) to recognize the week of March 7, 1982 as the inaugural "Women's Week". It wasn't until 5 years later that Congress passed another bill, Pub. L. 100-9, which was birthed from the National Women's History Project. Thus, March 7, 1987 began the foundations of what we now deem "Women's History Month". [check out the Billie Holiday photograph from the Library of Congress on the Women's History Month site]
In the last blog, we delved into the roots of women of the Great American Songbook, now let's shift the focus to the women who were inspired by the legendary songstresses before them. For this blog, I wanted to do an interest piece on three musicians who are re-innovating and re-energizing the Great American Songbook. I found myself naturally taking on a more personal approach to how these women have influenced how I engage with the Songbook. I hope that my connection and music examples I've chosen give you a well-rounded snapshot of each artist.
One of my earliest introductions to the music of the Songbook was through DIANA KRALL's expansive discography. My family owned all of her CDs and I have fond memories of sitting on my family's back porch on summer nights, watching fireflies float as the sun sets over the pond. Diana Krall's velvet voice ever present in the background. 
Krall is a musical aficionado, to say the least. The best way to truly understand how Krall interprets the Great American Songbook is to read how she experiences and experiments with the masterworks. I've taken the liberty of digging through the gold mine of interviews she has done and curated her words for you. Enjoy this Masterclass on the Songbook by Diana Krall.
Snapshots of her interview with music critic, Neil McCormick with the Telegraph UK:
On the importance of the Great American Songbook canon:
"I took the greatest songs… and changed a few things"
"These are probably the greatest songs ever written," says Krall of tracklist that includes Night and Day by Cole Porter and Irving Berlin's Blue Skies. "But I'm not trying to be nostalgic. This music was modern when they wrote it, and it's still modern. These stories don't date. These chords will never get old. There is something in the architecture of the songs – you can see ways to twist and change things. Bebop was invented over these chords. They can take you from Bing Crosby to Miles Davis."
On finding the right teacher:
"She won a scholarship to the Berklee College of Music in Boston, where she was mentored by Ray Brown (the legendary jazz bassist who played with Oscar Peterson and was married to Ella Fitzgerald) and by the singer and film star Rosemary Clooney."
On Krall's inspiration to return to interpreting the Standards:
Krall's return to standards was inspired by an old recording of a lesson she'd had with Brown when she was 21. She had avoided listening to it for decades because she remembered the lesson as fraught. Brown had tried to teach [Krall] a particular style,  and she was upset at her inability to master it.
"One night, my husband [Elvis Costello] said, 'just have a glass of wine, put it on and listen to it.' I was so quiet on the tape, and then Ray said 'Krall, just play something you're comfortable with'." She started improvising a piano bass line and "all of a sudden he comes in… wham! And it would be just like if [John] McEnroe hit you with a tennis ball and you had to return it – you're with the greatest and they aren't going easy on you. He played with me like he was playing with Oscar Peterson. It was so good. Listening back to it changed me."
She immediately set aside plans to record a big orchestral album and chose instead to record "all the songs I really love, with the greatest players around"
Snapshots of her interview with Brent Owen with the Louisville Magazine
On how current songwriters stand up to classic songwriters:
Louisville.com:  You've been doing a lot of more modern songwriters like Dylan, Leon Russell, Tom Waits and Depeche Mode in concert lately - how do guys like that stand up next Irving to Berlin, Cole Porter, Nat King Cole?
Diana Krall:  Well I've been playing a Bob Dylan tune next to a Cole Porter tune as a sort of mash-up.  But you can't say, "songwriters like Bob Dylan," because there's only one Bob Dylan. I would put people like Bob Dylan, Joni Mitchell, Tom Waits in the same regard as guys like Irving Berlin.  They're very different songwriters, but I certainly would put them in high regard like that.
On finding value in the Standards today:
"What's beautiful about that music, you've got to find these things that aren't just period pieces, some of them are pretty significant.  I'm playing this song "Let It Rain" that was written in 1928, I found it in 1978 in my father's records, and I can't think of a more appropriate time to sing it.  So a lot of these songs, I find, are appropriate for the times and they stay that way."
AUDRA MCDONALD is a champion of newer composers who are creating music destined to become additions to the American Songbook canon. Some of her earliest and finest albums (Way Back to Paradise, Build a Bridge and Go Back Home)  feature the works of Ricky Ian Gordon, Jeanie Tesori, Jason Robert Brown and Michael John LaChusia. Other albums create a synchronicity and link between the American past and present voices (How Glory Goes, which features songs by Harold Arlen, Johnny Mercer, Jerome Kern, Leonard Bernstein and Stephen Sondheim in direct reflection of Adam Guettel, Lynn Ahrens and Jeanie Tesori). On the polar opposite spectrum there are albums like Happy Songs and Sing Happy (with the New York Philharmonic), which are heavily influenced by the composers of the Songbook (Dorothy Fields, Harold Arlen, Irving Berlin, Duke Ellington, and George Gershwin). To her core, Audra McDonald is a story-teller and the common thread amongst all of her albums and composer/lyricist choices is the magical element of the human spirit.
When I was in the infancy of my first year of graduate school in Chicago, I was living off of student loans and rose-colored dreams. I decided to make a dream come true, and took myself on a date to see Audra McDonald perform at the Chicago Symphony Center. If you have never seen Audra perform, let me tell you that she has a certain je ne sais cois when it comes to communicating lyrics and connecting in communion with her audience. There were two songs from that concert that will live with me forever:
Rarely do songs cause me to openly weep in a dark theatre sitting next to strangers, but this piece shone with Audra's innate gift of story-telling.
Just like the women of the Songbook before her, Audra McDonald has used her platform to lift up marginalized peoples. Before she started with the memorable opening lines, "When all the world is a hopeless jumble, and the raindrops tumble all around...heaven opens a magic lane". She spoke candidly from the heart about her love for the LGBTQ community and support for marriage equality. It was 2013 when I sat in my red velvet seat, straining my head around a pillar to see Ms. McDonald perform, and marriage equality hadn't yet been passed nationwide. Her message was beautifully reflected in Arlen's classic tune about the possibilities of a better place. 
A decade ago, LADY GAGA would have never graced this list. Some people might raise an eyebrow seeing her name in place of Linda Rondstadt, Nina Simone or Natalie Cole. However, Gaga shocked the world in 2013 when she collaborated with celebrated crooner Tony Bennett to record Cheek to Cheek. The album was highly successful and features American standards delightfully reinterpreted by Gaga and Bennett. A younger generation became introduced to the timeless music of the American Songbook and the tunes proved, once again, that they stand the test of time.
I confess that I was a Lady Gaga naysayer and ― to be honest ― a snob about her ability to handle this "sophisticated" music. I was proven wrong and have actually become a fan of her music outside of Cheek to Cheek. I've even seen her live, which proved to be an energetic show full of people who identify with Gaga's "outsider" narrative. 
Similar to Diana Krall's segment, I thought it would be interesting to share some quotes from Lady Gaga and Tony Bennett on working together and their reaction to the success of the album:
Lady Gaga on working with Tony Bennett:
"I feel very validated by this. You know, he's given my fans a gift by saying to them that he likes the way I sing jazz."
Tony Bennett on Lady Gaga's interpretations of the songs:
"She's actually a very authentic jazz singer," he says. "She'll turn a phrase, she'll make it different, because of the moment that she's singing. And so, what happens is it keeps the songs alive; the interpretations become very intimate and everlasting."
Gaga on today's recording style:
"[Bennett's] brought out a subtlety in me that I've missed for a while, because my life is very noisy," Gaga says. "It's a lot harder to sing with auto-tune, in a way, you know? It's a lot harder to sing with rigid electronic music and lots of spectacle. It can be very difficult, because it's not always extremely natural."
Lady Gaga on coming back to her
jazz roots
:
"It's me rebelling against my own pop music," she said on the album's release. "There's a part of me that has been quiet for a long time that is now being reawakened, after years of producers and record-label people telling me to make my voice sound more radio-friendly."
Tony Bennett on the Songbook composers:
"It's the first time that young people that love [her] so much will fall in love with George Gershwin, with Cole Porter, with Irving Berlin"
Lady Gaga on her fans reaction to the music:
"And most of them, a lot of [my fans], surprisingly, know some of those songs," Gaga says. "And they're sort of getting more and more and more excited and it's becoming cooler for them to talk about who wrote what. Tony's really opening up a whole new generation."
Tweet #share