Today's Songs: "Early Morning Rain" and "Leaving on a Jet Plane"
May 19, 2022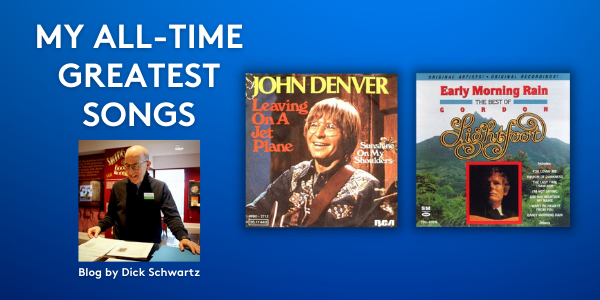 My All-Time Greatest Songs
By Songbook Volunteer: Dick Schwartz
This entry in "My All-time Greatest Songs" blog is a bonus twofer with a couple of my favorites, "Early Morning Rain" and "Leaving on a Jet Plane." To me, both songs are wistful and captivating, as they share the theme of sadness and air travel separation. They each are exceptionally well written by master songwriters.
Early Morning Rain
by Gordon Lightfoot
Gordon Lightfoot wrote "Early Morning Rain" in 1964. The song was recorded and released in 1965 by Ian and Sylvia, a Canadian songwriting and performing duo. Peter, Paul and Mary, also folk revival stars, had a hit with Lightfoot's song that year, as it reached No. 91 on the Billboard Top 100. The Grateful Dead recorded the song in 1965, as did We Five in 1970.
Peter, Paul and Mary on the "Tonight In Person" Show (1966)
Canadian Gordon Lightfoot was primarily a songwriter when he wrote and recorded his masterpiece "Early Morning Rain." This began a more than 50-year career still ongoing today. Born in Orillia, Ontario, in 1938, he started performing at a very young age. His musical talents and athletic skills earned him scholarships at McGill University's Schulic School of Music and the University of Toronto.
Lightfoot topped the U.S. Hot 100 with the hit singles "If You Could Read My Mind" (1970), "Sundown (1974), "Carefree Highway" (1974), "Rainy Day People" (1975), and "The Wreck of the Edmund Fitgerald" (1976), along with a number of hits he wrote for other popular artists. Bob Dylan called Gordon one of his favorite songwriters and commented that, when he heard a Gordon Lightfoot song, he wished "it would last forever."
Gordon Lightfoot performing "Early Morning Rain" on BBC Live (1969)
Leaving on a Jet Plane
by John Denver
John Denver wrote and recorded "Leaving on a Jet Plane" in 1966, when he was just 23 years old. It was included on his debut demo recording as "Babe, I Hate to Go." He made copies and gave them to friends as Christmas presents that year. John's producer Mel Okun convinced him to change the title to "Leaving on a Jet Plane" in 1967.
John Denver singing "Leaving on a Jet Plane"
Peter, Paul and Mary had a hit with the song in 1969, and Denver recorded the song again for his debut studio album "Rhymes and Reasons," released as a single in October 1969. Though it is still one of Denver's best-known songs, the single failed to appear on the charts for him.
The Peter, Paul and Mary version was released as a single in 1969 and became their only No. 1 on the Billboard Top 100. It was also their last hit record and the only version of "Leaving on a Jet Plane" that ever charted.
John Denver performing "Leaving on a Jet Plane" with Peter, Paul and Mary in 1969
Denver re-recorded the song in 1973 for "John Denver's Greatest Hits" album. That version also appears on most of his compilation albums.
Both "Early Morning Rain" and "Leaving on a Jet Plane" capture a certain mood and haunting feeling reminiscent of a number of "train travel" songs of the 30s and 40s. Gordon Lightfoot's line "You can't jump a jet plane like you can a freight train" and John Denver's "Taxi's waitin', he's blowin' his horn" capture the melancholy that is associated with my own memories of travel when leaving my sweetheart behind.
-----------------------------------------------------------
Author's Note: This blog has its origin in my interest – maybe, obsession – with songs. It seems there is usually some song in my head at nearly any time.  When I hear certain songs, I'll sometimes think or say "Ooh! That's one of my all-time favorites!" The range of my favorites is broad and diverse. These songs might be popular or obscure, from Broadway or the back roads, simple or complex, ballads or rockers. 
I hope that you will enjoy my blogging exploration of contenders for my all-time-favorite songs and that you'll be moved to consider and share your own favorites that have held a timeless presence in the soundtrack of your life, or rather, your own personal Songbook. 
--- Enjoy! ---
Tweet #share