Today's Song: "Till Then"
October 25, 2019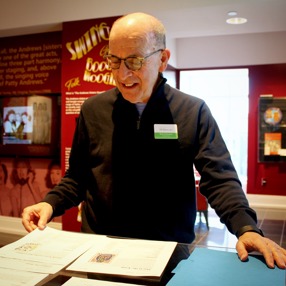 My All-Time Greatest Songs
By Songbook Volunteer: Dick Schwartz
Author's Note: This blog has its origin in my interest – maybe, obsession – with songs. It seems there is usually some song in my head at nearly any time.  When I hear certain songs, I'll sometimes think or say "Ooh! That's one of my all-time favorites!" The range of my favorites is broad and diverse. These songs might be popular or obscure, from Broadway or the back roads, simple or complex, ballads or rockers. 
I hope that you will enjoy my blogging exploration of contenders for my all-time-favorite songs and that you'll be moved to consider and share your own favorites that have held a timeless presence in the soundtrack of your life, or rather, your own personal Songbook. 
--- Enjoy! ---
To me, "Till Then" might have been simply a pretty, soothing Tin Pan Alley tune. It's the Mills Brothers' mellow tones and incomparable harmonies that make it one of "My All-time Greatest Songs." "Till Then" was written by Eddie Seiler, Sol Marcus, and Guy Wood. It was published in 1944 and introduced by the Mills Brothers that same year. [Other notable hits by the "Till Then" songwriting team include "I Don't Want to Set the World on Fire (1941), "When the Lights Go On Again (All Over the World)" (1942), "Fishin' For the Moon" (1945), "The Girl from Jones Beach" (1949), and "It All Begins and Ends With You" (1950).]
The Mills Brothers recording of "Till Then" became a double-sided hit, backed by "You Always Hurt the One You Love." "Till Then" peaked at No. 8 on the Billboard Magazine Best Seller chart and topped the R&B chart at No. 1. Since the Mills Brothers' smash hit, "Till Then" has become a popular standard performed and recorded in a variety of styles. The Orioles had a street-corner doo-wop hit in 1954, the Hilltoppers had a version with a band at the same time, and The Classics updated the song to a successful pop doo-wop harmony in 1963. I'd guess you can recall a performance or two of "Till Then" by others.
The Mills Brothers literally began as a barbershop act, with four brothers singing harmony in their father's barber shop in Piqua, Ohio. Their father, John Mills, Sr., had his own quartet called the Four Kings of Harmony and became part of the younger generation's group at times. Their signature vocal instrument sounds started when Harry Mills forgot his kazoo for a show. For that performance he mimicked the kazoo sound by cupping his hands over his mouth. The brothers liked the effect and worked it into their act, expanding instrument imitation to trumpet, trombone, tuba, and saxophone. This new sound was popular on vaudeville stages, and the Mills Brothers used the technique when broadcasting over Cincinnati radio station WLW in the late 1920s. In the early 1930s, their radio broadcasts were billed as "Four Boys and a Guitar" with an announcer disclaiming that the only instrument used was a guitar. Their early record labels displayed a similar statement that "No musical instruments or mechanical devices used on this recording other than one guitar." Their first record for Brunswick Records, "Tiger Rag" in 1931, prominently featured their vocal interpretations of instruments. "Tiger Rag" became a best-seller, achieving No. 1 status, selling over a million copies, and was awarded a gold record.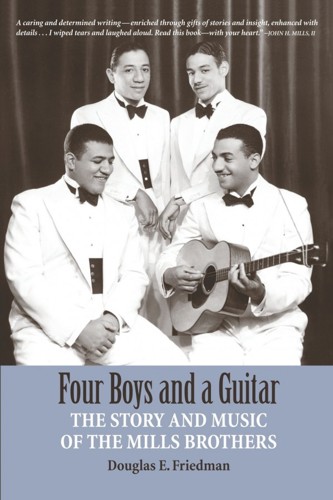 The Mills Brothers were stars in motion pictures (music videos of that time), beginning with "The Big Broadcast" in 1932, an all-star musical revue that included Bing Crosby, Cab Calloway, and the Boswell Sisters. When television came on as a showcase for musical talent, the Mills Brothers enjoyed popularity as guest stars on numerous TV variety shows. (Plenty of clips can be seen on YouTube.)
As a trio, The Mills Brothers continued performing on the oldies circuit through the 1980s. Later generations went on to perform under the Mills Brothers banner. In 1998 the Recording Academy recognized the Mills Brothers' contributions when it presented Donald Mills, the sole-surviving original member, with a Grammy Award for Lifetime Achievement.
Are you inspired to cup your hands over your mouth to make some sounds and see what happens? Is "Till Then" a great song, or is it just me?
"Till Then" releases and versions (vocal group):
Mills Brothers (1944)
The Orioles (1954)
The Hilltoppers (1954)
The Four Knights (1954)
The Clusters (c. 1954)
Vocal Teens (c. 1954)
The Classics (1963)
Ruby and the Romantics (1963)
The Four Preps (1963)
The Lettermen (1964)
Norman Luboff Choir with The Melachrino Strings (1997)
Tom Morrell & The Time-warp Tophands (?)
"Till Then" releases and versions (solo vocal):
Dean Martin (1944)
Leslie Hutchinson (1944)
Dodo Greene (1959)
Ray Peterson (1959)
Sammy Davis, Jr. (1960)
Al Martino (1963)
James Brown (1964)
Hank Thompson (1965)
Pal Rakes (1978)
Michael Bublé (2002)
Barbara Rosene (2005)
Peter Tork (2011)
"Till Then" releases and versions (Instrumental):
Les Brown and His Orchestra (1944)
Geraldo and His Orchestra (1944)
Frank Barclay – His Piano and Rhythm (1955)
Martin Denny (1964)
Laurindo Almeida (1967)
Check back next week for the next installment of "My All-Time Greatest Songs". In the meantime, listen to a few renditions of today's feature, "Till Then"!