Today's Song: "They Say It's Wonderful"
May 31, 2019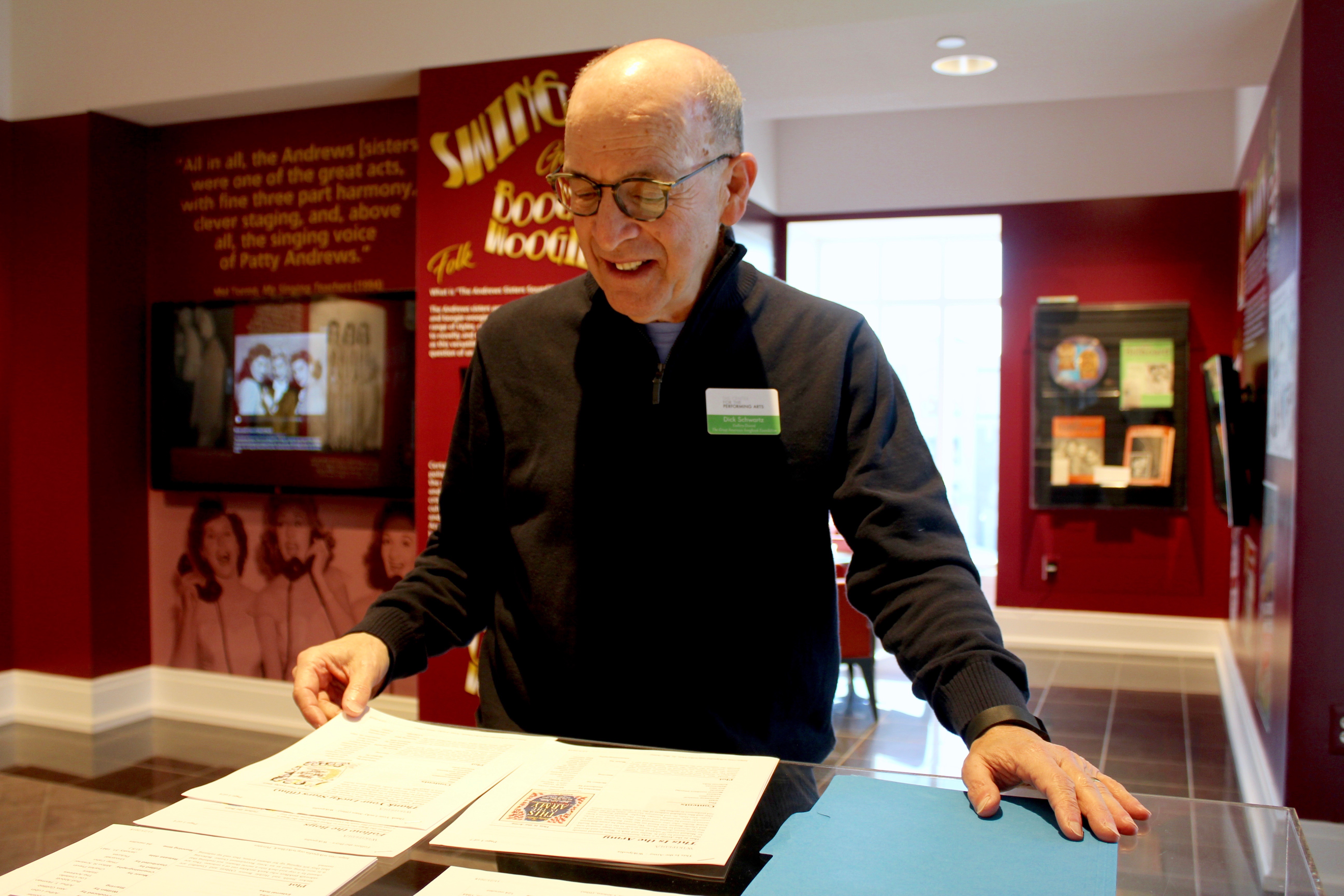 My All-Time Greatest Songs
By Songbook Volunteer: Dick Schwartz
Author's Note: This blog has its origin in my interest – maybe, obsession – with songs. It seems there is usually some song in my head at nearly any time.  When I hear certain songs, I'll sometimes think or say "Ooh! That's one of my all-time favorites!" The range of my favorites is broad and diverse. These songs might be popular or obscure, from Broadway or the back roads, simple or complex, ballads or rockers. 
I hope that you will enjoy my blogging exploration of contenders for my all-time-favorite songs and that you'll be moved to consider and share your own favorites that have held a timeless presence in the soundtrack of your life, or rather, your own personal Songbook. Enjoy!
Stage and movie musicals have always been a source of great songs. This week I'm turning to Broadway for "My All-time Greatest Song" selection: "They Say It's Wonderful." The song's composer, Irving Berlin, is one of the most prolific songwriters and a notable legend of The Great American Songbook.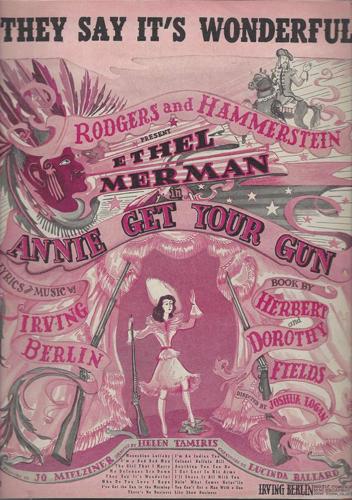 "They Say It's Wonderful" has a simple, elegant melody, rising and falling with grace. Right from the seldom-sung intro, the lyrics are pensive and not those of a typical love song. The words reflect on love with apparent third-person objectivity and with a projection from what others have said. Whether sung as a duet or a solo, it is a wistful way to look at love.
This song is from the Broadway musical Annie Get Your Gun, the fictionalized story of the life of Annie Oakley, famed sharpshooter who achieved world renown in Buffalo Bill's Wild West Show. Annie was an early effort by Richard Rodgers and Oscar Hammerstein II to become musical producers rather than only composers. They had asked Jerome Kern to write the music, but shortly after arriving in New York to work on the songs, Kern died of a sudden cerebral hemorrhage. Asked to take over, Irving Berlin at first declined the opportunity, considering himself a tunesmith rather than a musical storyteller. But Rodgers and Hammerstein convinced him to look over the script and see what he could do. Within a few days, Berlin was back with the first few songs, including what would become a universal performer anthem "There's No Business Like Show Business."
Annie Get Your Gun premiered on Broadway in 1946, starring Ethel Merman as Annie and Ray Middleton as Frank Butler, the leading star of the wild west show. While the show was still drawing crowds in New York, a U.S. musical tour was launched with Mary Martin as the star. "They Say It's Wonderful" began a star tour of its own with four hit singles all released in 1946. Three of the four solo renditions made the Billboard chart: Bing Crosby (#12), Perry Como (#27), and Andy Russell (#10). Only Frank Sinatra's recording did not make the charts.
Several revivals of Annie Get Your Gun were produced with a number of revisions and updates to the story and score. Notable was a 1966 revival staged at Lincoln Center, starring Ethel Merman and Bruce Yarnell. A 1977 Los Angeles Civic Light Opera production was directed by Gower Champion and starred Debbie Reynolds. In 1999 a new production had a pre-Broadway engagement at Kennedy Center in Washington. It moved to Broadway and ran for two-and-a-half years. It starred Bernadette Peters and Tom Wopat and earned several awards, including Tony Awards for Best Leading Actress in a Musical and Best Revival of a Musical.
Annie Get Your Gun became a hit MGM film musical in 1950. The movie starred Betty Hutton and Howard Keel in his American film debut. Some turmoil existed in early production, with George Sidney replacing Busby Berkeley as director and Betty Hutton replacing Judy Garland in the title role. (Judy Garland had completed her pre-production song performances before she was replaced. Her recordings, as well as Betty Hutton's, are available on a Rhino Records complete and remastered soundtrack CD.) The film was one of the biggest selling pictures of 1950 and was recognized with several major awards. In 1973 it was withdrawn from distribution over a music rights dispute between Irving Berlin and MGM. Dispute resolved, Annie was finally seen again in its entirety in 2000, its 50th Anniversary year.
Annie Get Your Gun is still widely performed by regional and community theater companies, and it is a perennial favorite of amateur and school troupes.
Notable releases and cover versions:
Modern Jazz Quartet (1957)
Sarah Vaughan (1958)
Johnny Mathis (1959)
Doris Day (1960)
John Coltrane and Johnny Hartman (1963)
Tony Bennett (1987)
Bernadette Peters (1999)
Eliane Elias (2000)
Lucci (2008)
Seth MacFarlane (2019)
Check back next week for my next All-Time Greatest Song! In the meantime, listen to the following renditions of "They Say It's Wonderful " sung by Ethel Merman and Ray Middleton, Betty Hutton and Hoard Keel, and even Kirsten Dunst in a scene from Spider Man!
Ethel Merman and Ray Middleton
 Betty Hutton and Hoard Keel
Kirsten Dunst – scene from Spider Man 3