Today's Song: "On the Street Where You Live"
July 5, 2019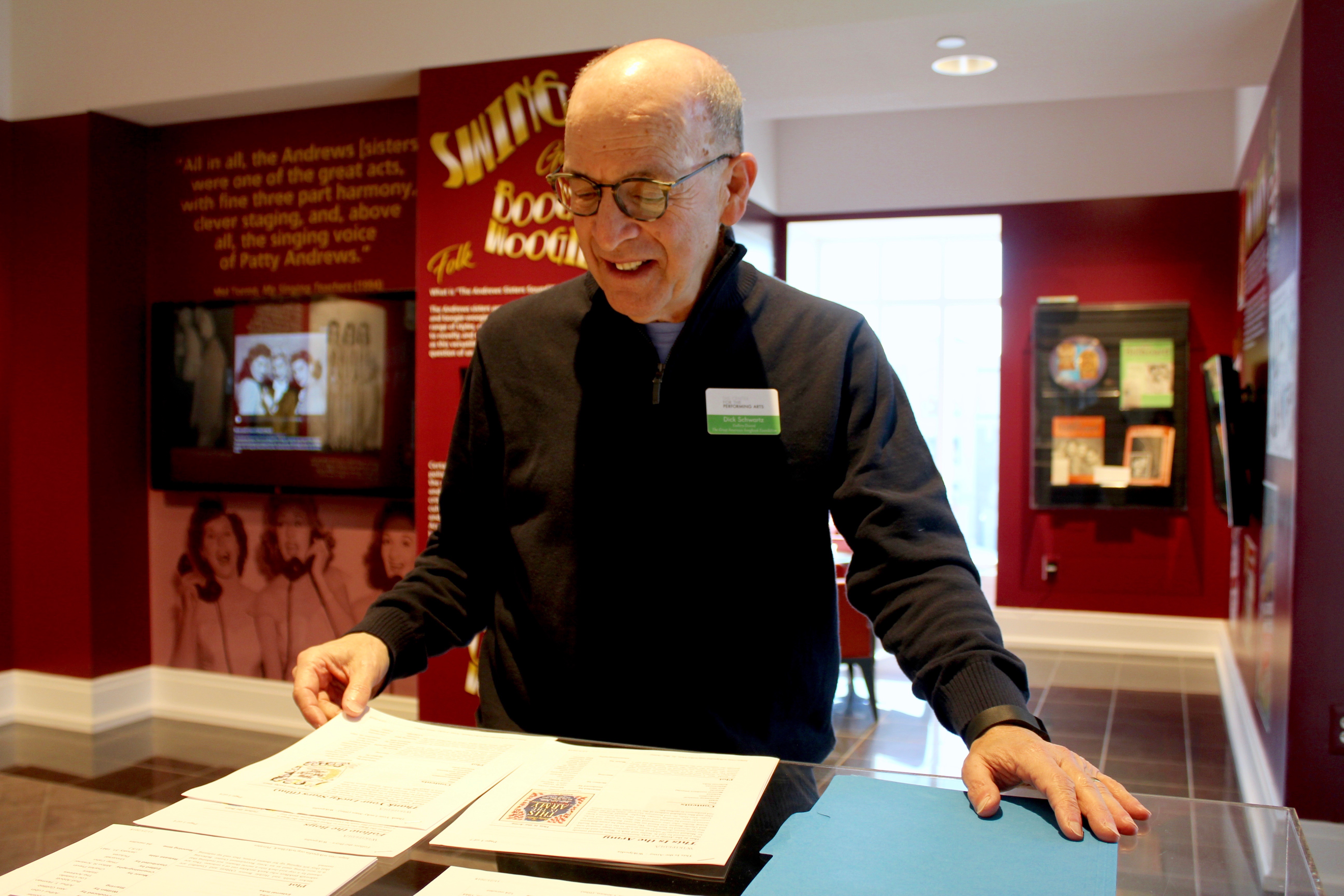 My All-Time Greatest Songs
By Songbook Volunteer: Dick Schwartz
Author's Note: This blog has its origin in my interest – maybe, obsession – with songs. It seems there is usually some song in my head at nearly any time.  When I hear certain songs, I'll sometimes think or say "Ooh! That's one of my all-time favorites!" The range of my favorites is broad and diverse. These songs might be popular or obscure, from Broadway or the back roads, simple or complex, ballads or rockers. 
I hope that you will enjoy my blogging exploration of contenders for my all-time-favorite songs and that you'll be moved to consider and share your own favorites that have held a timeless presence in the soundtrack of your life, or rather, your own personal Songbook. Enjoy!
It's back to Broadway this week. My selection for "My All-time Greatest Songs" list is "On the Street Where You Live" from My Fair Lady. The song is a show-stopper, as it is a powerful and beautiful declaration of love from a minor character barely involved in the story. In fact, "On the Street Where You Live" was nearly dropped from the show during previews, because audiences had difficulty identifying the character.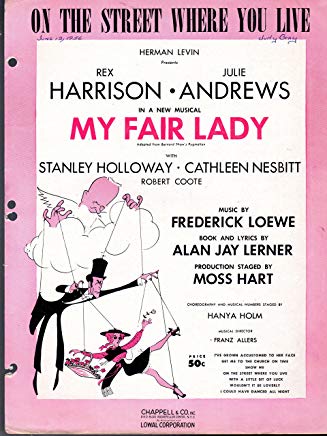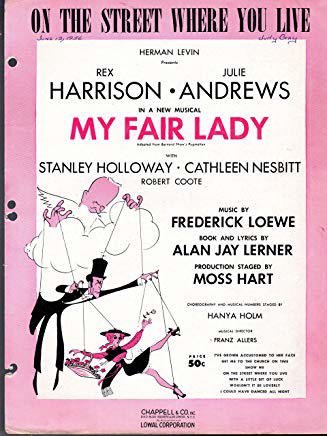 My Fair Lady is a musical based on George Bernard Shaw's Pygmalion with book and lyrics by Alan Jay Lerner and music by Frederick Loewe. The show was introduced on Broadway in 1956 to much acclaim and commercial success, setting a record for the longest run (2,717 performances over 6 ½ years) of any Broadway show up to that time.
The original Broadway and West End productions starred Rex Harrison and Julie Andrews. "On the Street Where You Live" is sung by the character Freddie Eynsford-Hill, played in New York by John Michael King and in London by Leonard Weir. When the stage play was produced as a Warner movie musical in 1964, there was some controversy about Audrey Hepburn's vocals being dubbed by Marni Nixon. Less attention was paid to the vocal of Jeremy Brett as Freddy Eynsford-Hill being dubbed by Bill Shirley over the objections of Jeremy Brett, who was indeed a good singer. (Bill Shirley – an Indianapolis native – also provided the voice of Prince Phillip in Walt Disney's 1959 animated classic Sleeping Beauty. In that film he sang another iconic classic, "Once Upon a Dream," with Mary Costa as Princess Aurora.)
Vic Damone recorded his rendition of "On the Street Where You Live" around the time the stage play opened in 1956. It reached #4 on the Billboard chart. Eddie Fisher also released the song that year, and his record reached #18. As the My Fair Lady film came out in 1964, Andy Williams released a record of the song that reached #3 on the adult contemporary chart and #28 on the Billboard Top 100.
"On the Street Where You Live" has been performed and recorded in a wide range of styles, from showy Broadway to cabaret style, to jazz vocal and instrumental. I like the song's love-struck sentiment and bright, singable melody. It has earned a place in "My All-time Greatest Songs."
"On the Street Where You Live" notable releases and cover versions:
John Michael King – "Original Broadway Cast" album (white cover)
Leonard Weir – "Original West End Cast" album (gold cover)
Vic Damone – "16 Most Requested …"
Dean Martin – "This Time I'm Swingin'"
Willie Nelson – "American Classic"
Nat King Cole – "Sings My Fair Lady"
Bobby Darin – "The Swingin' Side …"
Andre Previn Orchestra with Bill Shirley – "My Fair Lady"
Nancy Wilson – "The Great American Songbook"
Ben E. King – "The Ultimate Collection"
Marvin Gaye – "Hello, Broadway"
The Miracles – "I'll Try Something New"
Bing Crosby – "CBS Radio Recordings 1954-1956"
Linda Eder – "Broadway My Way"
Bryn Terfel – "If Ever I Would Leave You"
Harry Connick, Jr. – "25"
Check back next week for my next All-Time Greatest Song! In the meantime, listen to the following renditions of "On the Street Where You Live" sung by John Michael King/Bill Shirley, Vic Damone and Errol Garner!
John Michael King/Bill Shirley
Vic Damone
Errol Garner