Today's Song: "Because"
September 27, 2019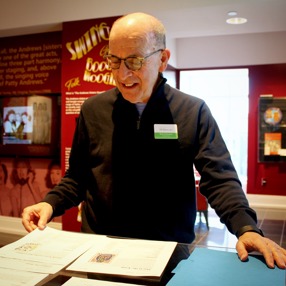 My All-Time Greatest Songs
By Songbook Volunteer: Dick Schwartz
Author's Note: This blog has its origin in my interest – maybe, obsession – with songs. It seems there is usually some song in my head at nearly any time.  When I hear certain songs, I'll sometimes think or say "Ooh! That's one of my all-time favorites!" The range of my favorites is broad and diverse. These songs might be popular or obscure, from Broadway or the back roads, simple or complex, ballads or rockers. 
I hope that you will enjoy my blogging exploration of contenders for my all-time-favorite songs and that you'll be moved to consider and share your own favorites that have held a timeless presence in the soundtrack of your life, or rather, your own personal Songbook. 
--- Enjoy! ---
The choice for the next entry in "My All-time Greatest Songs" is the Beatles' "Because." So much has been researched, written, and said about the Beatles' music that their creative output can seem like a blur. Still, "Because" stands out to me.
The Beatles' first recording as their established four-member group was in August, 1962. Their last recording was in August, 1969. So, all the Beatles' incredible body of work as a group took place in only seven years. In that brief time they became the best-selling band in history, with estimated worldwide sales of over 800 million albums. So much musical genius so fast! Of course, the individual Beatles (John Lennon, Paul McCartney, George Harrison, and Ringo Starr) went on to produce a tremendous amount of amazing music, but their collective impact is unmatched.
"Because" is a beautiful composition, but It's the arrangement, harmonies, and recording techniques that make it a masterpiece. John Lennon wrote the music and lyrics for "Because" in July, 1969, while enjoying some time alone with Yoko Ono. As the story goes, Yoko, an accomplished pianist, was playing Beethoven's 1803 "Moonlight Sonata No. 14" piece, known variously as Piano Sonata in C-sharp minor (Opus 27, No. 2) and "quasi una fantasia" or "adagio sostenuto." Comparing the melodies, it seems that Lennon's "Because" may, indeed, have been inspired by Beethoven's work. However, a theory that "Because" is simply "Moonlight Sonata" played backwards does not hold up under scrutiny by musicologists.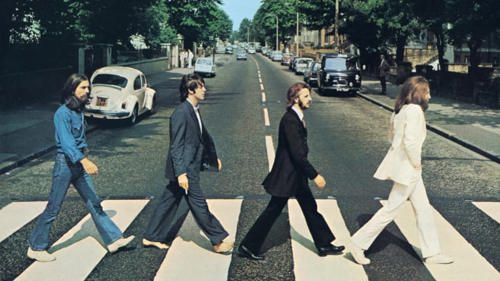 The Beatles - Abbey Road Album Cover 
John brought his song to a series of recording sessions at EMI's Abbey Road studios on August 1, 4, and 5, 1969. Under the direction of George Martin, the Beatles' music producer, John, Paul, and George worked out a three-part harmony in extensive rehearsals. In the ultimate recording, this three-part harmony was overdubbed three times to create a blend of nine voices.
The song opens with George Martin playing notes on an electric harpsichord. Lennon follows with the same notes on guitar. The record also features Harrison playing a Moog synthesizer, one of the very few times the Beatles used this then fairly new technology. The intricacy of the music and vocal harmony made for a difficult recording process. To maintain tight control of timing and rhythm, Ringo Starr provided a steady top-hat drumbeat played through the headphones of all the musicians. Interestingly, Ringo's drumming is not heard in the final recording.
There is a remixed vocal-only version of the song with the instrumentation removed in the 1996 "Anthology 3" album. There is also a different stripped-down remix that George Martin and his son Giles produced in 2006 for Cirque de Soleil's Las Vegas show "The Beatles Love." (The show is still running in the "Love Theater" at the Mirage Resort in Las Vegas.)
Within a few weeks of the recording sessions in August, 1969, John Lennon ended his songwriting partnership with Paul McCartney. Shortly thereafter, the Beatles broke up. The album, titled "Abbey Road," was released September 26, 1969. (Incidentally, that is 50 years ago yesterday from the posting of this blog entry.) Despite the later release of numerous collections, remixes, and the excellent "Anthology" collection, "Because" was the final Beatles recording. Due to the complexity of the vocal and instrumental recordings, as well as their break-up as a group, "Because" was never performed live by the Beatles. It has also not appeared in any live performance by any of the Beatles alone or with other groups.
What's your favorite Beatles song?
"Because" notable releases and versions (vocals):
The Beatles (1969)
The New Christy Minstrels (1970)
Gary McFarland (1969)
Helen Merrill (1970)
Alice Cooper & The Bee Gees (1978)
The Bee Gees (1978) – without Alice Cooper
The Nylons (1994) – a cappella
The Paragons (1998)
Various artists from "Across the Universe" (2007)
Fabiana Martone (2008)
The Munroes (2008)
The Dynamics (2008) – a cappella
Willy Chirino (2011)
Grazyna Auguscik & Paulinho Garcia (2008)
Rock4 (2011) – a cappella
Pedro Aznar (2013)
Emilie-Claire Barlow (2015)
Rosemary Standley (2016)
"Because" notable releases and versions (instrumentals):
Booker T & The M.G.'s (1970) – medley with "You Never Give Me Your Money"
George Benson (1970) – medley with "Come Together"
Stan Getz (1970) – medley with "Do You Know the Way to San Jose?"
The Percy Faith Strings (1970)
John Williams (1971) – classical guitar
Nashville Mandolin Ensemble (1995)
Vanessa-Mae (1998) – solo violin with chorus
Al Di Meola (2013) – jazz guitar solo
The Hot Club of San Francisco (2016)
 Check back next week for the next installment of "My All-Time Greatest Songs". In the meantime, listen to a few renditions of today's feature, "Because"!