Today's Song: "A Change is Gonna Come"
October 11, 2019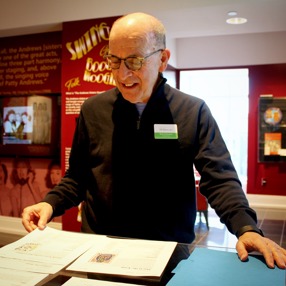 My All-Time Greatest Songs
By Songbook Volunteer: Dick Schwartz
Author's Note: This blog has its origin in my interest – maybe, obsession – with songs. It seems there is usually some song in my head at nearly any time.  When I hear certain songs, I'll sometimes think or say "Ooh! That's one of my all-time favorites!" The range of my favorites is broad and diverse. These songs might be popular or obscure, from Broadway or the back roads, simple or complex, ballads or rockers. 
I hope that you will enjoy my blogging exploration of contenders for my all-time-favorite songs and that you'll be moved to consider and share your own favorites that have held a timeless presence in the soundtrack of your life, or rather, your own personal Songbook. 
--- Enjoy! ---
The latest addition to "My All-time Greatest Songs" is Sam Cooke's beautiful, inspirational, and unforgettable "A Change Is Gonna Come."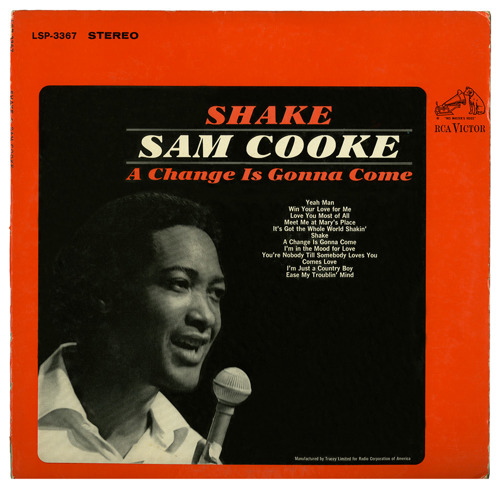 Album Cover of "Shake/A Change is Gonna Come"
Sam Cooke started performing in 1937 in Chicago with his siblings as the "Singing Children." He was six years old. At age 14 he became lead singer with the "Highway QCs," a renowned gospel group, still active today. (His replacement in the "Highway QCs" was Lou Rawls, who was followed by Johnnie Taylor.) In 1950, Sam Cooke became lead singer in the gospel group the "Soul Stirrers," replacing R.H. Harris, the founder of the group.
Cooke had 30 Top-40 hits between 1957 and 1964. His major records stand up well today. You may still enjoy "Cupid," "Chain Gang," "Wonderful World," "Another Saturday Night," and "Twistin' the Night Away." Cooke's success in recording and nightclubs included his own stirring interpretations of Great American Songbook standards, along with Broadway show tunes. His composition "You Send Me" was his first major hit single. That came in 1957 and was the B-side to his rendition of George and Ira Gershwin's "Summertime."
 "A Change Is Gonna Come" took root when Cooke heard Bob Dylan's "Blowin' in the Wind" in 1963. He was impacted by Dylan's expression of poignant feelings about racism and injustice. He said he was ashamed that he had not written such a song himself. His carefully constructed image and his fear of alienating his white fan base had held him back. In late 1963, Cooke shared "A Change Is Gonna Come" with a few mentors and close associates. Cooke biographer Peter Guralnick says: "It was less work than any song he had ever written. It almost scared him that the song – it was almost as if the song were intended for somebody else. He grabbed it out of the air and it came to him whole, despite the fact that in many ways it's probably the most complex song that he wrote."
Sam Cooke wrote most of the songs he recorded and took a strong role in his song arrangements and recording sessions. In an uncharacteristic move, Cooke handed over his new song to René Hall, his arranger and orchestrator, with no specific instructions but to give it "the kind of instrumentation and orchestration that it deserved." Hall put together a movie-like score, including lush symphonic strings with horns and timpani, in three distinct movements. The powerful lyrics and emotional performance were all Cooke's.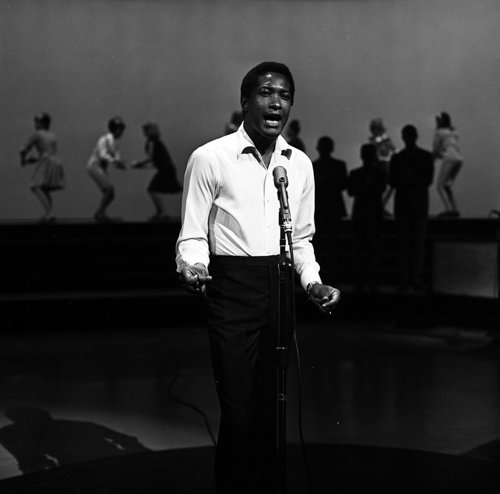 Sam Cooke in 1964, performing on the ABC variety show Shindig! 
Cooke's first performance of the song was on February 7, 1964, on The Tonight Show Starring Johnny Carson. The original plan was to perform and promote the song "Ain't That Good News" on the popular TV show, but Cooke's new manager Allen Klein persuaded him to introduce "A Change Is Gonna Come" instead. Klein arranged for RCA to pay for a full string section, and Cooke performed the song along with "Basin Street" on the Friday night Tonight Show. NBC erroneously logged the performance as "It's a Long Time Coming" and did not save the tape of the show.
Cooke's team thought that the Tonight Show spot would become a milestone moment in Cooke's career, but it was overshadowed by the Beatles' first performance on The Ed Sullivan Show on CBS two days later. Cooke chose not to perform live "A Change Is Gonna Come" again, both because of the complexity of the arrangement and because of the ominous nature of the song. The result is that there are no films or videos of Sam Cooke delivering his greatest song.
"A Change Is Gonna Come" was released on March 1, 1964, as a track on Cooke's album "Ain't That Good News." In December of that year, it was prepared for release as a single. At that time, the verse and chorus preceding the bridge ("I go to the movie and I go downtown, somebody keep tellin' me don't hang around.") were removed from the recording to make it acceptable for airplay on white radio stations. On December 11, 1964, Sam Cooke was killed under murky and disputed circumstances at a Los Angeles hotel. Eleven days later, the single of "A Change Is Gonna Come" was released.
"A Change Is Gonna Come" became an anthem of the Civil Rights Movement and has been recognized with many honors. It is number 12 on Rolling Stone magazine's 2005 list of 500 Greatest Songs of All Time, is among 300 songs considered by National Public Radio as the most important ever recorded, and is recognized by the Library of Congress in its National Recording Registry. And it should be recognized. It is a masterpiece.
"A Change Is Gonna Come" notable releases and versions:
Sam Cooke (1964)
The Supremes (1965)
Otis Redding (1965)
The Righteous Brothers (1966)
The Boogie Kings (1966)
Chuck Jackson (1966)
James & Bobby Purify (1967)
Aretha Franklin (1967)
Judge Dread featuring Prince Buster (1967) – reggae
J. Jackson (1967)
Arthur Conley (1967)
Bettye Swann (1967)
Jerry Butler (1968)
Brenton Wood (1969)
Three Dog Night (1969)
Bill Medley (1969)
The 5th Dimension (1970)
The Band (1973)
The Manhattans (1974)
Bobby Womack (1976)
George Benson (1979)
Billy Preston (Brothers (1989)
The Nylons (1994)
Terence Trent D'Arby and Booker T & The MG's (1995)
Fugees (1996)
Al Green (1996)
Patti LaBelle (1998)
Aaron Neville (2003)
Seal (2008)
Adam Lambert (2009)
Street Corner Renaissance (2012)
Cheyenne Jackson (2016)
Greta Van Fleet (2017)
 Check back next week for the next installment of "My All-Time Greatest Songs". In the meantime, listen to a few renditions of today's feature, "A Change is Gonna Come"!