The Unsinkable Meredith Willson
September 17, 2020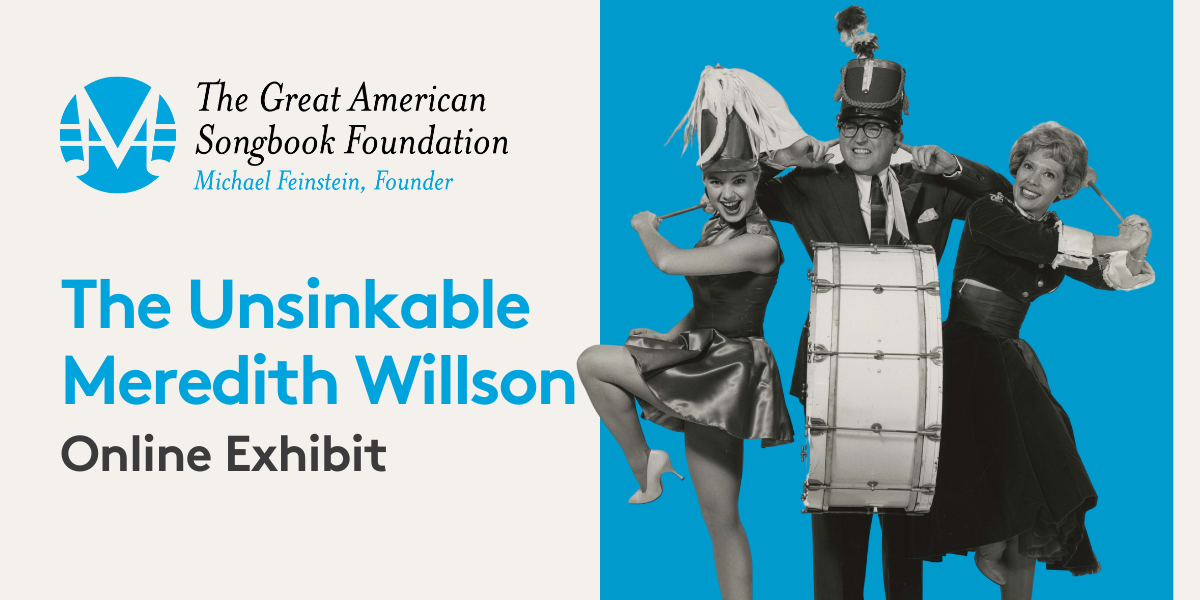 "Just think, tomorrow's kids won't know anything about the thrill of hearing [a marching] band.
I hope the new button-pushing, streamlined, atomic-powered age won't also eliminate
things like hammers and flatirons."
- Meredith Willson
Images and artifacts for this exhibit are drawn from the Meredith Willson Collection housed at the Great American Songbook Foundation, courtesy of the Music Man Foundation. All copyrights and other rights of reproduction, publication, sale, public performance, distribution and other use are reserved. Explore the life and career of its creator: the musical genius, devoted patriot, and unflappable optimist we lovingly know as The Unsinkable Meredith Willson.

Robert Reiniger Meredith Willson (18 May 1902 – 15 June 1984) – known to the world as Meredith and to his friends as "Mere" – will always be celebrated for writing The Music Man. And with good cause! Willson's nostalgic masterpiece remains a classic decades after its creation, and it will undoubtedly remain so for as long as musical theatre exists.
But Willson was far more than the creator of Harold Hill and Marian Paroo. An artist of many talents, he was a virtuoso musician, a talented conductor and bandleader, a composer of symphonies, and a beloved celebrity and philanthropist. He was among the first generation of radio stars and wrote music for Hollywood films. Fans certainly know his second musical…but few today recall that he wrote two more beyond that!






"Mama always said, "After you can play piano real nice, you must learn to play another instrument so you will stand out among the other boys."
Meredith Willson learned to play a wide range of instruments. Rosalie encouraged her children's musical interests and stocked her house with not only a piano but also banjos, guitars, drums, and a bewildering array of brass and woodwind instruments.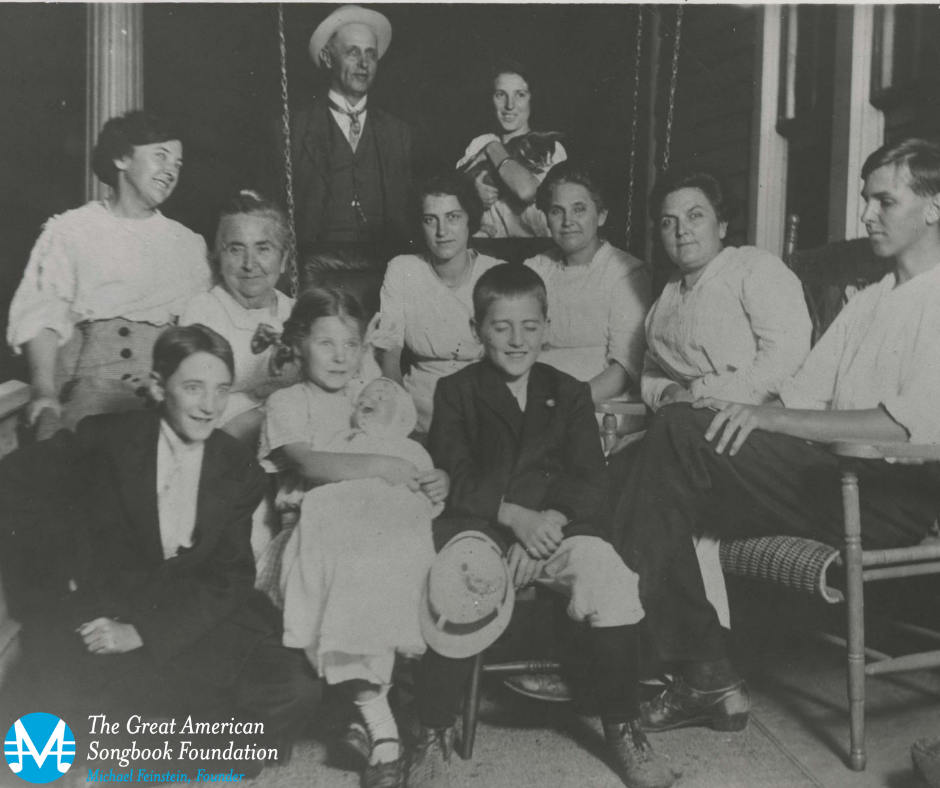 Willson's first career arc was as a professional musician. He played flute and piccolo in Sousa's famed marching band (Cedric joined a year later, on bassoon) for a few years after he moved to New York. While there he studied flute under some of the nation's premier masters and played in theater orchestras. But he soon joined the New York Philharmonic Orchestra as it blossomed under the batons of famed conductors Willem Mengelberg and Arturo Toscanini.
Meredith would soon start writing and conducting for a living – but he never forgot his early musical training.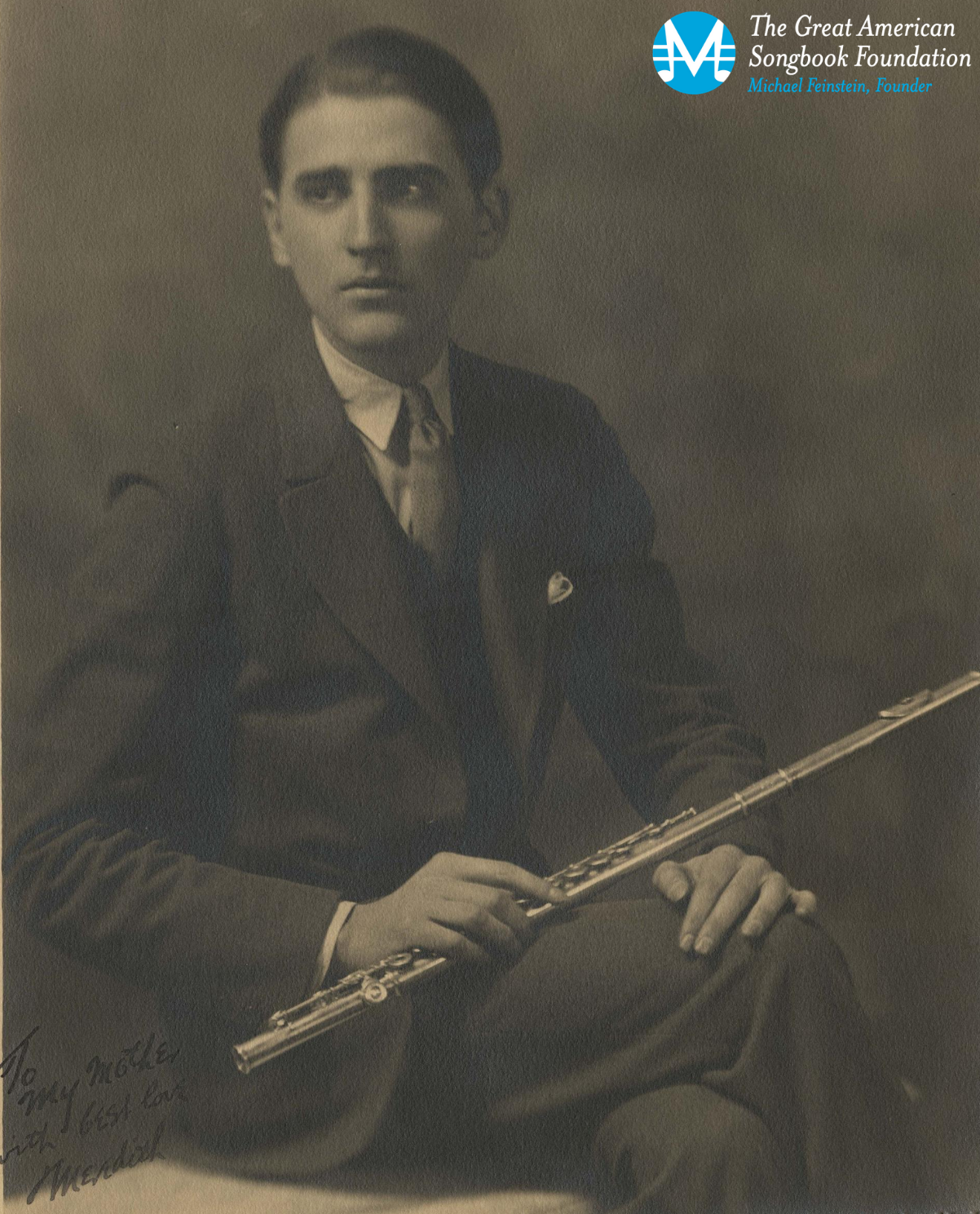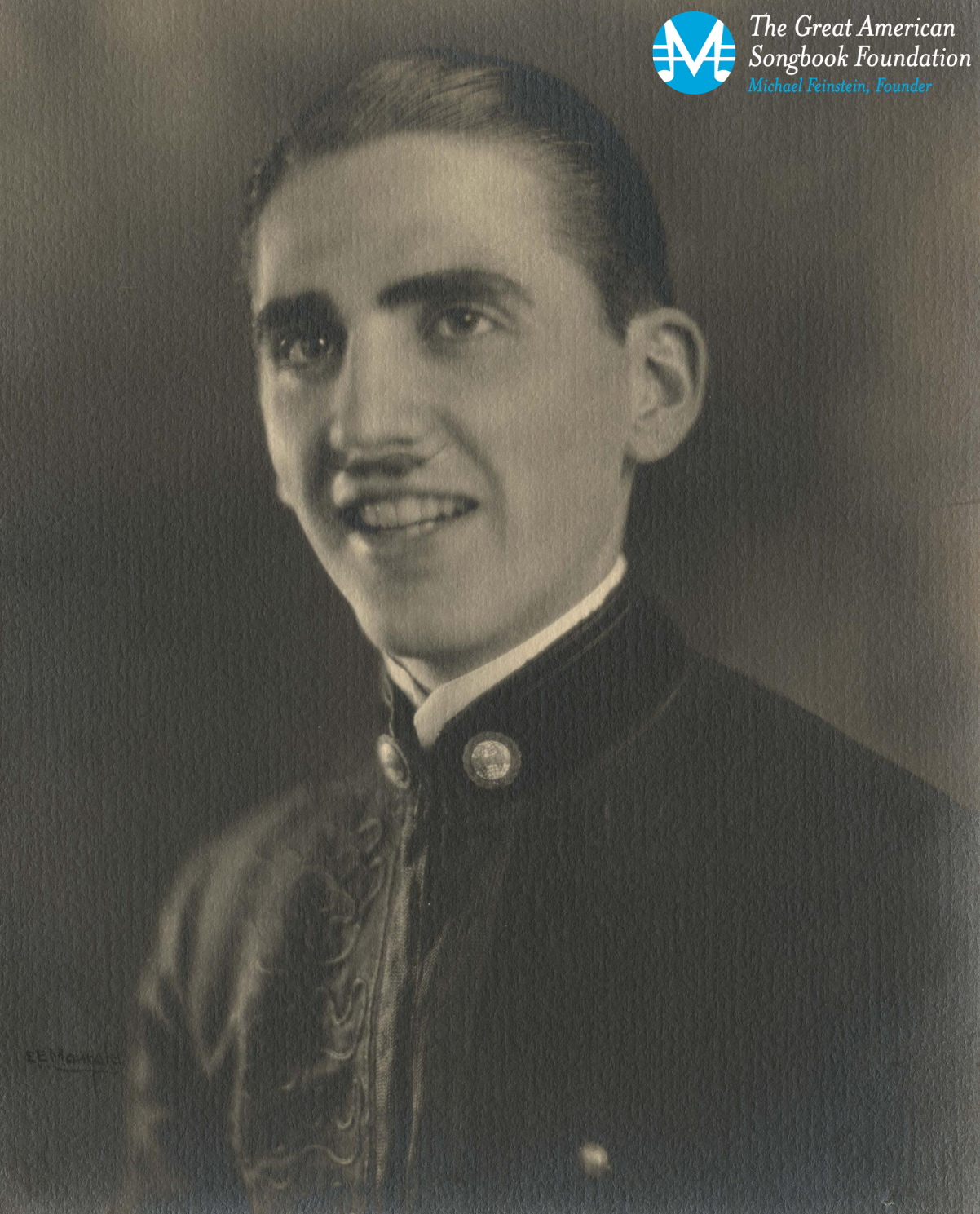 "When you play in an orchestra you're scared of the conductor, and when you become a conductor you're scared of the orchestra because they're the ones who can really tell if you know your stuff."
As far as anybody can tell, Meredith Willson never formally studied conducting. But he must have been a keen observer! After playing flute under a string of renowned leaders, Willson moved to California to write film scores and conduct orchestras.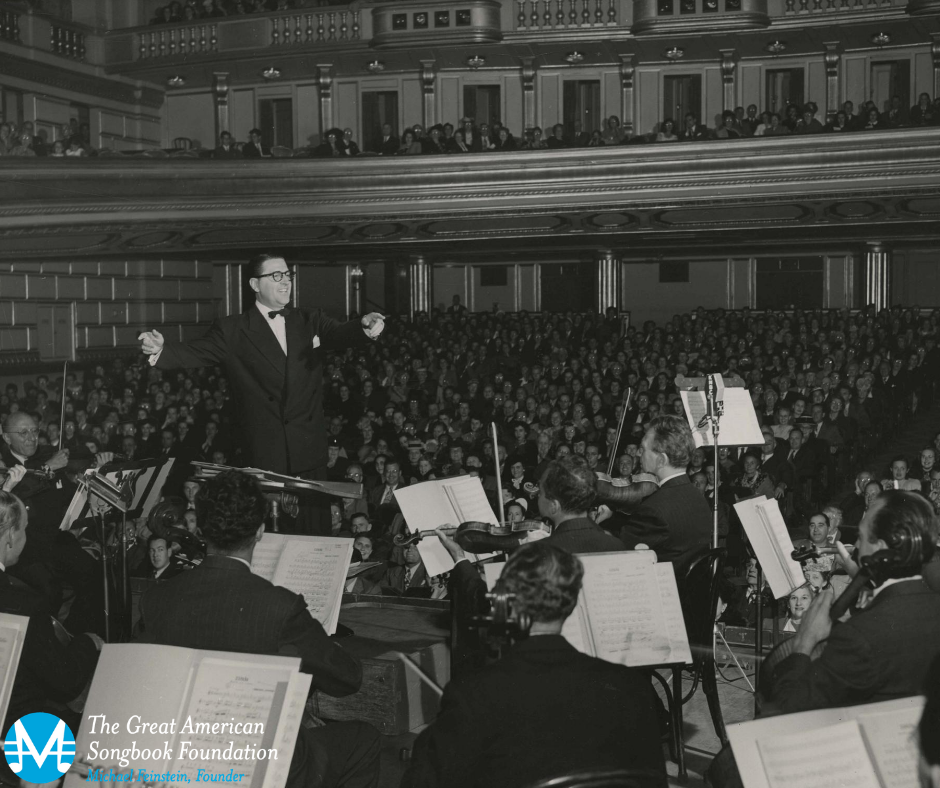 There he also served as the concert director for KFRC, one of the first West Coast stations for the NBC radio network. He wrote and arranged music and conducted bands for a string of early radio shows such as the Lucky Strike Hit Parade, America Sings, and Chiffon Jazz. After the War and his Broadway success, Willson kept arranging and conducting for radio and, later, television variety specials.

"You pile up enough tomorrows, and you'll be left with nothing but a bunch of empty yesterdays. I don't know about you, but I'd like to make today worth remembering."
Starting with his first tutors imported to Iowa from Minneapolis, Meredith studied under a string of master flautists — but this seems to be the extent of his formal training. Even though he never finished college, he became a devout supporter of music education.
Given the opportunity to host his own radio shows, Willson helped his audiences explore the intersection of popular jazz and "longhair" classical music. His first book, What Every Young Musician Should Know (1938), offered advice – albeit comedic – for aspiring bandleaders. He was also a popular instructor and conductor across the country, particularly at the Idyllwild Arts music camps.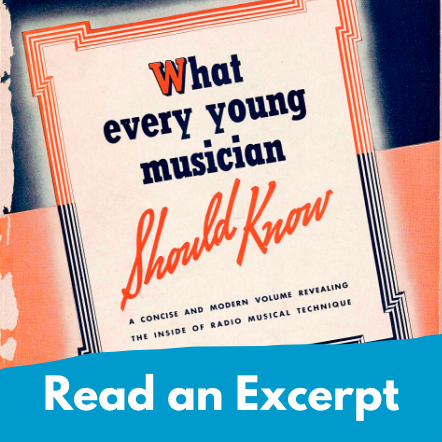 And, of course, inspiring a love for music among kids is at the very heart of The Music Man. The show's wild popularity helped spark a postwar resurgence of school band and orchestra programs.

"[Conductor Albert Coates] said, "I'd rather play your second symphony," and I said, "I haven't written any second symphony," and he said, "Exactly."
So beloved is The Music Man, it's easy to forget that Meredith Willson wrote hundreds of other pieces as well:
Starting around 1930, he wrote scores for several Hollywood films including Charlie Chaplin's classic The Great Dictator (1940);
Popular songs including "It's Beginning to Look (a Lot) Like Christmas," and "May the Good Lord Bless and Keep You;"
Two full symphonies and several orchestral suites;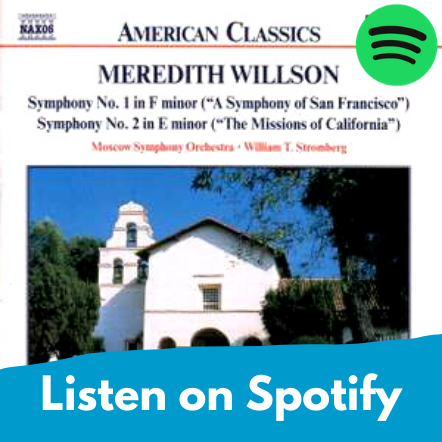 Tribute songs for organizations including the Salvation Army, the U. S. Army Cavalry Corps, the Red Cross, and both the University of Iowa (fight song example below) and Iowa State University;
And of course the novelty song "Chicken Fat," written for JFK's Presidential Fitness Program and remembered in Robert Preston's boisterous rendition by generations of gym students.

"One day…I wrote ACT ONE, SCENE ONE on the empty paper not, of course, to show these people that I could write a musical comedy but to show them I could not. And for six years I was way out in front."
The story of creating The Music Man could almost be the plot of its own Broadway musical. A surprise hit from the pen of a plucky Broadway novice, it is now almost universally beloved and has been in near-constant production, somewhere in the world, ever since its 1957 opening. The Music Man has been adapted for film twice, and its songs and themes are frequent touchstones for American popular film, television, and music.
Yet it seems fitting that even though The Music Man secured Meredith's lasting fame and fortune, success never went to his head. He remained devoted to his family back in Iowa as well as his German roots. And he would gleefully travel nearly anywhere at the drop of a hat – from small-town Indiana to Poland and Beijing – to lead a marching band or host an opening night for his famous show.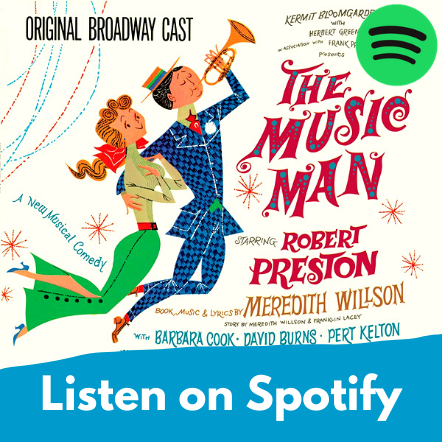 Willson's second major musical, The Unsinkable Molly Brown, is not nearly as popular. Featuring only his music (the book is by screenwriter Richard Morris), Molly Brown was a Broadway hit in 1960. But neither the play nor its 1964 film adaptation has retained anything near the affection granted The Music Man.
Little remembered as The Unsinkable Molly Brown may be today, it is only fans and scholars that know anything of Meredith Willson's third and fourth musicals.
His 1963 musical Here's Love is the first musical adaptation of the classic 1947 film Miracle on 34th Street. While it did enjoy some initial success on Broadway, running for roughly ten months, both critics and audiences have been unkind to it since. Regional and community theatres do occasionally still stage it, often under the name It's Beginning to Look a Lot Like Christmas.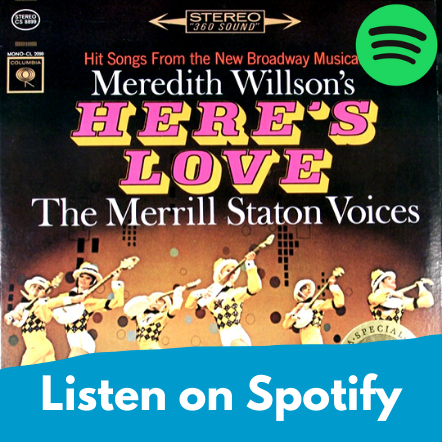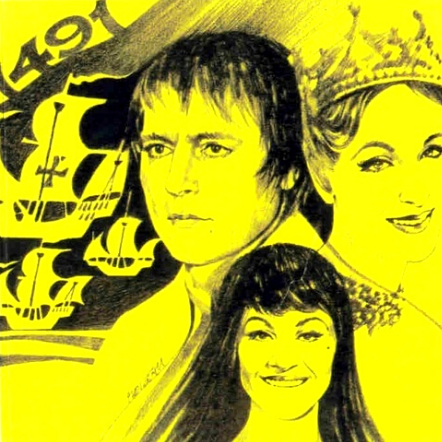 Meredith's last musical never even made it to Broadway. 1491 is his imagining of a (fictional) romance between Queen Isabella I of Castile and Christopher Columbus. It has been produced only once, by the Los Angeles Civic Light Opera Company. 1491 ran for barely three months, to devastating reviews, before closing.

"I met a friend about my own age with a proud look on his kisser. "What's with you?" I said, and he said, "Guess what! I just joined up, why don't you?" And twenty-four hours later I was in the Army."
Meredith Willson volunteered to join the war effort shortly after the attack on Pearl Harbor. He initially served as the civilian musical director of the Armed Forces Radio Service, but joined the Army in November of 1942. He worked thereafter as a composer, conductor, host, and actor.
Postwar generations would long remember his musical talent, gentle humor, and show business connections. He often served as a foil to George Burns and Gracie Allen, and reportedly pulled strings to keep famed guitarist Les Paul out of the infantry corps. Willson's tireless service eventually saw him promoted to the rank of Major — an honor he considered among his finest achievements.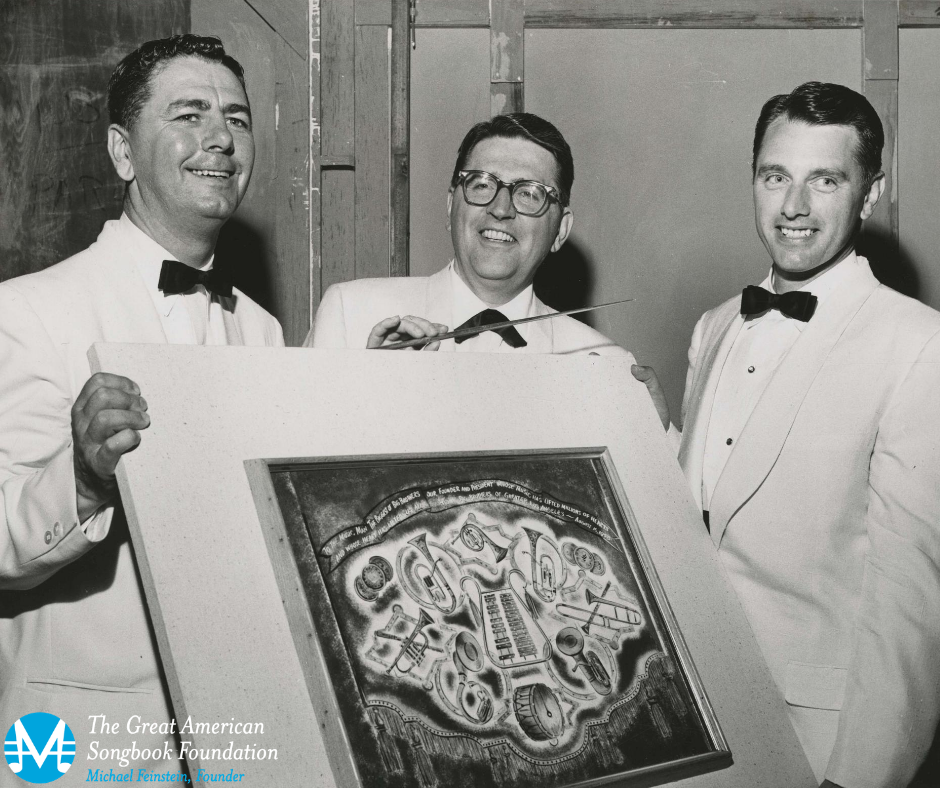 Meredith was a big-hearted soul all his life – but the success of The Music Man gave him new resources and outlets for his generosity. He was a major donor and the founding president of the Greater Los Angeles chapter of Big Brothers. He also wrote songs and led fundraising efforts for the Salvation Army, the Red Cross, and several Easter Seals campaigns. Willson was also a founding member of the National Humanities Council and made several major gifts (including the entire stock of a bankrupt sheet music store) to the UCLA music library.

Aside from his various musical careers, Meredith Willson was also a prolific and popular writer. Using the same folksy charm he developed as a radio host, he wrote four books:
What Every Young Musician Should Know (1938), a batch of humorous advice for aspiring musicians;
And There I Stood With My Piccolo (1948), about his youth in Iowa and early career;
Eggs I Have Laid (1955), continuing the story of his successes and failures; and
"But He Doesn't Know the Territory" (1959), about the creation, development, and production of the musical that secured his everlasting fame.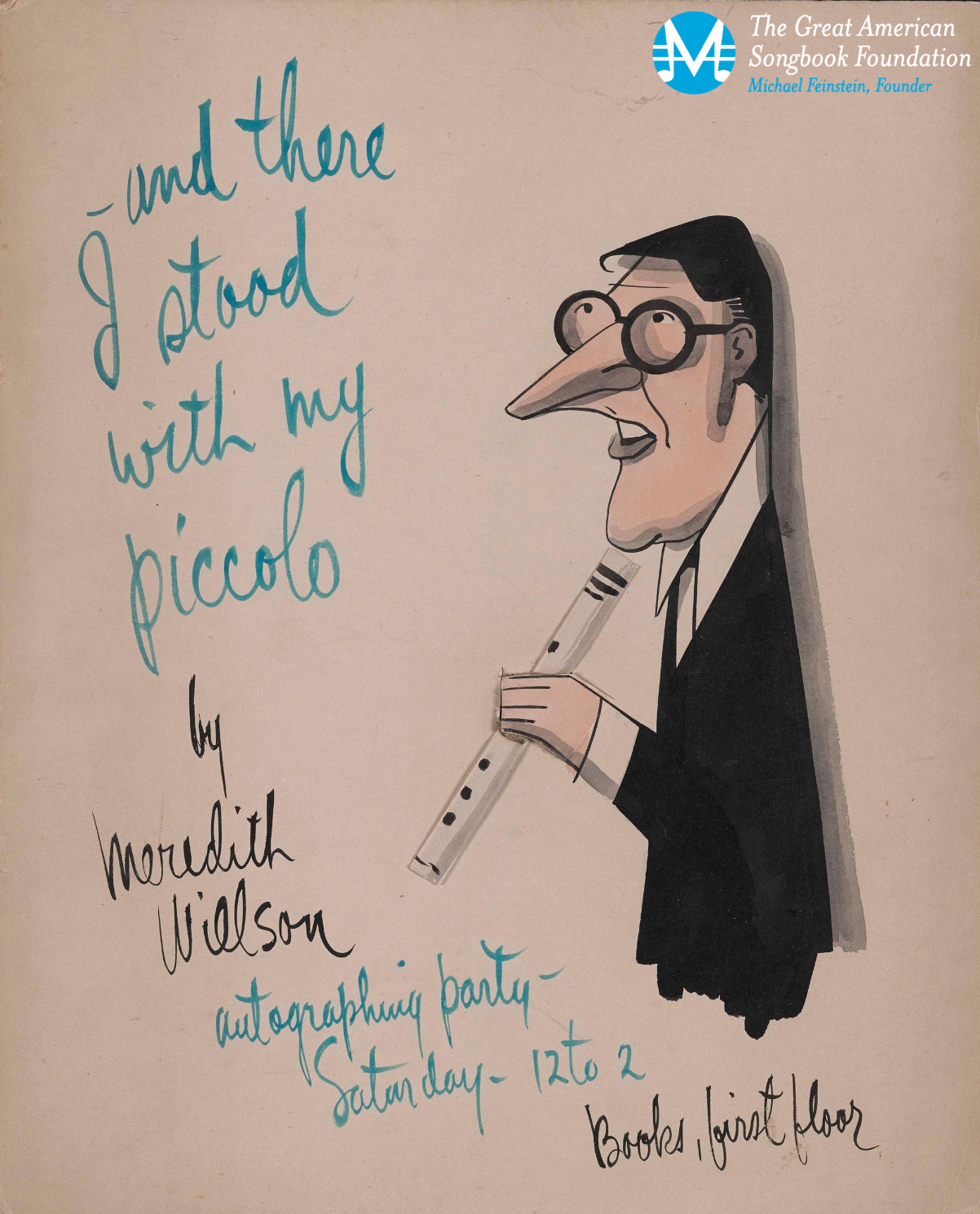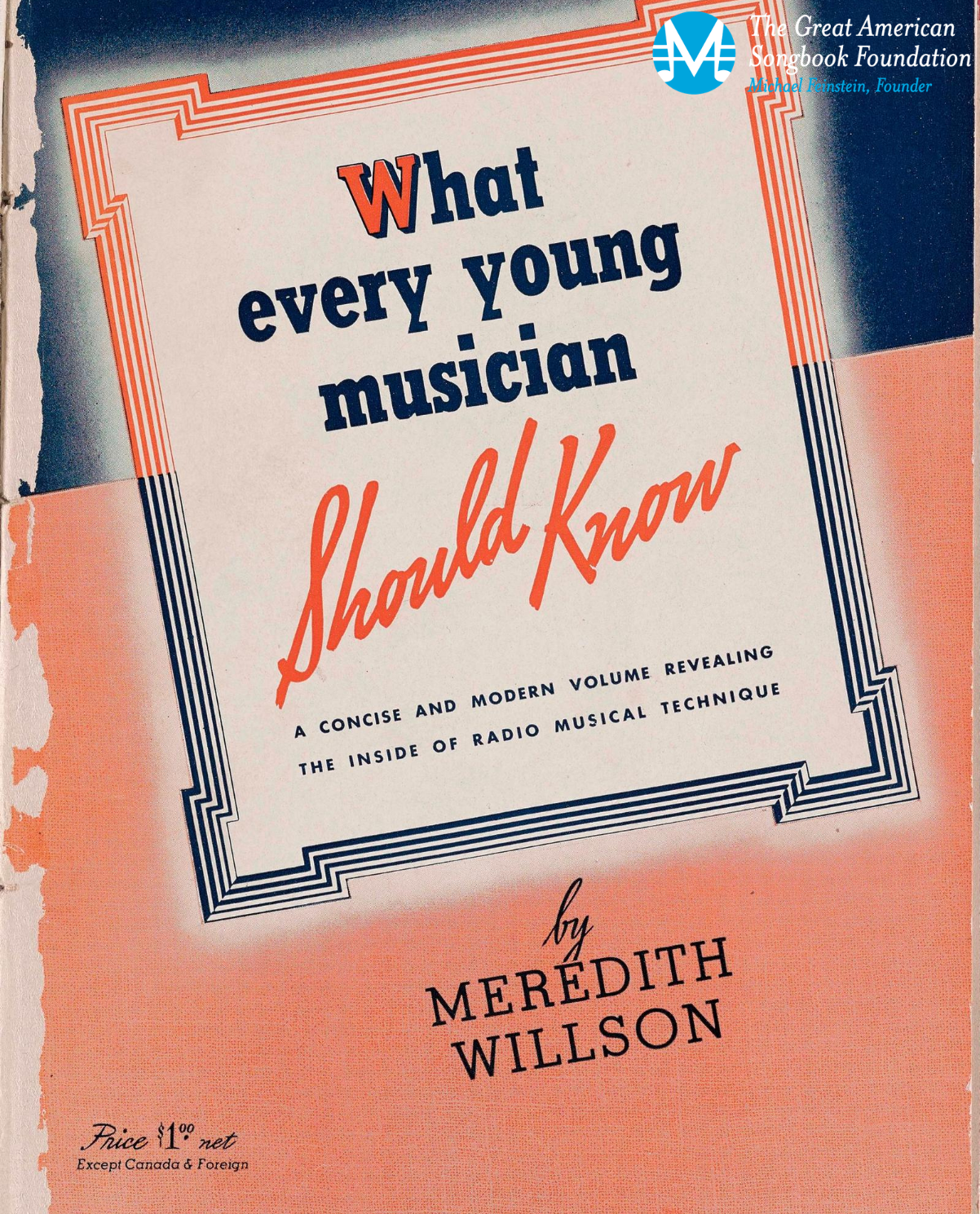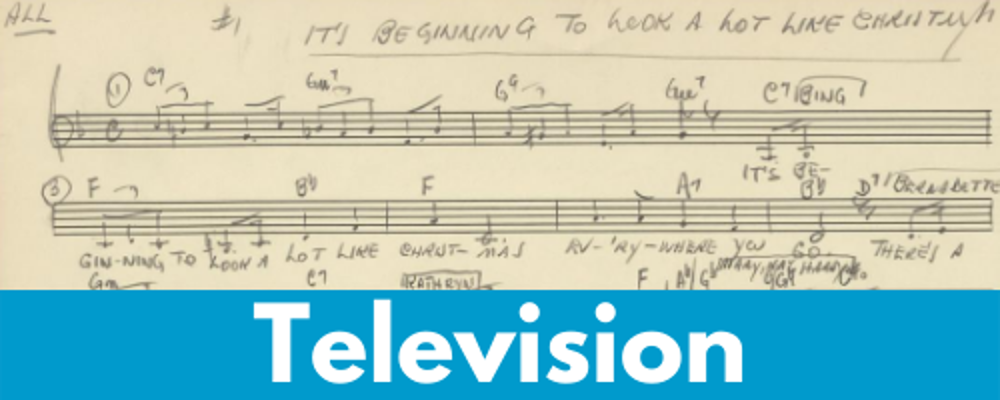 Meredith's easy charm and wry humor made him a popular host and guest artist. His long string of radio shows aside, he also had several adventures in the early days of television.
He emceed the first Grammy award ceremony in 1959 and hosted a series of variety shows, such as the Texaco Star Parade, in the 1960s. He even auditioned to become a game show host, and made guest appearances as late as 1982.

Radio was an important piece of Meredith's career almost from the start. As a member of the New York Philharmonic, he performed on the nation's first networked radio broadcast in November 1926 and he joined San Francisco's KFRC only a couple of years later. Combining his "simple boy from Iowa" personality and musical expertise, he went on to host a list of popular shows including Blue Monday Jamboree, Waltz Time, Maxwell House's Show Boat and Coffee Time (clip of the intro below), Sparkle Time, and Meredith Willson's Music Room.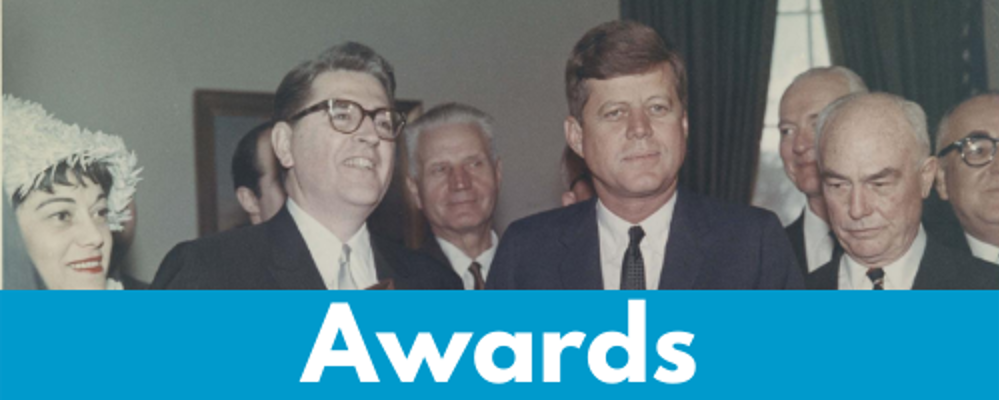 Over his long career, Meredith Willson earned a long list of accolades:
His film scores for The Great Dictator (1940) and The Little Foxes (1941) were both nominated for Academy Awards;
The Music Man won six Tonys, including Best Musical, Best Leading Actor, and Best Featured Actress, as well as the first Grammy Award for Best Original Cast Album;
The 1962 film version of The Music Man was nominated for six Academy Awards and won for Best Musical Score (adapted). It also took that year's Golden Globe Award for Best Musical or Comedy and was selected for preservation in the National Film Registry in 2005;
Willson himself was granted at least five honorary doctorates and the National Big Brother of the Year Award. He was elected to the Songwriters Hall of Fame in 1982, and was posthumously awarded the Presidential Medal of Freedom in 1987.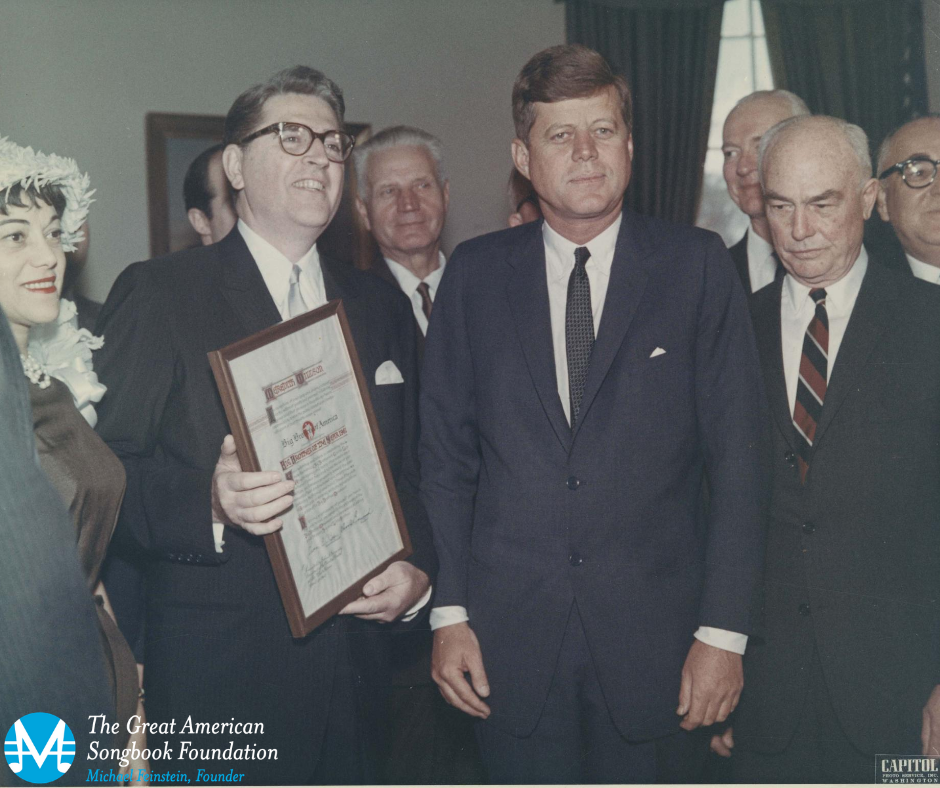 Preservation Partners
With the support of our Preservation Partners, collections like the Meredith Willson Papers and exhibits like The Unsinkable Meredith Willson are becoming more accessible to diverse audiences including scholars, educators and performers.
Led by Stan and Sandy Hurt as the Premier Preservation Partners, this group will help support a growing national preservation effort including 300-plus collections representing over 500,000 items. A special thanks to our Preservation Partners, Diane and John Abrams, Maureen Charles, Michael Charles, Karen Kennedy and Dr. Larry Weeda Jr. for their support. Contact Jo Garcia at Jgarcia@TheSongbook.org for more information on how to become a Preservation Partner today.
Special Thanks to Our Exhibition Team:
Lisa Lobdell, The Great American Songbook Foundation
Exhibit development by Eleven:Eleven, LLC
Graphic design and layout by Hill Design Service
Graphic production and installation by Blue Ash
Interactive exhibit additions by Luke Smith

If you enjoyed this exhibit, borrow a traveling 4-panel version for your school, library, community center or cultural institution.
Please visit our Traveling Exhibit Page to learn more.