The "Unforgettable" Natalie Cole Arrangements
February 3, 2022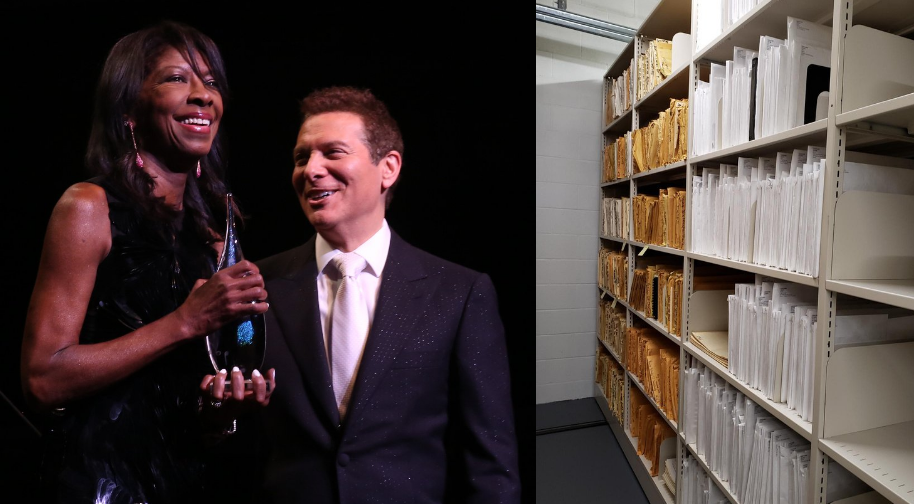 Hello, Everyone! I am Breyanne Urbin, an Archive Fellow at the Great American Songbook Foundation. I started here in August of 2021 and will be staying until May 2022 when I graduate from IUPUI's Museum Studies Master's Program. I have been using the time I am here to gain hands-on experience working in collections. During my first semester at the Songbook Foundation, I had the wonderful pleasure of processing the collection of Natalie Cole's musical arrangements. Natalie Cole certainly left a lasting legacy - and as we celebrate Black History Month by highlighting the critical role of Black artists in America's musical history - we are proud to preserve Natalie's enduring contributions to the American Songbook in our Library & Archives.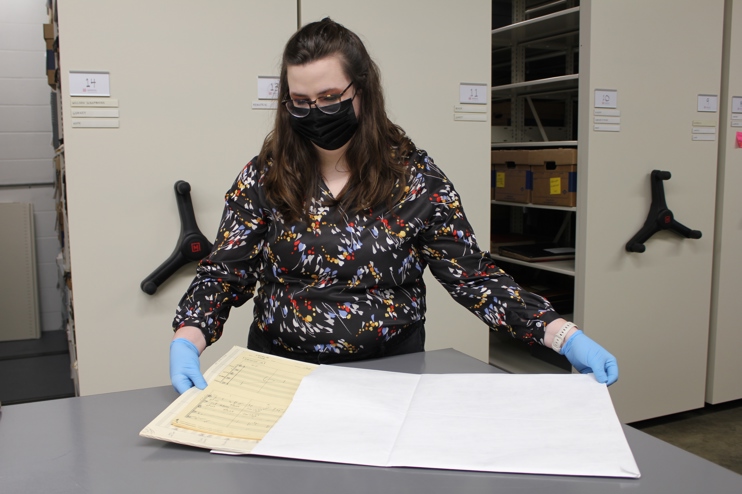 IUPUI Museum intern, Breyanne Urbin, showing a musical arrangement from the Natalie Cole Collection.
Natalie Cole's music was acquired by the Songbook Foundation in 2019 from her estate in hopes of celebrating her legacy and sharing her music with those who wish to play it. The collection contained about 40 large bins worth of sheet music that ranged from Natalie's 1975 debut album Inseparable to her last album in 2013, Natalie Cole en Español.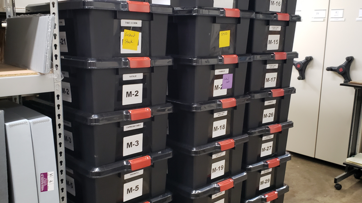 The Natalie Cole Collection arriving in 2019 and a selection of 40 organized black bins.
A month into my fellowship, I started to work on processing Cole's collection. Processing involves organizing a collection and performing basic preservation tasks for the materials so the collection is discoverable and stays in the same condition it was upon arriving.
To start processing the collection, I went through every bin and recorded information for each folder in a comprehensive inventory that can be used to keep track of everything we have and where it is located in the collection. After this, I rehoused the collection into acid-free envelopes that will help prevent damage to the arrangements. From here, I created labels for objects, shelved the collection into their assigned locations and organized them by song and album.
Natalie's Everlasting Music
This Will Be (an Everlasting Love)
"I was twenty-five and had recorded my first album in Chicago. The initial single, "This Will Be (an Everlasting Love)," was starting to climb the charts. I had a small following from my club dates but was hardly a star." ― Natalie Cole (Love Brought Me Back, 2010)
Written by Chuck Jackson and Marvin Yancy, "This Will Be (an Everlasting Love)" is the debut single that introduced Natalie Cole, the daughter of Nat "King" Cole, as an artist to a new generation of Songbook fans. Many of the songs on her 1975 Capitol Records album, Inseparable, were arranged by Joe Guercio who served as the musical director for American legends like Elvis Presley, Diana Ross, Steve Lawrence, and Eydie Gorme. "This Will Be (an Everlasting Love)" became one of Natalie Cole's biggest hits, earning her a Grammy Award for Best Female R&B Vocal Performance and the Grammy for Best New Artist in 1975.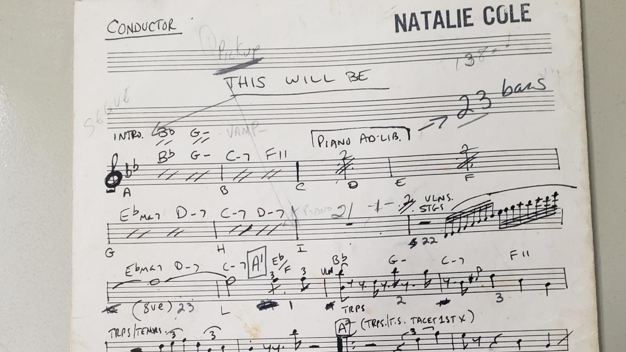 Musical arrangement of "This Will Be" from the Natalie Cole Collection. (Great American Songbook Foundation, Library & Archives) 
In a 1977 interview with Rolling Stone, Natalie is quoted saying, "I had to do my own songs my own way." Natalie Cole was determined to stand beyond the shadow of her famous father. Yet some of her greatest triumphs in music happened when she harkened back to the music of her father's generation.
L-O-V-E
"You must live your life, if possible, without regret." 
― Natalie Cole (Essence Magazine)
"L-O-V-E" was originally an instrumental penned by Milt Gabler for Bert Kaempfert's Blue Midnight album in 1964. It was arranged by Ralph Carmichael in 1965 and vocals were added by Nat King Cole for the title track of Nat's last album L-O-V-E released posthumously. Take a look at some of Ralph Carmichael's arrangements in this episode of In the Archives with Michael Feinstein.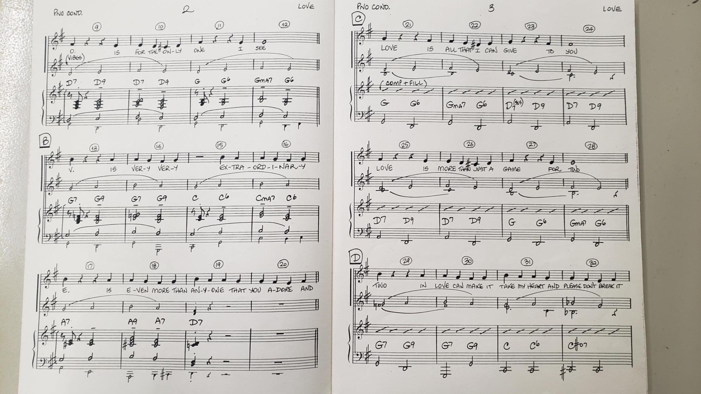 Musical arrangement of "L-O-V-E" from the Natalie Cole Collection. (Great American Songbook Foundation, Library & Archives)
The song was one of the last songs recorded by Nat and was included in Natalie's 1991 album Unforgettable ... with Love. Beyond recording "L-O-V-E" for Unforgettable ... with Love, Natalie Cole partnered with English singer Joss Stone in 2007 to raise awareness for women's cancer at a benefit concert called Frosted Pink. She and Stone performed a duet of the song live on ABC.
Unforgettable
"Unforgettable … with Love was a beautiful and magical reunion with my father, who had died at the age of forty-six in 1965, nine days after my fifteenth birthday." ― Natalie Cole (Love Brought be Back, 2010)
At the start of the 1980s, Natalie Cole again collaborated with musical director Joe Guercio. He encouraged Natalie to not only acknowledge her father and his music onstage but birthed an original concept for Natalie to sing a "virtual duet" with Nat. They chose "Unforgettable" and prepared an arrangement using Nat's 1951 recording. The result was a nostalgic and heartfelt reunion that bridged generations of fans.
NPR called Natalie's "Unforgettable" duet: a sentimental celebration of father-daughter love, a sonic bridge between disparate eras, an ambitious career rebranding for Cole herself, and an uncanny demonstration of technological marvel.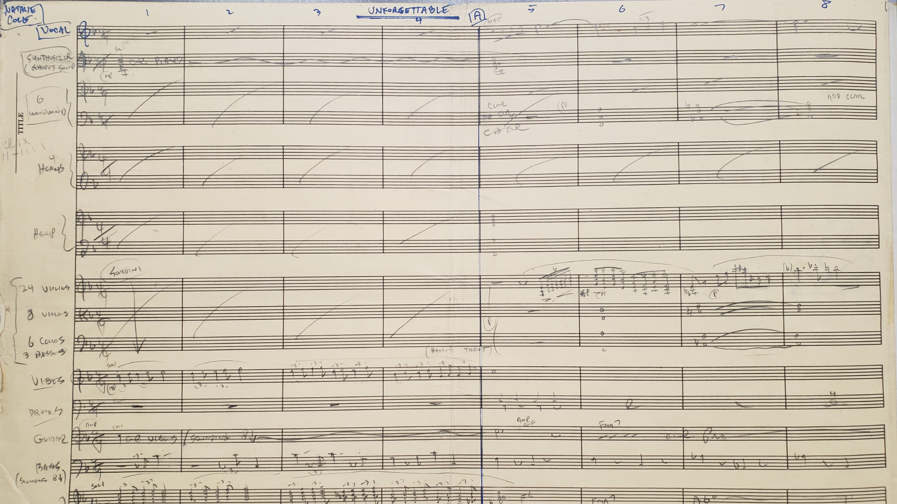 Musical arrangement of "Unforgettable" from the Natalie Cole Collection. (Great American Songbook Foundation, Library & Archives)
Music producer David Foster, who worked on the Unforgettable album, recalls Natalie and her mother Maria listening to the duet for the first time in a recent interview with People: 
"That moment when they were both listening, it was great. Their eyes were closed. The moment when Nat answered Natalie, they both started crying. It was as though he was right over her shoulders."
Natalie Cole's 1991 album Unforgettable ... with Love, an homage to the Standards made popular by Nat King Cole, swept the top Grammy Awards — including album, record and song of the year — and sold seven million copies in the United States alone.
Touring with Natalie and the Arrangements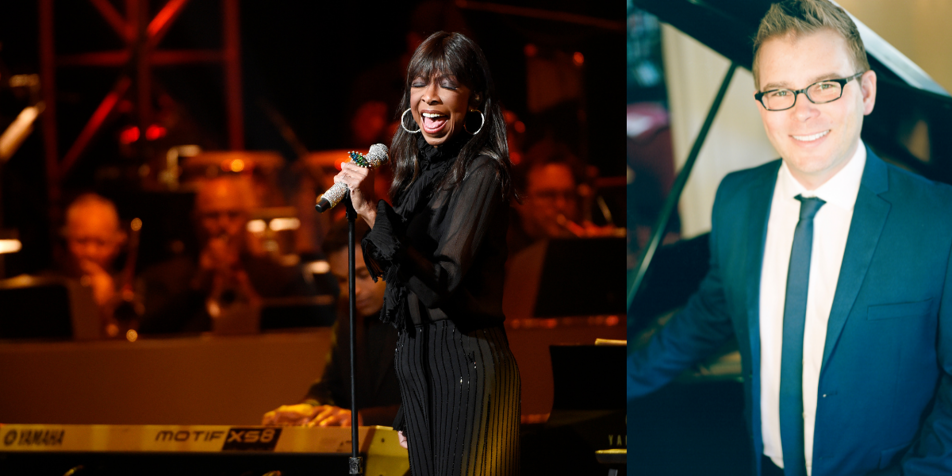 John Proulx is a jazz pianist, composer, educator, and recording artist based in Los Angeles. Read John's bio to learn more about him.
John Proulx toured with Natalie Cole and her bands near the end of her life. John shared his memories with the Songbook Foundation of performing American Standards that Natalie brought back to life.
Growing up in the Midwest, I was exposed to the great music of Nat 'King' Cole at a very early age by my late grandfather, Clyde Proulx. He was a jazz guitarist and used to play a lot of Nat tunes, such as "Straighten Up and Fly Right" and "Route 66". As I grew older and started my own career in music, I carried that love of Nat's music with me, and learned a lot more about Nat's large canon of songs. After I moved to Los Angeles, and began working as a jazz pianist and vocalist, I regularly performed many of the iconic songs that Nat made popular, including "Nature Boy", "Mona Lisa" and "Frim Fram Sauce".
So, you can imagine my surprise when one day, I got a call from Natalie's musical director asking me if I'd like to audition for the piano chair ... I worked as one of Natalie's pianists on and off for the next 5 years and learned so much from the experience. I think what Natalie liked about my playing was that I'm also a singer and love to accompany other vocalists. What I had to learn how to do, though, was to play busier than I'm used to. She really liked it when pianists would take risks harmonically and rhythmically and would challenge her musically. The more I played with her, the more risks I took and the better the experience became. 
One of the many things I loved about working with Natalie, in addition to the fact that she was the consummate professional, was the amazing arrangements I was exposed to. So many wonderfully talented arrangers wrote charts for her including Alan Broadbent, Nan Schwartz, John Clayton, and Bill Hollman. One of my favorite arrangements to play with Natalie was Nan's arrangement of the Michael Franks' tune, "Lollipops and Roses", and Natalie sang it wonderfully.  Another highlight for me was playing Alan Broadbent's beautiful arrangement of "But Beautiful". The combination of well-crafted arrangements with such a high level of musicianship made the whole experience a joy!
One memory about Natalie that stands out was when we were on a tour to the Philippines. Natalie was suffering from kidney issues and was on dialysis. Despite her health challenges, she showed up to every concert with such professionalism, and gave it 110%-truly remarkable. A highlight of that concert was playing "Miss You Like Crazy" in a huge stadium of her screaming fans as soon as the intro was played. She not only sang songs from the Great American Songbook, but she also had a lot of pop hits. In fact, we would close most concerts with the Gospel-influenced song, "This Will Be". Gail, the MD, sat down with me and showed me how to groove on the intro to that song. Memories I will never forget and will always cherish. I miss Natalie, her music, and her soul, but am grateful for the gift of getting to work with her, even if it was only for a short time.