The Andrews Sisters: Queens of the Jukebox
September 12, 2020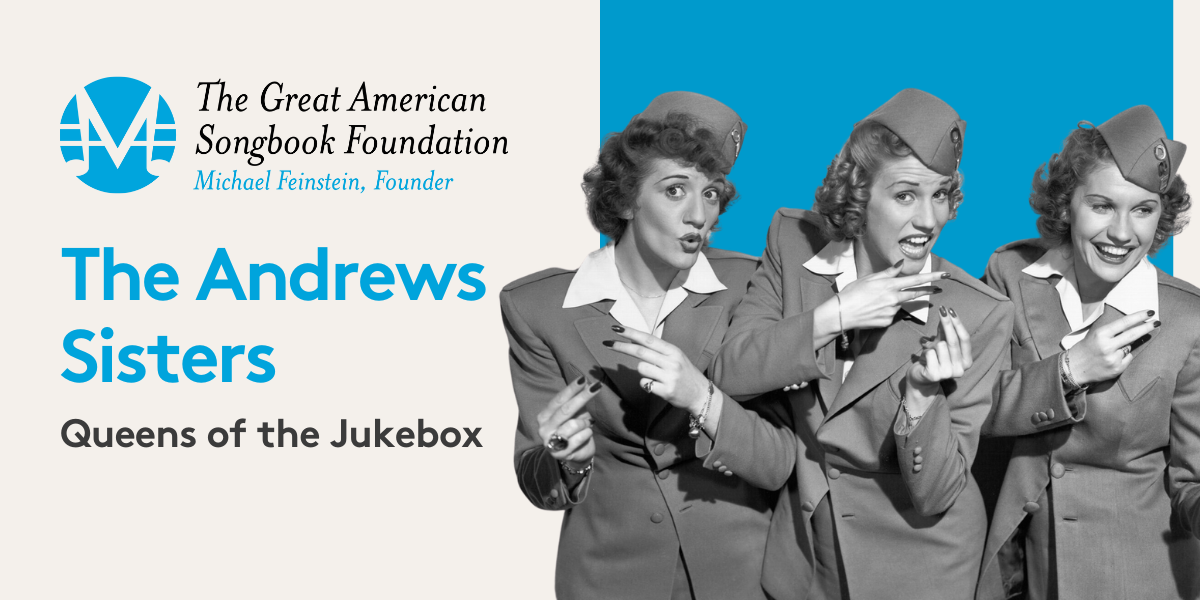 "All in all, [the Andrews sisters] were one of the great acts, with fine three part harmony, clever staging, and, above all, the singing voice of Patty Andrews." - Mel Tormé, My Singing Teachers, 1994
The Andrews Sisters. The name conjures indelible images: soldiers listening to a jukebox in the canteen; packed theaters with rabid fans jitterbugging in the aisles; and a brass-voiced trio of lanky women in chiffon dresses and bouffant hairdos.
The story of the Andrews sisters (at right: LaVerne, Patty, and Maxene) is certainly one of Depression-era grit and optimism. But it took far more than raw talent and pluck to create one of the most popular singing groups the world has ever seen. Years of hard work rehearsing and touring, changes in how Americans bought and heard music, and a cast of devoted family and friends all helped turn three working-class girls from Minnesota into The Queens of the Jukebox.
Images and artifacts for this exhibit are taken in part from the Robert Boyer Collection at The Great American Songbook Foundation. 

The Andrews Sisters may have been singing together as soon as they could talk. Their parents, although they were working-class immigrants, did their best to support the sisters' musical ambition from an early age. The trio's first recorded appearance is from late 1930 – when Patty was only 12 – as part of a local kiddie revue.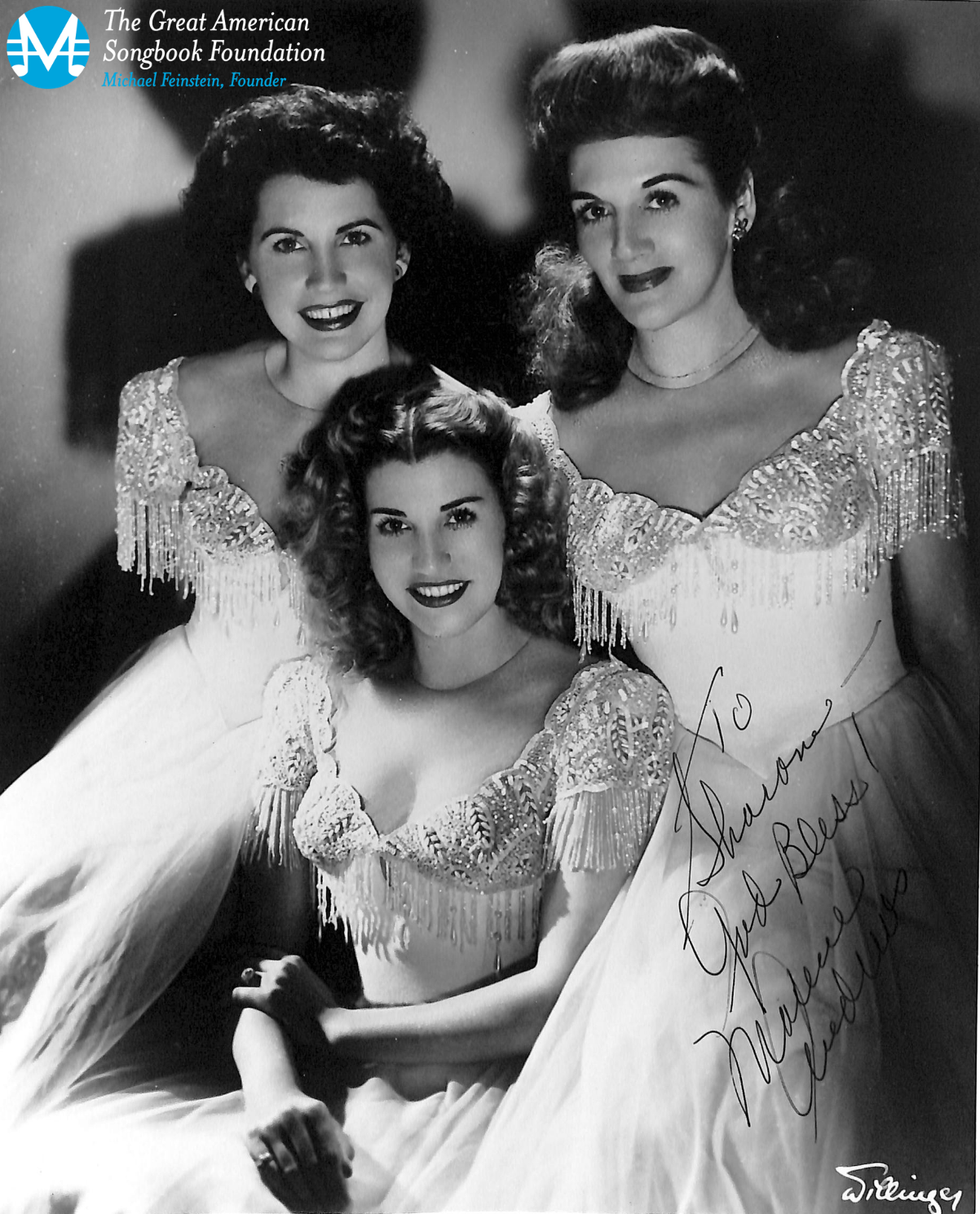 Following their amazing success in the 40s and early 50s, the Andrews sisters broke up in 1953 as Patty pursued a solo career. They reunited only three years later, but America's musical tastes had already moved on; despite releasing several more records and making frequent appearances on early television variety shows, the Andrews sisters never had another hit.
When LaVerne grew ill in 1966, Patty and Maxene tried to continue with singer Joyce DeYoung, but dissolved the trio shortly after LaVerne's death. Although the pair made a few appearances together – most notably in the 1974 Broadway show Over Here! – their relationship turned famously acrimonious and they were probably not on speaking terms for the last two decades of Maxene's life.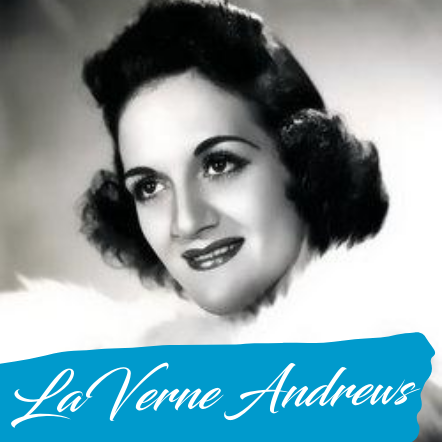 LaVerne Andrews (July 6, 1911 – May 8, 1967) was the eldest Andrews sister and sang alto – the lowest range for women. As a teenager she worked as a piano accompanist, and she was likely the only sister who could read music.
LaVerne was considered the closest to her parents and often mediated family conflicts. She was a fan of fashion and fine clothes, and typically colored her dark hair red. LaVerne was married to trumpeter Lou Rogers from 1948 until her death, from cancer, nineteen years later.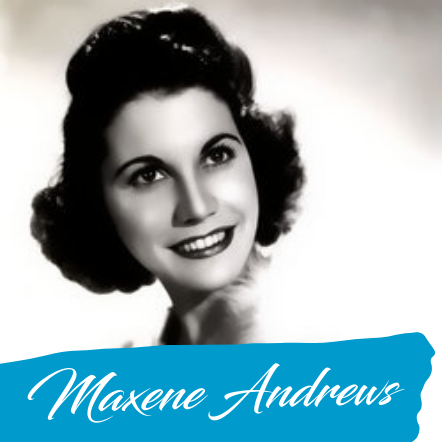 Maxene Andrews (January 3, 1916 – October 21, 1995) was the middle Andrews sister. She sang in a soprano voice, harmonizing directly above the melody line. She married Lou Levy, the sisters' manager, in 1941 but kept it secret from her parents and the press for nearly two years. They adopted two children but divorced in 1951.
An avid adventurist, Maxene loved cars, dogs, hiking, and horseback riding. Following the trio's breakup in 1968 she pursued a successful solo career in cabarets and nightclubs. Sadly estranged from Patty since the 1970s, Maxene died of a heart attack in the company of her manager and companion Lynda Wells at the age of 79.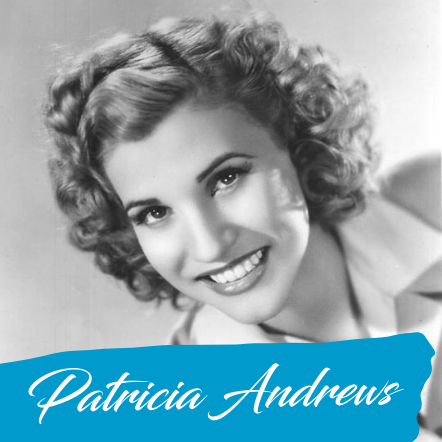 Patricia "Patty" Andrews (February 16, 1918 – January 30, 2013) was the youngest Andrews sister. Widely considered the most talented performer of the trio, she not only sang lead but was also a gifted comedienne and dancer. She married her first husband, movie producer Marty Melcher, in 1947 but they divorced only two years later.
In 1951 Patty married the trio's pianist and manager, Wally Weschler. Although she continued to perform in stage shows, clubs, and on cruise ships until late in her life, she remained reticent and gave few public interviews. Patty died at her Los Angeles home, of natural causes, at the age of 94.

The Andrews sisters are one of the top-selling groups in history, and remain influential even to this day. Despite getting little critical recognition, they recorded over 600 songs, sold an estimated 75 to 100 million records, and had 46 Top Ten hits. Four of their songs have been inducted into the Grammy Hall of Fame, and the sisters were in the inaugural class of inductees to the Vocal Group Hall of Fame.
Listen to our Andrews Sisters: Queens of the Jukebox playlist on Spotify.
Among their hit songs are:
Bei Mir Bist Du Schön
Boogie Woogie Bugle Boy
In Apple Blossom Time
Pistol Packin' Mama
Rum and Coca-Cola
Nice Work if You Can Get It
The Beer Barrel Polka
Rhumboogie
Beat Me Daddy, Eight to the Bar
Is You Is or Is You Ain't My Baby?
Shoo-Shoo Baby
Don't Fence Me In
Accentuate the Positive
Underneath the Arches
I Can Dream, Can't I?
I Wanna Be Loved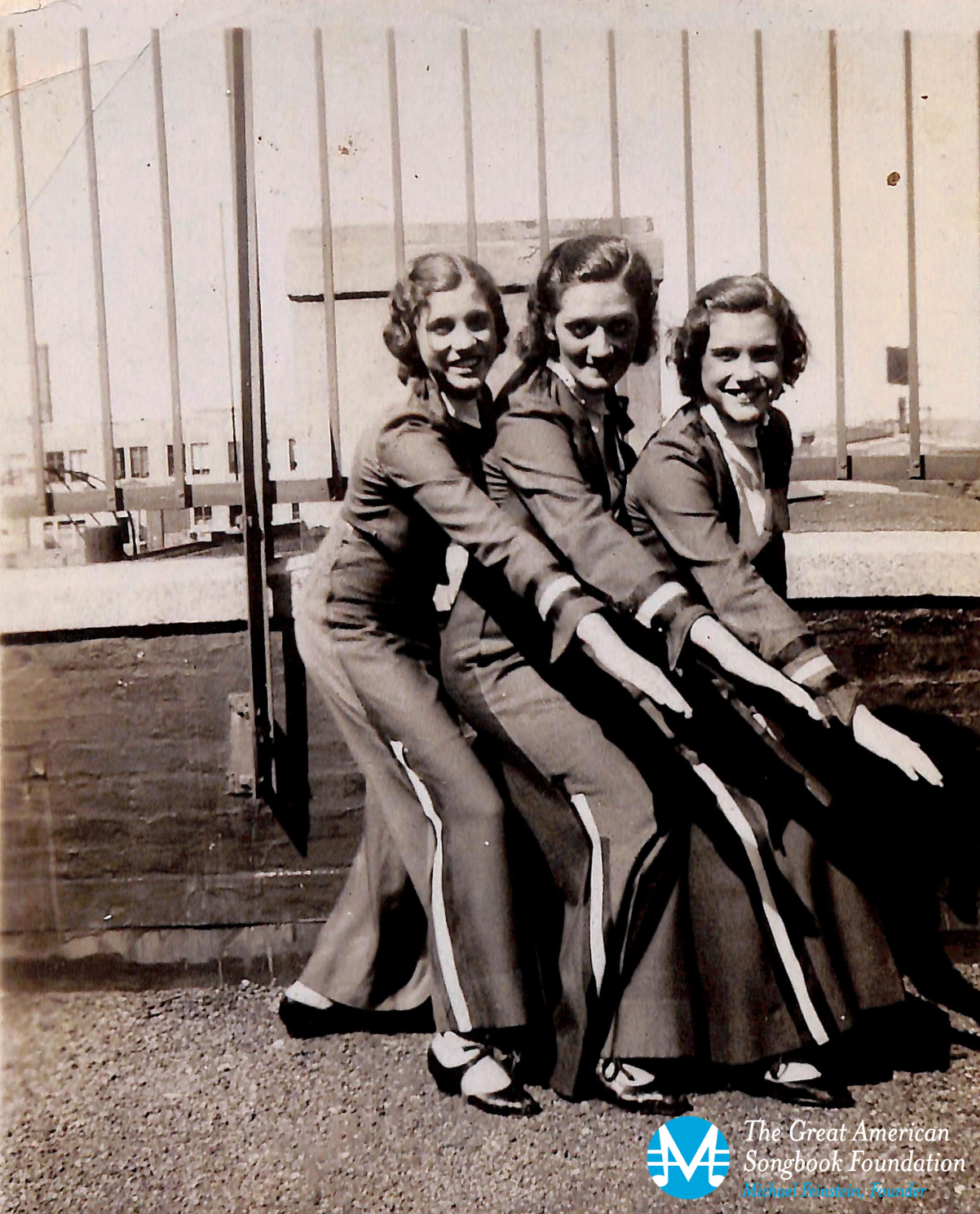 LaVerne, Maxene, and Patty were born in Minneapolis, Minnesota to Peter "Pete" Andrews and Olga "Ollie" Sollie Andrews. They are also often associated with the nearby suburb of Mound, where they would return to visit their uncles long after they moved away. Their family, especially their mother and her sisters, maintained a musical household for the girls. The sisters took lessons at a local school of music and dance - paid for by LaVerne's work there as a pianist. It also seems likely that the sisters' very first stage appearances were in local talent contests and shows.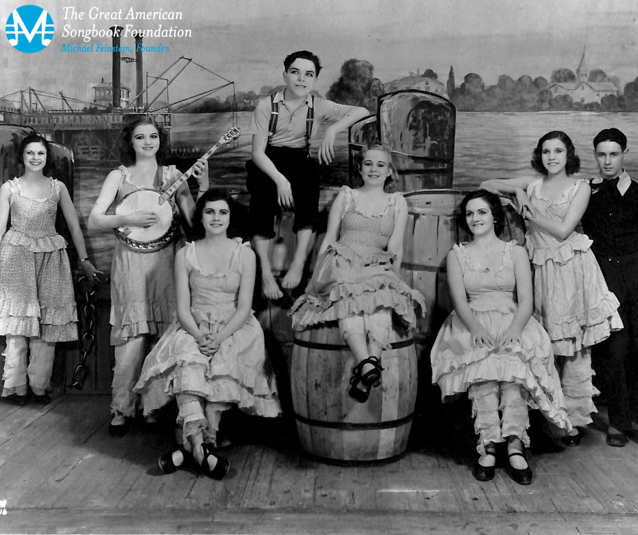 In the summer of 1931, the Andrews sisters joined the troupe of famed vaudevillian Larry Rich. They credited long tours with Rich, as well as the legendary Joe Howard, with teaching them crucial skills such as discipline; comedic timing; respect for fellow performers; and devotion to entertaining an audience of any size. These vital lessons would help catapult the Andrews sisters to worldwide fame.
Despite abundant talent and moxie, the Andrews sisters had a hard time during the Depression. In late 1937, after nearly five years of touring – driven by Pete and chaperoned by Ollie – and working the hotel lounge circuit with a variety of bands, they were nearly ready to give up and head home. But, in the luckiest of breaks, music publisher Lou Levy heard them on the radio the very day they were planning to pack up and enroll in secretarial school! He secured them an audition with Jack Kapp, who had recently co-founded Decca Records.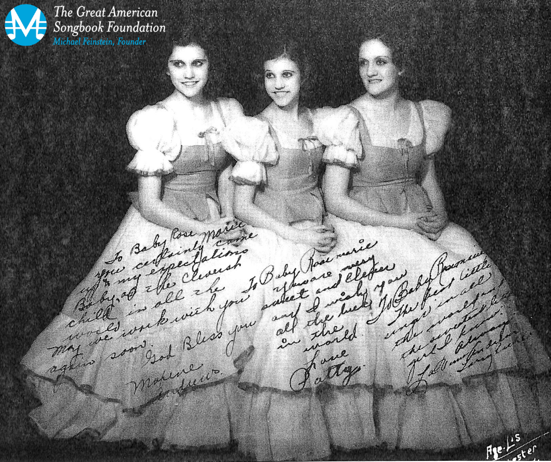 Less than two months later, on only their second record release, the Andrews sisters landed a huge hit. "Bei Mir Bist Du Schön" was then an obscure Yiddish novelty tune, but it is thanks to the Andrews sisters that we know it today. From 1938 to 1953, the sisters recorded a string of hits that made them the top-selling group until the arrival of the Beatles.

What is "The Andrews Sisters Sound?"
The Andrews sisters are usually associated with swing and boogie-woogie music. In fact, they sang in a wide range of styles, ranging from gospel and folk ballads to novelty and country-western songs. As admirable as this versatility may be, it certainly complicates the question of an "Andrews Sisters sound."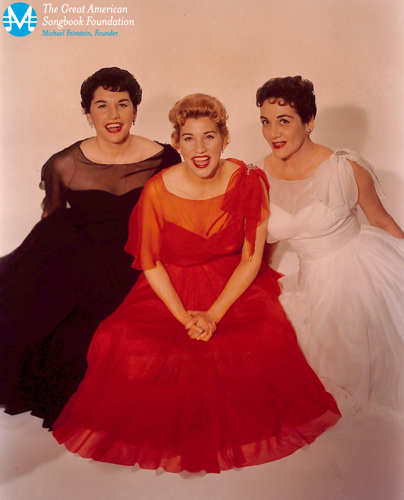 Certainly key to the sisters' style is the uniquely polished blending of their voices: Patty belting out the melody, Maxene harmonizing just above it, and LaVerne just below. Despite being routinely criticized for it, the Andrews sisters actually cultivated a loud, brassy singing style to imitate and compete with the horns in a swing band. Arrangers such as Vic Schoen amplified this effect by reducing the usually complicated harmonies in their backing bands while the sisters were singing.

The Andrews sisters are indelibly linked to the United States' role in World War II. "Boogie Woogie Bugle Boy," arguably their best-known song is, after all, about a musician who gets drafted.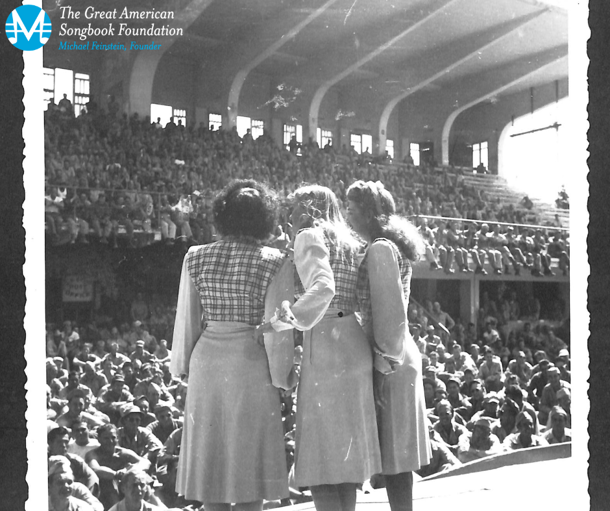 Yet their wartime service was quite real. For four years, they toured the nation almost nonstop, appearing at bond rallies, recruiting centers, training camps, and military hospitals. Dubbed the "Sweethearts of the Armed Forces Radio Service," the Andrews sisters also helped Bette Davis found the famous Hollywood Canteen and either performed or volunteered there whenever they could.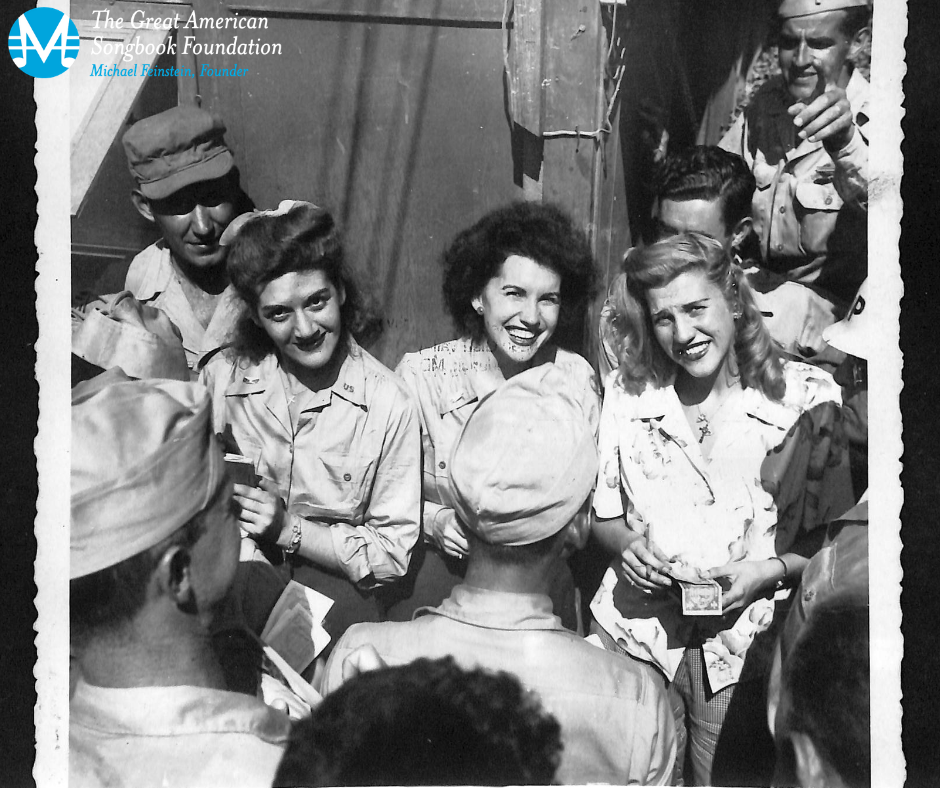 And, of course, the sisters traveled overseas as members of the United Service Organization. They entertained countless troops and workers in Africa and Europe in 1945. On August 15, Patty memorably informed a packed auditorium that – thanks to the Japanese surrender – the troops were headed home instead of to the Pacific.

Along with their abundant talent, two technologies helped make stars of the Andrews sisters:
In the 1930s – just as the sisters hit the scene – radio was becoming a cornerstone of American life. Broadcast recordings and live appearances carried their music across the nation and helped them sell millions of records. Their ubiquity both at home and abroad (more than one critic described them as "inescapable") only cemented the sisters' perch atop America's pop music scene.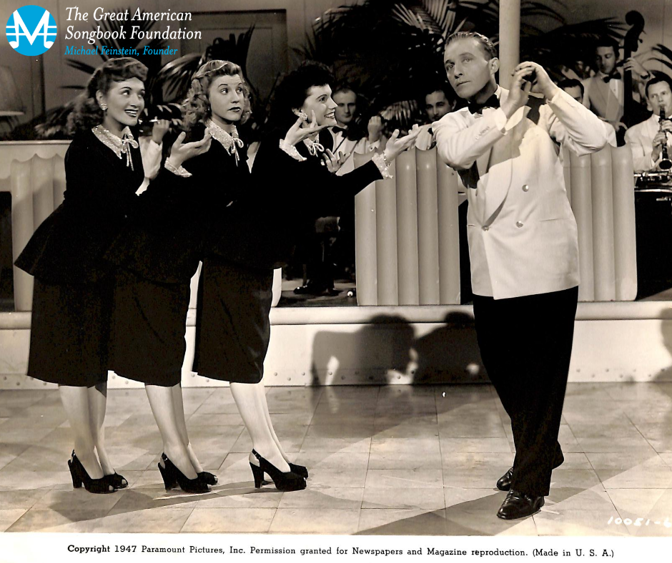 Ironically, radio's main competitor, the jukebox, would also contribute to the Andrews sisters' fame. Jukeboxes became increasingly popular in America in the early 1940s. At this time, music on the radio was increasingly constrained by federal censors and corporate payoff schemes. But jukeboxes were stocked independently, and people got to make their own choices of what to listen to. Allegedly racy lyrics and themes in songs such as "Hold Tight, Hold Tight" and "Rum and Coca-Cola" got them edited or banned on the radio, but made smash hits on the jukebox.
Movies
Between 1940 (Argentine Nights) and 1948 (Melody Time) the Andrews sisters appeared in a whopping eighteen movies. With the exception of two animated "anthology" films for Disney (Make Mine Music and Melody Time), these were made very quickly. Often shot in as little as three weeks and on notoriously tight budgets, the Andrews sisters' films are considered, even to this day, pretty terrible.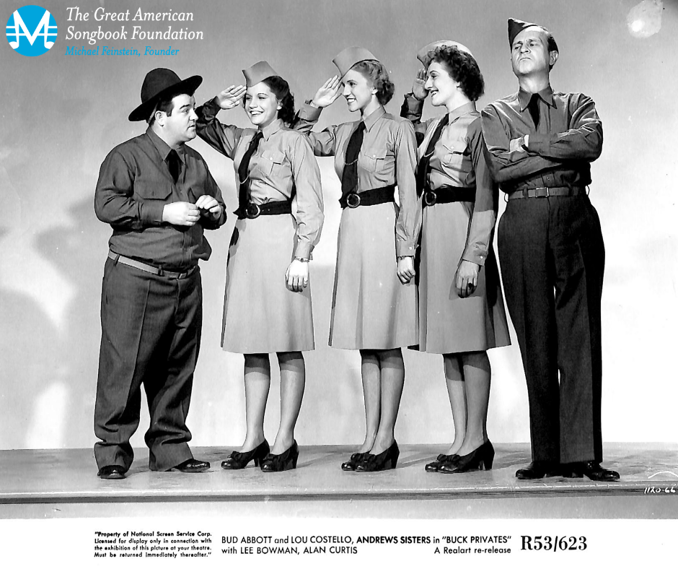 It seems that the studios assumed that the Andrews sisters' fans would buy tickets no matter how bad the movies were…and they were right! Their 1941 movies with Lou Costello and Bud Abbott (Buck Privates, In the Navy, and Hold That Ghost) were Universal's top three sellers that year. Their work in Hollywood Canteen and Follow the Boys helped make these wartime morale-boosters popular hits. And their appearance, with Bing Crosby, in 1947's Road to Rio helped make hits of both the movie and an associated soundtrack record.

Scott Bradlee's Postmodern Jukebox began as a series of online videos featuring a collective of musicians and vocalists performing contemporary pop hits in various vintage musical styles while wearing period fashions. The ever-growing collection of viral videos has amassed nearly 1.4 billion views and 4.5 million subscribers to the project's YouTube channel, and the PMJ brand now encompasses recordings, merchandise and multiple touring ensembles.
One recent mashup includes the '90s biggest girl group hit – "Wannabe" by the Spice Girls – done in the style of one of the original "girl groups": The Andrews Sisters. 
Learn more about PMJ and the Vintage Wannabe Cover + Brand New 90s Album here.
The Andrews sisters items and images on display were donated in 2010 by Maryland resident Robert Boyer, a fan who had amassed the largest known collection of memorabilia related to the group, including publicity photos, personal snapshots, news clippings, recordings, movie posters, correspondence, magazines and recordings in various formats.
Preservation Partners
With the support of our Preservation Partners, artifacts like those in the Robert Boyer Collection and exhibits like The Andrews Sisters: Queens of the Jukebox are becoming more accessible to diverse audiences including scholars, educators and performers.
Preservation Partners help support a growing national preservation effort including 300-plus collections representing over 500,000 items. A special thanks to our Preservation Partners, Diane and John Abrams, Maureen Charles, Michael Charles, Karen E. Kennedy and Dr. Larry Weeda Jr. for their support. Contact Jo Garcia at Jgarcia@TheSongbook.org for more information on how to become a Preservation Partner today.
Special Thanks to Our Exhibition Team:
Lisa Lobdell, The Great American Songbook Foundation
Exhibit development by Eleven:Eleven, LLC
Graphic design and layout by Hill Design Service
Graphic production and installation by Blue Ash
Interactive exhibit additions by Luke Smith

If you enjoyed this exhibit, borrow a traveling 4-panel version for your school, library, community center or cultural institution.
Please visit our Traveling Exhibit Page to learn more.