Songbook Women's Equality Day
March 1, 2023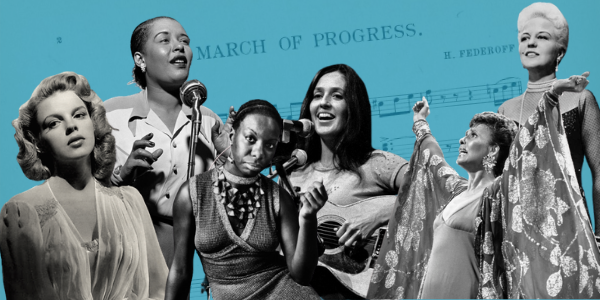 "I think music has the power to transform people, and in doing so, it has the power to transform situations 
― some large and some small." 
― Joan Baez
This blog explores the music and moments of American Songbook history from women who have have made a permanent impact on music and American culture over the past century.
"Although the amendment declared that the right to vote cannot be denied on the basis of sex, it did not guarantee voting access. Citizenship laws, poll taxes, threats and violence barred African American, Latina, Native American, Asian American, immigrant, and poor women. Many African American women could not vote unimpeded until 1965 with the passage of the Voting Rights Act—long after the 19th Amendment went into effect. The National Museum of African American History and Culture shares five African American suffragists you should know to understand a broader history of the struggle for women's suffrage." —Smithsonian
Peggy Lee — I'm a Woman
"Peggy Lee had an intimidating personality...she was a force to be reckoned with—sexually aggressive, demanding, and intense, both on stage and off. It's a big part of what makes Peggy Lee such a fascinating figure at this time. Before the women's liberation movement really hit full stride in the late 1960s, Lee proved that she was the boss among any group of powerful men...her music in the early 60s increasingly began to reflect her persona. Songs like "I'm A Woman" showed that Lee was showcasing her feminist powers both on stage and off." — Mark Chilla (Indiana Public Media)
Read the article Mink Jazz: Peggy Lee In The 1960s
Nina Simone — Mississippi Goddam
"Mississippi Goddam was written and recorded by Simone (who later announced the anthem to be her "first civil rights song") in 1964...it was released on her album Nina Simone in Concert. The song captures Simone's response to the murder of Medgar Evers in Mississippi, as well as the 16th Street Baptist Church bombing in Birmingham." — Emily Bonnell (Jazz.FM)
Read the article How Nina Simone used protest music to challenge racial discrimination
Joan Baez — We Shall Overcome
"There's a little song that we sing in our movement down in the South. I don't know if you've heard it," King told the Memphis crowd. "You know, I've joined hands so often with students and others behind jail bars singing it: We shall overcome.' Sometimes we've had tears in our eyes when we joined together to sing it, but we still decided to sing it: 'We shall overcome.' Oh, before this victory's won, some will have to get thrown in jail some more, but we shall overcome." — Noah Adams (NPR)
Read the article The Inspiring Force of 'We Shall Overcome'
Lena Horne — Stormy Weather
"Over the course of her long life, Lena Horne became a star of film, music, television, and stage, as well as a formidable force for civil rights...When [Horne] died in 2010 at age 92, President Barack Obama noted that she was the first black singer to tour with an all-white band and that she refused to perform for segregated audiences. 'Michelle and I join all Americans in appreciating the joy she brought to our lives and the progress she forged for our country.'" — John Maroney (The Atlantic)
Read the article The Red Baiting of Lena Horne
Billie Holiday 

—

Strange Fruit
"A concise but graphic evocation of a Southern lynching, 'Strange Fruit' was one of America's earliest and most shocking protest songs, drawing attention to the thousands of acts of racist terrorism against black people in this country's history. . .
'I've always been drawn to hearing about that part of our history, and I've been drawn to artists who speak to the reality of the times we live in. And even 80 years later, that song still speaks to the times. You don't need more than 91 words. What else needs to be said?' - Rapsody — David Browne (Rolling Stone)
Judy Garland

— 

Over the Rainbow
"'Over the Rainbow' became 'an anthem of pain for homosexuals who perceived themselves as belonging to a despised minority.' (Brantley, 1994) Gay men and woman began identifying with not only the song, but Dorothy herself, calling themselves "Friends of Dorothy." Dorothy accepted people for being different hence her friendships with the Cowardly Lion, the Scarecrow, and the Tin Man. And following her character from the film, Judy in real life accepted people who were different." — Kayleigh Marie Adamson (Queer Culture Collective)
Read the article "Somewhere Over the Rainbow": The gay anthem of the century
Tweet #share