Songbook Foundation Spotlight: Anna LoPrete
April 29, 2021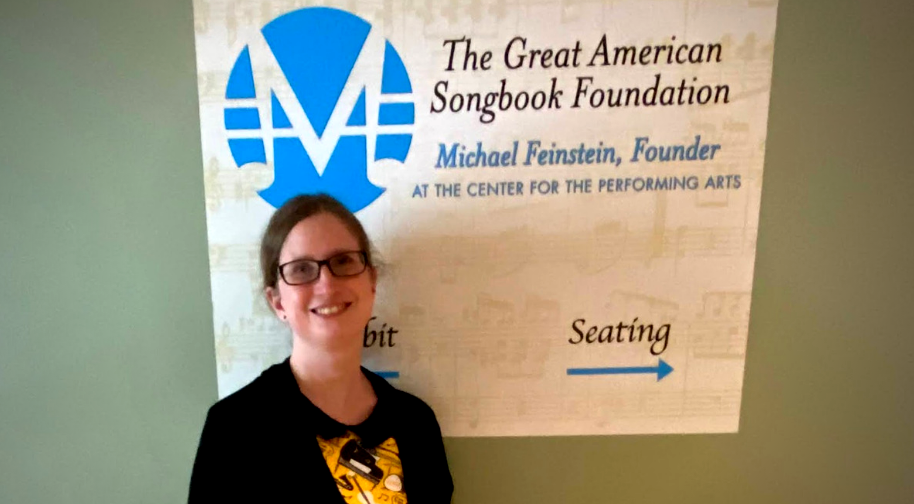 Meet Our New Music Librarian: Anna!
We are very pleased to announce that Anna LoPrete has joined the Songbook Foundation as our new Music Librarian! Anna will work alongside our Director of Library and Archives, Lisa Lobdell, to support work in the Songbook Foundation Archives. 
Anna has had a week to settle into her new career, and we took the opportunity to learn a few fun facts about her that we've shared with you as a Q&A below... a true "Getting to Know You" moment here at the Songbook Foundation!
Q: What is your favorite artist, group or genre of music to listen to right now?
A: Lately I've been trying to catch up on holes in my Songbook knowledge, listening to some of the Hall of Fame performers and to musicals I'm unfamiliar with. I'm also really into Tim Minchin's new solo album Alone Apart. It's a departure from his comedic music I've been listening to for years and has a number of lovely, introspective songs. I'm super excited for the new In the Heights movie this summer so the cast album is on heavy rotation.
Q: This is a new role for the Songbook Foundation! For those of us who don't know much about the role of a music librarian, can you tell us a little bit about what you do and the educational/practical background required to be a music librarian?
A: Music librarians do a wide variety of functions, from education, outreach, and programming, to cataloging and other technical services. I've spent most of my life in technical services which includes things like cataloging resources so people can discover and use them, creating metadata, and physical processing and preservation. I don't feel like I really chose that path but my mind just works that way so that's where I keep getting jobs. When I was about nine I created my first card catalog for my own books. I also made a small lending library in my closet for my friends which bizarrely they didn't seem at all excited about. I got my first real cataloging job in college at the University of Utah's Mariska Aldrich Memorial Archive cataloging sound recordings. For the last seven years I've been a staff cataloger at the Cook Music Library at Indiana University.
Librarians generally hold master's degrees in library or information science. Librarianship is kind of an odd field in that there is no undergraduate degree program in it so people come into it from all sorts of fields. Most music librarians hold undergraduate degrees in some form of music. Mine is in piano performance. These days a lot of music librarian positions require or desire a subject master's as well, mine is in music history and literature. Just like librarianship in general there are a wide variety of emphases within the degree. I specialized in music librarianship.
Q: Do you have a particular passion for the American Songbook genre? When were you first introduced to this music – does it hold any special meaning for you?
A: I don't remember when I was introduced to it. I remember being confused that there is no actual songbook. I've been accompanying singers since high school so I've played a lot of songtunes. When I was a senior in college I won a scholarship through my university to go to New York for a week, stay in the Marriott Marquis on Times Square and see five Broadway shows! That was an amazing experience! My wedding playlist was pretty much all Ella Fitzgerald. The scrapbook I made for the wedding has little snippets of song lyrics from the playlists in it.
Q: Tell us more about being a pianist! Is there a genre of music or composer you love to play? Does playing piano help you in your role as a music librarian?
A: I started taking formal piano lessons when I was seven from my grandmother who said that you should not start lessons until you were seven. I had been begging for lessons and could already read music. I am (or was at least) a fairly wide-ranging classical pianist. I especially love playing Mozart, Ravel, Schubert, and Amy Beach, who I wrote my master's thesis about. But it's really hard to choose a favorite! Lately I've bought several volumes of arrangements of pop music by Dan Coates that I'm enjoying playing. I haven't performed in almost ten years and that really needs to change.
Q: What do you like to do in your free time? Anything else you'd like to add?
A: I do a lot of crafts. I make cards and recently started making books. Lately I've been baking cookies every Sunday with my stepson. I love to read. I had a baby in December 2019 so he takes up a lot of my time in the most wonderful way.
Q: Why are you excited to join the Songbook Foundation team?
A: I'm excited to concentrate on this subject area and learn more about the songbook. I love the Foundation's joint mission to preserve the history of the songbook and educate. I believe that a time's music really encapsulates its ethos. The popular and jazz songs of the first half of the twentieth century helped Americans through two world wars and the Great Depression. Families gathered around their phonograph and radio to listen to FDR, Ella Fitzgerald, and Tony Bennett. We flew to the moon with Frank Sinatra and the Apollo mission. The threads of George Gershwin and Duke Ellington that still weave through performances and so many weddings today always put us in a sentimental mood.
Anna's Biography
Anna LoPrete joined the Great American Songbook Foundation in 2021 as the organization's first Music Librarian. In this Institute of Museum and Library Services grant-funded position, Anna's primary focus is on the Bethards-Massey collection of radio station arrangements from the West coast. Additionally, Anna catalogs musical materials in multiple formats, supervises volunteers, and performs other library tasks.
Anna comes to us from the Cook Music Library at Indiana University, Bloomington, where she was a cataloger of musical scores and books for seven years. An active participant in the music librarianship field, Anna currently serves on cataloging committees for the Music Library Association and as the web editor for the Music OCLC User's Group. She has presented regionally and nationally on the innovative system of tracking statistics she implemented at Indiana University and on reducing cataloging backlogs.
Anna holds a Master of Library Science from Indiana University with a Music Librarian Specialization as well as a Master of Music in Music History and Literature from the University of Cincinnati's College-Conservatory of Music. While earning her Bachelor of Music degree in piano performance from the University of Utah, she was an active performer and accompanist. In 2008 she participated in the prestigious Junior Fellow program at the Library of Congress.
In her free time Anna enjoys crafting, baking cookies, playing her piano, and spending time with her family.
Help us welcome Anna to the Songbook Family!