Songbook Book List: Women of the Songbook
March 1, 2023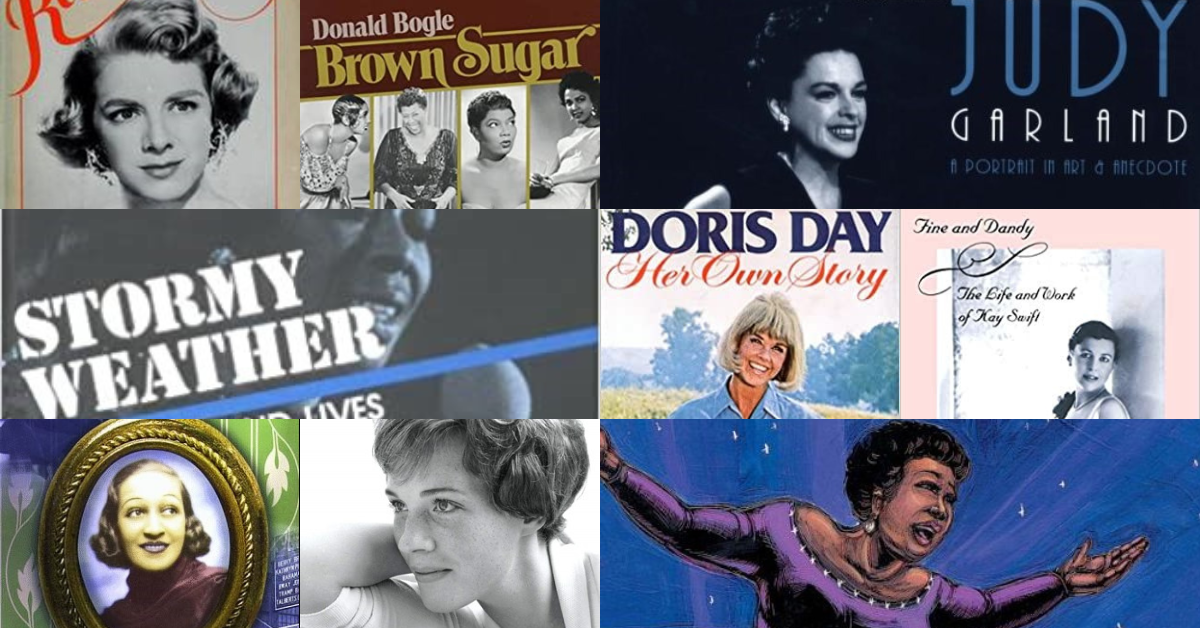 Are you looking for your next book club selection or do you want to learn more about the women of the Songbook? We've searched the Songbook Archives shelves of our library and selected some of our favorite books for Women's History Month.

Ella Fitzgerald: The Tale of a Vocal Virtuosa (Children's Book)
by

 Andrea Davis Pinkney, Brian Pinkney 
Goodreads: Ella Fitzgerald began her life as a singer on the stage of the Apollo Theater when she was just seventeen years old. Her rich voice and vocal innovations brought her fame and a remarkable career that spanned half a century and won her generations of fans around the world. Acclaimed author Andrea Davis Pinkney has told Ella's inspiring story in the voice of Scat Cat Monroe, a feline fan whose imagined narrative sings with the infectious rhythms of scat. Two-time Caldecott Honor winner Brian Pinkney's dramatic perspectives and fantastical images offer a jazzy improvisation all their own.

This for Remembrance: The Autobiography of Rosemary Clooney
by Rosemary Clooney
Amazon: "Rosemary Clooney was at the very top of the entertainment ladder. Young, vivacious, radiant, with all-American good looks and a lovely voice, she was America's 'singing sweetheart' in the 1950s. Featured on the cover of Time, star of hit movies (White Christmas, Here Come the Girls), married to the brilliant actor Jose Ferrer in 1953 and mother of five children, host of her own network TV show in 1958, she had everything to live for. But in 1968 her world shattered. She suffered a terrifying mental breakdown, lived through the torments of hell, and emerged a strong, happy and fulfilled woman. This is her story. Never sparing herself, Rosemary Clooney writes with utter candor about the pressures that broke a gifted, beautiful and wildly successful young woman, bringing her to an isolation cell in the psychiatric ward of St. John's Hospital in Los Angeles. Hounded by hallucinatory demons, she pounded the walls in her paranoid frenzies. Reaching the depths of despair, Rosemary Clooney fought her way back to a productive, meaningful and contented life. Still beautiful, she has resumed her career and lives at peace with herself in her Beverly Hills home. Her house is alive with her children, four dogs, friends and music. 'My life is pretty darn good although it is not problemless,' she writes. 'Conflicts still arise, but I can deal with them. Some people will read this and say that Rosemary Clooney has been through hell. They are right. I have. But without that hell, I would not know joy - and that is what I often feel today.' And joy is the emotion she shares with every reader. Her story is one of the most gripping, heartrending - and ultimately inspiring - life stories you will ever read. And it has a most happy ending."