Songbook Blog: Biden First Ladies Piano Mission
November 12, 2021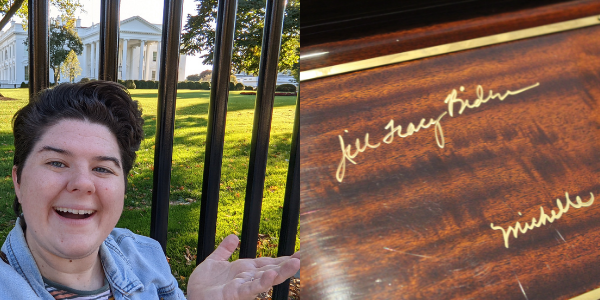 It was a Monday, and I heard the familiar ring of a Microsoft Teams call from our Executive Director, Chris Lewis. His face popped up on my screen and with a mischievous look he asked, "Do you want to go to Washington, D.C. tomorrow?" I am always ready for an adventure and a story, so I said yes.
My mission was to act as a courier and escort the fallboard (or keylid) of the First Ladies Piano (seen below) to our nation's capital. While there, I would present one of the Songbook Foundation's most prized artifacts to Dr. Jill Biden and ask for her golden autograph. Before I get ahead of myself, you probably want to know what the First Ladies Piano is. The Songbook Foundation's founder, Michael Feinstein, worked with the Steinway & Sons company to restore a 1911 Steinway Model O "small grand" and transformed it into a truly unique American treasure. Feinstein reached out to Nancy Reagan who was the first to sign the piano. Inspired by the idea to connect the First Ladies through a musical object, Mrs. Reagan asked each of the living women to sign the keylid. From there, the little-known presidential tradition was born.

The First Ladies Piano keylid signed in gold by every First Lady from Betty Ford to Melania Trump. Michael Feinstein collection.
Within 24 hours, I wrapped the fallboard, packed an overnight bag, and hit the road in a rented minivan. I'll spare you the trivial details of traveling from the flat terrain of the Midwest to the beautiful mountainous region of the East coast, but I will say if you are traveling ten hours alone that you cannot finish an audiobook of J.K. Rowling's Harry Potter and The Goblet of Fire and you should sing your favorite songs at the top of your lungs to stay awake.
Chelsea on the road to Washington, D.C.!
As night fell and the stars faded in the light of the American Rome, I drove past the Lincoln Memorial, the Washington Monument, and a row of giant museums in reverent silence. I carried the First Ladies keylid up to my hotel room and thought about all of the possibilities of the next day: Would I meet Dr. Biden? What would I say to her? How would I talk about the Songbook Foundation and the First Ladies Piano? What's traffic like in D.C.?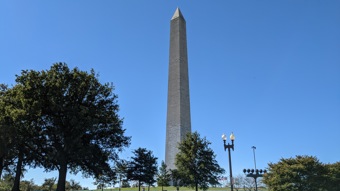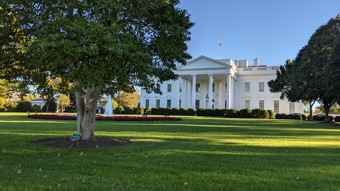 The Washington Monument and the White House (in daylight).
One of the first questions I'm asked when I tell someone that I took an item from our collection to have Dr. Jill Biden sign is: Did you get to meet her? The simple answer is no. I didn't even step foot in the White House. But this did give me time to do one of my favorite activities while visiting a new place: go to a museum! While I waited for Dr. Biden's team to transport the keylid, I went to the Smithsonian National Museum of African American History and Culture. With limited time, I immediately headed for the fourth floor to experience the Musical Crossroads exhibit. This is the promise of this exhibit, and it did not disappoint:
In the exhibition, visitors have the opportunity to appreciate African American music as a vibrant living art form that has been a vehicle of cultural survival and creative expression. Musical Crossroads is the thread that pulls the themes of the Museum's various galleries together in a language that is accessible to all.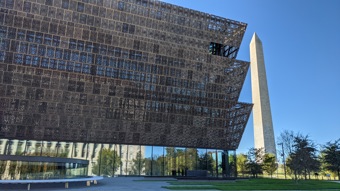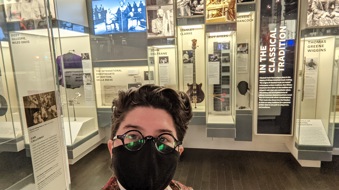 Chelsea in the jazz section of the Musical Crossroads exhibit housed in the The Museum of African American History and Culture. 
The roots and influences of the American Songbook were everywhere in this exhibit. From Ella Fitzgerald's Song Books, Billie Holiday's master takes with Norman Granz, and Sammy Davis Jr.'s very tiny tap shoes visitors experience how Black musicians shaped our unique American sound. 
Ella Fitzgerald dress: This dress was owned by Ella Fitzgerald and worn on stage during many of her performances. 
Billie Holiday Acetate Disc: Before magnetic tapes, acetate discs were used for studio recordings. The tracks on this disc appeared for the 1953 album An Evening for Billie Holiday.
Whenever I explore a museum, I make a point to find one item and really take my time learning about it, its significance, and why it matters. This year, we inducted composer and arranger Billy Strayhorn into the Songbook Hall of Fame. With this on my mind, I was immediately drawn to a letter written by Lena Horne with whom Strayhorn had a close friendship. The two were introduced by Duke Ellington during a run of the show Jump for Joy. During intermission, a small man who, to Lena, looked like an owl, with a round face, thick glasses, and a smartly tailored suit, sat down next to her and said, "I'm Billy Strayhorn – Sweet Pea." They were soul mates, in a way, though they would never be romantic partners because Billy was an openly gay man. In this letter from May 31, 1967, written in the recent aftermath of Strayhorn's death, Lena writes:
I am a little sad today, because we have just lost a good friend of mine – a most brilliant musician – Billy Strayhorn. What a wonderful legacy he has left to your young people.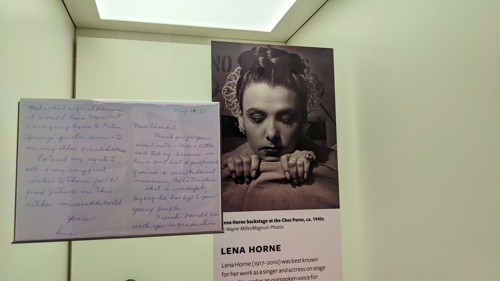 Lena Horne's letter to Edouard Plummer showcased in the Musical Crossroads exhibit.
Horne called Strayhorn "her only real friend," and was the last person he visited before he passed away.
Do you want to hear a song that encapsulates their relationship? Listen to "You're the One," a love song Strayhorn wrote for Lena Horne in 1955.
After my detour to the museum, I received word that Dr. Biden had signed the First Ladies Piano keylid and it was ready to be picked up. I drove back to meet with officials from the National Park Service, who had carefully wrapped the fallboard in a travel blanket. Later that night, I did have a chance to take a snapshot outside of the gates of the White House and thank Dr. Jill Biden from afar.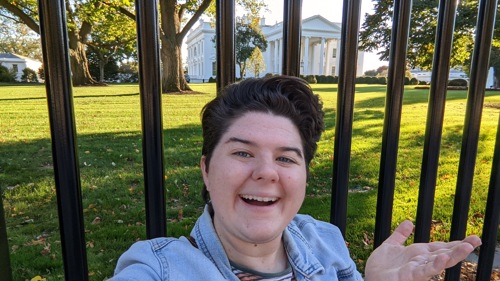 Saying "Hello!" to Dr. Biden after she signed the First Ladies Piano.
Her signature is now proudly displayed above Michelle Obama's and the legacy of the First Ladies Piano continues. We invite you to visit the Center for the Performing Arts in Carmel, Indiana to see it for yourself!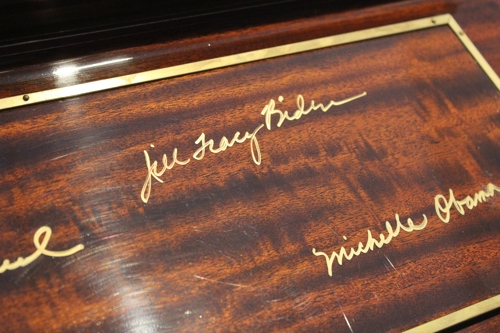 Dr. Jill Biden's signature in gold above Michelle Obama's. Michael Feinstein collection.
Tweet #share