Niela Goodelle: A Life in Tabloids
March 31, 2021
"Niela Goodelle was in show business in the 1930s: that glitzy, fabulous time when Hollywood still flirted with its own innocence, making opulent films that looked like Broadway musicals … when names like Ziegfeld, Eddie Duchin, Al Jolson, Walter Winchell and Buddy Rogers were household names across the nation, as well as Goodelle's friends and professional associates. She was the woman who turned down the late Rudy Vallée's marriage proposal in 1937 because, the trade papers reported, she didn't believe he would ever be 'the ideal mate;' Her life story is itself the stuff of movies."
Excerpt from Niela Goodelle-Hartz's obituary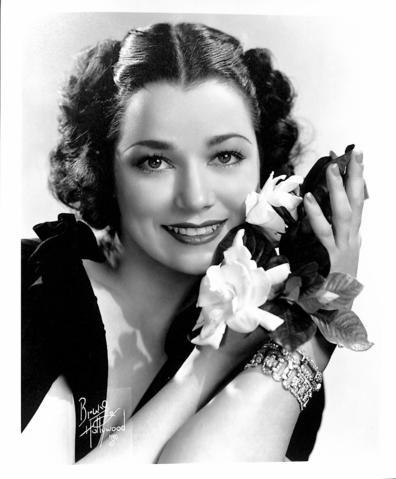 Niela Goodelle's professional headshot. Photo: Bruno Hollywood, NYC
"A very famous movie star begged Niela to marry him."
"Niela is a typical, beautiful American girl."
"Niela Goodelle is afraid of love!"
These are just a few lines from 1930s tabloids written about radio star and Ziegfeld Follies girl, Niela Goodelle. Since the late nineteenth century, tabloids have been used in newspapers and magazines to inform readers about popular culture and events. Often the content is sensationalized, out of touch with reality, and centers around false gossip. Why are we drawn to magazines filled with salacious celebrity gossip? The simple answer is that sensational journalism offers a way to escape into another person's world.
As you explore Niela Goodelle's Collections Highlight, you'll read excerpts from journalists who interviewed Niela, wrote about her alleged romances, and speculated about her career. We invite you to offer your own informed opinion about the truth behind the words.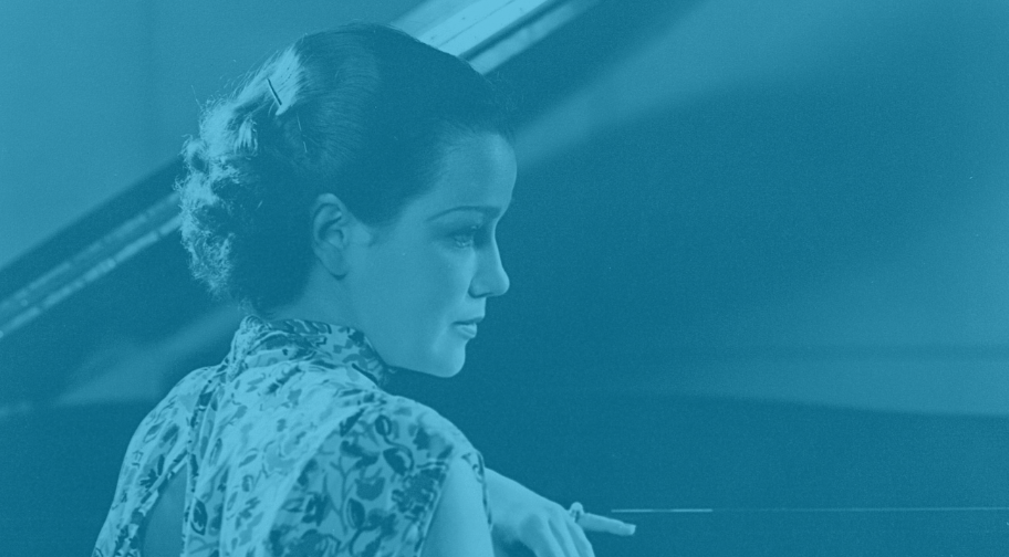 Wild Trumpets, Crazy Piano: Niela's Big Break
"Nationally Known Entertainer on Stage Again," the penultimate article showcasing Niela Goodelle's life was written in 1964 for the Evansville Courier by Cissy Wastjer. Wastjer's article provides a reflective glimpse into the life of a rising star. 
"Niela was born in New York state, but when still a child moved to St. Petersburg, Florida ... From the time she was a little girl she studied to become a concert pianist — but even then singing was in the back of her mind.
When Niela was 17 ... she went to Burton Thatcher, a popular singer and teacher, and made a deal with him. She offered to be his accompanist, and to take out her salary in voice lessons. 
Later she accompanied the tenor on all his concerts, and one day at a high society party in Florida, he asked her to sing. She did. One of the guests, who was influential in show business, pointed her in the direction of New York City with a letter of introduction to some theatrical friends. This helped her win a scholarship to Berkshire Playhouse in Stockbridge, Mass., where she studied and appeared in productions with such greats as (to name a few) Katharine Hepburn and Jane Wyatt.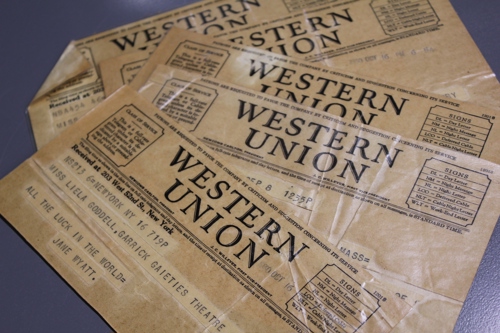 A telegram from actress Jane Wyatt wishing Niela luck during her run with Garrick Gaieties. Photo: Great American Songbook Foundation.
At the end of the season Niela was featured in an amateur musical revue, 'Jack in the Box.' Notices on the production, which are among the many she keeps in her scrapbook proclaimed that her future on the musical stage was assured.
Teresa Helburn of the New York Theatre Guild was in the audience and immediately signed Miss Goodelle for the guild musical, 'Garrick Gaities.' From then on it was an uphill for the tiny singer."
Nationally Known Entertainer on Stage Again
Wastjer, Cissy, The Evansville Courier, Feb. 12, 1964
Real or Fake? How Niela got her celebrity name
"'Neila' at the time was Helen Goodelle. 'Alexander Kirkland thought it sounded too kitcheny for an actress,' [Niela] explains, 'He said: Pronounce Helen backwards and spell it to fit, and there I was! I even had a christening. I was wrapped in a huge white sheet like a baby and Alexander dumped a big pitcher of ice water over my head.' Dripping little Helen became siren Neila, and from then on her life managed to fit that de luxe name."
Hover, Helen, Radio Stars, November 1935
What's your take?
Is this story real or fake?
Submit your answer at the end of the exhibit!

Glorifying the American Girl: Niela's Follies Years
"One of the next steps up the ladder of fame came when she replaced her idol, Ruth Etting, in the Ziegfeld Follies. Critics said, 'She ranks with Miss Etting in her rendition of Paradise.' Later she toured the country with Ziegfeld Follies, replacing Jane Froman. This time critics were ever kinder, stating that she was a good replacement, a better songstress than Froman."
Nationally Known Entertainer on Stage Again
Wastjer, Cissy, The Evansville Courier, Feb. 12, 1964
On November 28, 1931, Niela was a young woman in her twenties and signed a contract to become a Ziegfeld Follies girl. This was not an easy gig to book, according to All That's Interesting: "From 1907 to 1927 [Florenz Ziegfeld] auditioned over 15,000 girls for his troupe, only accepting 3,000." Ziegfeld's revolutionary vision of lavish revues celebrating the female form, and featuring young, talented and beautiful women led the way for the entertainment industry. 
According to some sources, Niela was 'nervous,' had a 'mild inferiority complex,' and suffered from stage fright. Though she was talented and beautiful, she needed a push into the limelight. Enter one of the biggest supporting characters in Niela's story: her mother, Iney, who was what is now referred to as a "stage mom." Iney's influence can be seen in Niela's contract with the Follies. A line is added at the end that her mother's railroad fare would be covered. In Niela's 1935 highlight with Miss Radio, her mother is mentioned at pivotal points in her journey to stardom.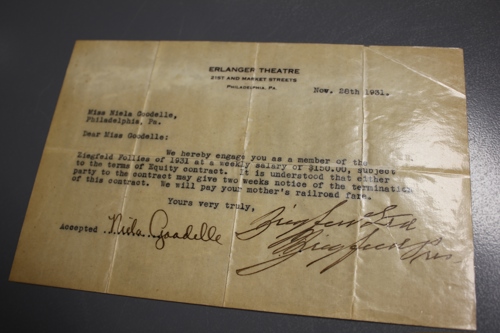 Niela Goodelle's signed contract with the Ziegfeld Follies (Nov. 8, 1931). Photo: Great American Songbook Foundation.     
"Iney advised her about contracts, about her diet and what shade of lipstick to smear on her lips. And the advice, take it from Neila, was good. Otherwise she would never have got that chance to take Jane Froman's role in the road show of the Follies."
Hover, Helen, Radio Stars, November 1935
One of Niela's claims to fame during her time with the Follies is that she allegedly introduced the popular holiday song, "Winter Wonderland" to audiences. Though no recordings exist of Niela's rendition, the story of Niela owning the first public appearance of this song is passed down through her family. However, there is one academic note that suggests the possibility:
"'Winter Wonderland' was written in 1934, and of course became a classic holiday song; however, it is unclear whether the tour interpolated the number because it was popular at the time or whether the song was introduced in the tour and then became popular (for the tour, it was sung by Niela Goodelle)."
The Complete Book of 1930s Broadway Musicals
Dietz, Dan. United States, Rowman & Littlefield Publishers, 2018.
Look inside a Ziegfeld Follies program from 1934
click on any image for a closer view
"After the road edition of Follies, Neila couldn't get a grip on another show. That eight-months' tour had been too long to stay away from the street that forgets names so quickly."
Hover, Helen, Radio Stars, November 1935

Broadway, Movies and Nightclubs: Niela's Limelight Years
 Niela Goodelle performing "Wild Trumpets, Crazy Piano" on the "Rudy Vallée Variety Show." (Aug. 6, 1936). Lacquer recording in Songbook Archives.

"Niela's career took her back and forth across the country where she entertained in all the large cities — Dallas, Boston, Philadelphia, Chicago. She joined the Buddy Rogers band in 1933 appearing daily at Pabst Blue Ribbon Casino at the Chicago World's Fair, and nightly at the College Inn in the Sherman Hotel. 
Besides appearing in all the top nightclubs in the country, her career included Broadway musicals, singing with many of the great bands, and the vaudeville circuit. She also made a number of two-reel movies. 
One of the greatest thrills of her career was when she was on stage with Eddie Duchin at the Paramount Theatre in New York. 'They held us over week after week,' Niela recalled."
Nationally Known Entertainer on Stage Again
Wastjer, Cissy, The Evansville Courier, Feb. 12, 1964

Miss Radio: Niela's Radio Years
"What is Niela Goodelle like? She is nervous, as she herself confesses ... But she is not shy — you have to get used to meeting people in the radio world."
Collyer, Susan, Radio Pictorial, Volume 218, Mar. 18, 1938 
"Another thrill came when she broke into radio. Niela had returned to New York after zig-zagging across the country on engagements. She was trying desperately to land a part on Broadway when a friend wrote to Al Jolson suggesting that Niela would make an ideal guest artist on his Chateau (radio) program. 
Jolson listened to her sing and put her on his program. She was an instant hit. NBC immediately signed her up for a Sunday evening one-girl show, following the Walter Winchell program. Almost overnight she became known as 'Miss Radio.'" 
Nationally Known Entertainer on Stage Again
Wastjer, Cissy, The Evansville Courier, Feb. 12, 1964
Niela Goodelle's spread in the "Radio Stars" magazine, (Nov. 1935). Photo: Great American Songbook Foundation
With her mother Iney's guidance and management, Niela secured a one-time spot on Jolson's Shell Chateau program. Niela recalls:
"'I was so nervous, my knees almost buckled under me! Jolson had to put his arm around me to hold me up.' But nerves or no nerves, it was that program which got her the present contract with Cutex. There's an interesting story about this show. Neila was originally supposed to carry the entertainment part of the program, while a society woman was to do the announcing. They auditioned this woman, and then let Neila do a little prattling herself. After listening to both, the sponsor decided to have Neila do the announcing, too. 'You sound more refined,' she was told. So, as things stand now, Neila will carry the complete program alone, singing, playing the piano and announcing. 'Unless,' she adds, 'I slide under the piano from mike fright.'" 
Hover, Helen, Radio Stars, November 1935
While Niela was working in Texas, she met the popular radio star, Rudy Vallée, which led her further into the world of radio, a whirlwind romance, and a broken engagement.
"Last winter, after concluding a highly successful radio series, she returned to her childhood home in Worcester, New York, and rusticated. She wanted to be back home. She was fed up. So at Worcester she cooked and washed dishes and marketed and did pleasantly domestic tasks. She was considering quitting for good. Then her manager called her on the telephone and told her he had an offer from the Texas Centennial for her appearance there. The lure of the footlights proved stronger than the lure of the kitchen and Niela took the fateful trip to Texas."
Brooks, Dorothy, Radio Mirror, November 1936

Rudy Vallée's In Love!: Niela's Decision
"Rudy Vallée has fallen in love. When radio's Number 1 romantic figure falls a willing victim to Cupid's dart ― that's news. But when he not merely falls a willing victim, but falls head over heels, topsy turvy in love with a lovely lady he met but a few weeks before ― that's a headline thi-i-is big!"
Brooks, Dorothy, Radio Mirror, November 1936
When Rudy introduced Niela in a guest appearance on his radio show, twenty million listeners heard him admit he was "pretty fond of her." Vallée would invite girl singers like blonde-bombshell Alice Faye and Niela Goodelle, to his radio show. As Rudy states in this clip from an August, 6 1936 recording, "during our sojourn in Dallas, Texas, I met Niela Goodelle at a Sunday afternoon party and discovered that our voices blended perfectly."
 Niela and Rudy performing "I Love You (Sweetheart of All My Dreams)" on the "Rudy Vallée Variety Show." (Aug. 6, 1936). Lacquer recording in Songbook Archives.
He said, she said
In the November edition of the 1936 Radio Mirror magazine, journalist Dorothy Brooks interviewed Niela and Rudy and wrote a tell-all article about their relationship.
Niela:
"I want to restore Rudy's faith in women, but don't ask me any more. I wouldn't want to say anything Rudy might not like to have said. Don't you understand how difficult all this is for both of us?"
Rudy:
"Now what I admire so much about Niela," he insisted forcefully, "is her character. She's so sincere. She's so intelligent. And with it all, despite her ability to concentrate on her work, still she's domestic at heart."  
Niela:
"I'm in such a difficult position. I know I shouldn't even be talking to you now. Every word I say is bound to be misunderstood and I can't even blame those who will misunderstand. But I'll tell you what I'm going to do. I'm going straight to the top of my profession. I'm going to be a great star in my own right. It isn't selfishness that makes me want that more than anything else in all the world. It's because then no one will ever be able to say or think that any feeling I may have for Rudy is based on the fact that he can help me professionally." 
Rudy:
"She's terrific," he exclaimed speaking of Niela's work. "She has everything it takes to go straight to the top."
In 1937, Niela Goodelle cemented one of her most memorable claims to fame and broke her engagement with Rudy Vallée.
Newspaper clippings from a gossip column about Niela and Rudy. Photo: Great American Songbook Foundation
What's your take?
Do you feel their romantic relationship was meant to last?
Did Niela's relationship with Rudy bolster her career or harm it?
Submit your answers at the end of the exhibit!

New and Nice: Niela Charms London
After ending her relationship with Rudy Vallée, Niela spent time performing abroad in London on the radio programs "Band Waggone" and "Radio Cabaret," the Horlick's Picture House, the Ritz and on the West End. While she was living in London in 1938, she even performed for the Queen and King of England.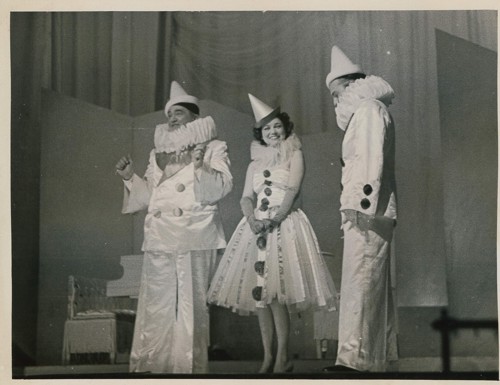 Niela Goodelle on stage in London. Photo: London News Agency
"What she has done so far, she explains, is nothing compared with what she dreams of doing in the future — on films, on the stage, on the air. 
Niela loves everything English, the people, the cooking, the countryside. Her favourite song is not the typical hit of the moment, as you might suppose, but 'John Peel,' set to her own swing arrangement. She wants to reset many traditional English and Scottish tunes in the same way." 
Collyer, Susan, Radio Pictorial, Volume 218, Mar. 18, 1938
Niela performing "John Peel" (n.d). Lacquer recording in Songbook Archives.

What's your take?
What do you think was the most successful point in Niela's career? 
Submit your answer at the end of the exhibit!

The Ideal Mate: Niela's Life After Stardom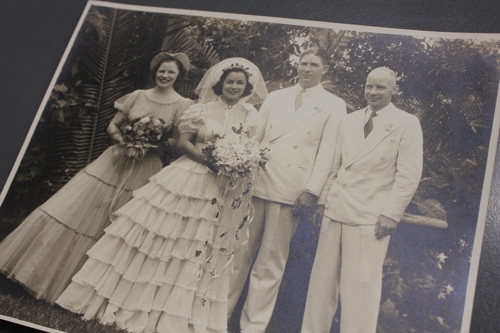 Niela Goodelle and her doctor, F. Minton Hartz, on their wedding day (Feb. 6, 1940). Photo: Great American Songbook Foundation
"We were all in the Goodelles' modern white-and-blue apartment in New York's chic Fifties — Neila, Iney and myself. 'Oh, yes, I intend to get married.' When? The snub nose wrinkled. 'In about two years, I guess, I'll be ready for it.' 'You mean give up your career, after all, for marriage?' Neila grinned. 'Not at all. But in two years I'll really know just how my future will work out. If I'm a success, then marriage will be all I need to give me complete happiness. If I fail—well,' a shrug, 'at least I've had my chance. I'll never have to say, 'I might have been.'" 
Hover, Helen, Radio Stars, November 1935
Niela Goodelle with her mother, Iney (right in black). Photo: Great American Songbook Foundation
"At the peak of a career that could have possibly lasted decades longer, she met F. Minton Hartz, of Evansville, after her show one night at a Miami Beach nightclub. In 1940, she married 'her doctor' and retired. And for the most part, she did.
Active for many years in Evansville's Junior League, she was involved in several Junior League Follies - one of her last major performances for local audiences being in the 1964 production of 'The Gaslite Follies,' which the organization produced at the Bosse High School auditorium. She raised three children, two of whom, Patty Hartz Remmert of Evansville, and Tony Hartz of Newburgh, survive her. Another son, Danny, Tony's twin brother, died in an automobile accident during his senior year in high school, Tony says. Dr. Hartz died in 1982. Surviving in addition to her children are two granddaughters, Laurie Mead of Indianapolis and Stacey Hartz of Newburgh."
Niela Goodelle-Hartz's obiturary
Niela Goodelle and her daughter, Patty. Photo: Great American Songbook Foundation.
"One question kept pushing its way to the tip of my tongue, so I asked: 'Do you ever miss your career?' 
'Sometimes,' she said a bit wistfully. 'But I don't regret giving it up for what I have now.' 
Nationally Known Entertainer on Stage Again
Wastjer, Cissy, The Evansville Courier, Feb. 12, 1964
What's your take?
Sources
Collection received from Laurie Anderson, Niela Goodelle's granddaughter, in Carmel, Indiana on February 14, 2013.
https://songbook.accesstomemory.org/niela-goodelle-collection
All That's Interesting. "Ziegfeld Follies: The Other, Sensational Side Of Flappers." All That's Interesting, All That's Interesting, 24 Oct. 2019, allthatsinteresting.com/ziegfeld-follies.
Dietz, Dan. The Complete Book of 1930s Broadway Musicals. United States, Rowman & Littlefield Publishers, 2018. 
Introducing Miss Radio Stars: A lovely girl in her early twenties, who knows just how her future will work out, Hover, Helen, Radio Stars, November 1935
Nationally Known Entertainer On Stage Again,

Wastjer, Cissy,

The Evansville Courier

, Feb. 12, 1964

Niela — New and Nice: The Success Story of our latest visitor from America — and how she is now going places in British Radio

, Collyer, Susan,

Radio Pictorial

, Volume 218, Mar. 18, 1938

Rudy Vallee's In Love!

, Brooks, Dorothy,

Radio Mirror

, November 1936