Irving Berlin's "God Bless America:" 85 Years Old and Born on Long Island
November 10, 2023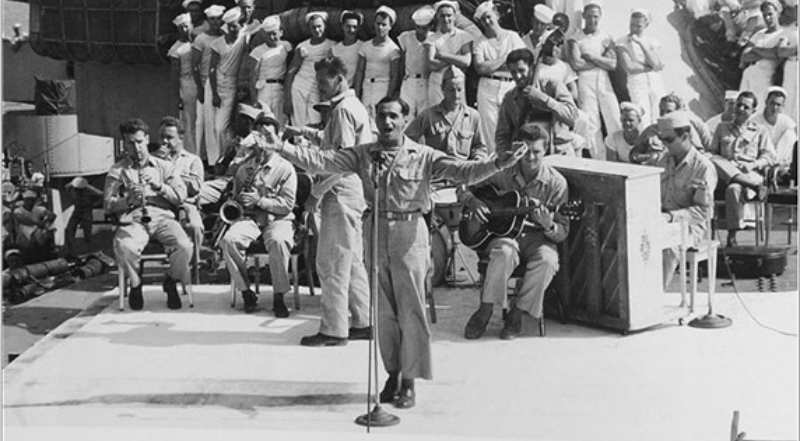 The story of America's unofficial anthem.
by guest author, John Canning
Every Veterans Day, "God Bless America" is sung at programs throughout the country as Americans honor those who have served in the United States Armed Forces and those who have made the supreme sacrifice. But did you know that this patriotic classic has its origins on Long Island, 20 years before it was first presented in November 1938?
Irving Berlin was five years old when his family immigrated to New York City in 1893, Jews fleeing pogroms and poverty in Russia. A particularly American rags-to-riches story, Berlin swiftly rose to become a noted and popular songwriter. His "Alexander's Ragtime Band" caused a sensation in 1911. He became a U.S. citizen and was drafted into the Army in 1918 as the United States was fighting in World War I. He was assigned to Camp Upton, in Yaphank, which served as an Army base in both World Wars.
The composer and showman, with his top-selling songs, had become used to a luxurious lifestyle, replete with valet, cook, and chauffer at his Manhattan apartment, where he would sleep until close to noon each day. As Private Berlin, without these comforts, he now had to adjust to a Spartan existence in the 77th Infantry Division. Compelled to trade in his accustomed pampering, he would drill, march, clean the barracks, and be awakened by reveille early in the morning. This routine was not to his liking. "I found out quickly I wasn't much of a soldier," he later remarked in American Heritage. Under such circumstances and as a balm to his plight, he came up with the idea to put on a show that would entertain the troops and boost morale.
The show, first at Camp Upton, and later, on Broadway, was Yip! Yip! Yaphank. It featured more than 300 servicemen and was a smash, with Berlin himself singing his popular "Oh! How I Hate to Get Up in the Morning." He had written a number for the show's finale, which was titled, "God Bless America." Berlin, however, dropped it in rehearsals because he thought the song would be "painting the lily," or a bit over the top, and considered it "just a little sticky," he told Variety's Abel Green in 1954.
The song sat in Berlin's famous "trunk" for the next 20 years. He would regularly keep his old tunes in a file and rework them years later. For instance, he turned "Smile and Show Your Dimple" from 1917 into "Easter Parade" in 1941.
Berlin visited Europe in late summer 1938 and was alarmed by the rise of Adolf Hitler and the Nazis. While returning to New York by ship, Berlin "tried to write a song that I felt at that time" and composed "Thanks, America" but he was not satisfied with it. He then recalled the tune that he had written for Yip! Yip! Yaphank two decades before and had discarded, "God Bless America." The original final two lines were
Make her victorious on land and foam
God Bless America, my home sweet home.
Berlin, in 1938, judged the number a "war song." "I didn't want it to be a war song. I wanted it to be a song of peace," he said to Green. He changed the ending to what we know today:
From the mountains to the prairies,
To the oceans white with foam,
God Bless America
My home sweet home.
He added an opening verse that contrasted warlike Europe with the peaceful American scene:
While the storm clouds gather
Far across the sea,
Let us swear allegiance
To a land that's free;
Let us all be grateful
For a land so fair,
As we raise our voices In a solemn prayer.
As the musical fates would have it, in early November, two months after Berlin, mutatis mutandis, had completed the song, Kate Smith's manager asked Berlin for a patriotic number for his star to sing. He handed over the revised "God Bless America." Smith introduced the song on November 10, 1938, a day after Kristallnacht, the Nazi assault on Jewish stores and properties in Germany, and on the eve of the 20th anniversary of Armistice Day, marking the end of World War I and the victory of the United States and the Allied forces, now commemorated as Veterans Day.
The response to "God Bless America" was immediate, massive, and widely enthusiastic. Americans raced to purchase the sheet music; program hosts played it repeatedly on the radio; and bands and singers belted it out at public performances. There was even a movement to declare "God Bless America" the national anthem, replacing "The Star Spangled Banner," which had been so designated in 1931. Berlin demurred. Citing tradition and history, Berlin said in a letter to Dale Carnegie, "We've got a good national anthem. You can't have two." In a generous act of patriotism, Berlin directed that all royalties from his song be distributed to the Boy Scouts and Girl Scouts of America, which continues to this day.
Yaphank's Camp Upton is now largely forgotten and, in 1947, was converted into the site of Brookhaven National Laboratory, where far-reaching scientific projects are pursued. But it was once the place where Irving Berlin worked on his own project and wrote a song for the finale of his show — a song which was put aside but which would become "God Bless America."