GASF Perfect Harmony Spotlight: Donna Scherer
April 24, 2020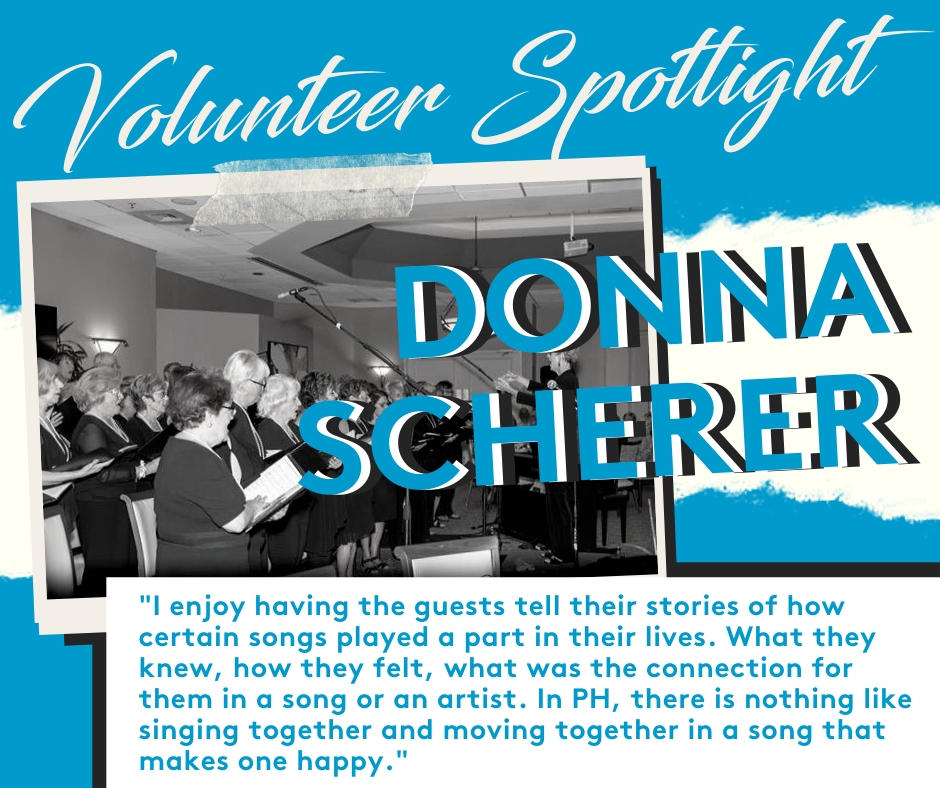 The Great American Songbook Foundation has a dedicated team of docents, collections processors and Perfect Harmony volunteers who devote their time and talents to preserving and educating the Great American Songbook.
This week is National Volunteer week and we'll be showcasing one volunteer a day
Today's highlight: Donna Scherer
What brought you to the Songbook Foundation?
My brothers and I grew up listening and dancing to the Great American Songbook songs of the 40's, 50's and 60's.  After I retired I knew I wanted to learn more about the Great American Songbook songs and learn about the Foundation.
When did you start volunteering for GASF?
4 years
What do you enjoy most about volunteering for GASF?
As a past docent and as a current volunteer in PH I enjoy having the guests tell their stories of how certain songs played a part in their lives. What they knew, how they felt, what was the connection for them in a song or an artist. In PH, there is nothing like singing together and moving together in a song that makes one happy.
Who are your favorite musical artists or composers?
Ella Fitzgerald, Nat and Natalie Cole, Nancy Wilson, Bobby Darin, Frank Sinatra and Nelson Riddle (arranger) and Cole Porter
What are you watching, listening to or doing to keep yourself occupied in this time of social isolation?
Watching Choral Warm-up and vocal technique video's, trying out new recipes, watching Netflix, PBS and CNN.
What is your favorite GASF program?
The Songbook Academy and Perfect Harmony.
What is your favorite musical?
Wow! That's a hard one. Phantom of the Opera?
Where would you spend all of your time if you could?
It would be in the kitchen with family and friends, with great music playing, everyone laughing, telling stories, sharing food and wine and singing together a song that held joy and sweet memories for all.
What makes you happy?
Singing
What's the luckiest thing that has happened to you?
Having great parents that taught me right from wrong, a strong mother who taught me the value of faith and self reliance, and the Angel who showed me the power and passion of music.
Thank you for all you do, Donna!
Tweet #share