GASF Collections Processor/Perfect Harmony Spotlight: Janice Roger
April 19, 2020
The Great American Songbook Foundation has a dedicated team of docents, collections processors and Perfect Harmony volunteers who devote their time and talents to preserving and educating the Great American Songbook.
For National Volunteer week we will be putting a spotlight each day on the people behind the scenes.
Today's highlight: Janice Roger
What brought you to the Songbook Foundation?
In 2012, I saw information on an exhibit called "A Fine Romance: Jewish Songwriters, American Songs." It seemed interesting and I wanted to bring it to Indianapolis. When I called the American Library Association, a co-sponsor of the exhibit, they told me that they would be willing to send a set of the exhibit boards to me - at no cost. I contacted the GASF and met with Chris and Lisa, who were thrilled to get the exhibit. At the same time, I expressed interest in becoming a volunteer.
When did you start volunteering for GASF?
8 years ago
What do you enjoy most about volunteering for GASF?
Many things. Most of all the people that I meet. Then, because I work with archival materials, I like being able to "touch history." The collections I have worked with belonged to people who made an impact on music in America.
Who are your favorite musical artists or composers?
Rodgers (and Hammerstein), Willson, and Strouse for composers. Artists - soooooo many. Nathan Lane, Julie Andrews, Doris Day, Gene Kelly to name a few.
What are you watching, listening to or doing to keep yourself occupied in this time of social isolation?
I watched a YouTube presentation of "Cinderella" a couple of weeks ago. Not doing a lot of television or radio right now.
What is your favorite program that GASF offers?
Perfect Harmony. It is a great service to the elders we work with.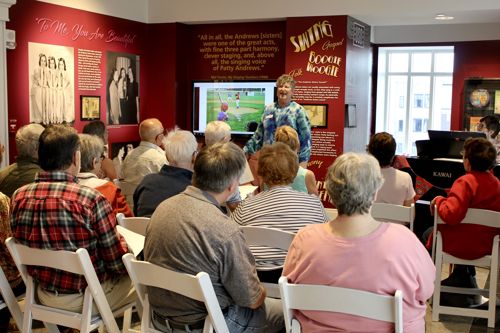 Where would you spend all of your time if you could?
Singing in choruses or going to concerts - classical and pops.
What makes you happy?
My family.
What is the luckiest thing to happen to you?
The luckiest time in my life was when I met my husband. He's made my life so rich and beautiful for 47 years.
Thank you for all you do, Janice!
Tweet #share