Everybody's Favorite Composer ― Jerome Kern
December 31, 2020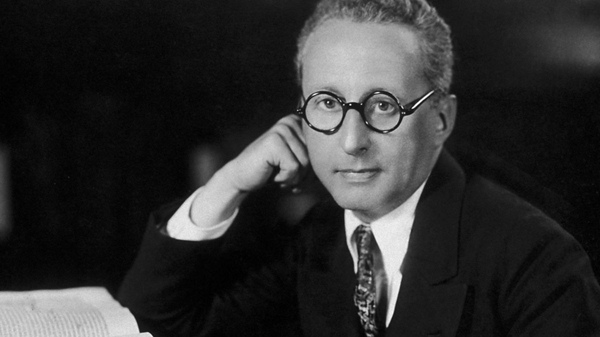 A Fine Romance: Jewish Songwriters, American Songs, 1910-1965
Featuring text from "A Fine Romance" traveling exhibit curated by David Lehman, and
developed by Nextbook Inc. and the American Library Association Public Programs Office
"Kern's melodies will live in our voices and warm our hearts for many years to come...The man who gave them to us earned a lasting place in his nation's history." -
President Harry Truman
Meet Jerome Kern
Jerome Kern (1885-1945) wrote "They Didn't Believe Me" for a Broadway show called The Girl from Utah in 1914. The song consisted of sixteen bars, half the length of the standards to come. But Kern's melody and its harmonic and rhythmical possibilities made it the prototype of the modern ballad. "No one had begun writing real songs in this style yet-until suddenly here it was: a perfect loosey-goosey, syncopate-me-if-you-care, a relaxed and smiling American asterisk-jazz song," as author and critic Willfrid Sheed has written.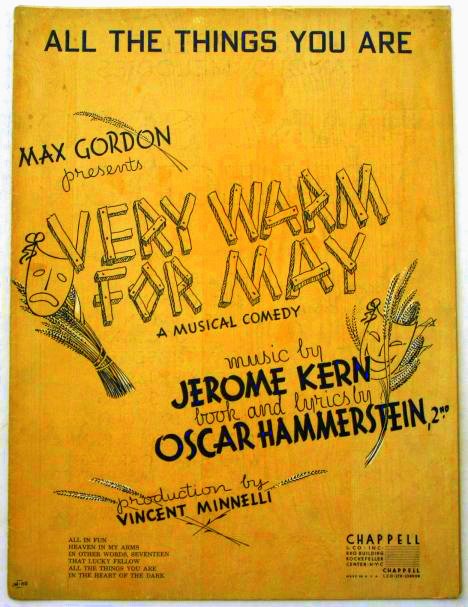 Born on January 27 - Mozart's birthday - Jerome David Kern became the dean of American songwriters. Adapting the European operetta tradition (Offenbach in Paris, Strauss in Vienna) to American idioms, settings, and pace, he had a decisive influence on the teenage Richard Rodgers, a self-described "Kern worshiper," and on George Gershwin, who signed on as a rehearsal pianist for two Kern shows.
For a composer who thought theatrically, Kern wrote music that lends itself equally to the requirements of opera and jazz. He composed the soaring melodies of some of our greatest love songs: "All the Things You Are" and "The Song is You" (lyrics by Oscar Hammerstein), "Smoke Gets in Your Eyes" (Otto Harbach), "The Way You Look Tonight" (Dorothy Fields). Fields brought out the playful side of Kern in the sarcastic love song, "A Fine Romance."
Jerry Kern collected rare books when he lived in the East and went to the track when Hollywood beckoned. He was an unusually lucky man. Because an alarm clock failed to ring, he did not wake in time to accompany the producer Charles Frohman on an Atlantic crossing on May 1, 1915. That ship turned out to be the Lusitania, which a German submarine sank on May 7, killing a majority of the passengers aboard.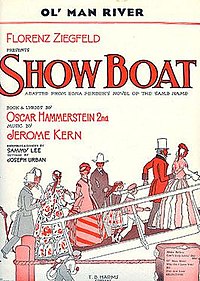 Kern wrote the music and Hammerstein the lyrics for Show Boat, a Broadway classic from the evening it opened on December 27, 1927. Unlike most musicals of its time, Show Boat was not just a miscellany of songs linked by a skeleton plot. Based on Edna Ferber's novel, it was an "integrated" musical: the songs served the telling of an emotionally complex story. This was a major advance. The show was "integrated" in a second sense as well. When Julie, the leading lady of the show boat troupe, is revealed to have Negro blood, the consequences are nasty, and neither her marriage nor her vocation can survive the injustice. This was grown-up stuff— proclaiming love at first sight, vows of eternal fealty, and the efficacy of fantasy in such a song as "Make Believe," and then proceeding to debunk these central tenets of the Broadway musical romance.

The score of Show Boat includes "Can't Help Lovin' Dat Man," and "Bill." But the Mississippi River is the true hero of the work, and there is nothing more majestic in the American musical theater than "Ol' Man River." As the black male chorus envisions the river Jordan, the "old stream" that they long to cross, Kern's music makes you feel that unreachable heaven looms as near as a prayer or a worker's dream of liberation from "the white man boss." The song ennobles singer and listener not because it acknowledges that failure is our common lot—we are all sick of trying, tired of living, and scared of dying—but because we are moved to sing about it with gusto and to celebrate something greater than ourselves: the natural wonder of the Mississippi, that keeps rolling along, powerful and timeless, like a divinity.
"I think that no composer in his field since Victor Herbert has inspired so much real affection from countless hearers who never saw him face to face."
― Deems Taylor, President of the American Society of Composers, Authors and Publishers
"It was said of him that he was not a graduate of Tin Pan Alley. Strictly speaking, only once, with Oscar Hammerstein 2d, who wrote the lyrics for "Show Boat," did he deliberately write a song hit outside of a show or screen play. That was "The Last Time I Saw Paris." He called himself a "musical clothier--nothing more or less," and said: "I write music to both the situations and the lyrics in plays." But critics pointed out that he was a finished musician and was able to create elaborate effects of counterpoint and complex instrumental and vocal ensembles which gave his operettas real value." ― New York Times, Nov. 12, 1945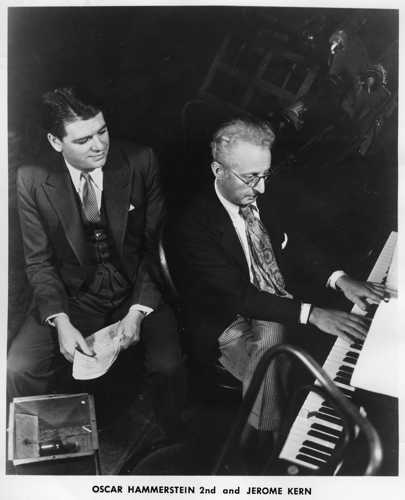 Kern's music is noted for its natural flow of rhythm and for the often folk-song-like quality of its melodies, which possess an indefinable but unmistakably American character. 
― Encyclopaedia Britannica 
Learn more about Jerome Kern
Masterworks Broadway: https://masterworksbroadway.com/artist/jerome-kern/
Songwriter's Hall of Fame: https://www.songhall.org/profile/Jerome_Kern
Library of Congress: https://blogs.loc.gov/music/2018/07/nice-work-if-you-can-get-it-george-gershwin-and-jerome-kern/
"Premiere of the Musical 'Show Boat' based on a novel by Edna Ferber" ― Jewish Women's Archive
https://jwa.org/thisweek/dec/27/1927/show-boat
Excerpt from "Premiere of the Musical 'Show Boat' based on a novel by Edna Ferber":
"Ferber's work also drew on the oppression she felt she had experienced as both a woman and a Jew. Subjected to anti-Semitism as a child, she felt she had gained strength from facing her tormentors. Similarly, she believed that women's experience of social limitations led them to develop special strengths. Many of her early works featured strong women overcoming social obstacles to achieve professional success. Show Boat, which tackled the theme of interracial marriage, also addressed the issue of social constraints."
Excerpt from The Guardian's "How Jewish Artists Built Broadway":
"And yet sectarianism and racial bigotry have been surprisingly frequent themes in classic Broadway shows. Both Oscar Hammerstein's and Jerome Kern's Showboat and George and Ira Gershwin's Porgy and Bess, most obviously, deal with racism. But what most intrigues me is that three of the most enduring Broadway musicals of all time have antisemitism as a specific theme. Jerry Bock and Sheldon Harnick's Fiddler on the Roof takes place against the background of a pogrom, while Cabaret is set in Nazi Germanyand Mel Brooks's The Producers puts postwar neo-Nazis and Hitler himself into dance routines.
Although now established as classics, each of these pieces was considered risky at the time.  And yet the premiere productions ran for a combined total of more than 7,000 performances.
A competition has just been established in Britain to encourage composers and lyricists to be more daring. But, given this history, that strain of bravery is already there. Whether or not a census of racial identities on Broadway is necessary or helpful, it was Jewish songwriters who – from Showboat through Fiddler on the Roof and Cabaret to Sondheim's Sweeney Todd and Assassins – introduced the subjects of genocide, bigotry, social division and murder to an art form prone to populist confections."
About A Fine Romance
Recognizing that music and the arts have a unique power to build bridges and heal the human spirit, there is no better time to celebrate the contributions that immigrants from so many lands and cultures have made to American life. The Great American Songbook Foundation is proud to present this exhibition, A Fine Romance: Jewish Songwriters, American Songs, 1910-1965, curated by David Lehman and developed by Nextbook Inc. and the American Library Association Public Programs Office.