Collections Highlight: The 'Wunnerful' Jim Young Collection
June 30, 2021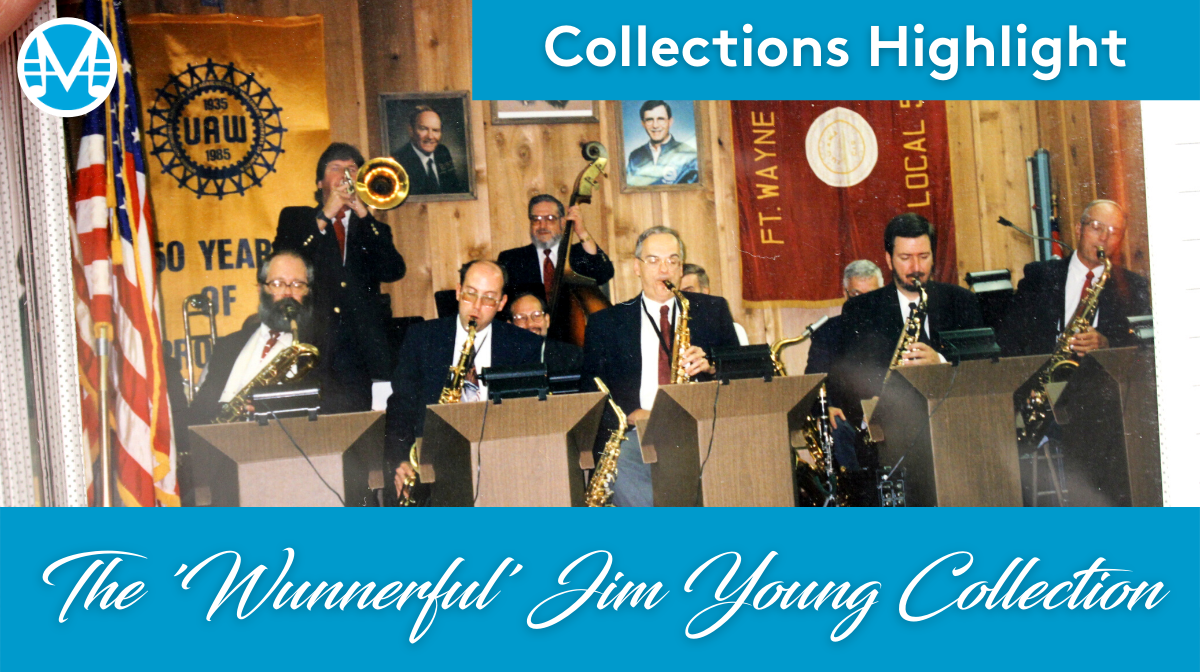 Executive Director, Chris Lewis, introducing the Songbook Foundation Collections Highlight series.
When many teens were grooving to the Bee Gees, Jim Young was calling into The Lawrence Welk Show and making connections with musicians of an earlier era. His passion for big band music led to playing with the Sammy Kaye Orchestra, the Stardust Dance Band and other ensembles – and also collecting memorabilia tied to his musical heroes. 
Over forty years, Jim has amassed an extensive collection of ephemera of some of the most influential artists of the big band era, including Cab Calloway, Chick Webb, and even includes a picture of worlds colliding when Eddie Van Halen brought Les Paul on stage in 1988. Click on any photo below to read notes from the artists and see their autographs.
Beyond the impressive showcase of big band memorabilia, Jim also devoted much of his life to performing the original arrangements of band leaders like Glenn Miller, Tommy Dorsey and Sammy Kaye.
In late 1994, Jim Young, Bruce Scott (a retired teacher and tenor saxophonist), and Chuck Surack (the founder of Sweetwater Sound and a saxophonist) formed "The Stardust Dance Band," which began its rehearsing in the large recording studio of Sweetwater Sound. From 1994 through 2003, this Big Band played over 300 performances in American Legion Posts, VFW Posts, the AmVets Post in Marion (Indiana), most of the country clubs and reception halls in the Fort Wayne and Warsaw areas, Buck Lake Ranch, festivals in Fort Wayne and New Haven, The Foellinger Outdoor Theater in Fort Wayne, the Auburn Cord Duesenberg Museum, and for various private parties. Probably the two most distinguished venues for the Band's performances were the Embassy Theater in Fort Wayne, and the Paramount Ballroom in Anderson, Indiana.
Click the images below to see a close up of arrangements created for George Mayer Orchestra.
The Big Band arrangements donated by Jim to the Foundation were acquired by him over about 40 years from various sales he attended, purchases from other bands and collectors, and several custom arrangements written for Jim's bands by Dick Spencer (a former Big band saxophonist from the Boston area) and Tom Cherry (the guitarist and other saxophonist in Boots Randolph's band).
Click on the images below to see the original lineup of the Stardust Dance Band and the band playing for veterans.
While playing in The Stardust Dance Band, Jim had the good fortune of being asked to play in the Sammy Kaye Orchestra ("SKO"), then directed by Big Band Hall of Fame honoree, Roger Thorpe. Thorpe met Sammy Kaye in 1972, and they developed a close relationship. In 1986 Kaye the "Maestro" confidently passed on the leadership of his Swing and Sway Orchestra to Roger Thorpe in 1986.
The Sammy Kaye Orchestra was a mainstay of the Big Band era with hits like "So You Want to Lead a Band," and "Swing and Sway." When Jim joined the Sammy Kaye Orchestra in the late 90's, it still proudly upheld the "traditions of the big band era with sixteen musicians, including two vocalists, rendering selections from 50 years of Sammy Kaye Orchestra hits, as well as paying tribute to Sammy Kaye friends Glen Miller and Benny Goodman."
Jim occasionally also provided musicians for the SKO when it played in Indiana and Ohio from 1998 through 2002. The various venues played by the SKO when Jim was in the band included several performances at the Indiana Roof Ballroom, both the Paramount Theater and Ballroom in Anderson, Bearcreek Farms, and the Foellinger Theater and two venues in Ohio.
When Jim wasn't playing saxophone or clarinet in the Stardust Dance Band, he was adding to his collection of big band treasures. Two of his most beloved items were drumsticks played by the hands of one of the most famous drummers of the 20th century.
Gene Krupa was a pioneering drummer who popularized the drum feature in jazz and pop music with his famous tom-tom solo in Benny Goodman's 1937 hit "Sing, Sing, Sing." In December 1934 he joined Benny Goodman's orchestra and for the next three years he was an important part of Goodman's pacesetting big band. Krupa's personality and charisma provided a newfound energy to the Swing music, and allowed the drum to play a more active role in a song's arrangement.
Jim's Gene Krupa drumsticks, now housed in the Songbook Archives, were originally in possession of a woman from Richmond, Indiana whose father used to play with Krupa in a Jazz quartet in New York City in the 1940s. The sticks themselves show a lot of use by Krupa and were signed by the man himself.
Dance cards were used in the United States through the mid-20th century and were most often carried by women to keep track of partners with whom they had committed to dancing. They often had decorative covers, featured song titles and musical artists leading the night's music, and pages to write in their dance partners' names. Among Jim Young's collection are two dance cards from Military Balls held in 1951 and 1955 with musical guests Gene Krupa and Louis Armstrong respectively; university dances his parents attended at Indiana University; and a photograph his father took of the Tommy Dorsey band from one of the school dances he attended.
Click on the images below to explore inside a dance card.
The Lawrence Welk Show, hosted by Alstain-American accordion playing bandleader Lawrence Welk, appealed to the generation of the 1930's and 40's who visited dance halls led by charismatic big bands. Welk, the "King of Champagne Music," made his first appearance on ABC in 1955, and his show routinely aired until 1982. For Jim Young, watching The Lawrence Welk Show every Saturday was a tradition in his household.
Click on any image to look inside Jim's Lawrence Welk Memory Book. See autographs from the cast and read some "Welkisims."
One of Jim Young's musical heroes was Russ Klein, a saxophonist with The Lawrence Welk Show. His biography from the Welk Musical Family reads:
"Russ Klein was a saxophonist born in Worcester, MA on July 23, 1917. Russ began playing the woodwinds at age 11, and by 14 turned professional. In the forties he played for the Freddie Martin band with another talented Worcester native and future Welk member Norman Bailey. Later, he played on the Red Skelton Show and with David Rose before joining the Music Makers in 1957. First playing 1st Alto Sax & 1st clarinet, but later moved up to Tenor Sax soloist and the curved Soprano Sax with the Hotsy Totsy Boys. His efforts helped 'modernize' the Welk style with his jazzy sound and superb musicianship."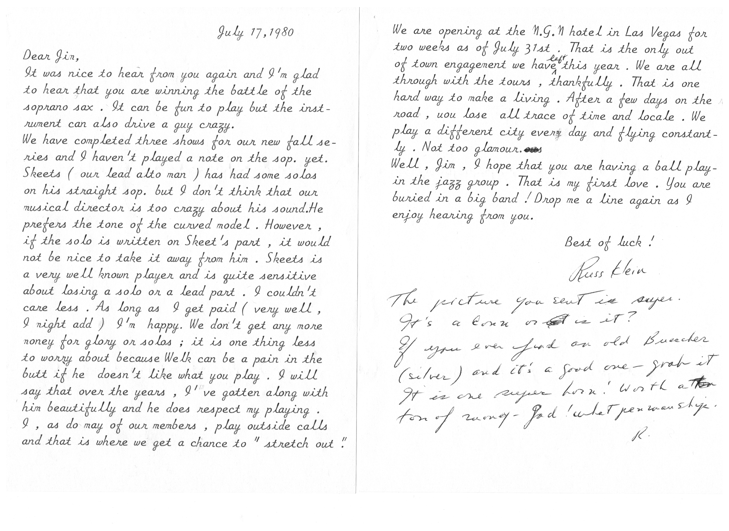 A note from Jim's musical hero, Russ Klein.
For Jim, the music was always the star. His efforts to preserve the history of the big band era has led to over 40 years of playing and recording music that provided a welcome escape from a difficult period in American history. Each piece in his collection is a reminder that music we love is a tether that binds us to one another.
"I do appreciate when I donate
 

the

se things giving

 

the

m to folks who also appreciate

 

the

ir place in

 

music

 

history and it rewards my thought process over

 

the

 

years in acquiring and keeping

 

the

se and preserving all of this that someday someone would appreciate

 

the

se items."  

― Jim Young

 

 

Sources:

 

A&E Television Networks. (2009, November 16). Lawrence Welk is born. History.com. https://www.history.com/this-day-in-history/lawrence-welk-is-born.

 

Dance Card Days. Millikin University. (2018, November 6). https://millikin.edu/staley/about-library/university-archives/online-exhibits/dance-card-days.

 

Gene Krupa. DRUMMERWORLD. (n.d.). https://www.drummerworld.com/drummers/Gene_Krupa.html.

 

Lobdell, L. (n.d.). James T. Young - Songbook Foundation Archives. AtoM. https://songbook.accesstomemory.org/james-t-young.

 

Porter, L. (2020, June 12). Reconsidering Gene Krupa, A Great Jazz Drummer Hiding in Plain Sight. WBGO. https://www.wbgo.org/music/2018-03-15/reconsidering-gene-krupa-a-great-jazz-drummer-hiding-in-plain-sight.

 

Pratt, V. (2013, October 25). Thank Goodness We Don't Have To Do That Anymore: Dance Cards. uncommon. https://uncommon-courtesy.com/2013/10/25/dance-cards/.

 

Russ Klein Bio. MUSICAL FAMILY BIOS 5. (n.d.). http://www.welkmusicalfamily.com/welkbios5.html.

 

Sammy Kaye Orchestra. (n.d.). https://www.sammykayeorchestra.com/.

 

Sammy Kaye Orchestra. (n.d.). https://www.sammykayeorchestra.com/sammy.htm.