Songbook Foundation adds to growing archives
2/9/2022 12AM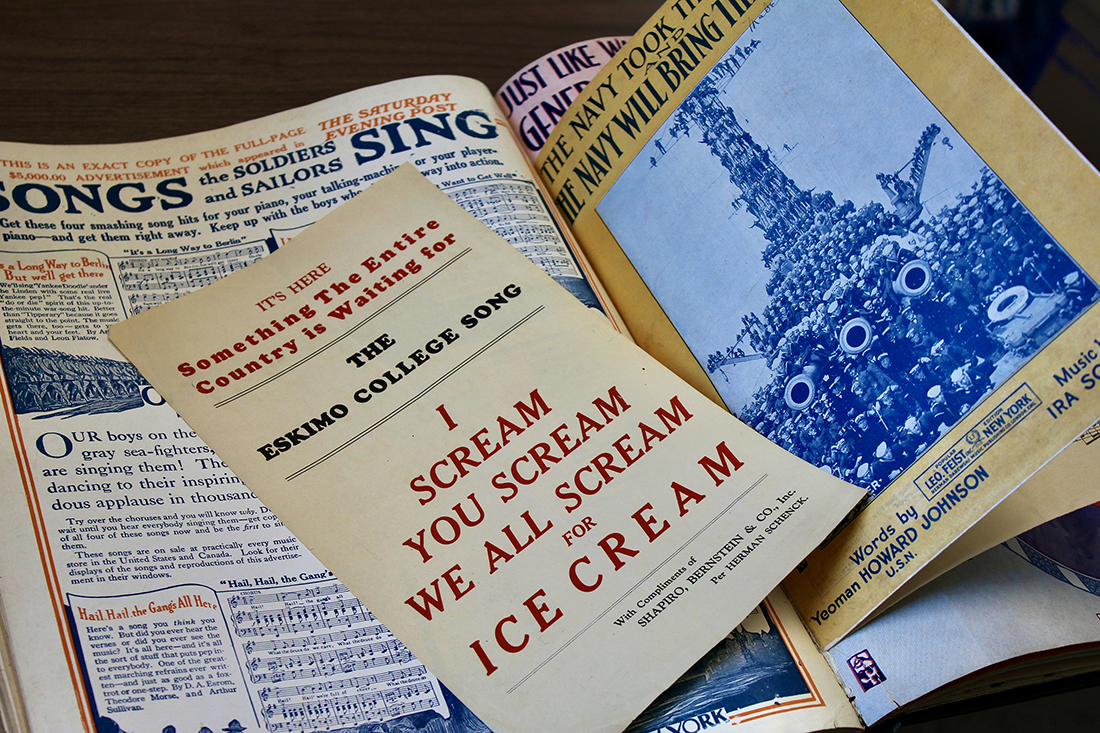 The Songbook Library & Archives' latest acquisitions include papers and memorabilia from the personal collection of lyricist Howard Johnson, who wrote songs even while serving in the Navy during World War I.
Acquisitions include artifacts, handwritten lyrics from noted songwriters
 
CARMEL, Ind. – Historical collections from three noted songwriters are among the latest acquisitions for the Great American Songbook Foundation's Songbook Library & Archives.
Founded in 2008, the Songbook Library & Archives has become a major repository for the preservation of artifacts and arrangements from the 20th century golden age of American popular music. The collections attract musicians and scholars from around the world and provide content for the Foundation's gallery exhibits and educational programs.
"These materials hold so many untold stories from the history of American popular music and the culture in general," Songbook Foundation Executive Director Christopher Lewis said. "It is vitally important to catalog and preserve them for future generations of scholars and music lovers."
The new acquisitions come from the personal collections of:
Kenneth Jacobson (1930-2021)
Jacobson was a musical theater composer and songwriter whose work was performed and recorded by an amazing range of artists, including Ella Fitzgerald, Frank Sinatra, the Andrew Sisters, Count Basie, Jerry Lee Lewis, Jackie Wilson and the Partridge Family. He also is remembered for his AIDS activism with the ACT UP organization.
Acquired materials include: musical arrangements, scores, orchestrations and scripts written for concert, theatrical and television performances; demos and published recordings; photos, press clippings and correspondence; and notebooks with handwritten character sketches, lyrics and notes.
Howard Johnson (1887-1941)
Johnson was a leading Tin Pan Alley lyricist and a charter member of ASCAP who penned over 100 songs, including "I Scream, You Scream, We All Scream for Ice Cream" and "M-O-T-H-E-R (A Word That Means the World to Me)." He was named to the Songwriters Hall of Fame in 1970.
Acquired materials include: two bound volumes of sheet music with lyrics written by Johnson; miscellaneous typed and handwritten lyrics, song titles and correspondence; various news clippings; and a handcrafted wooden tabletop honoring his ASCAP membership.
Earl Shuman (1923-2019)
Perhaps best known for "Hey There Lonely Girl," a No. 2 hit in 1970 for R&B singer Eddie Holman, Shuman wrote lyrics sung by Barbra Streisand, Sammy Davis Jr., Perry Como, Patsy Cline, Tom Jones and many other artists. He also became involved in music publishing and was a key figure behind pop and rock releases such as Meat Loaf's Bat Out of Hell, one of the best-selling albums of all time.
Acquired materials include: handwritten music and lyrics; publicity materials; business and legal documents; correspondence; recorded interviews; and published recordings on CD and vinyl.
About the Great American Songbook Foundation
The mission of the Great American Songbook Foundation, founded in 2007 by five-time Grammy® Award nominee Michael Feinstein, is to inspire and educate by celebrating the timeless standards of pop, jazz, Broadway and Hollywood. Headquartered at the Center for the Performing Arts in Carmel, Indiana, the Foundation advances this rich legacy by curating physical artifacts of its creators, performers and publishers in the Songbook Library & Archives; operating a multimedia exhibit gallery; overseeing the Songbook Hall of Fame; offering programs for the public and research opportunities for scholars and artists; and providing educational opportunities for student musicians, including the annual Songbook Academy® summer intensive. The Foundation is a Cultural Affiliate of the Los Angeles-based Grammy Museum®. More information is available at TheSongbook.org.