Judy Garland named to Songbook Hall of Fame
6/8/2023 12AM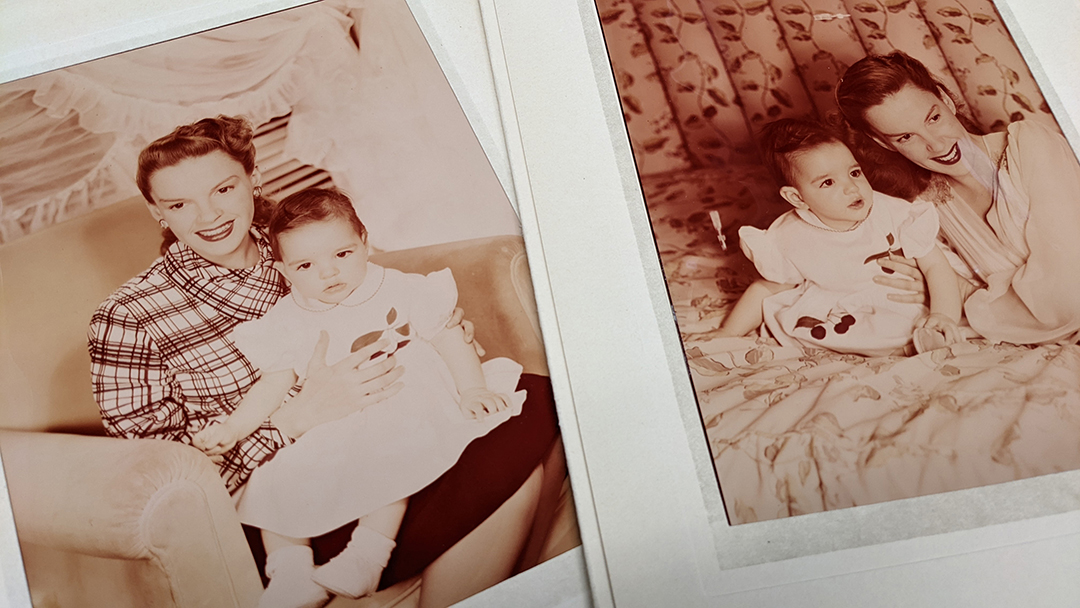 Legendary performer Judy Garland and her daughter Liza Minnelli pose for a family photo, circa 1947 – from the Liza Minnelli Collection, Great American Songbook Library & Archives.
Songbook Foundation honors late stage and screen star
VIDEO: Michael Feinstein pays tribute to Judy Garland
CARMEL, Ind. – As Judy Garland's centennial year draws to a close on June 10, the Great American Songbook Foundation is celebrating the iconic performer's induction into the Songbook Hall of Fame.
Born Frances Ethel Gumm in 1922, the award-winning actress and singer is best known for her teenage role as Dorothy Gale in the 1939 MGM classic The Wizard of Oz, which included her performance of the timeless song "Over the Rainbow." She quickly became an international star, revolutionizing the movie musical genre and also making her mark as a concert performer, recording artist and TV host before her untimely death in 1969.
The Songbook Hall of Fame celebrates lyricists, composers and performers who have helped to create the soundtrack of our lives with their contributions to American popular song. Hall of Fame inductees are selected based on factors including musical influence on other artists, length and depth of career and body of work, innovation and superiority in style and technique, and overall musical excellence. Previous inductees have included George and Ira Gershwin, Duke Ellington, Ella Fitzgerald, Johnny Mathis, Liza Minnelli, Rita Moreno and Frank Sinatra.
Songbook Foundation Founder Michael Feinstein announced Garland's induction during an April performance of his multimedia stage production Get Happy: Michael Feinstein Celebrates the Judy Garland Centennial. At the Center for the Performing Arts in Carmel, where the Songbook Foundation is headquartered, Feinstein closed the show by playing "Over the Rainbow" on the upright piano (from the Songbook Foundation's archival collection) on which composer Harold Arlen wrote the song and other music for The Wizard of Oz. As he played, a clip of Garland singing the song appeared on a large video screen, and they finished in a virtual duet, drawing a standing ovation.
"Judy Garland was so uniquely gifted and truly iconic," Feinstein said. "She was an artist who changed the fundamental face of the American musical film … and brought to the world such light and joy and hope and transformative power through her songs. We look forward to continuing to preserve and celebrate her legacy as a member of the Songbook Hall of Fame."
Many stages of Garland's career are documented in a collection of photos, memorabilia and other items donated to the Songbook Library & Archives by her EGOT-winning daughter, Liza Minnelli. Highlights of the collection, including rare family photos, are featured in an online tribute viewable at TheSongbook.org/JudyGarland.
The Songbook Hall of Fame is supported by a generous contribution from Dr. and Mrs. Charles Simons.
About the Great American Songbook Foundation
The mission of the Great American Songbook Foundation, founded in 2007 by five-time Grammy® Award nominee Michael Feinstein, is to inspire and educate by celebrating the timeless standards of pop, jazz, Broadway and Hollywood. Headquartered at the Center for the Performing Arts in Carmel, Indiana, the Foundation advances this rich musical legacy by curating a vast archive of items representing its creators, performers and publishers; operating a multimedia exhibit gallery; overseeing the Songbook Hall of Fame; offering programs for the public and research opportunities for scholars and artists; and providing educational opportunities for student musicians, including the annual Songbook Academy® summer intensive. The Foundation is a Cultural Affiliate of the Los Angeles-based Grammy Museum®. More information is available at TheSongbook.org.