to The Songbook Academy
Perfect Harmony Music Resources
Contact us for more information:
The Great American Songbook Foundation
317.844.2251
Info@TheSongbook.org

The Great American Songbook Foundation is a 501(c)3 nonprofit organization with a mission to inspire and educate by celebrating the Great American Songbook.


2022 National Screeners
Every student who applies to the Songbook Academy receives detailed feedback from our national panel of vocal and music professionals. Meet this year's incredible panel of adjudicators!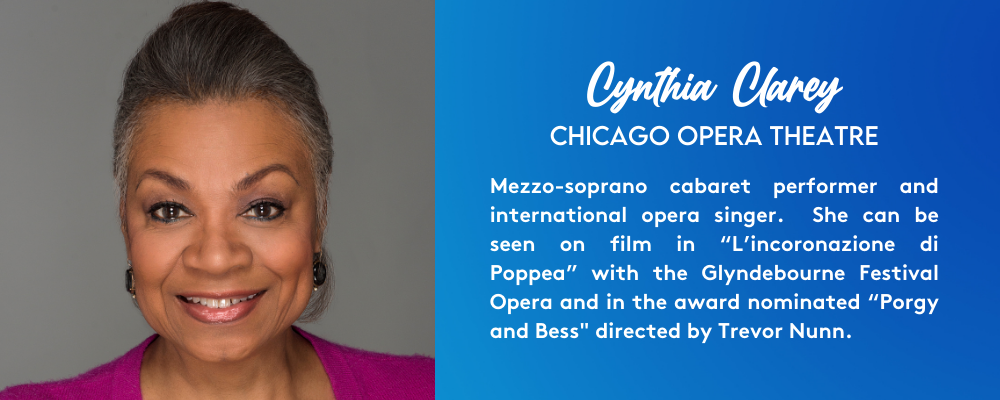 Cynthia Clarey joined the cabaret world in Chicago after 35 years as an international opera singer.   She can be seen on film in "L'incoronazione di Poppea" with the Glyndebourne Festival Opera and in the award nominated "Porgy and Bess" directed by Trevor Nunn. Since coming to Chicago, she has been teaching at the Chicago College of Performing Arts at Roosevelt University.  She is a member of Chicago Cabaret Professionals and has performed at several venues in Chicago and beyond. Several years ago, she made her theater debut in Porchlight Music Theater's "Scottsboro Boys" and was also seen  in their revisit of "1776". She has two one woman shows, "What Becomes of the Brokenhearted" and "Bridge Over Muddied Waters" that she presented at Davenport's, Roosevelt, at the Schorr Family Firehouse Theater in Johnson City, NY,  and at the 8th Floor Club Room at Symphony Center In Chicago, and for the 140th Anniversary of Main Street Baptist Church in Smithfield, VA.  This summer, she performs her show for Tri-Cities Opera in Binghamton, NY and for the Syracuse Opera in Syracuse, NY, with her wonderful accompanist and Music Director, Beckie Menzie.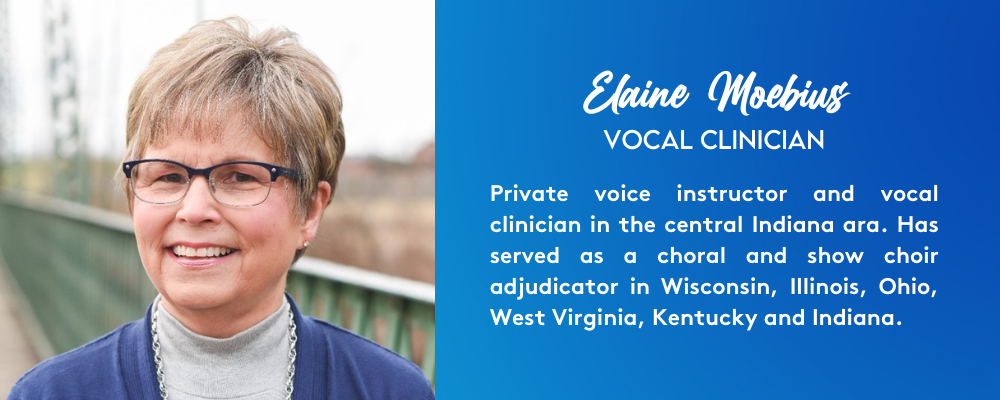 Elaine Moebius earned her degree in music education from Capital University.  After a thirty-six year career teaching vocal music in the schools in Columbus and Delaware, Ohio and Mooresville, Indiana, Mrs. Moebius is currently a private voice instructor and vocal clinician in the central Indiana area.  She has been a choral and show choir adjudicator in Wisconsin, Illinois, Ohio, West Virginia, Kentucky, and throughout Indiana. Mrs. Moebius is currently a site coordinator for ISSMA sanctioned show choir events, where she coordinates judges and supervises the adjudication process.
For ten years, Elaine has been a mentor, arranger and music director for the Great American Songbook Foundation's Songbook Academy, an eight-day summer intensive where High School students from around the country study and perform songs from the Golden Era of American popular music.
Elaine enjoys golfing and spending time with her husband, Gordon, three daughters and nine grandchildren.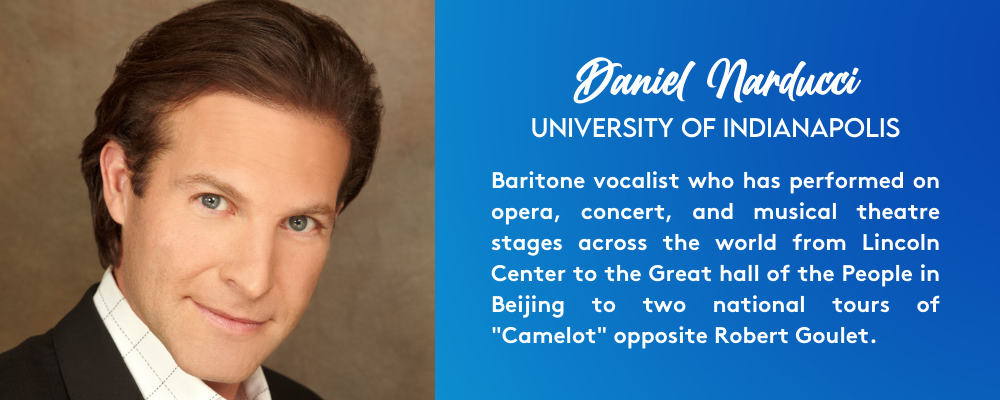 From New York City's Lincoln Center to the Great Hall of the People in Beijing, baritone Daniel Narducci has appeared in performances across the globe on the opera, concert, and musical theatre stages. Mr. Narducci has performed with many of the world's most prestigious orchestras, including the Cleveland Orchestra, Philadelphia Orchestra, Boston Pops, Naples Philharmonic, Chicago Symphony, Rochester Philharmonic, Baltimore Symphony, Toronto Symphony, Houston Symphony, Indianapolis Symphony, Milwaukee Symphony, and the Detroit Symphony. He played the role of Lancelot during two national tours of Camelot, most notably opposite Robert Goulet's King Arthur. Daniel co-starred with Frederica von Stade and the Naples Philharmonic Orchestra in a program broadcast internationally by PBS entitled Pops at the Phil: A Century of Broadway. Mr. Narducci created the role of Captain Hook on the world premiere complete recording of Leonard Bernstein's Peter Pan, co-starring Linda Eder. He was featured on the BBC television documentary Kurt Weill in America: I'm a Stranger Here Myself. His opera roles include Sharpless in Madama Butterfly, Escamillo in Carmen, Count Almaviva in Le Nozze di Figaro, Marcello in La Bohème, Figaro in Il Barbiere Di Siviglia, Belcore in L'Elisir d'Amore, and Silvio in I Pagliacci. He has been heard in these roles with the Washington National Opera, New Orleans Opera, Central City Opera, Palm Beach Opera, Kentucky Opera, Nashville Opera, Indianapolis Opera, and Opera Santa Barbara. Daniel Narducci received his Bachelor and Master of Music degrees in Voice from the Indiana University Jacobs School of Music, where he recently completed his Doctoral Degree in Voice. He is a member of the voice faculty at the University of Indianapolis. www.danielnarducci.com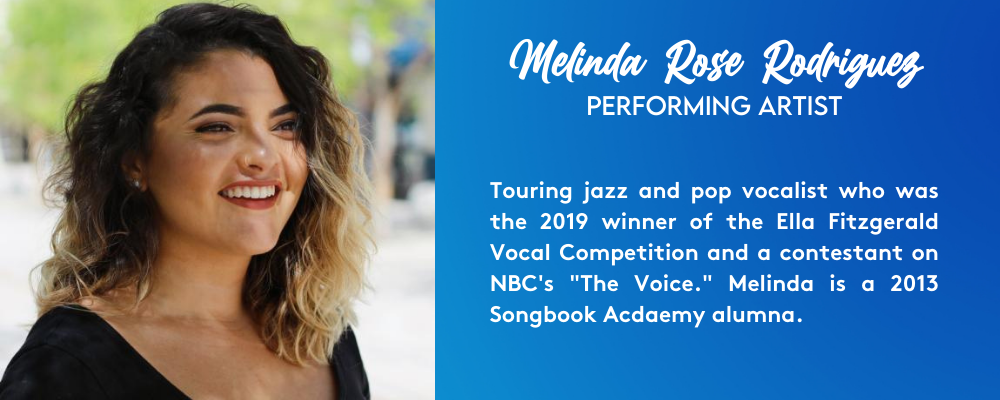 Melinda Rose Rodriguez is a Miami born singer songwriter who at just 21 years old, has made a name for herself in the jazz world. Melinda attended The New England Conservatory of music when first beginning her professional music career. Since High School, she has been a 2 time Downbeat Student Music Award, YoungArts winner and 2013 Songbook Academy finalist. She recently debuted with her band at The Miami Downtown Jazz Festival, and has traveled as far as Bermuda and Japan to perform in other festivals. Melinda has traveled to perform alongside Michael Feinstein and Jane Monheit and works frequently with jazz greats such as Kevin Mahogany. 
Ms. Rodriguez holds a Bachelor of Music from Florida International University and a Masters in Jazz Performance from The University of Illinois where she also had the pleasure of serving as a teaching artist. 
In 2019, she won 1st place in the International Ella Fitzgerald Jazz Vocal Competition, debuted with the Legendary Count Basie Big Band, and was featured on NBC's hit singing show, The Voice. She currently is finishing up her senior year at a university in Florida in order to obtain her degree in Music Education, and performs often in the South Florida area.
Performing artist and veteran educator Sonia Santiago is a distinguished music educator and voice instructor and has one of the most sought-after voice studios in South Florida. As an accomplished voice instructor, she emphasizes vocal freedom through healthy vocal technique in all genres.  This carries through to her work with ensembles and choirs throughout the state.  She believes that bringing sound vocal technique into the choral rehearsal is not only essential in healthy development but paramount in producing the highest level experience for both the singer and the audience. Her services as a vocal clinician, conductor, and adjudicator are in great demand throughout Florida and the southeastern United States.
Mrs. Santiago currently serves as Adjunct Instructor of Voice and Popular Music at Palm Beach Atlantic University in West Palm Beach, FL, where she teaches voice to music majors of various disciplines and directs the Pop Vocal Ensemble. The Ensemble was recently featured alongside international artist Rob Kapilow as they presented "Dreaming of a Jewish Christmas" at the Society of the Four Arts in Palm Beach. Prior to returning to her position at the university, she served as Director of Vocal Arts for the nationally acclaimed Conservatory of the Arts at The King's Academy in West Palm Beach, FL for twelve years.  In this highly successful and well recognized conservatory program, she inspired countless young artists who are now pursuing careers in the industry.  Her choirs regularly received Superior ratings at both the District and State FVA performance assessments, earning the coveted Superior with Distinction. In the Fall of 2018, Sonia joined the amazing staff of the Young Singers of the Palm Beaches in residence at the Kravis Center for the Performing Arts, where she continues her work with young vocal artists.
Sonia has thrilled audiences worldwide with her rich lyric mezzo-soprano voice. She is an artist that is as much at home on the operatic stage as in the concert hall. Since her much-praised debut with the late conductor Anton Guadagno and the Palm Beach Opera, she has gone on to entertain audiences throughout the US, Europe, Japan, and South America.
Born in Miami, Florida, Sonia Santiago is the daughter of Cuban immigrants. She holds a bachelor's degree in music education from the University of Florida, and a master's degree in vocal performance from Florida State University. Sonia and her husband Felix call West Palm Beach home, where they reside with their three sons Nicholas, Christopher, and Jonathan. Her son Christopher, a talented singer and trumpeter, can be heard regularly on Legends Radio 100.3 FM, and is the Young Artist Award Winner of the Society for the Preservation of the Great American Songbook.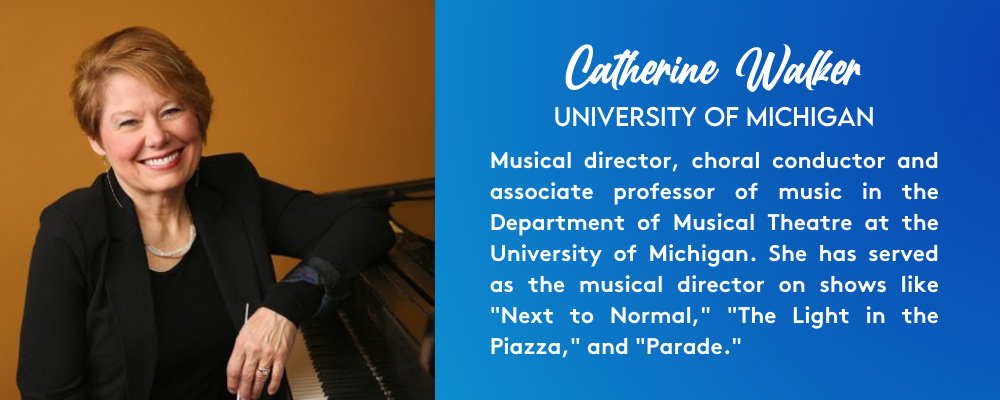 Catherine Walker holds a master's degree in Choral Conducting from Western Michigan University and has worked extensively as a musical director, most recently on productions of Next to Normal, The Great American Trailer Park Musical, Parade, Blood Brothers, Urinetown, The Light in the Piazza and Shenandoah, starring Robert Newman of TV's Guiding Light. Her work as a choral conductor has been recognized by the Michigan School Vocal Music Association and the American Choral Directors Association. Catherine is an associate professor of music in the Department of Musical Theatre at the University of Michigan.