to The Songbook Academy
Perfect Harmony Music Resources
Contact us for more information:
The Great American Songbook Foundation
317.844.2251
Info@TheSongbook.org

The Great American Songbook Foundation is a 501(c)3 nonprofit organization with a mission to inspire and educate by celebrating the Great American Songbook.


2023 National Screeners
Every student who applies to the Songbook Academy receives detailed feedback from our national panel of vocal and music professionals. Meet this year's incredible panel of adjudicators!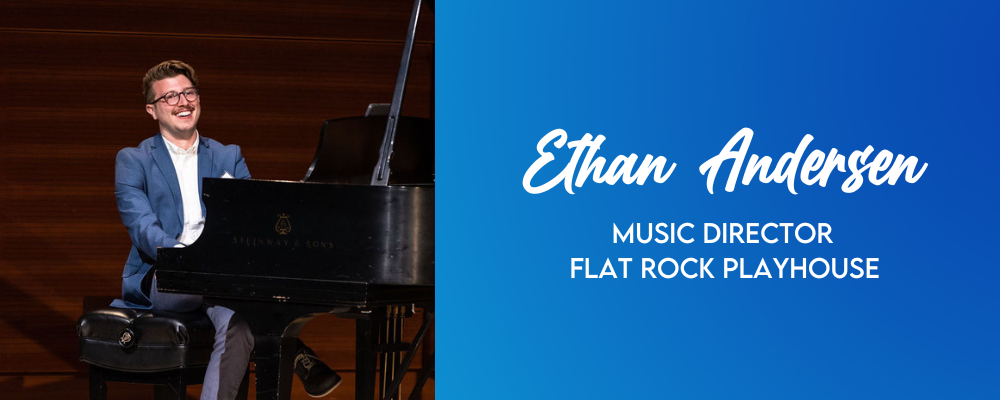 Ethan Andersen is currently Flat Rock Playhouse's Resident Music Director and has worked in NYC and across the country as a music director, conductor, and writer. He was the music director and conductor of the Saturday Night Fever national tour and Elon University's Music Theatre program. On Broadway, he's played piano for Mean Girls and Company and conducted for BCEFA's Easter Bonnet Competition. As a writer, Ethan is a member of the BMI Lehman Engel Musical Theatre Workshop, ASCAP, and Dramatists Guild. His musicals, Rootabaga Express!, Letterland Alive!, and Greetings from North Carolina! have toured the North Carolina school system and his new musical, Slowpoke! premieres this fall at Flat Rock Playhouse. Ethan received a BFA in Music Theatre from Elon University. ethan-andersen.com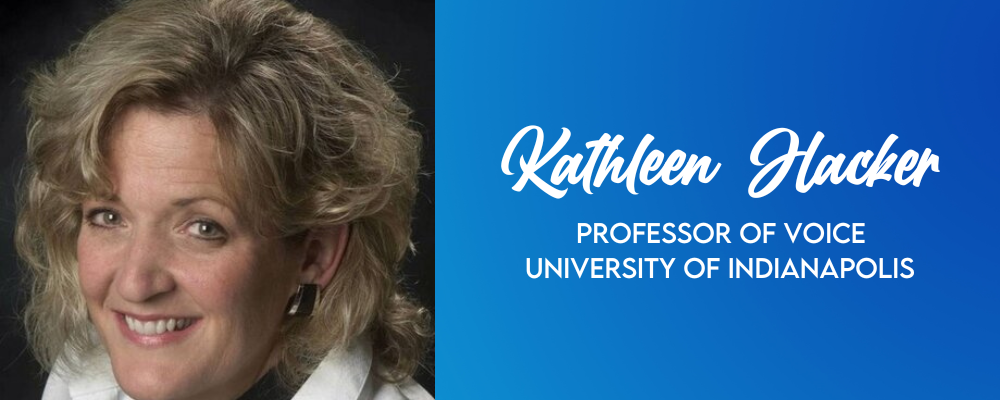 Kathleen Hacker, soprano, made her New York debut as soloist with the American Symphony Orchestra at Alice Tully Hall and has sung with major symphony orchestras across the country, including those of Baltimore, Detroit, Pittsburgh, Kansas City, Cincinnati and Indianapolis. She has been a regular cover for Sandi Patty in the Indianapolis Symphony Yuletide Celebration and was a featured artist on the original ISO Yuletide Celebration CD. She can also be heard as soprano soloist on the Indianapolis Symphonic Choir 75th anniversary release of Mendelssohn's Elijah. As a chamber musician, where she is most at home, highlights include appearances at the Marlboro, Bard and Aspen Music Festivals. Kathleen holds degrees from the Eastman School of Music where she studied with Jan DeGaetani and received the coveted Performers Certificate in both Opera and Voice Performance, and earned her doctorate of music from Indiana University. Kathleen is a Professor of Music at the University of Indianapolis where she teaches all things vocal, leads professional development and creativity classes, and serves as Artistic Director of the Opera Theatre. She is an avid supporter and has served as a mentor for the Songbook Academy its inception.
As a performer, director, content creator, and vocal coach/teacher, Cinderella Ksebati enjoys sharing her passion for music in the classical, musical theater, and jazz genres. She has performed on concert stages across the globe including in London, Paris, an Ireland tour, and her home city of Detroit at the Detroit Symphony Orchestra. Named the John Knapp Friends of Opera Award Winner in 2022, First Prize in the George Shirley competition in 2021, and recognized as a NATS National Finalist in 2022 and 2020, receiving distinguishable honors of "Most Promising" in the Musical Theater division . A Songbook Academy alum, she was named a Top 10 finalist, where Michael Feinstein regarded her jazz tone as "velvet". Past opera performances: Higher Ground (world premiere), Baby Shower, Candide, Die Fledermaus, and The Cunning Little Vixen. Musical theater and theater highlights include Hairspray, Thoroughly Modern Millie, Mary Poppins, Seeing Beyond with Maya Fantasma,  Almost Maine, and a debut of an original musical, Diseducated.  Music directing credits: Annie, Shrek, Frozen, Newsies, and Into the Woods.
Striving for the enjoyment of music to be accessible to all people across the globe, in May of 2020, she launched "Sing with Cinderella" an online music education program on YouTube. A library of 180+ videos and a global community of 100,000+ viewers, the growing curriculum aims for singers and musicians of different skill levels to reach their full potential. Cinderella has given workshops on vocal interpretation, jazz, movie music, and continues to build courses for in-person classes as well as online.
Cinderella holds a Dual Degree in Vocal Performance (opera) and Choral Music Education from the University of Michigan and is currently pursuing a Masters in Music. While at Michigan, Cinderella co-founded and music directed the first vocal jazz ensemble, BlueNote. She also had a chance to vocal music direct a student-run filmed production of Newsies in Concert, seen by 30,000 people.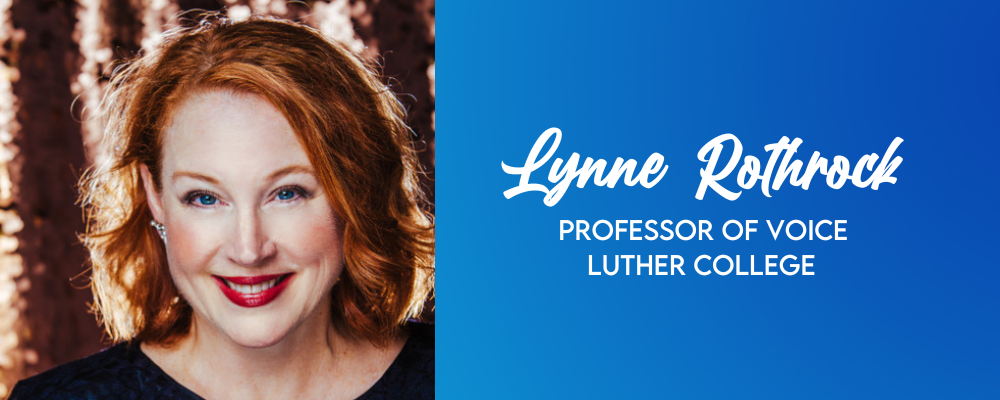 A graduate of Luther College (B.A. Music/Theatre) and Western Michigan University (M.M. Vocal Performance) Lynne Rothrock is a vocalist/entertainer and arts educator. She has performed as a solo artist at a variety of venues around the United States, including Birdland (NYC), The Bluebird Café (Nashville), Davenports Cabaret (Chicago), Hell's Kitchen, Aster Cafe (Minneapolis), Crown & Anchor (Cape Cod, MA). She has also worked for a variety of theatre companies around the country as actress and/or musical director. Lynne was one of 30 vocalists selected to attend the prestigious International Cabaret Conference at Yale University.

An active arts educator, she has served on the voice faculty of Western Michigan University, Roosevelt University's Chicago College of the Performing Arts, St. Ambrose University and currently serves as Instructor of Musical Theatre at Luther College. Lynne has served as clinician at the Manhattan Vocal Jazz Festival at Lincoln Center, Brightleaf Music Workshop and has adjudicated for Heritage Music Festivals for 25 years – coaching choral ensembles in every major US city. Lynne has led song performance masterclasses for arts organizations, universities and the Kennedy Center American College Theatre Festival Conference. Follow lynnerothrock.com for information about upcoming events.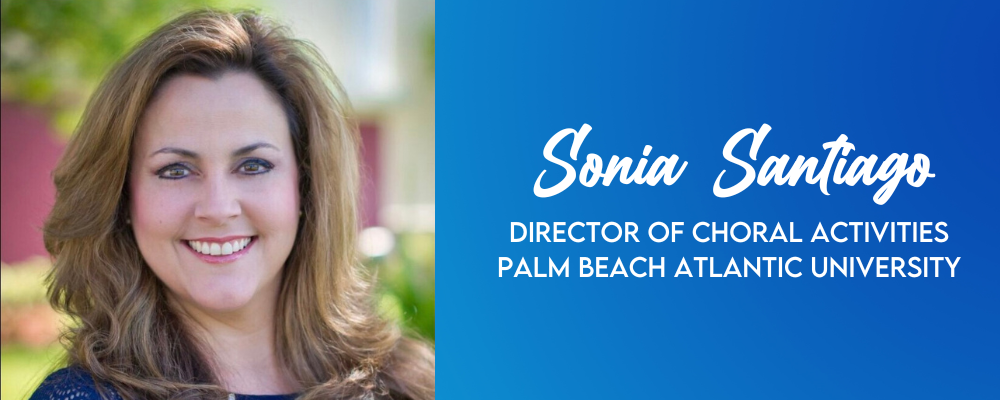 Multi-talented performing artist and veteran educator, Sonia Santiago is a distinguished music educator and voice instructor and has one of the most sought-after and successful voice studios in South Florida. As an accomplished voice instructor, she emphasizes vocal freedom through healthy vocal technique in all genres. This carries through to her work with ensembles and choirs throughout the state. She believes that bringing a sound vocal technique into the choral rehearsal is not only essential in healthy development but paramount in producing the highest-level experience for both the singer and the audience. Her services as a vocal clinician, conductor, and adjudicator are in great demand throughout Florida and the country. Her vocal expertise and guidance have been sought out by such organizations as Michael Feinstein's Songbook Academy, NBC's The Voice, and America's Got Talent, among others.

Mrs. Santiago currently serves as Assistant Professor of Music and Director of Choral Activities at Palm Beach Atlantic University in West Palm Beach, Florida. In addition to teaching voice to music majors of various disciplines, she directs the university's Oratorio Choir, Concert Choir, as well as the Pop/Rock Vocal Ensemble. The Pop/Rock Ensemble has been featured with international artist and NPR host Rob Kapilow in his production of Dreaming of a Jewish Christmas, presented at the Society of the Four Arts in Palm Beach, Florida. Prior to returning to her position at the PBAU, she served as Director of Vocal Arts for the nationally acclaimed Conservatory of the Arts at The King's Academy in West Palm Beach, Florida for twelve years. In this highly successful and well-recognized conservatory program, she inspired countless young artists who are now pursuing careers in the industry.

As a performing artist, Sonia has thrilled audiences worldwide with her rich, lyric mezzo-soprano voice. She has garnered numerous awards for her singing including Finalist in the First International Opera Competition in Shizuoka, Japan; and the Placido Domingo World Operalia Competition, among many more. She is an artist that is as much at home on the operatic stage as in the concert hall. Since her much-praised debut with the late, great conductor Anton Guadagno, she has gone on to entertain audiences throughout the US, Europe, Japan, and South America.

Born in Miami, Florida, Sonia Santiago is the daughter of Cuban immigrants. She holds a bachelor's degree in music education from the University of Florida, and a master's degree in vocal performance from Florida State University. Sonia and her husband Felix call West Palm Beach home, where they reside with their three sons Nicholas, Christopher, and Jonathan. Her son Christopher, a talented jazz singer and trumpeter, can be heard regularly on Legends Radio 100.3 FM, as the Young Artist Award Winner of the Society for the Preservation of the Great American Songbook.