Great American Songbook Foundation
Songbook Academy Public Masterclass 2023
The Palladium
//
Wednesday, Jul 19, 2pm ET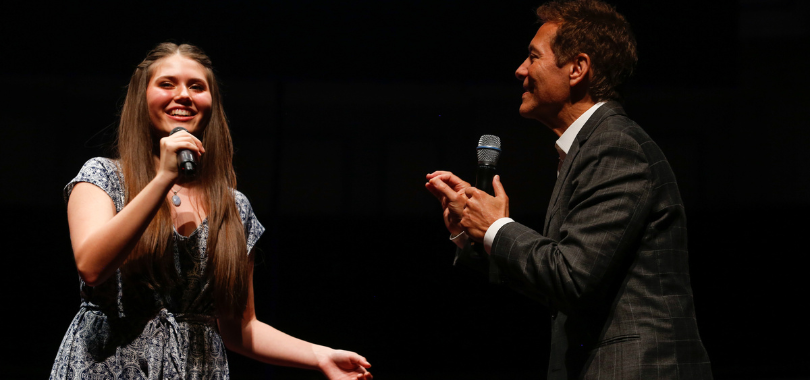 Event Details
Wed Jul 19 - 2pm ET
The annual Songbook Academy® summer intensive is the nation's leading youth music program focused on the timeless standards of jazz, pop, Broadway and Hollywood. Now in its 14th year, the Songbook Academy is the flagship education initiative of the Great American Songbook Foundation. Each year 40 top high school vocalists are selected from hundreds of applicants to experience a life-changing week of classes, workshops and performances under the guidance of arts and entertainment professionals and leading university educators.
In this free masterclass open to the public, Founder Michael Feinstein will be joined by a special guest mentor yet to be announced as they critique the performances of ten randomly selected finalists of the 2023 Academy. This year's masterclass will take place before a live audience and also will be streamed for national audiences.
Tickets:
General seating on-site tickets and livestream registration are pay-what-you-can with no minimum price.
For this event, any amount you choose to contribute will help to sustain the Songbook Academy for generations to come. 
Beginning May 23, tickets for this event can be reserved online or by calling (317) 843-3800. Tickets may also be obtained in person at the Fifth Third Bank Box Office, 1 Carter Green, Carmel.  
About the Mentors:
 
Michael Feinstein: The five-time Grammy Award nominee and music preservationist is the founder of the Great American Songbook Foundation, known for his piano and vocal work, his signature cabaret clubs across the nation and his projects for public broadcasting. His latest album is Gershwin Country, featuring duets with Dolly Parton, Brad Paisley and other country stars.
 
Special Guest Mentor: Yet to be announced! Please check back soon.
Special thanks:
The Songbook Academy receives generous support from the City of Carmel and the Ella Fitzgerald Charitable Foundation Mentor Champions, who support the involvement of a national faculty of music directors and professional vocal coaches.
---